Update 30-DEC-2007: I found a way of transferring pictures from my mobile phone to my laptop…sending them via EMail, which is possible in my Vodafone home network in Germany. I did make 4 photos with my mobile phone on the mountain, hoping to find some kind of way of accessing them somewhen later (camera has no memory card). No great quality and 640×480 only, but better than no pics at all. The assigned timestamps are correct, the mobile phone did not add EXIF data, but stored the timestamp in its directory data. I put the four photos into the article below, timestamps between QD_20070605_094800 and 105300.
Lao Shan – 崂山
Can you believe it? I forgot my camera today! I got up at 7 and left quickly without a breakfast as I wanted to catch the bus early. It was said to be a one or two hour bus ride, and it really was. And while standing in the bus (I later got a seat…but it started pretty crammed, even at 7:45 in the morning) I remembered first that I forgot to pull the memory card out of the laptop after yesterday's update session. That wouldn't be a problem, I certainly have a spare memory card in my camera bag. Yeah…the camera bag…I had put it back into my day backpack, hadn't I? I hadn't. Well, didn't want to go back and fetch it, that would have costed me 2 hours. So I went to this beautiful Lao Shan without a camera.
But I was there! I swear! I have collected all entrance tickets, see: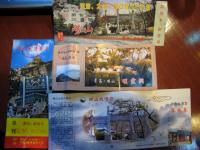 QD_20070605_194556.jpg: On top the LaoShan entry ticket, to the right vertically the ticket for the cable car, in the middle the one for the small temple at the highest point the paths reach, and on the bottom right the ticket for TaiQing Temple.
On the bus the conductor told me the bus could not bring me to LaoShan proper, but only to a place shortly before that. I couldn't follow the explanation but thought better than nothing…I'll find some way to continue. It was about 1.5 hours bus ride before I was dropped off (with all few remaining people) in front of a huge toll fee station, the entrance to the park. Every visitor had to pay a stunning 70 RMB entrance fee. And apparently the public busses did not want the hassle of organizing that for the guests. The bus actually did continue, but only with people loaded from there. Well, there I stood, with a few others. Many taxis were waiting there, too. The driver of the taxi in front started offering to bring me to where I wanted to go. For 71 RMB, including entrance ticket. That sounded like…hm…either an extremely good deal or some kind of bluff. I asked how it came that he only wanted to have 1 RMB for the taxi ride. Now, he had already agreed the same with 3 other people. I still don't know how that pays off for him, but as a matter of fact he loaded the four of us in his taxi and off we went, passed by the toll station without even stopping. At a second stop a bit later he organized the tickets and finally dropped us off where I wanted to be: At the bottom station of the cable car. And I paid just 71 RMB. Not bad a deal I think.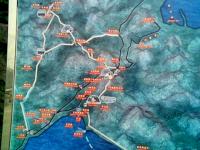 QD_20070605_094800.jpg: The map of LaoShan at the cable car station.
Lonely Planet said to start from here. Apparently not too good a choice. There was this famous TaiQing Temple somewhere far below, and LaoShan far up. But no foot path started from here. And I could not figure out from where. There was only the comparable narrow road winding around the hill, which wasn't fun walking with all the tour and mini busses rushing past. I finally decided for the cable car and was lifted half-way up the mountain for 30 RMB. With a bit of envy I saw other people hiking up a path while sitting in my cable car…but that was not for me to do today.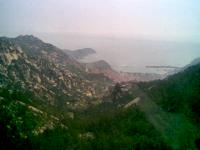 QD_20070605_100400.jpg: I believe I made this photo out of the cable car…there's a reflection in it, which makes me think so. Looking down a valley with a village at its end. Can't say which one, nothing I've seen later. But that's an example of the nice view you had from LaoShan.
Reaching the top I could really organize (or actually: was actively offered) a coffee. At least a bit of breakfast. Together with some small cake I had bought on the way to the bus stop it was OK a breakfast. Also had 3 apples, that sounded OK for the moment. The path started winding up. In the beginning I was a bit worried if I could get lost there. There were no detailed maps available like I would always have when going into mountains. But don't worry: It must have been an extreme effort preparing these ways, but all ways were laid out with flat stones. I was still glad to wear my hiking shoes (don't have anything else with me anyway), but you could actually do that trip with just normal sport or street shoes.
Unfortunately, at least at the beginning, all the way up to this small temple which name I forgot (and the ticket is Chinese only) the path was lined with small booths selling souvenirs, water, beer, and food. So you don't even need to think of brining apples or water. Just come yourself, you will be taken care of. The Chinese way of hiking… But it also wasn't silent at all. LaoShan used to be a retreat of taoist monks. And they had made a wise choice. But this silence is gone now.
The top temple, an additional 4 RMB entrance fee, which I in vain tried to argue, wasn't much of a sight. I returned and took a right turn (i.e. to the west of the cable car way), a way I had seen on some overview maps. That was supposed to lead me along some other "sights" down to a waterfall area, where I would hit the street again.
And here finally you could enjoy tranquile silence! No stalls, even not many other people. It was a very enjoyable hike, though still along laid-out paths. Not the full real hiking feeling, but probably as close as you could get. In a stunning scenery: After 1 minute up hill with the cable car you left the fog, that had gathered all day near the sea and could see clearly in all direction. The sun burned so that I took out a baseball cap, which was a good choice. (Sure, you could buy caps or hats at stalls, too ;))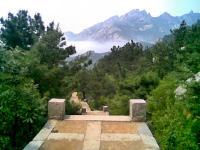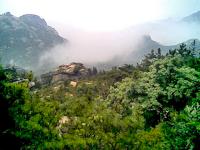 QD_20070605_105000.jpg: The way down…
QD_20070605_105300.jpg: …in tranquile silence.
Another temple along the way I ignored as I ignored all the stalls. I had my water and my apples. Thus, I reached the waterall area close to the street after about an hour. That was still before noon! You can't miss it…lot's of people around, now coming with tour busses from the street. The water fall was not exactly fantastic, but a nice change of sight nonetheless. But down there you were back in the sea's fog. The good thing about it: It was also quite a bit cooler.
Well, noon. And I was back already. Sounded like enough time to try to get to this famous TaiQing Temple. Again, I didn't want to walk along that busy wounded street. So I walked up and down the parking lot in front of this waterfall place (BaShui something… 八水…8 waters…I have seen one only) in the hope to find a taxi. The first taxi driver ran away with his guests, but the second I catched when he dropped off his load. He apparently tried (and managed) to cheat me…but I didn't care too much. I knew it wasn't far and the 20 RMB he wanted to have was outrageous. He surely agreed to my offer of 10, which was still by far too much for a 2-minute ride. Also that driver asked where I came from and said something like "ShiTaLe" when hearing I am German. ??? Never heard…he doubted seriously if I would be German if not knowing "ShiTaLe". But I couldn't guess…In my mind I went through all car brands and soccer teams I could think of, but nothing was faintly similar to "ShiTaLe". Help me! What could "ShiTaLe" be???
TaiQing Temple (太清宫) was quite impressive! A very lage area with various temples. I was certainly offered a guide outside the gate, but refused. A wise choice: All the "guided" tours only saw the lower temples with various buddhas. I also followed a map into the back area with a few more temples, but especially the "Sea View Pavillion" at the very top of the area. I was all alone there! Not a single soul before I reached that pavillion. Sitting there were three men in taoist-like clothes. I can't say if they were really monks. I seriously doubt. I don't think the temple is still being used. They were chatting and didn't pay attention to me at all. From the few sniplets I could understand from their conversation, though, I came to believe that it was all about money. Probably not so religious at all… 😉
After leaving the temple I found a sign saying "Path to mountain". Aha! Here it could start! I followed it. It was just 1pm. Still early enought to do at least a bit of up hill hiking. Somewhere I would need to cross the street and was sure I could catch a bus or hitch any other kind of hike. So I followed the path. Not as great as up in the upper reaches of the mountain, but at least up hill. I reached the street in less than an hour. And it became quite chilly with a fresh wind and fog. Had to put on my long-sleaved shirt again. I came out in YaKou (垭口), a bit east of the Cable Car Station, that I knew. And there was the terminus bus station of "my" bus 304. Also that I knew. I was just unsure if the bus would really come remembering it to have dropped me off before this toll booth.
I stood there in the chilly wind and waited. Not much traffic at all there although it was the very same road which was busy up to the Cable Car station. A mini van stopped. The driver came towards me. Yea, heaven, my chance! 😉 Sure he wanted to know where I was going. I told him back to QingDao, trying to catch the 304 bus. He was saying quite a lot I couldn't quite catch, except for that busses were rare here. Yea…that I had figured already. Then some more I couldn't follow. Well…why would he start talking to me in the first place? I asked him directly if he could bring me back to the toll station. Yes, sure! 30 RMB. Yea, that's what I like about China…there's always a possibility. I considered my options and accepted. I might have bargained the 30 RMB, but it was chilly and I wanted to get out of here. And that ride was a bit longer, that I knew, too. I jumped in and in a matter of 30 seconds after we started off we had left the fog and chilly wind and reached the Cable Car station. I could have walked that in five minutes….grrrrr…. Now I know…if I ever come back here I would walk these 5 minutes in the opposite direction from the station to YaKou and start hiking up hill from there. Now we passed by the known sites (the driver kept asking if I had seen all that and was a bit surprised that I had, given the place were he picked me up) and I got finally dropped off at the toll station.
You know what? The 304 bus, which finally picked me up came from the very same way. It had very likely started at YaKou as I had seen one coming towards us while sitting in the mini van. That 304 had likely turned around at YaKou (its terminus) and was now on its way back. Consequently it was not empty. I was so lucky to catch the last free seat. 2 hours later I was back at the hostel and had a shower (finding the German in his bed snoring at 4pm). My camera was safely locked away in my locker :-S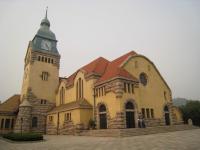 QD_20070605_162524.jpg: On the way to a bus I intentionally passed the protestantic church I had missed yesterday. Looking at the map again it turned out that it was simple: Just down the hostel's road. But it was unimpressive from inside like protestantic churches sometimes are. Also not so well-kept. Lots of small holes in the wall were earlier might have been hooks or nails for whatever… Looks a lot better from outside. Out on the street I did the same jump-on-a-bus trick again, but this time I picked one that brought me directly to my cafe (208).
Believe it or not, but on the way returning from LaoSHan back into town earlier I saw a Starbucks cafe! I had already in mind to use the rest of the day to finish up yesterday's article and write this one here in a cafe. Now I had 2 choices: Starbucks and the nice SPR I found yesterday.
Again believe it or not: I chose SPR Coffee! A very wise choice as it turned out: I was recognized quickly, sat down with a hot dog and a coffee and figured that they also provide free WLAN! How great a place to be. Several expats came and went, apparently all well known. It seems to be a bit an expat meeting place, well support by the manager lady, with who I chatted again today, showed her yesterday's article after being published.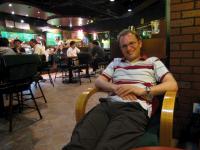 QD_20070605_200024.jpg: And she was it to take this picture of mine in her SPR cafe. Again it got a bit later…I will now opt for the cafe's options of Italian pasta (they also have Pizza, but I feel like Pasta) before returning to the hostel and falling right away into bed. Maximum one beer…tomorrow I wanna try to get to YanTai by bus. I know a bit about bus riding now :))
Oh, another important event I unfortunately miss:
Grandma, Happy Birthday! I left some good wishes for you at the LaoShan Buddhas!
Today's Lesson: Don't forget the camera!!!
Categories: Asia, QingDao
Originally Created: 06/05/2007 01:46:18 PM
Last Edited: 12/31/2007