Oh…YangShuo is so great a place to just hang out… I had always wanted to spend a day on the bamboo rafts crossing up and down the rivers. As Rita was a bit handicapped anyway and the weather was great again it was the perfect day to get driven out to YuLong River, hop onto the bamboo rafts, and get slowly moved down-river through stunning scenery. Views are comparable to Li River, if not even better. And no annoying loudspeaker announcement or engine sounds around. Just silence. Or water fights… 😉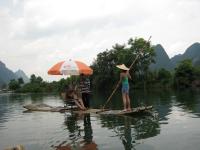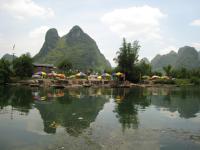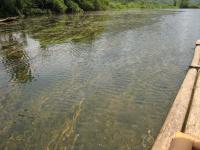 YS_20070724_122542.jpg: Rita taking on the role of the boat man 😉
YS_20070724_122725.jpg: One of the bamboo raft bases along the river. There were plenty rafts available.
YS_20070724_123611.jpg: YuLong River, unlike Li River, is very shallow (you can often see the ground) and flows very calmly. On Li River, rafts are using engines. Here, however, rafts are only steered and pushed with bamboo poles, with which the boat men push off the river bed. The water is so clean you can swim in. And not few people did.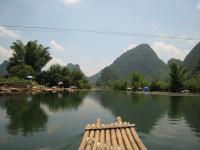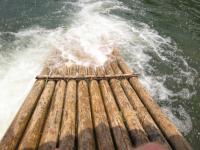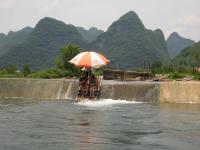 YS_20070724_123828.jpg: Why being anywhere else…?
YS_20070724_123913.jpg: Oh…looks…
YS_20070724_123931.jpg: …scary, doesn't it? But don't worry…it looks a lot more scary than it actually is. These bamboo rafts are unsinkable and surprisngly stable. They dip deep into the water on such man-made rapids (which only further calm down the general flow of the river), but immediately come up again. Don't wear good shoes…either go with flip-flops like we did, or get off your shoes after getting on the raft. I actually have bought a picture for 20 RMB, which one of the many photo stations shot while going down such a rapid. After we figured what they do (at nearly every of the 11 rapids we went down) I once intentionally posed dramatcally for it and bought a printed copy of the photo. Would need to add a photo of that copy here soon…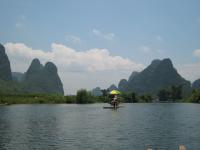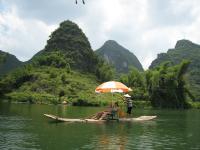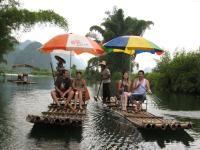 YS_20070724_124154.jpg: After so much excitement…let's just enjoy…
YS_20070724_124817.jpg: …a relaxing time.
YS_20070724_125058.jpg: Certainly, we weren't the only ones on the river. While he is still smiling, James is actually soaked through as is the unknon man on the other raft: We got into water fights with them to the very fun of at least us 3 involved men, while the 2 ladies tried to cover themselves…in vain 😉 Watch the blue pipes the Chinese couple carries: They are sold for 5 RMB along the river and allow you to spray water at a distance of about 10 meter. James quickly found his own methods using a spare bamboo pole, which turned out to be highly efficient, too.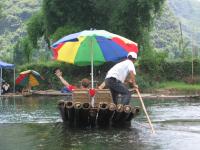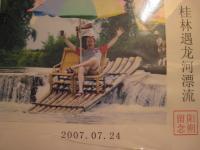 YS_20070724_125440_James.jpg: Ah ja…this is the place where I would need to insert the picture I bought as it has been made in the very same moment: You can guess my 'dramatic' posture and even see the hunkering man beneath the blue tent in the back to the left, who is at this very moment taking a photo of me, which I later bought.
YS_20070724_235912.jpg: And here it is! Quality poor…fun great 😉
YS_20070724_130802.jpg: Then comes a moment of calmness again…
YS_20070724_131116.jpg: …before James indulges into a lengthy water fight with a number of surrounding Chinese rafts. I got mostly spared this time, partly for being a bit in front, partly for openly carrying the camera. That allowed me to take an impressive series of pictures, partly only 2-3 seconds apart of each other, of James' heroic fight. He won the experience of being entirely soaked through, not notably different from actually having been swimming in the river.
YS_20070724_142005_James.jpg: While little Birger preferred to take life easy…
Future Plans
…are still quite unsure. I got kind of used to not to know where I am in 3 or 5 days time. Getting the Vietnam visa on arrival turned out to be a little more tricky than I thought as the agency does not accept credit card payment just via internet. For credit card payment they require a signed fax. But I don't find a place, which faxes to Vietnam. So I advised a bank transfer to their account, but I have no clue how long a bank transfer from Germany to Vietnam will take. And until then I have no clue for when I can book my flights. So I don't have any yet…
Rita and James have to return home the day after tomorrow, which is really a pity as I enjoy their company very much. And I daresay they mine, too. My hotel is booked so far until that point in time, too. But I foresee that I add one or two days in YangShuo, until I have an idea when the visa processing starts. Then I could return to KunMing, spend a day there, and fly from KunMing to Hanoi, Vietnam. Certainly, I keep you posted.
Also, we don't yet have a plan what to do tomorrow. Tomorrow will show…that's early enough.
Today's Lesson: Take it easy!
Categories: AsiaYangShuo
Originally Created: 07/24/2007 05:09:17 PM
Last Edited: 07/24/2007