I had already briefly touched on the demarcation line between North and South Vietnam during the war the Vietnemese call "American War", as I had a brief stop-over there when getting to Hue by bus. Please check there for 3 impressive pictures on restored buildings and memorials along the Highway 1 Bridge over Ben Hai river. For this day (10-AUG) I had booked myself on a so-called "DMZ Tour", a tour to sites along the former Demilitarized Zone along the Ben Hai river. The tour included no less than 350km bus rides with a few stops along historically important sites. The sites by themselves weren't so impressive any longer (except for the tunnels), but the day gave a good introduction to an important part of the American-Vietnamese War, though I will not be able here to repeat all details historically correct.
We had certainly stopped by the bridge across Ben Hai river again, but my previous pictures are better and the stop then was even longer than now with the DMZ tour.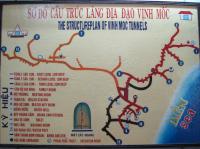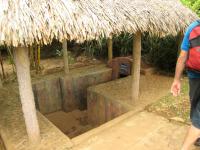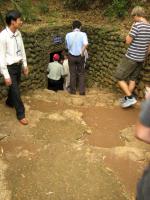 HU_20070810_100435.jpg: So let's start with the next attraction: The Vinh Moc Tunnels. There are pretty much in original shape, not widened for tourist visit purposes like the tunnels near Saigon. Should be added that the Vinh Moc Tunnels have from the beginning been larger than the ones close to Saigon. The tunnels were mostly used as shelters (some families lived in there for no less than 5 years as living overground was too dangerous given the American wide-spread bombing of the area) but also very importantly for transporting military goods across the demarcation line onto the Hoh Chi Minh trails and to Con Co Island, a few kilometers off the coast here.
HU_20070810_095823.jpg: Exit 5, where we would come out at the very end. The stone walls and the roof have certainly been added later only.
HU_20070810_101433.jpg: But we entered into the tunnels at Exit 3, next to the small (and unimpressive) museum.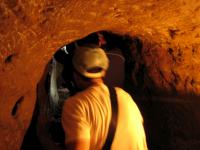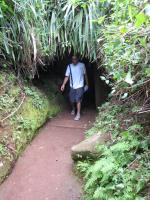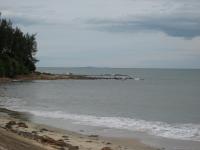 HU_20070810_101725.jpg: Then walked, guided by a guide, south…
HU_20070810_102221.jpg: …always watching our head. The tunnels might be high enough for Vietnamese, but not for Westerners 😉 And they are very very narrow. People can hardly pass each other. Everybody touched the walls once or more with their shoulders: In the end all of us would have a dirty shoulder. And I had chosen a white t-shirt this day…great choice 😉
HU_20070810_102902.jpg: We came out finally at exit 6, …
HU_20070810_103157.jpg: …which faces the beach. In the far far back you might be able to identify Co Con island.
Another short trip was then to enter again at exit 4 to get finally out at 5.
Seeing and walking through the tunnels was quite impressive. You can hardly imagine what kind of hardship it was for the North Vietnamese soldiers (the ever feared Viet Cong) to live and 'work' in these tunnels over an extended period of time. As said, we are talking about 5 years. Even children were born in a 'hospital'. All these 'rooms' indicated on the map are actual holes along the main path, maybe 2 or maximum 3 meters deep and hardly more than 2 meters wide. There wasn't much room for nothing. We were glad to be out after 20 minutes!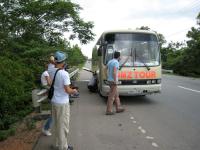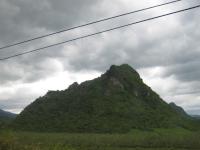 HU_20070810_123446.jpg: To be back at our air-conditioned bus, stop-over for lunch, and then head up west on highway 9. If not…the bus would break down. Or whatever it really was. The driver suddenly pulled over onto the break-down lane, and then only I heard a dull bang somewhere below me, which the driver must have sensed to come. What he is working on is the battery. Not sure what happened, maybe one of the battery cells exploded, can't say. But thereafter we had no air-condition any longer. So much on that topic… 😉
HU_20070810_131217.jpg: I forgot the name of this rock, but it ended on "… Rock". Nowadays pretty much forest on it, but during the war it was a bald rock. The guide often reminded us that the entire area was stripped of nearly all plants due to useage of Agent Orange by the Americans. So all this area looked more like a moonscape. Hard to imagine, but pictures showed it true.The rock was quite singular and, thus, became an observation post for the Americans, who had several military bases out here.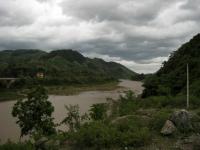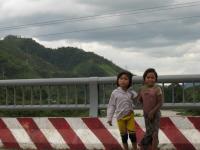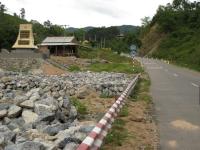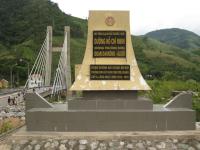 HU_20070810_134255.jpg: Ben Hai River, taken somewhere in the middle between coast and Laos border on Highway 9, where a new bridge spans over.
HU_20070810_134454.jpg: Two local minority kids on this bridge. The minority people here ween't yet accustomed to tourism. They were just curious, didn't beg for anything and mostly left us alone.
HU_20070810_134622.jpg: The Hoh Chi Minh Trail. Well…it might have looked slightly different during times of war, but this street, now named Hoh Chi Minh Street (Highway 14) is build along one of the main paths of the Hoh Chi Ming Trail after the war.
HU_20070810_134730.jpg: With a memorial and finally the Hoh Chi Ming Bridge in the background. Didn't understand exactly why we had to stop here…probably because this once was the location of the trail.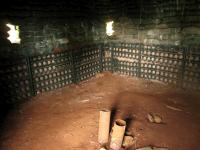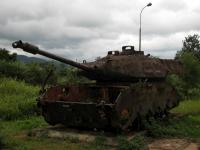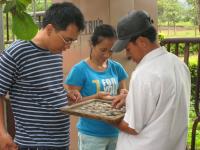 HU_20070810_141726.jpg: The last stop was at Khe San Combat Base, deep inside the country on Highway 9, the Laos border only 25km away. A place heavily fighted for shortly before the famous Tet Offensive to distract the Americans from the actual goals of the Tet Offensive. Here the inside of e reconstructed shelter.
HU_20070810_142139.jpg: Some military weapons remind on the site, here an M.41 Tank. Also a CH-47 helicopter was left behind when the Americans retreated.
HU_20070810_144131.jpg: Museum staff tries to sell medals and insignia to us tourists, probably into their own pockets. And they did sell. There is a good chance that much of what they are selling is actually authentic.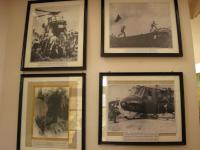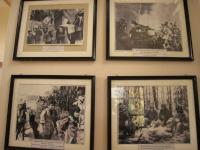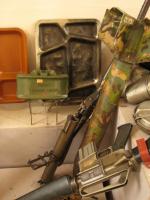 HU_20070810_142922.jpg: There was a small but quite impressive museum on the place, especially with many photos showing the fights on both sides. Here the American side: Fighting, suffering, finally fleeing.
HU_20070810_143400.jpg: Here the Vietnamese side: Smiling, working hard, but self-convinced. You couldn't but think that the exhibits were slightly biased. But then again…this is Vietnam here.
HU_20070810_143156.jpg: "Front toward enemy"…a loose collection of tools and goods of war.
That was basically the DMZ part.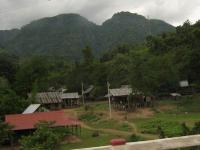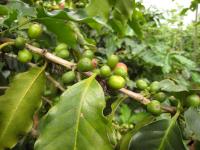 HU_20070810_135306.jpg: As a kind of side-effect we also saw some minority villages. We didn't stop anywhere, so all my attempts to take pictures of the villages were out of the running bus. Made it quite difficult to get things into focus. This here is probably the best one. Should be added that the minorities are really living in the kind of houses as I had seen them in the Museum of Ethnology in Hanoi. Still today. Unbelievable.
HU_20070810_141516.jpg: One of the main crops is coffee. My first time seeing coffee plants close-up. This picture taken close-by the Khe San Museum.
I had basically spent the DMZ day with a Dutch single traveller, who was delighted to speak a bit (a very good bit, actually!) of German again. So again I spok all day German…becomes kind of a habbit here 😉 and I hadn't as much trouble doing so as I had two days earlier on the bus.
Certainly, after we returned to Hue we went immediately for a dinner, then came the obvious beers…and again I didn't find any time to update the web site. You simply meet to many people here…
Today's Lesson: I don't want to live 5 years in a tunnel.
Categories: AsiaHue
Originally Created: 08/14/2007 10:21:02 AM
Last Edited: 08/14/2007