Today after breakfast I once again made my skating circle around Century Park, but this time armed with my camera, to take pictures of one of the great advantage of Shanghai's air pollution: Fantastic sunset during dusk.*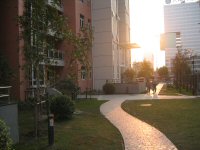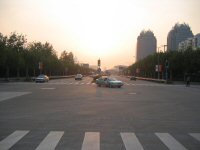 01. Entrance to our appartment.
02. The street to the south of our appartment, whose name I keep forgetting.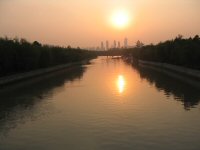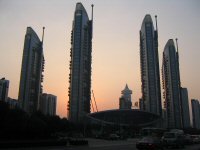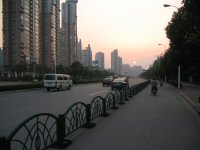 03. View into the creek of Century Park.
08. One of the more futuristic appartment groups in Pudong.
09. Huamu Road (花木路) to the south of Century Park.
Add-on 06-NOV: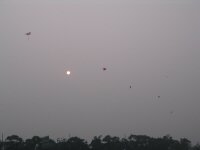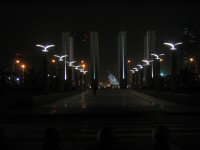 01. Smog in Shanghai: The bright spot is not the moon, it's the sun at about 16:00h. Around it some kites (close to the end of Century Avenue in Pudong.)
06. Similar spot actually, but looking from the subway exit along the beginning of Century Avenue at night.
---
* Anybody got the fact that dusk came shortly after breakfast?
Well, China has no daylight saving time, so dusk starts at the moment already around 16:00. But still, yeah, I got up late… 😉
Categories: Shanghai
Originally Created: 10/29/2005 05:43:01 PM
Last Edited: 11/06/2005