Before we start with Xiamen, a nice small city at Chinas south-east coast, let's revisit today's China Daily, an 8-page-only edition due to Chinas national holiday week. Just because it's fun to sit in a four-star western-style hotel in a by far not overcrowded good-looking hotel bar, with actually really good live music, be looked after by very attentive staff, enjoying cool Tsingtao, and reading:
Sites overflowing with holiday visitors…"The torrent of people is 10 times what it normally is"….56,100 people visited the Forbidden City on Saturday, exceeding its maximum capacity by 12 per cent…huge cowds of tourists have also put the nations's transport system to the test…the three subway stops near TianAnMen Square were closed…due to overcrowding.
Well, ladies and gentlemen, come to Xiamen! There is lots of empty space! You're not alone, but you'll find deserted areas if you have need for them!
All that is just fun. And then comes one of these interesting turns, which sometimes just happen in Chinese newspaper articles:
"none of the more than 800 Chinese tourists on…Bali were hurt….but 112 people were killed on China's roads between 12:00 pm on Satuday and 12:00 pm yesterday"
The main headline is unfortunately a lot less funny: The typhoon Longwang (Dragon King) hit Fuzhou badly two days ago, the capital of Fujian province, only a few kilometers north of Xiamen, where I'm sitting right now. Nobody yet confirmed dead, but 59 missing after a landslide…you know what that means.
And that newspaper was just lying under my door when I came to my appartment to pick up my laptop. One of the minor advantages of a good hotel…
Getting there
…wasn't so easy. Not because Xiamen would not have been connected to any kind of transportation system. No. According to Lonely Planet you can get here by bus, train, plane, probably even walk (although, hm, when approaching I noted that Xiamen is actually an island…but there was a huge bridge). No, the trouble was time organizing. I simply had none. In the weeks before I couldn't find a travel agency with office hours between 1am and 7am, the only timeframe when I could have made it into the city. And on the weekend before we were hiking in the Huan Shan area, a very nice event which needs to be reported here, too.
So actually, I woke up Sunday, October 2., and had no clue. And I woke up late. From various internet resources and books I collected a few addresses of travel agencies who were supposed to be able to deal with non-Chinese-speaking foreigners, got there, and was blocked by closed doors. OK, it was Sunday, but so far that never was a problem in Shanghai. It was simply due to the Chinese National Holiday, which means 5 days of public holiday. Doesn't actually affect public life too much: Transportation, supermarkets, restaurants…all as per normal. But offices are closed.
On Monday, again waking up very late, I gave up walking up to the offices, but called a lot of telephone numbers…either no answer or a Chinese tape voice. Eventually, I ended up with the ticket center of Shanghai Hongqiao Airport, hoping to be able to at least book a flight. And, surprise, surprise, that worked! I picked a flight for the next day (which is today) and a return flight 2 days later, and promised to pick up the ticket on the same day. I now needed to book a hotel on my own, which most safely worked via internet, and led to international hotel chains, as otherwise no online booking was available. Picking up the flight ticket took quite some time as Hongqiao Airport is exactly at the other side of the city and I enjoy more and more saving money by taking busses. Still cannot read too much, but it's more exciting 😉
Well, in essence, I spent the better parts of Sunday and Monday to prepare for being where I am right now.
The flight to here by itself was event-free: Get in, fly, arrive. I was the only foreigner aboard. But I get used to that. Xiamen offered me a warm welcome: The security staff greeted me with military-style gestures and big smiles, and the weather was literally warm, a lot lot better than what I left behind in Shanghai: Cool and rainy.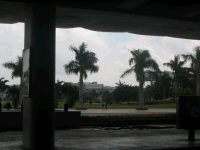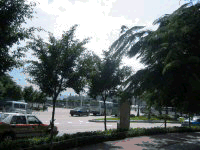 Two views out of arrival gate of Xiamen International Airport
And, as always, click on the thumbnails above to get full versions.
The hotel was actually not my first choice as it is not located on the small island of Gulangyu in front of Xiamen's coastline but on the mainland. But then, I thought, if I cannot get the perfect location AND have nobody with me paying attention to every Yuan spent, then let's at least get perfect quality. Hey, it's vacation, isn't it? And so I ended up in the Holiday Inn Crown Plaza Harbour View, 4 stars, all services one could potentially need.
And that included a "complimentary airport shuttle". Well, I thought, when arriving at the airport, why bothering with taxi drivers, when I could get a free shuttle? (Ah, some people did already have too much influence on me in terms of saving money…but I was about to spend a lot of money for this hotel, they could really get me to their hotel!) Needed to ask 3 staff until I got to the right lady, which said she would find me in 20 minutes for the shuttle. And she did, the shuttle was a pretty worn-out version of a minibus, but it had the Crown Plaza logo on it and so I trusted it. I was the only passanger. Who cares…
I'm pretty sure the Xiamen Tourism Board would recommend a different routing, but it so happened that the probably shortest way at the driver's discretion led along the freight harbour, an awfull lot of construction sites, and other areas, which too everybody's astonishment will never find their way into the color flyers of CITI. But, well, frankly, the only thing I had seen of Xiamen before, were maps…maybe that was Xiamen?
The hotel looked not much better from the outside, to be honest. I know, they won't like to hear that, but they cover a very great heart in a very simple shell. Staff is overwhelmingly friendly (although latest here I am no longer the only foreigner, although certainly one out of only few), the room spacy and well equipped, and–already said–all kinds of services available.
Promenades and Parks
And Xiamen wasn't only construction sites either. Not at all!
It was only a 3 minute walk to the water front. And Xiamen made really the best out of it! I have seen a lot of water and water fronts in China. But so far my comment has always been: "Look, place some nice trees here, a walkway, some benches, here and there a street café, and it would be a great place to stay. But what do we have? Concrete roads, honking taxis and no place to put your feet to a rest." Well, Xiamen has heard my mourning! They have all that! OK—except for the street cafés…you can't win them all.
There were lot's of trees, mostly palms, which gives it a Mediterranean feeling, benches, tent-like tarps to offer shadow. Simply a very enjoyable water-front promenade, which made fun to stroll along.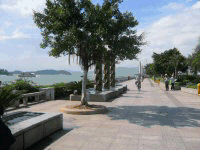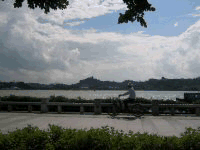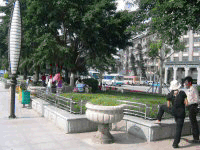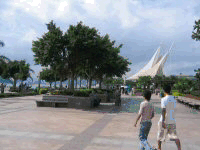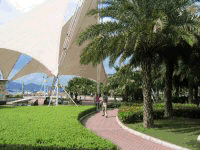 The water-front promenade under various angles, and a glance onto the neighbouring island.
I passed by multiple ferry piers. The next day I want to spend on the island. I knew there's a regular ferry. But finding the right one took some time. Sign-posts mostly only in Chinese. Only the one I really need was at least also in Pinyin 😉 I guess will work tomorrow. For today I simply moved on, wanted to check out some park sites in the city's west.
It turned out not to be too simple to get from the water front promenade to another very nice area around an inner lake, Yundang Waihu 筼筜外湖. Lots of not-so tidy streets in-between, but I finally made it. The area had just attracted me from a view on the map. And it prooved to be nice in reality, too. But nobody before me seemed to have noted…I was nearly alone while strolling along a walkway aside the lake, to the right flanked by grass, palm trees and garden-like features. Time for a nap… 😉 …and when I woke up again an old lady tried to sell me some fruits. I couldn't identify them and refused. A mistake.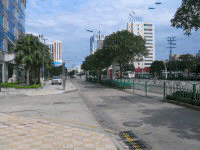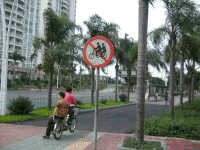 The way from the water-front to the other parks.
A sign I have seen nowhere else in the world…to me it reads "No passengers on back of a bike"…well, see yourself what Chinese do NOT read into that sign 😉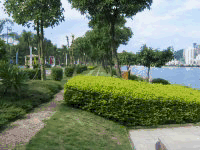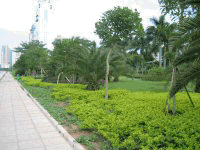 The park itself is a small strip along an inner lake.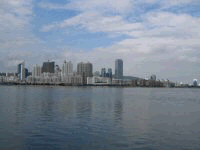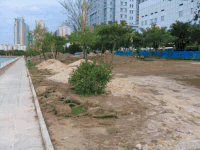 Across the lake it looks like an ocean cost-line…but the white strip is not beaches, but just sand of construction sites
And every once in a while the nice setting gets interrupted with construction areas.
I moved on and reached a very pleasant small park, Bailuzhou Park 白鹭洲公园, where I also met some people, yet no food. I started to feel really hungry. Over time, all my thinking was about where to get a snack. Previously I had passed by McDonald's, Pizzy Hut, and that fruit-selling lady, but now I would even have eaten these Chinese deep-fried meat-somethings on sticks, which taste like nothing except oil, but at least calm down your stomach for an hour.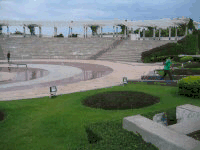 "Keep the environment clean and preserve social morality" – no additional comment, this kind of stuff you only find in China!
Something which could pass as an amphitheater, but unfortunately a bit run down, apparently not much used.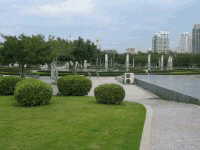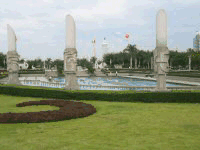 This thing was announced as a water organ or something similar. But it didn't play. Well, if it doesn't play during great weather at Chinese National Holiday break, when then???
Passed by more nice promenades along creeks and a last remainder of some communist era long ago (the shaking-hand symbol is from that age, isn't it?), but couldn't really enjoy it as I felt hungry. Finally I gave up the hope for any snack cart, turned right again into the inner city. Then only I passed by some stalls selling fruits, but by that time I was already determined for the Golden M Restaurant. It's sad to end up there when being in South-east China, but, hey, that's how things worked out. At least again great friendly service and a fresh, just-made-for-me Big Mac (had to wait 3 minutes 😉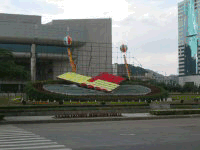 The good old shaking-hands symbol.
The headed down a big street, which I took for the main street, and 10 minutes later passed by the local market with all kind of Chinese snacks you could possibly want……
It was late afternoon and I headed slowly back towards my hotel. I had already decided to have dinner in one of the hotel restaurants. That was certainly just convenient. But I haven't seen any decent other restaurants outside other hotels either. It happened that Zhongshan Park (Zhong Shan Gong Yuan, 中山公园) was on the way, which is a nice place to spend some time, especially with kids. Lots were around there, playing at, in, and with various attractions. Small canals connected all parts of the park and small boats could be rented to get around.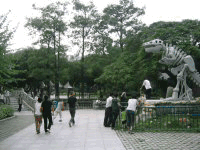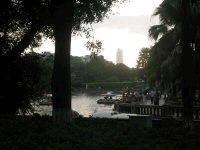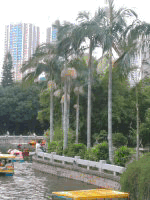 The park actually had a very long history. Unfortunately, large parts were destroyed during the Cultural Revolution. Only few things have been reconstructed the same way. Only recently a huge globe has been set up again as it used to be before (All that from a sign in the park.)
That reminded me of a former German Minister of Foreign Affairs, H.-D. Genscher, who was asked how he put up the world map, which is found in every office of Foreign Affairs around the world, in respect of various guests welcomed in the office. Genscher replied, he does not have a map, which would always center on one specific country (compare maps put up in America, Europe, and Asia, it's true!), he has a globe: He always turns the globe so that the visitor's country is in front.
Back to Xiamen: I felt warmly welcomed! When I approach the globe Europe was in front. Nobody else seem to bother, actually, but I tried to find China. It was certainly on the other side, but noone seemed to be interested. The other side of the globe was deserted except for a man who wanted to find a quiet place to enjoy his newspaper. And you couldn't really see China as it now due to the leaning axis of the earth happaned to be on top of this huge globe, on which you could not look down. Well, who designed that thing now….?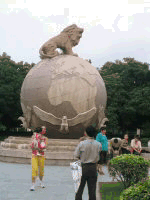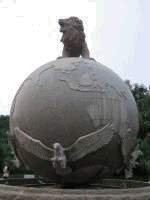 The globe as you approach it first…
…and what it looks like when trying to find China.
When exiting the park dawn approached. Through the streets I could see a nice sun-down. Suddenly, I wanted to be back at the water front. Best sunsets are sunsets over water. And I haven't seen one for quite some time as I realized in that moment. So I hurried through the streets towards the sea. Only then, I came along Zhongshan Something Street, which turned out to be THE shopping street, with lots of brand shops one ofter the other. Maybe I find again time on the next days, but shopping is not my thing anyway. As some drops of rain had fallen the minutes before the streets were wet and mirrored the glowing orange-red of the sinking sun perfectly. A beautiful picture, which I took time to enjoy for a few seconds, before hurrying on to the water front. When I finally reached it, the sun was unfortunately nearly gone (mental marker set for the next day), but still the image presented was beautiful. The island in front fall darker and darker, eventually lights went up and illuminated many spots (and now I was actually happy not to be on that island: Only from off the island you could enjoy the full picture of illumination), still some dark orange in the north west, small boats crossing the passage, more islands fading in the back, that's what a nice coast line looks like!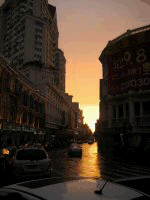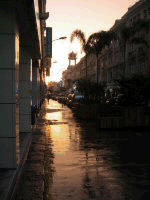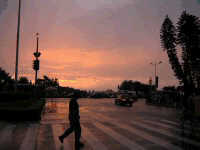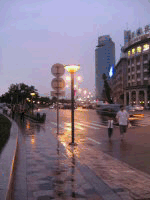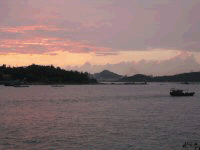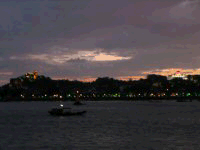 Back At the Hotel
…I found some fresh fruits on my room, lay down to relax my feet a bit, took a shower and…after a lot of consideration…decided for the Italian restaurant. It's vacation, it's up what I like, and I did not want Chinese tonight. And the Italian one was small but really good! The menu was comprehensive (both food and wine). I was led by friendly waitresses to my seat, ordered a salat (oh, what do I miss salad in the Chinese cuisine) and Scaloppina. Was not exactly like in Italy but fairly close. But what made the place really enjoyable was the staff: They were absolutely professional, but still had fun and made fun with those guests who made fun with them. It seemed that some guests, 75% foreigners, were well known. And so jokes went back and forth. Even for me outsider it was fun just to try to follow. Like the Afro-American (a rare appearance in China), who talked a lot about his hard day today and demanded the daily special's menu (which I missed, darn), read one of the specialties in English aloud to the waitresses surrounding him and asked them "And now you!". And they, good but not fluent in English, reacted promptly: Read the entire thing without hesitations and fluently—the Chinese line 😉
It must also be noted that the service was too fast. Is it possible that service is too fast? Actually, I think it is. It was already great that they really got the message that I wanted the glass of wine only after I finished my beer. But the wine was on the table on the very same moment I put down the empty beer glass. And when I ordered my espresso there were still 2 sips of wine….but the espresso came more like an expresso, the machine activated before the order was entered into the cash register. Well, I took my time anyway, enjoying the conversations of the waitresses with the other guests.
When I finally ordered the bill I did it quite 'normally' in Chinese ("mai dan"), but realized only a second later that this were my first Chinese words in this restaurant: The waitresses stopped astonished, understood, and replied like "Oh, everybody wants to speak a bit of Chinese today!" Giggling of the colleagues behind the desk. Well, so I had my fractional share of the fun as well.
And these lines have been written in the Golf Bar of the hotel, a bit too loud music, but nice setting with a well-made artificial waterfall, accompanied by a good band of two female singers and a male guitarist.
Overall a very enjoyable end of a good day.
Categories: Shanghai
Originally Created: 10/04/2005 03:06:27 PM
Last Edited: 10/06/2005