It is embarassing but true: I need to insert yet another placeholder to keep room for our second visit to Germany, during which we had the pleasure to attend two weddings of friends of mine, combined with a sightseeing tour to southern Germany. Yet again…time to sort out picture is rare…
WeekdayDateCity / MorningWhat / WhereCity (for the night)
Fri2006-09-29ShanghaiFlight LH 729Frankfurt
Sat2006-09-30FrankfurtHamburg: Wedding Alex & AxelHamburg
Sun2006-10-01HamburgMenden: visit ParentsMenden
Mon2006-10-02MendenHeidelberg: SightseeingHeidelberg
Tue2006-10-03HeidelbergMunich: Sightseeing, OktoberfestMunich
Wed2006-10-04MunichMunich: SightseeingSpitzingsee
Thu2006-10-05Alps / SpitzingseeSpitzingsee: Hiking to RotwandRegensburg
Fri2006-10-06RegensburgRegensburg: SightseeingBamberg
Sat2006-10-07BambergBamberg: Wedding Bernd & ChristinaBamberg
Sun2006-10-08Bambergback to Munich, bit of sightseeingMunich
Mon2006-10-09Europa -> AsiaLH 726Shanghai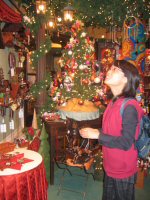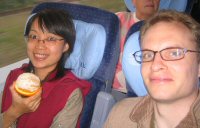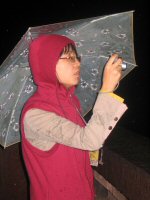 Heidelberg: Always Christmas! (And taking picture not allowed ;))
On the rails: We travelled much by train this time, more relaxing for me…
Heidelberg again: Bad luck with the weather during large parts of our journey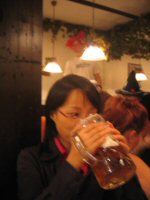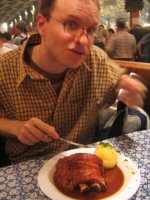 Munich, Oktoberfest: Much to drink…
…and to eat!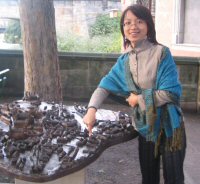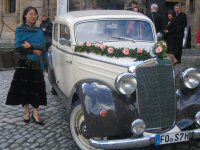 Bamberg: Carol always knew where we were!
Bamberg again: This trip was not only about sightseeing, but also about wedding-seeing
Hamburg (Saturday, 30.09.)
We arrived a day before in Frankfurt and just went out for something to eat, slept early, and were already on a train heading to Hamburg before the sun rose again.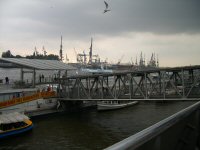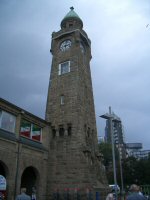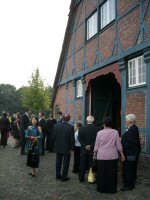 Landing Bridges: We had not much time for sightseeing in Hamburg this time, but no visit to Hamburg…
Pegel Hamburg: …without checking if the water is still there!
Othmarschen: The wedding location: A renovated Fachwerk farm house.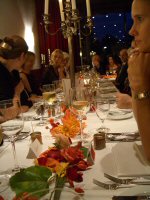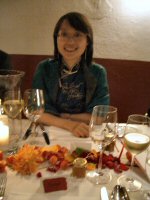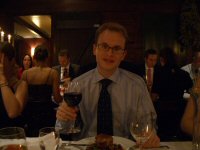 The wedding meal in Hamburg.
Carol's first western wedding, and I had the chance to meet quite a number of friends again.
Bremen / Menden (Sunday 01.10.)
Yet again by train we went on to Menden…"suddenly" stopping in Bremen were "surprisingly" my sister picked us up from the railway station 😉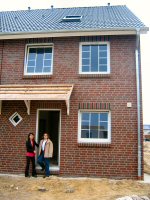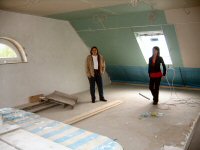 Carol invites my sister into my sister's new house…
…where there is still a bit of work to do. For more progress please visit Markus' homepage 😉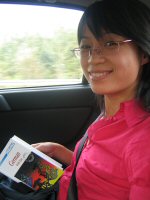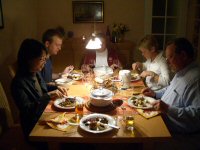 No time to waste….learning German in the car on the way to Menden…
…where we had a stop-over for an afternoon and a dinner (deer!) with my parents.
Heidelberg (Monday, 02.10.)
Yet another day to get up early (and it should not be the last one) to catch a train to Heidelberg. (Papa's comment: "Must that be…") Yes, it must, at least for visitors from abroad. The city well preserved the old-style houses. And the castle atop the city is absolutely worth a visit: It is intentionally not renovated, but preserved in its partly destroyed shape as a memorial. We had quite bad luck with the weather here in Heidelberg…and not the last time unfortunately.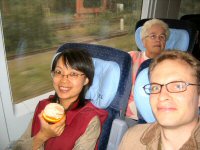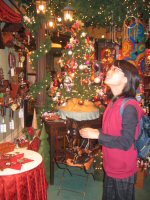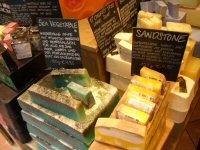 On the rails: Contrary to our previous visit in May this time we spent quite some time on trains. That made the trip a lot more relaxing for me. Once we had a car and I enjoyed driving it (as I am not allowed to drive a car in China). But still…it's so much more convenient to be able to close the eyes for a few minutes or hours.
Always Christmas in Heidelberg, and taking picture strictly forbidden 😉 Carol is fascinated anyway, I a bit annoyed. Didn't even know that there is an all-year Christmas shop in Heidelberg and didn't want to waste our rare time for that.
Or for soap shops, that is… 😉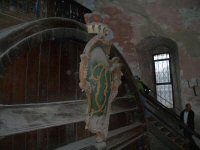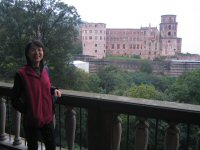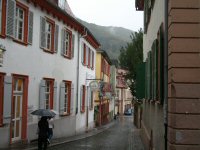 The Big Barrel in the Castle…probably needs being dusted, doesn't it?
The Castle from behind its gardens: We certainly climbed up there by use of our own feet. But got hit pretty badly by rain. Luckily one umbrella had found its way into Carol's backpack.
Heidelberg's small streets and colorful houses were still fascinating. Especially if you compare it to what you find in China.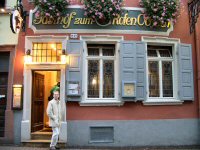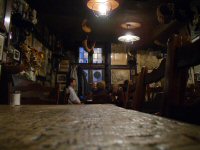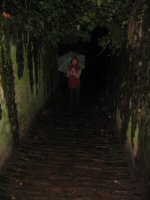 Gasthof zum Roten Ochsen ("Red Ox Inn"): An old students bar, at least so they claim. Nicely renovated from the outside. Inside…
…overloaded with students' relicts, deep carvings in the tables, and hundreds of pictures, but definitely having that cosy atmosphere you come for to Germany.
Dark and rainy: Dinner was early and so we did another stroll through Heidelberg's lanes and over the bridge on the other side of the River Neckar. I loved the "Philosopher's Lane", which is a small wounded way up a wine hill. Well…I did not take into account that that nice way with a great view over Heidelberg at its top had not a single street light. Have rarely seen so few than in the entrance to that way. Carol did not do any step into that total darkness. For good reasons: You couldn't see a hand in front of your eyes. We slowly returned to our hotel, had a quick nap (Carol) or watched an old episode of Star Trek on TV (me). After the nap we turned to sleep 😉
Munich (Tuesday, 03.10.)
…missing…to be completed…
Categories: Shanghai
Originally Created: 11/05/2006 09:07:52 AM
Last Edited: 11/05/2006