I am feeling a bit like being back to elementary school, but it is absolute fun and also highly educative: Despite different announcements I am hand-writing Chinese characters.

I would have said that, back in elementary school times…yea…somewhen back in the past century…I learned latin character by latin character. But thinking about it twice: I very well remember that the very first word I could write was "Mutter" (German for "mother"). I was apparently so proud of being able to write "Mutter", that I covered a grey plastic transparency slide box with black writings of "Mutter". Only next day, when I learned how to write "Vater" (German for "father") I started to realize my mistake: I had left no room on that plastic box to write "Vater" anywhere…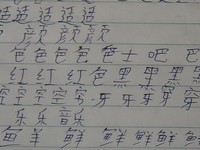 I aso remember that, after finishing elementary school and having started with high school, two friends and I once took the chance that we again "young" students of the high school had a day off during the "Abitur" examination of the top grade and paid our old elementary school a visit, looked through the windows from the outside. Our elementary school teacher certainly remembered us and asked us in, so that we took part during the remainder of that class. Teaching method had since we started learning to read changed a bit: This class now learned to read/write entire sentences before taking them apart. Maybe in hundred years pupils first learn to memorize Goethe's Faust before starting to write…
So much about the ancient past…what's up right now? As a matter of fact we had finished the 10 lessons of the Chinese teaching book already one week early. In that last week I was actually the only student (the other being on a trip to Beijing). There were only very few new elements in these lessons for me. It seems that my self-study over the past two years did actually serve something good. We had considered looking into Beginner 3 already, the next class. But I had said I would book that course anyway, so that it does not make sense to waste the time now with it. And so we started with handwriting characters instead and by the same time review the last lessons.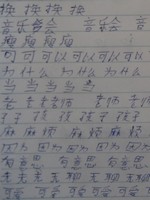 Having read various books on Chinese characters already I was actually familiar with some theories of how to write them. There is a lot about strokes, and order, and placement, and especially balance within that writing square, which each character has to fill, no matter if just one stroke or 50. There are simple rules like "top to bottom", "horizontal before vertical", "left before right", "outer before inner" and so on. Sounds all right. But putting that into praxis soon becomes a different story. Just try to guess the stroke order for 面 (miàn=flour), and that is not even a difficult example. This one is also a nice example, not difficult at all, but I had guessed the exactly wrong order: 也 (yĕ=also). Try it yourself! I'll give the solution at the end of the article.
Some books have the student practise individual strokes first. We, however, digged right away into the characters, just in the order as they happen to appear in the "New Words" section of our Chinese teaching book. In the beginning, the teacher had to give me a couple of hints, especially regarding the stroke order. Sometimes it turned out that I overlooked that there was actually a small gap in the character where I had seen them connected. And suddenly there are more strokes and the entire stroke order needs to be rethought… But over time I did my job better and better and guessed more or less right. It also helps to know certain common parts of characters as they keep reappearing.
What's all that now good for? Will I remember all these characters in writing? Probably not…writing a character from scratch is a completely different story than trying to read a given character. I had always said I want to be able to read the basics. And so I am mostly. Good, given…I have to catch up with some of the latest characters, also on reading. But now, with writing them, I do learn a lot, which will also help me reading them: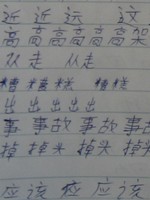 Knowing the characters' so-called "radical" is essential to look up unknown characters in a dictionary. You want to avoid that by all means…looking up Chinese characters in a dictionary is no fun if you really depend on it. But sometimes it in fact is unavoidable if you are missing one or two characters to understand a potentially important note. And to do so you need to identify the radical, after which characters are sorted. The radical is some charactersitic base element of every character and often easy to guess as it often is just the left-most a bit squeezed part, or the top-most. But not always…

The other advantage of writing myself is to be able to distinguish also minor but relevant differences like in 车 versus 东 (chē=car, dōng=east [simplified]) or between 我 and 找 (wŏ=I,me, zhăo=search,seek), or 大 vs. 太 (dà=big,tài=extremely), or, especially nasty and easy to do wrong in hand-writing, if not knowing the difference:

土 vs. 士 (tŭ = earth, shì = warrior. The latter's bottom stroke is shorter) 干 vs. 于 (gàn = work, yú = when; regarding. The latter's vertical stroke has a hook)
Here's a last nice example from my actual practise in class today: See how the character 鲜 (xiān=fresh), a combination of 鱼 (yú=fish) and 羊 (yáng=sheep), develops over time in my writing attempts, especially its left part: I liked this hook on top, the fish's head, but through the first of my attempts it somewhat looked wrong…until I got the teacher's hint: The hook is too long, a fish does not have such big a head! The last three attempts are then more or less all right:

Na, got an idea…? 😉 Well…you can spend years and years learning all of them. I have no intention doing that, but getting a bit of an idea helps understanding and reading them as said.
More "urgent" is to decide on how I go ahead with the next course. The offered group class schedule does not fit me at all. There are only two 2-days-per-week classes, which would take fairly long to complete, while I would really like to finish quickly. I probably just take a private teacher then to get though the 3. book and maybe by that chance also add some terms and vocabulary essential for travelling. We'll see…I'll keep you posted!
---
And here's the solution for the above 2 questions on the stroke orders of the above mentioned 2 simple characters:


Categories: Shanghai
Originally Created: 04/02/2007 10:34:39 AM
Last Edited: 04/02/2007