"Ah, Yángshuò, that legendary backpacker hang-out just 65km south of Guìlín. Guìlín gets all the press, but Yángshuò , a great, laid-back base from which to explorer other small villages in the nearby countryside, arguable surpasses it visually. […] Pedalling through the rice fields amid the splendid green-topped limestone peaks for a day, or three, is for many their top China experience." Lonely Planet China guide Book introduction to Yangshuo. While I would argue if LP was right on Guilin I have to say: It is absolutely right on Yangshuo!

(I later got here once more in July, see these three articles: Cycling, Bamboo Rafting, Moon Hill.)
Wednesday, 21-FEB-2007 (cont.), Some Tourist Hot Spots
After we arrived by boat from Guilin we had to hurry to our tour bus. Shortly before reaching it our tour guide asked Carol if we would be OK with switching to another bus as our bus had two seats too few. Well, why that? It was full but OK all the way from Guilin to the river cruise start. Did the bus suddenly shrink? We couldn't figure it out, we did not get anything offered in return if agreeing to the deal, and so we denied. The tour guide tried a second time while sitting in the bus and Carol told me later: When she started to do her tourist talking again she again said something about 'crowded here now, trying to convince two people to move to another bus, but they denied'. We couldn't figure out what the problem was and why it should be us to move on, and decided to play deaf.
The bus finally pulled out, drove through and out of Yangshuo and to yet another cave, the "Assembly Dragon Cave". If you have seen the Reed Flute Cave in Guilin then you don't need another cave…we weren't excited but did our deed. Oh…I forgot…there was yet another Jade shop to pass through before entering the cave. I promise…that was the last one for this trip!
The next stop was the famous Moon Hill (月亮山=yùeliàng shān), which basically is a natural hole in a rock up a hill, which, when you pass by, even looks a bit like a moon passing through its different moon phases.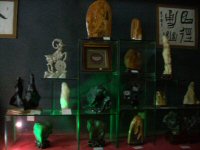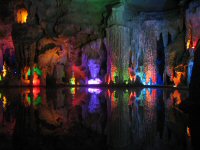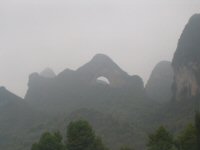 16:12: That Jade shop in front of Assembly Dragon cave.
16:44: Assembly Dragon Cave, the most intersting hall, a bit too colorful illuminated. The cave had long ways between different scenic spots and, thus, used a different technique: The people wandered along the path themselves and at each spot there was a young lady telling what to look at. Two short passages were to be done by boat. At least at no extra charge.
17:07: Moon Hill. The bus passed by, stopped shortly, but I didn't even get out. That picture here I made through the bus window.
When collecting the people after getting out of the Assembly Dragon cave the situation on the bus somehow escalated: We sat on the 2 seats we all the time sat on. But other people apparently not. How they dare! Some people moved a bit around, but in the end it somehow did not work out…although 2 seats behind us in the last row were still vacant. People started shouting at each other, finally some people started even hitting each other, and all that for at least 5 minutes. The bus in the meantime even just pulled out and drove on to Moon Hill with the people still quarreling in its middle. It didn't really settle…3 persons in the end stood in the aisle. I started to understand why the tour guide kept asking us at every opportunity if we would really stay behind in Yangshuo and not go back to Guilin as all the other guests (which we indeed had all the time planned to do and had indicated at the very beginning when getting on the bus).
Now it started to become really annoying. I didn't like these tourist 'attractions' any longer. We were already down to "AAA" level (the really nice places are labelled "AAAA" in China, a national rating). And seeing the people shouting because of shortage of seats (why we were short of seats I still cannot explain) did not make things more fun either. The next stop was a temple, which we did not exactly found interesting at all. Then there was supposed to be some kind of tree to watch. Wow, fascinating: a tree, never seen a tree before…
We wanted to get out of this crowd. The only problem was: How to get back to Yangshuo? As all these second-class tourist hotspots were served by the tourist group busses only. There were no taxis around. I saw some motor cycles waiting in front of the temple and suggested to Carol if we could ask them to bring us into Yangshuo. You get a bit more relaxed on transportation when being in China for a longer time…for money people do everything and hiring a motor-cycle is not uncommon a thing. Carol agreed immediately, only asked me to stay behind when negotiating the price: Having a westerner around is a bad negotiation basis 😉
But we didn't get that far: Carol asked the guide if we could get the tickets for the next sightseeing stops in case we wanted to see them. During that talk the guide guided us back to the main street, stopped a minibus for us, paid for us, and, thus, we got back to Yangshuo quite quickly. And at the same time learned the minibus concept, which we used the next day again.
BTW: That was 5 RMB to get back into Yangshuo. Compare that to the 10 RMB for the electric cart within Yangshuo after arrival.
We quickly found our hotel, checked in (the hotel no longer expected us to come, although it was only 6pm, but as we had a reservation we got an even better room as our original room was already given away to another couple), and immediately got out again on that famous West Street in Yangshuo.
And really: In Yangshuo you feel a bit like on Khao San Road in Bangkok, Thailand! People do speak a fair bit of English (a tiny bit more than just necessary to sell their stuff), West Street is full of souvenir shops, but also restaurants with a lot of western dishes, many street cafes, bars, clubs. The street, a pedestrian street, is full of people, but not overcrowded. It is so inviting to just sit down in one of the cafes and watch the crowds. And when you do so then suddenly you feel a bit strange when you realize: In reality most of the people actually do talk Chinese and you don't understand a word…
That brings you back to reality. And reality is: The Beer Fish in Yangshuo is said to be better than the one in Guilin. So we searched for a good Chinese restaurant. Not possible in the 'nice' part of West Street. But we had passed by some open-air Chinese restaurants in a side street when getting to our hotel and there we headed back to. Got easily a table, ordered quite a lot of stuff, where surprised that the fish is served cut into pieces, but it indeed tasted a lot better than two days ago in Guilin. But it still didn't taste like beer…why that we would only figure out the next day…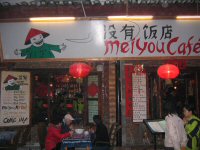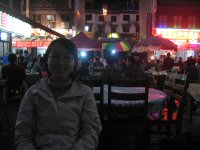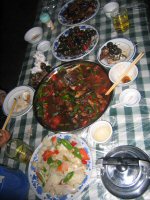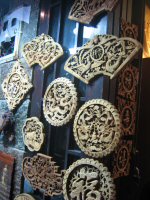 18:25: Meiyou Café. A cool idea for a name of a café: 没有=Méiyŏu is one of the first things foreigners learn to understand when listening to others: "Don't have", or in good old German: "Hamwanich", a very typical answer of waitresses if you asked for so extravagant things like cooled beer. The café turns it around and writes: "Meiyou warm beer, meiyou lousy food, meiyou rip-offs, meiyou bad service…so meiyou reason to hesitate: Come in!" I like the marketing idea…well, it turned out that they also meiyou any good Chinese food, so we moved on…
18:45: …and ended up here, at a large square packed with tables under open air…
19:17: …where we ate our best (and last) beer fish as well as snails. We were interrupted by a bit of rain, which drove us under a sunshade (well…was than actually a rainshade ;)), but that stopped soon.
20:48: So that after the dinner we explored West street a bit more. As most of the nice cafés where now full we finally decided to buy beer and fruits and return to our hotel where we had our own balcony out to a side street of West Street. Yea, and there I wrote post cards! (One of them I could send off next day, for the other 2 I was missing the zip code…grrr…they are still lying here, but I will deliver them soon!)
Thursday, 22-FEB-2007, Fuli Bridge 富里桥
The original idea was to do a full day hiking trip along Yulong River 遇龙河. But it had rained all night and did not really stop in the morning. We went out to try the famous Guilin noodle soup for breakfast. I was not so fascinated by the soup, but we got it for just 3 RMB, so don't complain. I got a lot more trouble with the weather. Before we could convince us to move on it was past 11 already. Carol had the great idea to short-cut the trip by taking a bus to the destination Fuli Bridge and only hike back. I don't know how she knew that there was such a bus but after asking around a bit at the bus station we indeed got on a minibus heading in that direction for 5 RMB each. It also entered another Chinese couple which we got in talks with. They either had a similar idea or liked our plan…I don't exactly know. But we got off together at a place for which the bus conductor said "Fuli Bridge is just 10 minutes walking distance. Äh….about that direction…" pointing somewhere roughly into the rice fields, and off the bus was. That is where we ended up: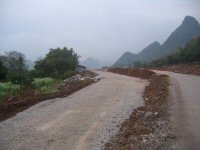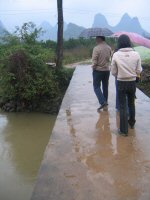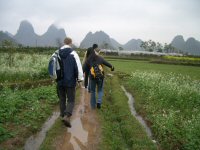 11:55: A street under construction where the bus dropped us off in the middle of nowhere. With now 3 Chinese with us there where many possibilities to ask locals for the way. Luckily one man just came out of the direction the bus conductor had pointed to. Usually it would be my job to tell the direction (and it would later become again) but at the moment it was certainly simpler if native Chinese speakers try that. And so the other man with us did so and got the first hints on where to go. Whenever we saw a person working in the fields we asked again to get the way confirmed and that way made our way over muddy foot paths through rice and mini-orange fields.
12:01: The first bridge to cross. No, not Fuli Bridge…just some plain beton thing across some unnamed small river.
12:05: Yes…that's what these foot paths looked like after night-long rain.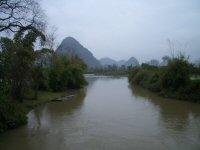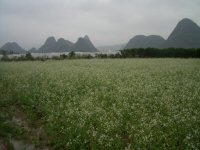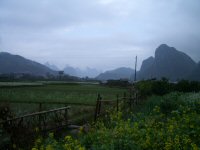 12:00: But we also saw…
12:01: …fantastic landscape…
12:06: …amid rice fields and limestone peaks.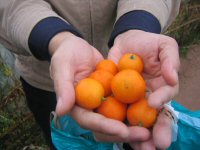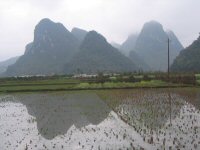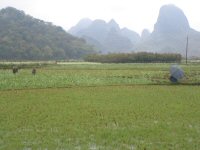 12:09: On the way we bought these mini-organges from workers directly from the field. They are quite delicious and easy: The skin is edible!
12:20: More rice fields, more scenery.
12:21: A man under an umbrella guarding his water buffalos.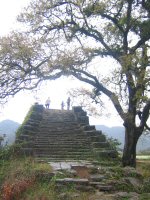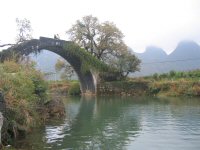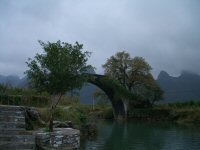 12:31: But we finally reached it, although after 35 instead of 10 minutes:
12:33: Fuli Bridge, an old bridge…
12:43: …connecting nothing any longer, in the middle of rice fields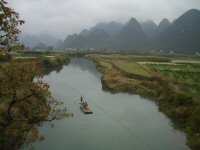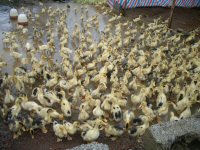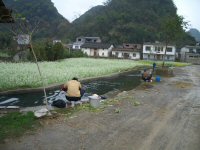 12:33: But offering nice views into the scenery. On the Yulong river a bambo raft of a couple who had booked the entire trip coming from Yangshuo (as we learned when they asked us to take a picture of them).
The original plan would now be to find a way along Yulong river to Yulong Bridge and further on as far as possible. But Carol got they great idea to ask a local farmer if we could get some lunch. A lady from the fields on the way home said she could not, but she knows that the farmer next door sometimes did it. That man however denied, too.
12:54: We walked along the path towards the village as we could not figure out a way directly along the river. We did not really have a good map of the area and that was the only visible way. Where we bypassed this chicken farm.
12:55: And right behind it the villages washing street. (Watch the white two-storey house in the back…that's where we get to now:)
While further walking down another lady approached us, asking if we were the ones wanting lunch. Seems the news had travelled fast…but obviously us, we were the only strangers around, and even with a 老外=lăowài, a foreigner. (I didn't see any westerner all day.)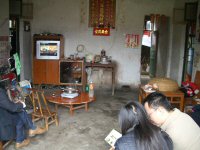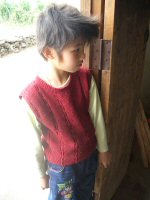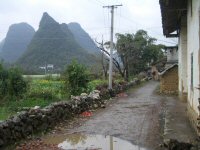 14:06: We were invited into that 2-storey farm house, were briefly shown around, including the stalls in the back. Only now I note that it was one of few 2-storey houses. The family was not the poorest in that far-off village. But still all was quite simplistic. And they weren't used to serving tourists: It took 2 hours to prepare the meal…which destroyed a bit our plans for the day, but we surely couldn't leave now after a chicken and a duck had just ended their lives just for us. Or more: for the family and us. The lady argued that due to the size of the duck she would also invite her family to take part in the meal if we would not mind. We understood that little trick, but certainly agreed.
And waited as patiently as possible. I had to learn some family terms from a school poster hanging on a wall (hm…papa de papa is…yeye? Mama de mama is taitai, that I'm pretty sure of…Mama de papa is…something with "wai"….Mama de mama also has a "wai" in the name…but I forgot already the second character…)
14:08: Carol entertained the daughter (yes, that boy-like child is in fact a daughter).
14:09: And we explored a bit the village.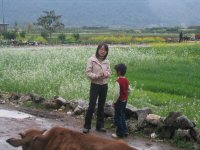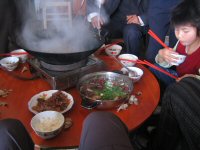 14:13: Watched the oxes being driven along the village street.
15:06: And finally enjoyed the simple but delicious meal in the middle of the family: The duck roasted in the big wok, the chicken more cooked in the smaller pot (on a now removed electrical stove). All that for 60 RMB for the four of us, which I had the pleasure to hand over.
Here we also learned why the Beer Fish never tastes like beer: The beer is only used to wash the fish to get rid of the fishy smell, a technique used by many other Chinese, including Shanghainese as Carol remarked, too. But only the Guilin area made marketing around it 😉
We moved on as soon as we could without loosing face, but it started to get a bit late. We wandered further on through the rice fields to find our next destination: Yulong Bridge.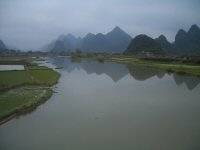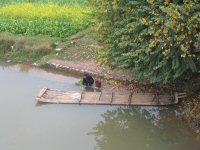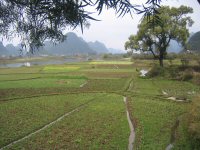 16:26: The landscape was still the same, but you couldn't get tired of watching it despite the still lousy weather.
16:29: A farmer lady washing food in the Yulong River, which due to the rains was brown.
16:31: Endless rice fields in all directions.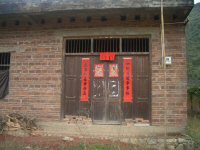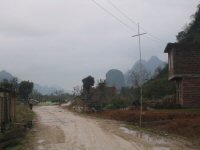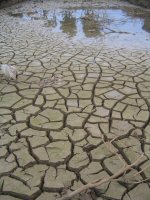 16:35: Remarkable: Each and every house, the big ones as well as any small hut or even the many houses under construction, were decorated for the Chinese New Year feast.
16:40: Streets didn't get much better.
16:41: A former lake, now dried out. An attempt of mine to create an artistic picture. Without the plastic bag it would probably look a bit better… 😉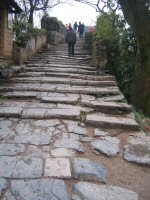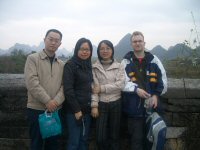 16:51: We reached Yulong Bridge. There were a lot more people around here, even some small shops and people trying to sell things. At least we could get a bottle of water. But all in all it was a lot less cosy than Fuli Bridge before.
16:57: The only picture with all four of us: We don't even know the names of our two friends-for-a-day, quite a pitty. [If you happen to read this, why don't you leave a comment? Just klick on "Kommentar hinzufügen" at the end of the page 😉 ]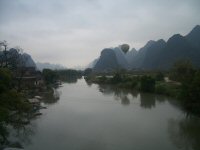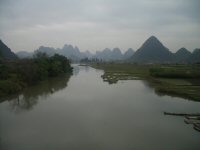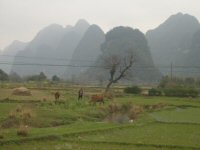 16:54: The landscape stayed picturesque: View from Yulong Bridge to the south (with hot air baloon, which you could also hire)…
16:58: …and to the north. Somehow similar, but there's really a 180 degree turn between them! Scenery wherever you look…
17:06: We left Yulong bridge quite quickly to the east. I predicted that to the east must be the road where we could stop a minibus. My three friends couldn't believe that, asked around, and had to figure out that all people said exactly that… Well, I had on the way to Fuli Bridge seen a sign pointing to Yulong Bridge from the bus to the left. And in addition all the people on the bridge, some of them in quite good clothes and clean shoes, must have come from the other side of the bridge as we were the only ones coming along our way. It wasn't so difficult after all when putting together one and one…and so I led them back to the "high street", where we were so lucky to immediately catch a passing-by minibus back to Yangshuo.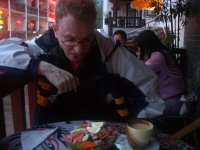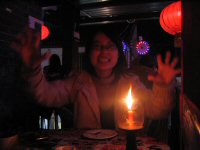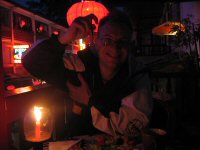 18:37: Back in Yangshuo we went again along our own way, but weren't hungry for a full dinner. So I finally saw the time coming to try one of the many cafes for just a snack and a coffee while watching people. After some back and forth and asking for cake we decided for a café, which gave as a perfect seat on the second floor, facing a crossing of West Street. The view was perfect, but that was the last good thing about that café…the milk coffee was poor, and the "Chef's Salad" was a poor collection of vegetables cutted into too big pieces with some sauce delivered on a separate plate. Carol's Cheese Cake was not tasty either.
18:43: So we made our fun ourselves…
18:55: …while the darkness settled in.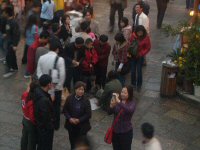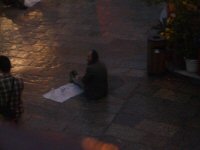 18:35: And we watched a street seller, who sold some plastic stuff, which looked like a dancing pair, invisibly moved by a thin transparent line. Sometimes, it was quite crowded around him when he could attract children's attention. And he sold a piece every once in a while.
18:43: And sometimes he sat there quite lonely and watched the passers-by. Great picture, Carol!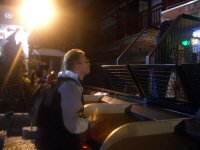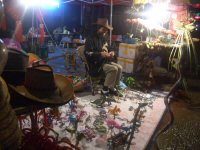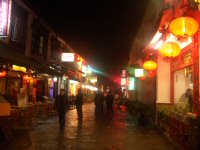 20:01: A line of electronic basket ball baskets attracted our attention. We watched the people throwing their balls into the nets, then tried once ourselves, found it extreme fun, bought another 4 chips, had even more fun. Moved away…found it still fun…and bought yet another 4 chips…wow, we spent no less than 22.5 RMB there… 😉 Here you see me doing the job once alone, the eyes fixed on the basket (which after 30 points started moving a bit left and right) while grabbing balls blindly and throwing them at the basket. That was the fastest way of getting as many balls as possible into the baskets. See? I am moving so fast that Carol couldn't get a clear shot of my hands :-))
20:35: Another street seller, who made a lot of funny and very stable animals from reed.
20:40: A side street off our hotel's street.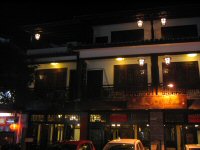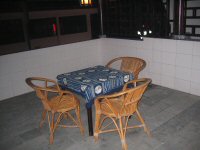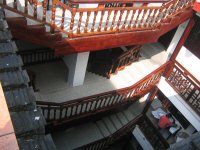 20:39: Our hotel. Our room was a bit set back to make room for our…
22:54: …huge balcony. The latern is the top-left one on the previous picture.
10:34: Next day, after check-out: A view from the house's top down on the stairways in the inner yard.
Friday, 23-FEB-2007, Biking along Li River
On the next day we rented a tandem bike from a bike hiking stall right next to our hotel. You can rent bikes everywhere…and it's always the same kind of bike of the actually famous brand "Giant", but it's certainly cheap things. Doesn't matter…there's no point in comparing many stations if you just want a simple bike. We got ours due to Carol's negotiation skills for 10 RMB for the day.
We still didn't have much of a map of the vincinity of Yangshuo. There doesn't seem to exist anything, which included all streets. So we started off in about the correct direction, had to correct a couple of times, and ended up in an area where our tourist overview chart did not show any streets any longer…but it was the greatest day we had during the entire vacation! And it was sunny! Finally, well…we paid with quite some sunburn for it, but it was absolutely and definitely worth it! See yourself: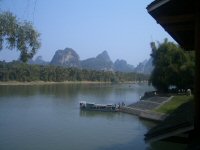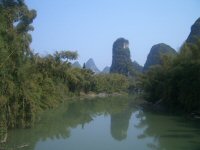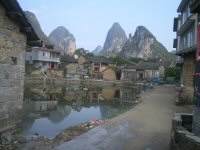 11:22: Li River, still close to Yangshuo.
11:27: View from a bridge over Jinbao River.
11:47: Mushan Cun 木山村, the first of the small villages along our biking trail.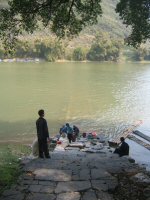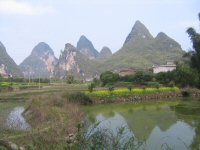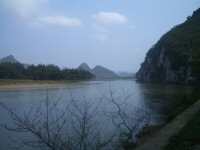 11:57: One of the few dead ends we faced along our trail…as I said…there was nothing like a reliable map. Still nice 😉 lloks actually like the road extends into the water.
12:07: Lakes, rice fields, limestone hills in the sun…
12:22: …or Li River in the sun. What do you want more?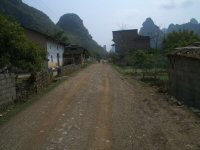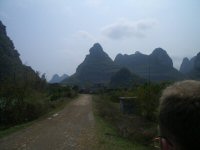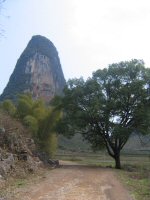 12:26: The street was always a minor challenge, but never really bad. I just tried to watch out as much as possible to avoid big sharp stones. The least thing I wanted to happen was to get stuck with a flat tire.
12:28: Carol took this picture from the running bike, my head in the bottom right corner, and a hill which looks a bit like, sorry, dog shit in the back.
12:33: But there were other shapes, too 😉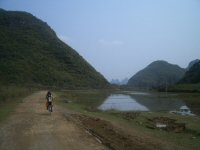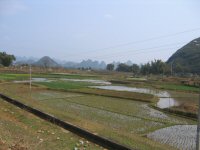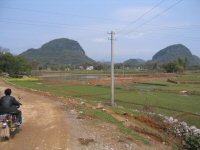 12:36: A nice shot with another lonely biker amid rice fields and flat limestone hills. (In fact, that lady was part of a larger group, but we had passed by the others already.)
12:40: Rice fields over rice fields…
12:43: …and more rice fields. The streets were rarely used by four-wheeled cars, but mostly by motor cycles and the tourists' bikes.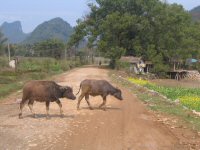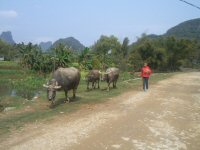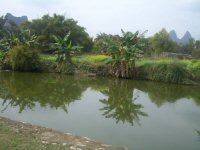 12:45: Well…and by oxes 😉
12:46: And again…maybe water buffalos. But definitely used as drawing oxes.
12:46: Just nice.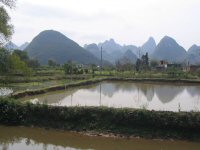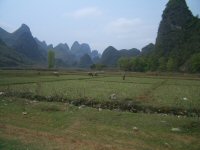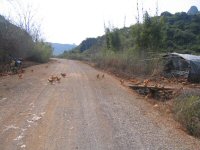 12:50: Did I mention there were rice fields out there?
13:23: Somehow it's always about rice fields and limestone hills…but the scenery never got actually boring!
13:30: You could also be surprised by a chicken farm out in the middle of nowhere!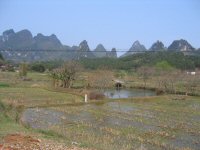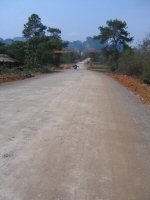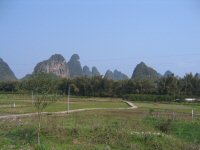 13:58: And then again rice fields and limestone hills….wow that went on and on…in the end we took less and less pictures. I got actually a bit worried if we would ever reach the only town for which we every 10 or 15kms (i.e. twice on the entire trip ;)) saw some signs, Liugong Cun. We actually did not. At one crossing I decided it is late enough now. We needed to catch a flight back to Shanghai in the evening! So we headed back into a direction in which I hoped we would find back to Yangshuo.
14:06: And we did: That's the highway from Puyi Town to Yangshuo. Quite noisy…a lot of motor cycles around. But easier to drive on.
14:23: Still some nice shots around.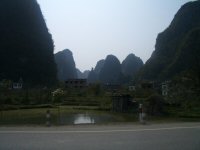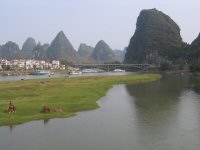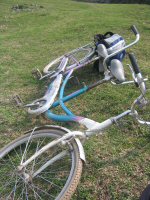 14:25: Also this shot directly from the high street, here even already asphalt, no longer mud, close to Yangshuo.
14:48: We arrived back in Yangshuo more quickly than estimated and spent some relaxing time on this green island in the Yi River under bright sunshine.
15:01: Our tandem bike: Simple, but it did its job quite well! Only the chain jumped off thrice, but that was more or less easily fixed. Tip: Have some wet tissues handy when going on a biking trip.
We finally got back to our hotel where we had left our luggage and even could get a last shower, which I badly needed.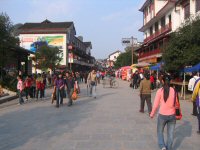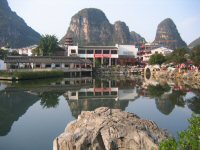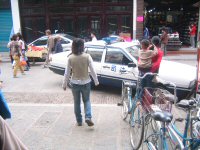 16:35: Last fairwell shots from a sunny West Street…
16:42: …and a close-by lake.
17:00: And here's our taxi! No gag! That car really brought us from Yangshuo to Guilin airport. We had reserved a "taxi" the evening before, unaware that this kind of business is not done by normal taxis as we would have expected.
This car is actually no police car, but, as we learned on the way, the car of a lawyer. 司法 (sī fă) means "administration of justice, judicature". Looks a bit like lawyer is not so profitable a job. The driver definitely did these kind of taxi services regularly, even told us that he had to pay 40 of our 220 RMB to the hotel as provision. If booking directly with him the trip would cost these 40 RMB less. (Well…now you know…we have his business card!) The big advantage of the lawyer car is: He does not need to pay any street toll for the highways, which makes the trip a lot cheaper. In the beginning Carol chatted quite a lot with the driver, but in the end we were simply tired from our bike trip and had a long nap until we arrived at the Guilin airport quite early at around 18:40.
We checked in and still had enough time to eat "the famous Guilin Noodle Soup" in a café at the airport. We hadn't eaten much all day! With 35 RMB it was ten times more expensive then in the street-side stall at Yangshuo's West Street, but honestly, I liked it a lot better.
The flight took off on time and also arrived in Shanghai on time. The only hassle were the taxis at Hongqiao airport at that late time (22:20). The queues are damn long as there is absolutely no other means of transportation by that time of day: No subway anyway, and busses also don't run any longer… I finally agreed to an offer of one of the illegal private drivers, who looked for additional people to join in for a ride in a van to Pudong. So one couple and I shared the tremendous 200 RMB the driver wanted to see. Welcome back to Shanghai…gone the times of a 5 RMB trip. Carol waited a bit longer for another chance…
A great trip! When doing it again I would leave out Guilin, hike a bit along Li River, take some part of the trip on a bamboo raft, and spend even more time in and around Yangshuo. That's the plan!
Categories: Reise, Shanghai
Originally Created: 02/26/2007 03:38:05 PM
Last Edited: 02/26/2007