The end draws closer and closer…I had to start packing these days. Over the past two and a half years more things had collected than would possibly fit into my available suitcases and bags. My company pays me a "D-sized container", whatever that exactly is…
Packing is not a job you will ever like. And here it was actually specifically sad. I like Shanghai, I have liked to stay here. I keep many good memories (and also memories of much much work…). But usually, when you move, then you move from here to there, to some kind of destination. And usually you are looking forward to that destination, which gives you some kind of motivation for packing.
But this time all that is different: I do packing, but first of all I will come back in May to the very same place. But only with a backpack. I will need to walk around in Shanghai with trecking shoes as I will not carry another pair of shoes with me. Kinda weird…
And then I will wander around in China. With no fixed home any longer. (Sure, I have one in Frankfurt…but that's far far away.)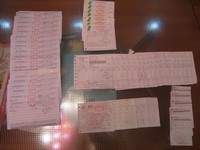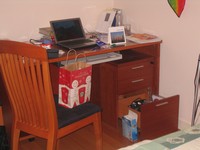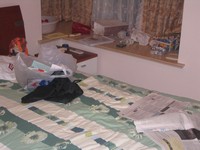 Bills: Over the years a lot of bills have collected, here all neatly arranged to check for completion before handing them over to a friend, who will take over the appartment for another 2 months.
Office desk / Bed while packing: Many things I have actually thrown away as it often happens when moving. Including quite some electronic stuff, including my good old Palm V—quite sad, but it did no longer start up, over a year already, made no sense to keep it. But now only, when it obviously also made no sense to take it back to Germany I finally could decide to throw the Palm away…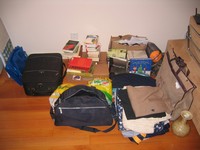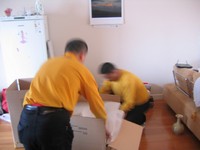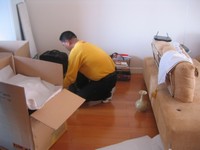 All the stuff for the container I collected in a separate corner of the living room. This container-shipment is offered by various transportation companies. A list of them I got for Accenture's reloation department, but I had to ask for quotations myself and had to select a company. They will be paid by my company, though.
The people for packing came right on the minute of their appointment with a load of carton boxes and other packaging material. My prepared stuff was packaged in a matter of 10 minutes. It was mostly about books and clothes only. All small stuff I had put into bags, so packaging was very simple. The largest thing I had was the 15″ LCD display, which I had bought when the display of my company was broken. For that I had kept the original cardboard boxes and packaging material, so that it is also save. The only breakable thing, thus, was the green vase you see in above picture, a gift of Carol. And that vase the guy burried in a huge load of paper and plastic wrappings…no chance to break either 🙂
The guys packed into just normal cardboard moving boxes. Don't know what this "D-sized container"-talk is about. I was told that such a container has a volume of some 1.7m³. I should not have more than that. But if these 2 boxes now fit in there…I don't know. I would not care, if Accenture would not have clearly said: Everything beyond a D-sized container you pay yourself…I will figure out from the bill.
5 more minutes for some paper works (I had to make some 6 or 8 signatures on lots of papers, hand out my passport, work permit, flight ticket for getting the goods through customs, whcih I am supposed to get back next week after the stuff has cleared customs) and the guys were gone again. Highly efficient.
Categories: Shanghai
Originally Created: 04/21/2007 05:47:44 PM
Last Edited: 04/21/2007