Let me play a bit with my new camera, test my laptop's tools, and do some farewell pictures of Shanghai. The first ones carry the wrong time…camera was still set to Germany's time zone. That's why testing the equippment makes sense 😉
Sha_20070514_064604.jpg (+6h): LuJiaZui, PuDong's financial center, one bank tower next to the other. Plus the Shanghai Stock Exchange (the smaller building behind the tower with the double-disk on top), which gets more and more hidden due to new buildings arising around it. The greens across the street in front of the high-rise buildings are part of a small park. Nice place for relaxing. Worth visiting is a small photo exhibition unter a white sail-like tent: It shows the development of the LuJiaZui area one picture per year. It is incredible how quickly the previous villages have been removed (the space of the current park was occupied by many residential buildings; only one is preserved as cafe and as popular wedding photo location in the eastern corner), new ones built, the tunnel added, and…yes also that…the first new buildings already removed again to make room for even newer ones.
Sha_20070514_065800.jpg (+6h): The largest pearl of the Oriental Pearl Tower, which contains a revolving restaurant…how inventive…
Sha_20070518_103404.jpg (+6): Another ball at the riverside in front of the Pearl Tower…for a long time I thought this is the Ocean Aquarium, but in fact it is a Convention Hall. A good example of Chinese modern architecture: Somebody had the idea to incorporate a globe into the building; another wanted to have classic roman-style architecture; and yet another one wanted something like normal-style Chinese big architecture: Large flat tiles with huge windows without any inner structure, which have only one chance: getting dirty. Luckily, this third side is not visible on the above picture. Already the 2 visible ideas don't exactly fit to each other.
Sha_20070514_095723.jpg (+6h): Starbucks, which became my favorite across Shanghai. I got so addicted to it that quite some Starbucks personnel, especially from their WaiGaoQiao branch, knows me. And these people sometimes change to other branches, where they still recognize me and know that I always drink capucchino. In WaiGaoQiao I only needed to say "for here" or "to go" and often passed by longer queues. Sorry…due to a twist of fate I missed the chance to say bye-bye to the WaiGaoQiao people…Bye-bye!
Sha_20070514_095903.jpg (+6h): The same Starbucks branch as in the previous picture: The outside store of the Superbrand Mall, where we often have a coffee these days out in the sun after the morning Chinese lessons and a lunch.
Sha_20070518_101845.jpg (+6h): One of the first really boldly sunny days attracts tourists and locals alike to visit the HuangPu Riverside. I am still fascinated by the typical use of sun umbrellas by Chinese ladies. From a distance it actually looks stylish, doesn't it?
Sha_20070518_102124.jpg (+6h): It is a bit difficult to catch the romantic side of HuangPu: In fact, the river is very dirty and enclosed by concrete paths, no sand, no beaches. This platform can provide a bit of romance with some green and the lamp posts. But actually…it is not accessible by pedestrians.
Sha_20070518_102510.jpg (+6h): A view (again as romantic as possible within all the tiles and concrete) across the HuangPu River on Little Big Ben.
Sha_20070514_105050.jpg (+6h): Traffic education attempt:"您是一位讲文明的人,请在此等候绿灯通行"— "You're Polite People please wait here! Don't go until the Green light on!"
Sha_20070514_105221.jpg (+6h): Street scene in Shanghai's typical smoggy early dusk. (Looking westward down JinLing ZhongLu from intersection with MaDang Lu.)
Sha_20070514_110429.jpg (+6h): PuXi, the park between JinLing ZhongLu and Yan'An DongLu.
Sha_20070514_110047.jpg (+6h): Looks a bit like Dubai, doesn't it? 😉 It is actually a building on the back side of the big shopping street HuaiHai Lu, facing JinLing ZhongLu, photographed from within the adjacent park.
Sha_20070514_110759.jpg (+6h): Shanghai skyscraper architecture, yet again taken from within the same park.
Sha_20070514_112421.jpg (+6h): "The Rocket", as we had chosen to name this structure. The rocket-like structure is not so well visible from this perspective, but still it is quite unique a style. It contains a hotel.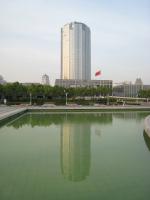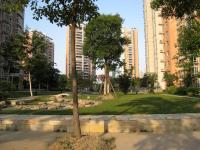 Sha_20070514_115426.jpg (+6h): Back in PuDong, far away even from the riverside: The Shanghai Pudong New Area Office Center next to the Shanghai Science & Technology Museum, which I pass by whenever I go into the city by any means of transportation.
Sha_20070519_164215.jpg: The large garden (or small park) between the houses of our compound in today's afternoon sun, where I was sitting reviewing Chinese vocabulary.
Sha_20070519_194257.jpg: Our local center: Thumb Plaza, just 10 walking minutes away from home. When we moved into our appartment nearly two years ago there was not yet much activity. Carrefour, the huge supermarket, was there as a magnet for people, also the big players in the restaurant market (like McDonald's, KFC, Pizza Hut, Ajisen Ramen, or a more local chain, Tang Dynasty) but not many other shops. But recently life lived up on Thumb Plaza. There are more people around, at least until 22:00, which is the normal closing time for Chinese restaurants. The more western-style pubs and restaurants in the back of the plaza still face a tough struggle to survive. And I believe whatever is located on the second floor (where there are more western style bars and restaurants, good-looking ones) has nearly no chance to survive. Thumb Plaza with its 2 levels is, as unfortunately so often, a bit oversized.
Sha_20070519_194406.jpg: But it certainly provides me with my essentials: Carrefour and…yea!…Starbucks! Above Starbucks the Tang Dynasty Restaurant, an upper (but not top) class restaurant, serving very typical local Chinese food. It needs a bit of self-conviction to eat some of their offers.
Sha_20070519_194645.jpg: A lane on Thumb Plaza with a number of small (and often changing) restaurants.
---
Added 2007-05-22: 3 more evening shots during a walk in Pudong around the Science & Technology Museum:
Sha_20070522_185401.jpg: Along the bridge connecting the Science Museum Subway square with the Century Park.
Sha_20070522_190731.jpg: That square now down to the left behind the trees, standing atop the surrounding wall, looking towards the city center with the Pearl Tower vaguely visible in the center, far back.
Sha_20070522_191755.jpg: The "bowls" of the Shanghai Oriental Arts Center at DingXiang Lu.
---
Added 2007-05-29:
Sha_20070523_185034.jpg: XuJiaHui, thousands of lights, lots of malls, good ones, bad ones, new ones, old ones…you'll find about everything here. It's just a bit far away from PuDong.
Sha_20070523_190052.jpg: In Grand Gateway Plaza, one of the many malls (category new and good) we even found this collection of German beer! Guess what! I brought 2 bottles of Diebels Alt home. Sure, it's export and hence by far not as good as a fresh Alt beer from tap, but better than nothing anyway!
Sha_20070526_133623.jpg: As originally assumed the construction right next to our appartment is about to finish when I am about to leave…providing me with lot of noise during my stay in PuDong. Here a job you probably don't want to do: Cleaning windows the Chinese way: These 3 men are held by one rope each plus an additional "safety" rope in the middle to which 2 men each are connected; probably in case their main rope breaks. Still not my favorite job…
---
Congratulation to VfB Stuttgart for just becoming German Soccer Champion 2007! It was a highly exciting final day, which I followed live via internet radio while putting together this page. Inbetween, for 8 minutes (twice as long as 2001 ;)) Schalke 04 was on the brink of winning the championship, but eventually VfB did not let the chance slip.