Hiking with BeiJing Hikers: Two Valley Hike
BeiJing Hikders offer hikes every weekend. So if you are interested check out their web site. It's just 200 RMB for a "standard" hike, which includes coach transport to the start, guide, park entrance fees, and a snack after the hike. Highly recommended if you happen to be in BeiJing on a weekend!
The hike I participated in was considered a "lush walk", category 3, and that only because of a few rocks in the way, which allowed for some funny climbing exercise right before lunch break. It was in a hilly forest area, whose name I could not remember. Something with Xiang tun (香屯).
Meeting point is always a bit out of town at the Lido Holiday Inn's Starbucks. That made it certainly twice as great: Having a Starbucks coffee before getting on the bus at 8am is a big plus. When I arrived there was just one German sitting, who couldn't guess either from my English that I would be German, but I figured out his accent 😉 Soon more people gathered. It so happened that I mostly teamed up with two Dutch. Communication stayed English, by the way. They could speak a bit of German, but everything was a lot more fluent on English. All in all we were 29 people, mostly expats working in BeiJing, including me just two people on travel, and some few Chinese.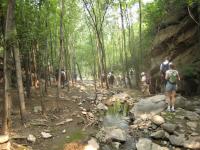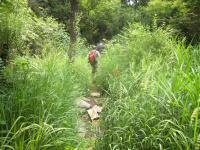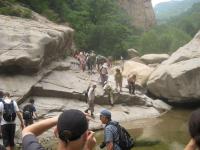 BJ_20070617_104103.jpg: It started off very "lush" 😉 (this word I only learned today) along beaten paths through the forest, often along small rivers, which we often crossed on stones.
BJ_20070617_104829.jpg: At times we were deep hidden in grass, at others running through bushes or along rocks. It was a very changing scenery.
BJ_20070617_113050.jpg: One of two a tiny bit difficult spots: Across a bit of water onto this large rock and across it. On the small stone crossing the water I stumbled a bit, turned around to run on land again, and directly into my Dutch companion's arms who had followed very closely…very well, he caught me without stumbling a bit. I kept my feet dry all the way. Two other men were not so lucky. On the rocks we had a lunch break.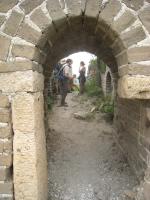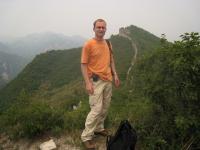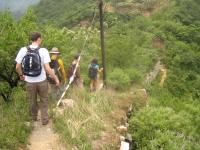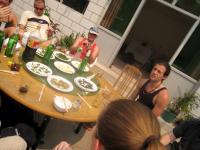 BJ_20070617_124104.jpg: A lot later…we had entered just once on top of the surrounding mountains, throughout the other times we had stayed in the valleys, which sometimes looked a bit like canyons. This here is the doorway of one of the Great Wall towers, through which out way passed.
BJ_20070617_124538.jpg: A picture with everything of importance: Surrounding mountains, old parts of the Great Wall, another tower on the next hill's top. Ach ja…and me.
BJ_20070617_125152.jpg: We kept on walking a bit on the wall's remainders, though it was difficult to make out if we were still on it or left it already: The wall's top was by now overgrown with grass and bushes, or even used to fix telephone poles.
BJ_20070617_134841.jpg: At the small walk's end we had various simple vegetable dishes and beer at a small restaurant in a village. Very enjoyable and relaxing day it was, with great views!
We walked 20 minutes back to the waiting bus where we had to wait no less than 45 minutes before the last people boarded…the reason turned out to be that one of the guys wanted to buy some honey from a roadside beekeeper. But the beekeeper had no glass jars available which took 45 minutes to fetch…
We arrived back at the Lido Starbucks somewhere around 4 or 4:30pm. The 3 of us, the two Dutch and me, had another coffee over some stories of our lifes. The lady, Anja by name, and I decided to get out for dinner, for which she suggested to have a look at a park I had so far not considered to visit…what a mistake!
Temple of the Sun (RiTan) Park (日坛公园)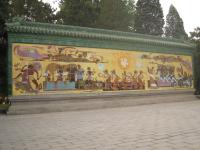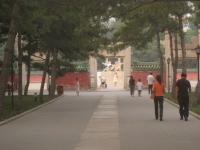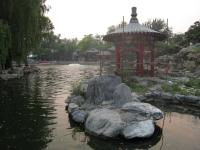 BJ_20070617_183602.jpg: A panel at the far end of the south entry. The figures look surprisingly African or Egypt. But the scenes displayed are actually meant to be Chinese: Sacrificing the Sun god.
BJ_20070617_184423.jpg: In the far back the place where that had happened: A square podest within a large walled circle. The promenade here points towards west, which is a bit surprising as usually processions all around BeiJing start from the south. Can't explain for sure, but it is sure that at the other side of the city, right in the west, there is a corresponding Temple of the Moon Park (月坛公园). Likely there was some connection between them necessary.
BJ_20070617_185650.jpg: The largest lake in the park with a small pavillion, still surrounded by scaffolding: All ceiling and roof paintings of the pavillions in the park were being restaurated as accurately as in the Summer Palace. BeiJing is really doing its best to prepare for next year's visitors!
The park as a few more features, which make it highly enjoyable. Also, it is comparibly quiet. There is no annoying pan flute background music from "music stones" (like for example in the Fragrant Hills Park), it is by far not overcrowded, not even so many locals are there to read newspapers of let kites fly. A bit surprising for so nice a park. Maybe it is due to it being surrounded by the diplomatic quater.
Last but not least the park includes and is surrounded by a number of middle and upper class restaurants, all prepared for the foreign vistor with at least English menus. That should really be due to the embassies around. We picked one of them with outside seats in a court yard and enjoyed a Chinese dinner with my favorite Madarin Fish!
It had been a long day, but also the most pleasant one so far: Hiking, hills, lakes, clear air, Great Wall, many people to talk to, Starbucks, beautiful park, dinner with company…what else would I want except for a shower and a bed?
And no more I did when returning home. This document had to wait until the next day.
Today's Lesson: Hiking is possible! Trust those knowing their business.