ChengDu (成都)
This city sucks…I am glad that I could make CITS give me a flight to Macau for tomorrow (Sunday) afternoon already. I knew I dislike this city as soon as I was walking back towards my hotel after the bus dropped me off some 100km after my street. Construction works…grrr….looks like they get a subway. Good. But why do they move the bus stops several streets away? The air unbreathably hot and thick, typical Chinese industrial continental climate. No big sights anyway, that I knew upfront from Lonely Planet, which mentions two or three times places where it is OK hanging out entire afternoons (foremost the tea houses in People's Park). For tourists and backpackers ChengDu seems to be mostly a transportation hub only. I originally planned to come here with the thought in mind to carry further on to China's south. Now with the changed plan of squeezing Taiwan in I only want to get outta it. And CITS made it after some back and forth (didn't accept my credit card, but luckily Bank of China's ATM did). The only good thing about ChengDu: They have some Starbucks.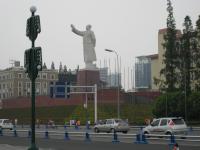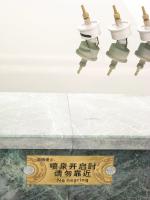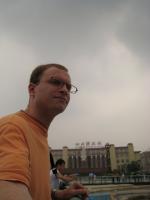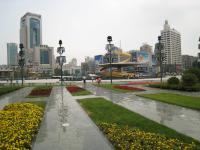 CD_20070630_123518.jpg: ChengDu's chief attraction: A huge Mao sculpture, so badly placed that you can make a picture of him alone only from the side, otherwise you inevitably also have the Science and Technology Museum in the background.
CD_20070630_123648.jpg: I finally decided to collect funny translations. Here we have "No nearing" in front of a fountain. You'll see later why you should not come near…
CD_20070630_124212.jpg: I noticed that I haven't been on any picture for quite some while…and with Mao and the museum in the back that is a must! (At least lots of Chinese tourists around think so, so I could not stand back.)
CD_20070630_172517.jpg: TianFu Square, at which northern end Mao is situated. A large, but well-planned and -decorated square in the basical shape of the well-known Yin/Yang symbols with these funny circular sculptures in the eye of the two fishes of the Yin/Yang symbol. We come back to the circular scupltures at night time.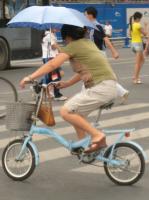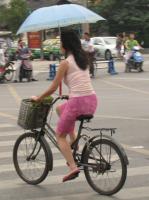 CD_20070630_124902.jpg: If nothing else, then ChengDu at least added a new feature to my sun-umbrella love: In ChengDu for the first time I saw sun umbrellas mounted to bikes!
CD_20070630_160709.jpg: The ladies aren't holding the umbrella, but it is fixed upon a metal stick.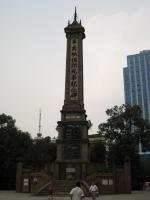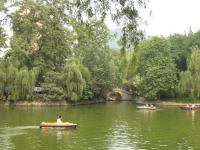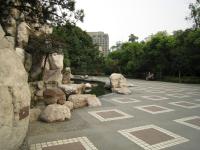 CD_20070630_165652.jpg: The Monument to the Martyrs of the Railway Protection Movement in the People's Park (人民公园). And old man approached me with his rattling English, telling me I had to make a picture of this, it would be important! But his English failed to explain why exactly. Anyway…I had the picture done already by that time. Upon answering that I am not English but German he listed German cities he knew, quite many actually…Dresden, Hamburg, Düsseldorf, München, Berlin, Frankfurt. I had to tell him, though, that Frankfurt is not big. That seemed to have changed his perception of Germany a bit…sorry.
CD_20070630_170517.jpg: The park is quite nice, but couldn't remove you from the oppressive weather. There were indeed many tea houses in the park, which looked quite inviting, if only it would have been a bit cooler. I sweated without doing anything.
CD_20070630_171007.jpg: Somewhere else in the park…I believe the back side of the East Entrance.
ChengDu is the capital of SiChuan (四川) province. SiChuan is renowned for their spicy cuisine, which I love. I had various opportunities in ShangHai to eat SiChuan-style food and always enjoyed it. But you know what? There's no reasonable restaurant to find in ChengDu! Lonely Planet's recommendations were limited to 3 eateries, none of them with a restaurant appeal. (And I had been sitting for 46 hours in a train…I did want to have a reasonable restaurant again!) I had seen none while strolling through the streets. And when on the way to the People's Park 3 French approached me and asked (holding a French version of Lonely Planet in their hands) if I would know any reasonable restaurant…latest then I knew: This is definitely the wrong city. I recommended to the French to do exactly what I then finally did 2 hours later: Check out the upper-class hotels. I returned to the JinJiang Hotel (the 4-star place at RenMin NanLu), which has a good SiChuan restaurant on its top floor. Sitting in the classy decor with hiking trousers and boots as well as a small day backpack is not exactly fitting…but I did want to eat reasonable. And their food was certainly fantastic. One of the most famous SiChuan dishes, MaPo Doufu (麻婆豆腐) tasted even better than the versions I had in Shanghai. And I believe it was mostly to the actual tofu mass, not so much about the sauce.
I new I was not too wrong in my hiking dress when soon after me a Chinese in running shorts and sport shoes entered. The waitresses looked at him a lot more suspicious than at me (I always have this "foreigner-bonus", which I indeed play with when entering such upper-class restaurants). He finally sat himself (instead of being seated) at a table unfortunately behind a column, so I couldn't see him. But I saw waitresses waiting around making a lot of funny faces while he ordered. I understood their faces only a couple of minutes later: A bag was brought to his table and he left the restaurant with this bag…
I waited over a Starbucks cappucchino for darkness to settle in as then TianFu Square was supposed to become lively. And it did! It was actually the best attraction of all ChengDu. But by that time I had booked, paid, and received my ticket to Macau and Taiwain already. And as nice as these water fountains (playing to the tunes of background music) are, they would not convince me to stay another day.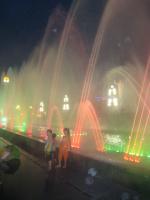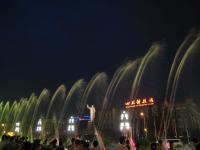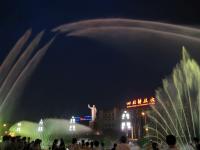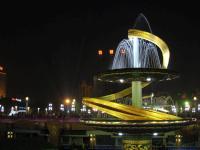 CD_20070630_203523.jpg: This is where there is "no nearing" (see above). The children seem to like it nonetheless. It is still awfully hot and a bit of sprinkling water is actually a nice change. Watch the small kid crouching under the umbrella in the bottom left corner! 😉
CD_20070630_203950.jpg: The main fun were actually these large fountains…
CD_20070630_203958.jpg: …surveyed by Chairman Mao.
CD_20070630_204607.jpg: And here is the circular scultpure in the Yin/Yang fishes' eyes again, now at night looking quite colorful.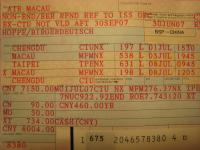 CD_20070630_214355.jpg: My ticket out of here…first to Macau, where I stay 2 days. On 03-JUL further on to Taipei on Taiwan. Return via Macau on 08-JUL. I might shift th flight to Taipei to 04-JUL. Depends a bit how much I like Macau.
There is just one thing still to see around ChengDu: The Giant Panda Breeding Research Base. That I will do tomorrow early morning, after check-out and before flying out. Start is 07:20am from my hotel…uups, that's early. And now it's late…so bye-bye…see you again in Macau!
Today's Lesson: Sun umbrellas can also be mounted on bikes.
Categories: AsiaChengDu
Originally Created: 06/30/2007 05:35:16 PM
Last Edited: 06/30/2007