A train you don't take to get from A to B…there are a lot faster ways to get out of Lhasa. The term "scenic train" probably fits it best. And contrary to my believe it is also quite full on the way back from Lhasa. But certainly full of tourists. And so it happened that our compartment of 4 soft sleepers was shared by an Austrian lady, a Malaysian couple, and me, which made communication in English perfect. All Malaysians I ever met have perfect, nearly native English knowledge. If of Chinese origin, like this couple, then also native Chinese knowledge, which certainly comes in handy when trying to understand train announcements or talking to the train officials.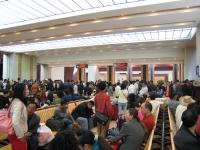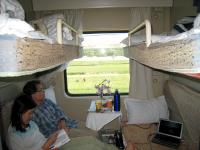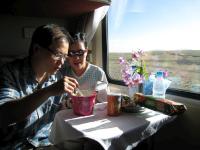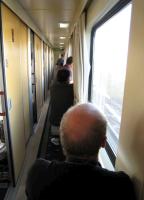 TQ_20070628_095624.jpg: Lhasa's railway station is just 1 year old (opened on July 1., 2006) and looks very nice, large, light, with a lot of wood on panels, ceilings and seats. This here being the waiting room, which was completely full. To board the train there was the usual pushing and pulling to get through the ticket checks. And when walking over the bridge to the right platform there was the first disappointment, which I shared with the Australian lady Diane later: The train looked from the outside like just any normal old sleeper train in China: Green cars, nothing fancy about them, the usual square windows and just the normal wing doors. No fancy new silver-metallic shining bullet train with air pressure-proof cars…
TQ_20070629_113759.jpg: Inside, it was not much different either, looks like the sleeper I had from BeiJing to Xi'An: For berths, the lower ones used over the day as seats. Surprisingly, there was even power supply, so you see my laptop sitting on the lower right berth and I am now writing these lines sitting on exactly that spot on the second day of the journey as now the scenery is just boring China factory plants. Diane got off at XiNing an hour ago, the Malaysians, on the picture flipping through my Lonely Planet to check out for ChengDu activities, are now playing cards…we still need to pass another 20 hours before arriving in ChengDu.
TQ_20070628_185337.jpg: Dinner the evening before: We all came equipped with lots of food as apparently nobody trusted the dinner car, which happened to be right next to us in car number 7. And it didn't look too bad either…but we weren't allowed to take a picture…nobody can tell why. I am now still nibbling at the cookies Diane had left behind and probably reach ChengDu with the bag still half full of fruits.
TQ_20070628_192511.jpg: In the compartment next to us were a mixture of other nations: Italians, Danish, Norways…and every once in a while you just want to get out to move your feet or watch a scenerie on the other side of the train. If, that is, the curtains are not closed 😉 Scenic train or no scenic train…the train staff is following a "napping time" schedule and closes the curtains shortly after lunch time. Only with a bit of discussion we were able to convince them to leave our window open as we did not intend to nap but to do sightseeing.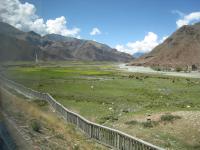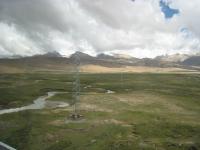 TQ_20070628_112543.jpg: Scenery right after leaving Lhasa: The Lhasa River allows for some farming at its shores.
TQ_20070628_115817.jpg: But the landscape soon dried out a bit. The train was often moving though large plains, which Diane dubbed "prairies". Not far away from the truth: Large plains of level ground, in the far back encircled by mountains.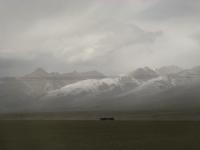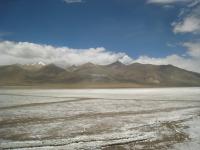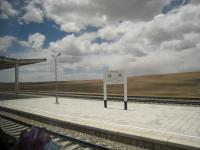 TQ_20070628_125145.jpg: But all this here is happening at altitudes of around 4.000 ~ 5.000m. We once went through some rainy weather, which only a few meters higher covered the mountains with some icing sugar. (And now you know why German "Puderzucker" [which literally means "powder sugar"] is named "icing sugar" in English.)
TQ_20070628_133140.jpg: This here is not snow, and not icing sugar either, but likely salt. It collected alongside of currently dry river beds and this here is just the largest patch I happened to take a picture of.
TQ_20070628_143621.jpg: The few stations on the way, here NaQu (那曲), have always been a highlight. Not because there was anything interesting, but just because of the contrary: There were rarely more than 3 or 5 houses around, at really large stops maybe an additional small factory plant. And we kept wondering why there was a station at all. Except for NaQu we never stopped at these spots, however. An internet printout, which the Malaysian couple had brought, suggested that the train would even stop at some scenic sights. Even at least one train announcements talked about stopping and being careful due to the high altitude and the cold air outside in this ever caring Chinese way of putting warnings. But we simply didn't stop.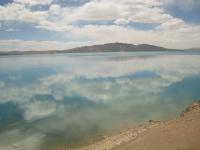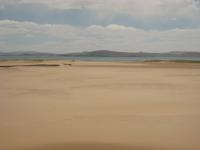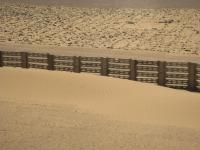 TQ_20070628_154805.jpg: Conag (or Conaq) Lake or so…we aren't sure, announced as the highest freshwater lake of the world, which Diane doubting, putting in Titikaka Lake instead. But let's assume it is at least the highest on the Tibet-QingHai Plateau and, thus, the highest of China. No matter what…
TQ_20070628_155710.jpg: …it was definitely an imposing sight. Here, some 10 minutes later, we just only left the lake, you still see some blue ribbon in the back of the picture, which otherwise cathes suddenly arising areas of sand desert, sometimes even including dunes.
TQ_20070628_155850.jpg: If only we would know what this is… This here happens to be my best picture of the construction, but don't mistake it for something holding back the sand: It exists the same way also in areas of pasture or meadows along the rail tracks. We never saw it far away from the tracks, so the theory stays that it is some protection for the rail tracks. Maybe not from sand, but from snow…but even then we couldn't find the rule which makes these "graveyards" as I dubbed them later appear or not appear. The closest I came was: "They appear on flat meadows, when the tracks are running on a small dam rather than over a bridge." But it didn't work out always either…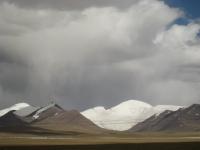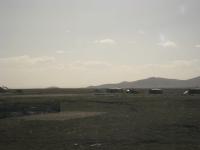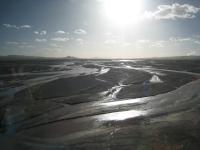 TQ_20070628_172751.jpg: Some few glaciers somewhere far away. Somewhere, the water for the rivers must be stored…
TQ_20070628_184609.jpg: Generally, the plains were uninhabited, except for grazing yak herds and sometimes a few sheeps. But in a few occasions you could find tents.
TQ_20070628_192116.jpg: The very beginnings of the Yangtze River (in Chinese 长江=Chang Jiang, which means nothing else than "long river"), Asia's longest river, mainly flowing west-east, mouthing into the East China Sea near Shanghai. We followed it on my China map as we in the beginning where unsure if talking about the Yangtze or the Yellow River (黄河). The Yellow Rivers flows north of the Yangtze and it looked more reasonable that this more or less northern areas we are in would feed the more northern river. But in fact, these outer arms of the TongTian He (通天河), will soon turn south, become JinSha Jiang (金沙江), and combined with Min Jiang (岷江) form the Yangtze. JinSha Jiang at times forms the western border of Tibet. There, only a few kilometers away to the west, also flows LanCang Jian (澜沧江), which later becomes the Mekong River, flowing through Yunnan, Laos, Thailand, Cambodia, and Vietnam, i.e. taking a completely different way and finally emptying far away from the Yangtze into the South China Sea. So much difference due to just being a few kilometers away from each other.
You can actually see the way of Yangtze (Chang Jiang) and Mekong also on the China map.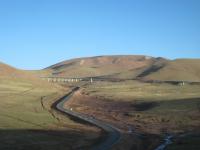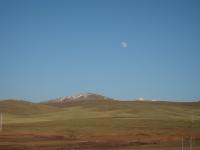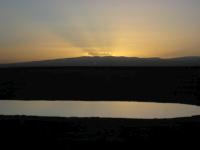 TQ_20070628_201633.jpg: A good overview picture: Due to a curve of the railway you can see the railway in the back, crossing over the small bridge from left to right through the picture. These kind of small bridges appeared quite often, probably to elevate the tracks over rivers, which would flow only in spring after the snow melts. As we passed them they were mostly spanning dry meadows. The Tibet-QingHai highway, which never was far away, cuts from top to bottom through the picture. Also the landscape is quite the normal…
TQ_20070628_202149.jpg: …as also this picture a few minutes later displays: Wide plains, scarcely covered with a bit of green. Here, the nearly full moon gives the picture a bit of a romantic touch.
TQ_20070628_210347.jpg: The last rays of the sun finally disappear at 9pm behind a small remainder of a cloud. We went to bed not soon after as there was definitely nothing to see any longer. For some time individual trucks going on the highway through the twilight were an interesting sight (but through the mirroring train window unable to be photographed), but then there was just only complete darkness.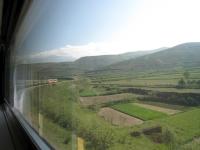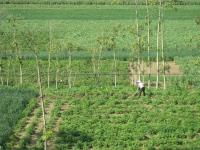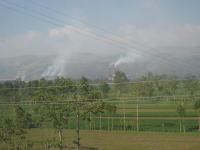 TQ_20070629_092425.jpg: On the next morning there was no urgency to get up early…I stayed in bed until 9am. By then, the scenry had changed completely. Apparently, I had just missed the sight of QingHai Lake (青海湖). Here, in a bend of the railway, you can see the front of the train including the 2 locomotives pulling it; and the farming terraces in that area…
TQ_20070629_094356.jpg: …where farmers were working.
TQ_20070629_094609.jpg: And soon we also passed by the first factories again. We had reached "civilised" China again, shortly before arriving in XiNing (西宁).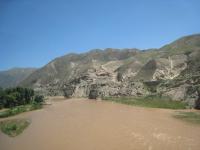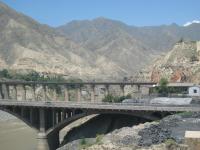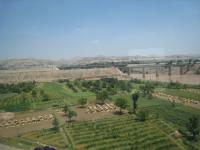 TQ_20070629_121901.jpg: After leaving XiNing the scenery…
TQ_20070629_123345.jpg: …was at times still interesting…
TQ_20070629_124940.jpg: …to watch
but in general it turned more and more foggy due to polution, scattered houses and factories all over, no longer bearing any signs of being interested. 无聊, as the Malaysian remarked: boring.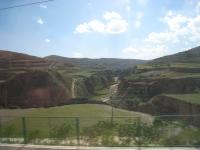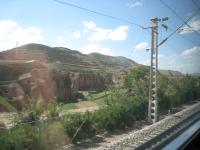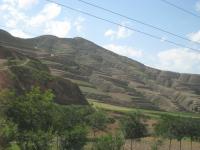 TQ_20070629_161954.jpg: Another fascinating interruption: Deeo canyons (this is by far not the deepest)…
TQ_20070629_162120.jpg: …and terraces over terraces of farming land.
TQ_20070629_162304.jpg: Endless…if you ever wonder where China's grain comes from…I believe I found it.
I was not aware that you could leave the train before ChengDu, but apparently we did stop at XiNing (西宁) and (兰州). Getting off at XiNing and continuing by plane (as Diane did back to BeiJing) is definitely an option to avoid the second night on the train. But with my original plans of continuing to southern China I would have chosen ChengDu anyway, even if knowing I could get off earlier. Now, with the current plan being to get to Taiwan as quickly as possible (via Hongkong or preferably Macau) it doesn't sound like a great idea any longer. But so are plans at the moment: changing.
Sent from within the train via CDMA whenever stopping in stations! 😉
I still have to stay one night on the train. Arrival in ChengDu tomorrow (Saturday) morning 08:20.
Today's Lesson: You can get off the Tibet-QingHai Train in XiNing and LanZhou, valid options.
Categories: AsiaLhasa
Originally Created: 06/29/2007 06:06:25 AM
Last Edited: 06/29/2007