Xi'An (西安)
A great mosque at the start of the Silk Road, that's what you immediately think of when talking about Xi'An, isn't? 😉 I mean…cradle of Chinese culture, capital of unnumbered Chinese dynasties, Terracotta Army, Wild Goose Pagoda…that's all secondary thoughts. And that's why it will come on the second day only.
City Center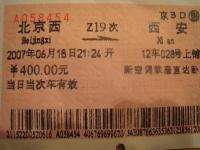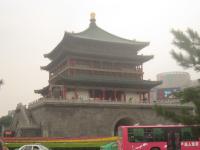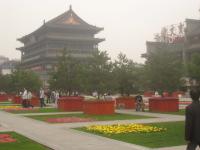 XA_20070619_201144.jpg: My first Chinese sleeper train ticket. Doesn't look different from any other ticket. But a highly comfortable way of transport! Let me praise the Chinese railway system here once more and probably not the last time: I am German, used to one of the world's most dense and developed railway networks. But I am still fascinated by what China has achieved: You can get basically everywhere in this huge country by train. Trains are not yet high-speed, but the rail network is continuously being increased and upgraded. It is only a matter of time until at least the big cities will be connected with high speed. But why should I want to be faster than 12 hours from BeiJing to Xi'An, if I can get a wonderful sleeper train overnight? Soft sleeper compartments have four berths and a door. (If I understood my CITS man correctly, then the door is one of the main differences to hard sleeper class.) Each berth even comes with a private TV screen…but noone used it. I had three other men in my compartment, one of them even speaking a good bit of English and especially this morning very willing to practise it. With all the talking I even forgot to make a picture. Well…I guess it won't be my last sleeper train.
I arrived by taxi in my super 4-star Xi'An Hotel (as this is part of the travelling booked by CITS I had the choice between 300 RMB for 3 starts and 380 for 4 stars. Well, I though, it's going to be expensive 10 days anyway…then let's get a bit of comfort these days) which even send off porters to get my backpack to my room. And when I turned around to give him a Yuan he was gone already…not used to tips here at all.
4 stars also means a telephone in the bathroom, which was ringing when I was standing there undressed waiting for the shower water to reach temperature. Eh…I never took a phone call in the bathroom…it was Mr Dai from CITS BeiJing! I checked my mobile later…he didn't even try calling it, but called the hotel directly, knowing I must be there by that time. With the news that the envisioned train from Lhasa to ChengDu on next Wednesday doesn't exist. So I could either leave a day earlier on Tuesday (but no soft sleeper available any more for this 46h ride) or a day later on Thursday with soft sleepers available. I surely decided immediately for the day-later option! That now gives me 2 free days in Lhasa. No idea yet what I do with them, but we'll see…it definitely gives me options.
XA_20070619_130332.jpg: After I finally had my shower (I can only hope the water is more and hotter tomorrow morning…hot water supply was a lot better in my JinJiang inns!) I went by bus into the city center. The hotel is not exactly as central as it did sound like, but it's just 4 bus stops to this bell tower. I skipped entering it for 25 yuan, likely only for some old photos or such stuff. And views cannot be great as the tower is lower than the modern buildings surrounding it.
XA_20070619_130540.jpg: Same goes for the nearby Drum Tower (yes, this is two different buildings, about 500m apart from each other, which has been highly commercialised, but luckily mostly underground.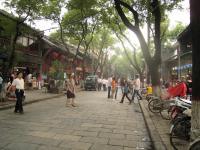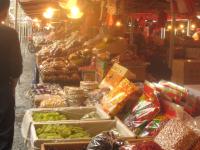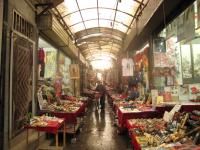 XA_20070619_130958.jpg: The beginning of the "Muslim Quarter", BeiYuanMen (北院门), lined with food stalls offering the all-famous meat (especially mutton) skewers and other pizza-like stuff.
XA_20070619_131023.jpg: And a market partly with the typical souvenier kitsch, but also with lots of dried fruits variations. I tried these dried kiwi fruits, ok, then the lady pointed me to a slightly more expensive, similar but sweeter tasting other green fruit. That was so good that I bought a bag. I couldn't bargain it down from its 10 yuan…not a single yuan. I later on the street overhead a conversation between natives (or at least native speakers) with the same result: Even the Chinese could not bargain down the price!
XA_20070619_132036.jpg: A street resembling a Turkish basar, but the stuff offered was 80% touri kitsch. I just went in as the way to the Great Mosque was sign-posted that way.
Great Mosque (清真大寺)
This place fascinated me! The actual buildings and the court yards are of Chinese architecture style, very much resembling temples. But there is a lot more green around. And a bit Arabic…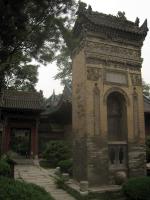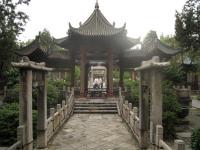 XA_20070619_133006.jpg: This small tower is probably important, but I couldn't figure out its purpose. It definitely looks interesting.
XA_20070619_133434.jpg: View along the middle axis through a number of pavillions and gates in the direction of the prayer hall in the far back of the yards.
XA_20070619_133513.jpg: It just by chance so happened that in that very moment a number of believers left the prayer hall. At some call relayed by loudspeakers all of them turned around into the direction of the hall they just had left and stood still in praying. I was luckily at a position not hindering anybody, but I saw another tourist couple quickly getting out of the way to the side of the square. A bit weird, but this call seem to have been the very last element of their noon prayers.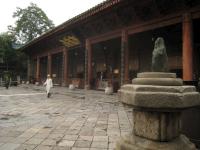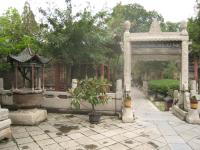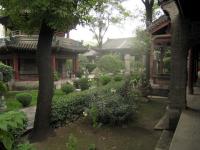 XA_20070619_134026.jpg: After all people had finally left I proceeded to the actuall prayer hall, which was certainly not allowed to be entered by non-moslems. I happen to catch this man in white dress leaving the prayer hall on my photo. He was the only one wearing a gold-colored hat and one of only very few with bands attached to the back of the hat. He must be someone important, maybe the imam.
XA_20070619_134143.jpg: Watch the combination of Chinese-style architecture mixed with Arabic inscriptions on the portal.
XA_20070619_134704.jpg: Impression of the very green interieur of the yards of this mosque.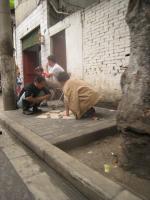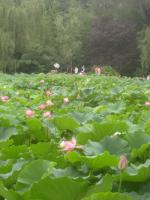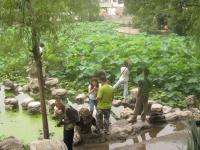 XA_20070619_140131.jpg: I just walked the surrounding streets, generally heading north. On the street I turned to my good old technique of hip shots. That allows to catch people without them noticing of being photographed. Only then the pictures are natural. Otherwise people would look up, kids even pose. But naturally, hip shots not always work out. My attempt of getting an old female moslem in a house entrance unfortunately failed. The best shot is this one, showing 2 men hunkering over a wretched Chinese chess board with huge wodden stones laid out just on the pavement, absorbed in their game, with the front man very enthusiastic about his next move.
XA_20070619_142055.jpg: A bit later I reached LianHu Park (莲湖公园), a bit tattered and after a bit of rain dirty a park, but the water lilies fascinated me.
XA_20070619_142437.jpg: And not only me…
The Start of the Silk Road
Only by studying the very good Xi'An Tourist Map I noted that Xi'An was the beginning (or end) of the ancient Silk Road. That might be common knowledge…I just was not thinking of it. And there is a small monument to memorize this fact. I will likely not get to any other stop on any Silk Road city, so I thought I better catch my chance and get to this sculpture for symbolically be at the Silk Road's beginning. Public busses (e.g. K606 or 21) can get you to this place in the west just outside the second city ring. There is a bus stop by this name (SiChou Qun Diao, 丝绸群雕) as I figured out with the help of a local waiting at the bus stop on which I was hoping to get a connection.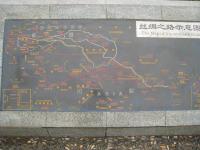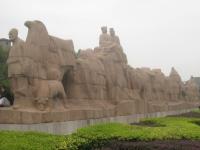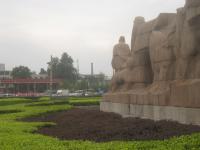 XA_20070619_145429.jpg: A scetch map of Asia and Europe, showing the extend of the silk road, which is not the very well visible white lines (these are today's rail tracks) but the less good visible red lines. As always click on the picture for an enlarged version.
XA_20070619_145637.jpg: And that's the "Silkroad Group Carving" (the literal translation of SiChou Qun Diao), a group of men, camels, and some other animals, obviously excited about their journey to start. Quite nice a thing. There is nothing else around and I didn't expect it…it was merely this symbolic act of being at the Silk Road's start…wherever the ancient camels had really trampled into Chang'An (as Xi'An was formerly named).
XA_20070619_145737.jpg: There is a filling station (the red roof of Sinopec) right at the Silk Road's beginning. Makes kinda sense, doesn't it…? ;))
Back into the City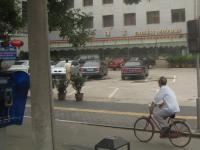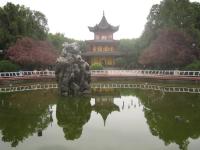 XA_20070619_151638.jpg: Shot out of the bus on the way back: A restaurant by the name "Edelweiss Restaurant". Don't know what they offer… (Note to international readers: "Edelweiss" is a German name for a little alpine flower growing on mountain alms and celebrated in a song by disputably famous German singer Heino. (Here is a YouTube video with Heino and here's an accurate English translation with the a lot better voice of Audra McDonald on YouTube…making me wonder who wrote that song originally…) There is even no English translation for it; English is using the same word "edelweiss".
Eh? Ok…I got a bit side-tracked…sorry…oh, so sweet hearing Audra in the background…okok…back to China…China is all about parks!
XA_20070619_153737.jpg: GeMing Park (革命公园, meaning "Revolution Park") is in the north-east inside the city walls. Not exactly fantastic, has in my eyes a bit too much concrete, but heavily used by locals for practising singing and dancing. These two pictures look quite good, though!
XA_20070619_154053.jpg: There was "singing lesson" in this lake's pavillion.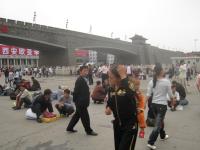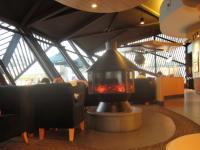 XA_20070619_160119.jpg: In search of the Tourist Information (hoping to get a so-called "Western Tour" organized, what I have tomorrow is an "Eastern Tour") I ended up at the train station again. This is the usual chaos in front of Chinese train stations, which is why I like to avoid them for example for ticket purchase as far as possible. People have to meet and wait outside as only with a valid ticket for today (or even for the next 2 hours only) you may enter the station proper. A lot different from what I am used to in European countries, where train stations are usually small cities and shopping paradises by themselves. Interesting in Xi'An: When you exit the train station after arrival you see exactly this: The wall is the northern restaurated part of Xi'An's city wall.
XA_20070619_182452.jpg: I did not find the Touri Info, returned to the moslem district by bus, had an early dinner in one of their restaurants, of which exactly one offered an English menu. And then got another coffee near the Bell Tower. Starbucks.com does not yet list any Xi'An branches, but other internet reports pointed me to newly opened branches around the Bell Tower. In the course of the day I actually saw three of them grouping in a distance no further than 300m around the Bell Tower. Wow…that's quite dense. And each of the branches large and new. This one here, on the lower basement level below the "Bell and Drum Tower Hotel" (not to be confused with the "Bell Tower Hotel" on the opposite side of the street ;)) has the most interesting architecture of any Starbucks I've ever seen, both inside and outside.
P.S.: Do you know why Xi'An is in PinYin written "Xi'An" with apostrophe and not "Xian"? That's to indicate that there are two distinct syllables matching the two Chinese characters making up the city's name: Xi and An. If you leave out the apostrophe then it could be read as "Xian", which could be just one single Chinese character, for example 先. I believe the rule is if two vocals meet, but I once had an example where even that would not be sufficient a rule. In case of Yan'An (yet another city name, 延安) you could, if not using an apostrophe, also think of separating ya'nan (for example 亚南, not that it makes much sense, but that would be pronounced ya'nan). Means, there are case in which PinYin's pronunciation is ambiguous. Then the apostrophe helps finding the correct pronunciation.
P.P.S.: Did anyone notice the intended similarity in tune of this document's title with the title of a famous novel by Douglas Adams? ;))
Today's Lesson: The Silk Road started in Xi'An.
Categories: AsiaXi'An
Originally Created: 06/19/2007 03:23:16 PM
Last Edited: 06/19/2007