If I would have calculate in advance that I by stayed 954 days in Shanghai I probably would have wated another 46 days to fill up the 1,000…but as matter of fact: Tomorrow, Sunday, June 03., I will leave Shanghai. Exactly at 13:10 with MU5543 heading for QingDao. If, that is, China Eastern does not take off with the usual delay…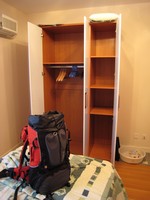 The first document dates back as far as 2004-10-22, today is 2007-06-02. That is 2 years, 7 months, and 11 days, more than 2.5 years. Which is more than 1 year longer than originally assumed.
All my stuff is again packed into my backpack. And again it seems to fit well with some room left for the few things from the bath room. Obviously, also the laptop is not in, otherwise I couldn't write these words 😉 But on a flight I rather like to transport it as carry-on luggage anyway.
What do I think and/or feel on my last day in Shanghai for some while? Very mixed. I am excited about the upcoming time in China and other parts of Asia. Reading Lonely Planet makes you long for the travel to start rather sooner than later. But then I also know that not everything will work out smoothly, see already the failed attempt to get a Tibet tour.
I have met kind people in Shanghai, made some friends here (which I am not quick at). When walking around here in Shanghai in the past days I often got this sad "last time to see" feeling. And, given that I only had my travel outfit with me, was certainly looking like a tourist and got regularly upset when being approached by street peddlers for the never ending "DVD, handbag, watches". I don't feel like a tourist here. I did feel at home! This is surprisingly different from Frankfurt, where I somehow never really arrived, although I worked there some 5 years. But it was probably too much work and too few life.
Well…now there's yet another change of locations in my life: After Rheine, Bevergern, Menden, Paderborn, Hamburg, Frankfurt, and Shanghai my new 'home' for the next few months are the streets of China and other parts of Asia. I luckily lived out of a backpack twice already (Alps and Tanzania), which gave me valuable experience in what to put in and what not. But I have never done real backpacking before, i.e. living from one day to the next, having a rough idea, but no detailed plan where to be in a few days. And I have never travelled entirely alone. And not for such long a time. A number of challenges… But others have survived and actually loved such a life before, so why not me? 😉
OK, this is the last document in the "Shanghai" stream of sonux.net. Some of you might have noticed that the story continues under sonux.net/asia. I have also added new subscriptions for "Asia" (and automatically selected it for all people, who had "Shanghai" selected, so no need for you to do anything), there is a new "Asia" RSS2 stream available (this you would need to subscribe yourselves, though), and I have also just started with some pictures on Panoramio to track my locations on GoogleEarth.
So you are heartily invited to keep on following me through Asia! And to comment on whatever you want (each document has an "Add Comment" link at its bottom). Or send me mails, if you prefer non-public communication. Let me know what you think! Let's stay in contact!
And bookmark sonux.net!
Categories: Shanghai
Originally Created: 06/02/2007 09:12:04 AM
Last Edited: 06/02/2007