Yandrok Lake
…supposingly a nice sight with varying shades of green and blue if the sun happens to treat you well. Weather was fantastic. And with the first point of view being on no less than 4.700m altitude, i.e. another 1.200m higher than Lhasa, it was refreshingly cool despite the bright sun shine. But there were few opportunities enjoying the outside coolness: In the end it all was a 2,5 hours drive from Lhasa out to that lake, getting off twice for 10 minutes each, and drive 2,5 hours back to Lhasa. You can't avoid but question yourself, if it really makes sense to have a guide, a driver, and a car going all this way for just one single passenger.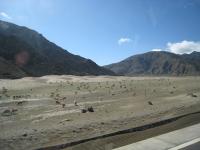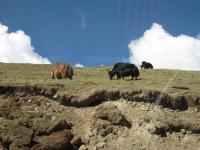 LS_20070625_102743.jpg: Don't know what they feed on in this stone and sand desert, but these are sheeps on the way.
LS_20070625_110256.jpg: But what you would really expect in Tibet are Yaks. Yeah…here we go. It is astonishing at which extreme slopes these heavy animals still calmly graze.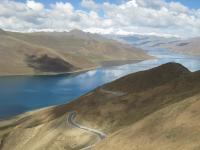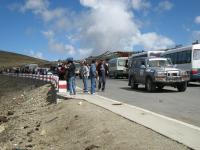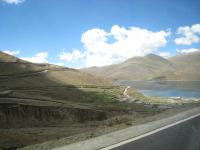 LS_20070625_111516.jpg: That is the picture we have gone for, after 2,5 hours car ride and 1.200m altitude difference, the lake now spreading out 300m below us.
LS_20070625_111546.jpg: And don't expect to be the only one…unnumbered vans, Land Cruisers, and full-scale tourist busses (on a small parking lot a bit in the back) block the street. Locals with the usual souvenir kitsch are readily there, too, as are those with decorated yaks offering a picture on/with it for no less than 5 RMB.
LS_20070625_112922.jpg: Only very few, though, decide to decend down to the actual lake. At the time we were there we were the only ones and no other car even on its way. Here a small village, which I only present to show that there are villages. And if you look at the details you'll find that they have turned the mountain slopes into terraces for farming.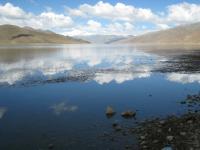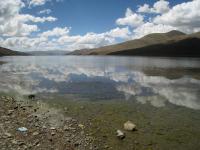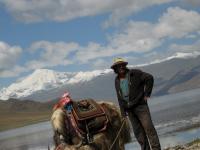 LS_20070625_113543.jpg: Same lake, even generally same direction of view, but I like this pic a lot more than the one above. But you'll get it only when standing with your feet nearly in the lake.
LS_20070625_113657.jpg: Same location, turning around 180 degrees: The lake seems to continue endlessly. And indeed both pictures together cover only one fourth of the total lake's extension according to my guide. I just placed the 113543 picture on Panoramino for locating the place with GoogleEarth and had to note the incredible size of this lake…check out GoogleEarth! (See here for instructions.)
LS_20070625_114054.jpg: Tja…this man is a bad business man. He was the only one at this spot to offer yak photos. I was the only potential client in sight. And certainly he started with the standard 5 RMB for a picture riding on the yak. I clearly showed interest and tried to bargain him down to 2 RMB for a picture of the yak, but without riding it (that was the amount of money I happened to have in my trouser pocket). He didn't agree. Well, after some haggling I turned around and pressed the camera button in hiding…a bit slanted, but the picture still has a kind of charme, doesn't it? You could feel a bit a pitty for the poor man, but he had his chance for business and didn't use it. Even didn't re-approach me while I was making more photos of the lake. Man…you could have earned 2 RMB without any effort…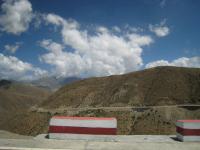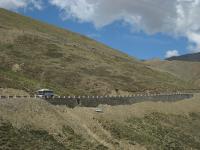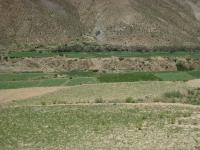 LS_20070625_121203.jpg: That's what the streets look like,…
LS_20070625_121314.jpg: …that all the cars needed to pass over. They are in generally very good shape, absolutely suitable also for the tour coaches.
LS_20070625_122521.jpg: Another example of farming terraces.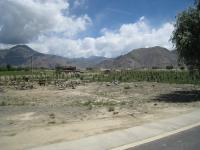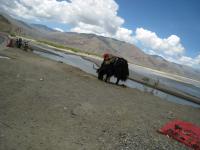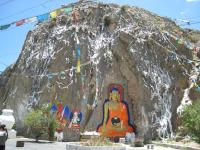 LS_20070625_123538.jpg: A typical village landscape along the road, with a few houses scattered across the ground, some green patches, and if looking closely you also find cattle.
LS_20070625_124506.jpg: On the way back we briefly stopped at a spot where village people do "water burials". When first passing the small spot was packed with three coach loads of people; now it was deserted. The few peddlers did not even rise from there dozing under sun umbrellas, apparently guessing correctly that I wouldn't buy anything anyway. I couldn't exactly extract from my guide what a water burial looks like, but obviously you need water, so the spot is next to a river. And as an effect few Tibetians like to eat fish. But I can't tell you the procedure…this picture I again took secretly, not liking to start another discussion about 5 RMB for a Yak picture. The actual spot is visually entirely uninteresting, just a rock in the water covered with months and years old silk scarfs, which make it look like…
LS_20070625_141837.jpg: …this rock: I simply can't wipe out the association of toilet paper, but don't tell that anyone…these silk scarfs are one of the many forms of Tibetian worship praxis. This last picture here is a buddha whose name I unfortunately forgot a second after hearing. But if I remember the story correctly then it was brought by the Chinese wife of a Tibetian king and somehow find a way to decide to be situated here…or something like that. This buddha is actually carved into the mountain, so there is nothing like "bringing" possible. So something's wrong with the way I remember the story…
In between we had a brief, simple, but very tasty lunch of "momo", a Tibetian way of creating dumplings. From the outside it looks pretty much like Chinese dumplings, and the filing is made from vegetables and yak meat. The place my guide chose (repeatedly, she knew exactly where it was) was very local, with a couple of locals sitting out on the terrace, mostly finished with their meals. Me westerner was certainly an interesting sight, and though they dared staring at me (tough luck, guys, I know how to handle chop sticks!) they didn't dare speaking. I saved two dumplings and offered them to their kids, which finally released a bit the atmosphere.
Future Plans
I had had an appointment with a German for a joined dinner. As that would certainly lead to some beer afterwards I grabbed my laptop directly after returning from the lake and headed for the cafe next door, intending to get this article done early before dinner. But who happened to sit in the cafe? This very man, together with 3 French he had met in Xi'an before, and with whom he now continued through Tibet to the Nepal border. Well…we went out for souvenir shopping (which is a lot more fun with many people, I could even chip in some Chinese for negotation purposes), directly followed by dinner and beer. So sorry…this article here is a day late 😉
The German, Payam by name (which should be related to his Iranian origin), also travels solo at the moment. We might continue our trip together in some 2 weeks. It turned out that our plans after Tibet match 90%, that we can get along very well with each other, and apparently would value company high. As said, he's now gone with the French to the Nepal border, a very nice trip indeed. I go to ChengDu by train on Thursday, arriving Saturday morning, basically when he arrives in Kathmandu. After some time in Kathmandu Payam wants to return to China, though, either ChengDu or directly Kunming. So I will likely change my schedule a bit and squeeze in the trip to Taiwan here and now and then meet Payam in Kunming, Yunnan province, which is the base for our further activities in China (city of Lijiang, Leaping Tiger Gorge hiking, Guilin/Yangshuo once more, then Vietnam).
I wanna see Taipeh mostly for its recently reopened National Palace Museum, which boasts most of the antiques originated from the Forbidden City, taken with them by the Kuomintag when retreating to Taiwan. Going Taipeh now sounds like a big detour, but unfortunately, getting to Taiwan is a long haul anyway as there still is no direct flight from mainland China. You have to go via Hongkong. And from where I fly to Hongkong does in the end not really matter…so why not from ChengDu? And then I can return directly to Kunming in Yunnan…that bridges the time Payam needs to get to Kunming, and I have put in the not-really-fitting Taiwan trip at the most reasonable place in my itinerary, though it will definitely look funny on the China travel map later.
Buthan is yet another issue…there will be another major change to my plans: Firstly, I cannot join into a goup in the next few weeks, which would make things incredibly expensive (and I am talking about thousands of Euro here, which really is an issue). And secondly and more important, I would hit the rain season. The agency was more or less directly advising not to come for hiking before October. I would have a chance to team up with another solo traveller end of October, saving both of us money. I haven't fully made up my mind yet, but I might go for it. That would likely mean that I would return to Germany inbetween and come back to Thailand with some kind of budget flight for continuing to Buthan. The money I save by joining into a group is likely gone then for the additional flights, but at least I would do real hiking and that outside the rain season.
I now have two days off in Lhasa. Well…Lhasa isn't so big a city after all. I tried to contact a person who had advertised on a black board in search for somebody filling exactly these two days, but I got no response. Other ads were mostly about a lot longer trips, which would collide with my return ticket. The next time I come here I will definitely not buy a return ticket…lesson learned. I was thinking of returning the ticket or even, if not possible, just to let it expire (though it is not exactly cheap). But now that I have seen the landscape outside Lhasa and knowing that it won't change before Nepal I'd rather rely on Buthan to get me breath-taking Himalaya sights with real hiking involved. Here, it would mostly be Land Cruiser driving. I will probably not see Mt Everest…but who cares…it is just one out of many mountains, and not even the most beautiful one.
Today's Lesson: Don't buy return tickets!
Categories: Asia, Lhasa
Originally Created: 06/26/2007 12:48:17 PM
Last Edited: 06/26/2007