Taipei is not a city for sightseeing. And I had mostly come for the Palace Museum anyway. Hence, today was a museum day: National first, then Palace.
Before that I quickly stopped by the Delight Hotel to reserve for the last night. (Their internet site is extremely well done…looking quite a bit better than in reality ;)) In an attempt to save money I had originally reserved my current Sun Dynasty "5-star-on-the-decline" place for 2 nights only and now could not extend by another 2 nights, but only 1 as the place is sold out. It was again a hard time finding another hotel which had capacity and was cheaper than the current. Budget options still fully booked. The Delight Hotel is in an unimpressive side street, but looks quite good from inside, is close to my current hotel (so I will just walk my bag over tomorrow) and even closer to the MTR station "NanJing East Rd." (南京東路). And surprisingly, when checking personally, the front desk gave me a rate even better than via an internet reservation.
Memorial Peace Park (和平公园)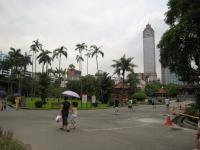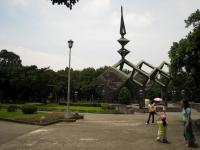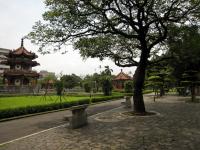 TP_20070706_111726.jpg: This park is right behind the National Museum, so I took an MTR exit, which leads me through the park to the back of the museum to get a glimpse.
TP_20070706_111833.jpg: Has some nice features, but all in all…
TP_20070706_112016.jpg: …it does not live up to its important name, mainly due to some lack of maintenance in the back parts.
The National Museum Taiwan
…was boring, at least for a foreigner. Maybe the many Chinese texts would provide some more insight to the capable reader. I had chosen this place as it had promised to inform about the Aboriginies originally inhabiting Taiwan before Chinese settlers came. And so it does and maybe not even bad, but unfortunatelynearly exclusively in Chinese, which was kinda surprise as otherwise English can be found nearly everywhere in Taipei. I often get along better with English than with my few Chinese knowledge.
The ground floor displayed a special exhibition of hand illustrations of some famous person…well, like it or not, that's the changing part of the exhibition. The first floor then gave introductions to the main Aboriginie tribes on one side and plants and animals on the other. But without additional background info it didn't help much. And apparently nobody exactly knows where the Aboriginies came from, which would probably have been the most interesting piece of knowledge.
In the top floor under the roof is an area covered with sitting and lying facilities as well as ear phones where kids groups had their fun or relaxed. The places were formed a bit like huts or fire places, so I assume that the kids shall be introduced a bit into the Aboriginy way of life.
I left quickly, though, and headed for…
The Palace Museum (故宫博物馆)
MTR to ShiLin Station (士林站), from there to the museum by taxi. It is actually located in the far northern part of Tapei.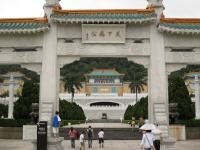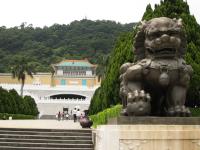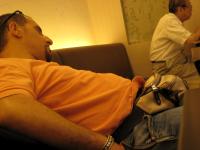 TP_20070706_124456.jpg: From the outside it resembles a bit…
TP_20070706_124554.jpg: …typical Chinese temple architecture,
TP_20070706_142602.jpg: inside taking photos was certainly not allowed and nobody did. This one here does not show me…I took it in a cafeteria of an (I believe Spanish) guy sleeping soundly next to me. I must admit that I was quite weak, too, after a good hour of walking through the museum, which is why I was sitting in the cafe over a cappucchino. But he was definitely done! 😉
Tip if you ever go there: First thing to see is room 102, the Orientation Galery. This is (unfortunately) the only place where all the Chine dynasties are put in their correct chronological order and are even lined up with other big cultures of the world on a time axis. I would have liked if a simplified version of the time axis would have made it into the map flyers as otherwise it was next to impossible to go through the museum in chronological (or in fact any) order. There was no suggested walk way. There was luckily an audio guide available, which I also recommend. (Pure text inscriptions are a bit short, especially in English.) The audio guide's texts are sometimes a bit long, but you can stop it any time and just key in the next number of interest. But also that guide gave no directions. That made wandering around the museum a bit aimless.
Probably a good idea to hook up with one of the guided tours (I remember one English one is at 15:00, there is also one in the morning, maybe 10:00…can't exactly remember). But as I came before 13:00 I started off on my own.
Interesting side note: Guided tour group members came with their own set of ear phones and device: I strongly believe, that they just transmit what the human guide is saying into a sender (s)he is carrying as all members of any kind of guided tour kept their headphones on and the guide was speaking into a mike. Has the advantage that also distant people hear clearly while the guide can keep speaking in a low voice as not to disturb other visitors.
There is so much to see that you will easily spend 2 or 3 hours in there. Including a coffee break, you'll really need that. If you are a fan of historical, especially Chinese art you'll love it. If you, like me, search more for the links and movements, and maybe some technology background information of how these pieces of artwork have been crafted, then you are here still a lot better off than in Xi'An's ShaanXi Historical Museum. I particular remember a very good effort to explain how bronze has been made and artworks formed from it. But still at times it can be boring if a collection of 200 Chinese seals does not strike you fascinating. Given that you have to find your way yourselves over 3 levels with about 8 large rooms each and also given that the rooms by themselves are well themed, but not in a very strict order one after the other, gives you trouble sorting in what you see. So I mostly focused on finding those objects with audio guide support text and otherwise tried to avoid crashing into larger tourist groups and running around bored kids.
The probably biggest setback was that contrary to my believe the museum was not filled with what the Kuomintang had taken from the Forbidden City in BeiJing. There was just one single (and even small) room with highlights from the "saved" treasure with exact statements about where in the Forbidden City it was originally located.
I returned after 3 hours by taxi directly to the hotel, feet definitely very tired, rest of body also sometimes dozing off.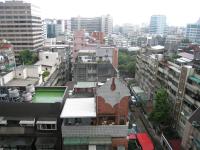 TP_20070706_165114.jpg: As there couldn't be many picture today I add a view out of my hotel window to the collection to give you an idea of what Taipei looks like behind the facades. A lot more orderly backyards than on the mainland, I'd say.
Add-on to yesterday's last note on good manners in Taipei: Queuing up for the subway follows a process even the British can still learn from: On the platform are painted 'queue lines', which as far as possible just as one would expect approach the place where the car's door will open in about a 45 degree angel from both sides, so that passengers can get off first through the middle and then new passenger get in from the sides. But in some cases, for example if there are pillars or stairways in the way, these painted queuing lines take some funny curves. Believe it or not…Taipei's people follow these painted lines exactly, even on a fairly empty platform, even if no security gard is around. And these guards are rare anyway. I really needed to readjust myself to make sure I stick to the painted lines. I even once saw a group of 5 or 6 young middle school students approach a mostly empty platform, having the fun of their life, and making jokes about one of them 'lining up' in the center, outside the painted waiting queues. They were making these jokes only until the subway actually came: Then that center person lined decently up at the end of the painted queue.
Same, by the way, goes for escalators: The principle "standing on the right, walking on the left" works here perfectly. And if you, like most people, intend to just stand on the right, then you might need to queue up on the right in nice single-person queues. Not painted…these queues build up just by themselves.
Oh…and it's raining again.
Today's Lesson: Raining season, maybe?
Categories: AsiaTaipei
Originally Created: 07/06/2007 11:12:34 AM
Last Edited: 07/06/2007