Taipei (台北)
What an easy going day: The breakfast has a fair cappucchino, you walk out of the hotel door and stumble over a Starbucks (which I haven't visited yet as I just had a cappuchino), life on the streets is a lot safer than in China's mainland: Cars actually stop in front of zebra strips and when doing right turns before crossing pedestrians! I got used to that again in a matter of minutes. Hope I can readapt to mainland's way of traffic once I'm back…
BTW: Taipei is not 'correct' Pinyin for 台北, which should be 'Taibei'. I read that Taiwan has come to adopt mainland's Pinyin standard as it happen to become a world-wide standard and the transcription systems used in Taiwan earlier had not been fully standardized and different were in use on state and province level, which is quite a chaos for such small a place as Taiwan is. The difference is similar to 'Peking' vs 'Beijing'; there are simply different ways of transcribing Chinese into roman letters. Most street signs in Taipei have long been updated, but Taiwan had decided not to change the way of writing 'Taipei' proper as it is known world-wide as such and not as 'Taibei'.
However, having that said, in many other occasions, like leaflets, handouts, some maps, tourist information material, there can come quite a mixture, sometimes old transcriptions, sometimes modern Pinyin. And then you would need to know that 'Nanking' and 'Nanjing' is the same, or, and that is not so obvious especially if you can't speak Mandarin, 'Hsimenting' and 'Ximending'. I got used to these 'Hs'-equals-'X'-pattern only through the book I am reading now ('A Moment in Peking', describing the life of two well-to do families in BeiJing at the beginning of the 20. century, was nominated for the Literature Nobel Prize), which for reasons unknown to me uses also an older transcritpion standard.
Getting a new Camera
Back to Taipei: My camera did not wake up again, so I have to declare it dead. Damn…that's expensive, but there's no way of arguing: I need a new one and now. The front desk people said there's a department store next door, but it opens at 11am only. Wow…what a relaxed life. Would usually suit me well, but doesn't go together with the hotel's breakfast times, although they are quite relaxed, too: Until 10am. And inbetween? They also said I could try Taipei 101, this world's current tallest building, which I wanted to visit anyway.
OK, down the road to the next MTR station (that's Taipei's subway system, we come back to that), quickly figuring out how it works (a system based on coins very similar to the one in NanJing or TianJin, certainly also offers debit cards, but I won't stay so long that they would pay off), and over to "Sun Ya-Tsen Memorial Hall". Swealtering hot. If you want to experience ChengDu or Macau as cool cities, then I suggest you try Taipei first. Why the hell do I do this trip in the middle of summer??? Apparently completely wrong timing given the heat all over and the raining season in Buthan. September/October would have been a lot better. Next life! Guys…if you ever venture out into these parts of the earth do it in spring or autumn!
Reaching Taipei 101 I had to take note of the obvious: All shops there in the lower 5 floors (above that financial offices) were quality label stores like Gucci, Swarovski, Lacoste, Prada…blablabla…all this stuff I never can deal with. Across the road was another mall, a lot smaller, but also focusing on clothes and jewellery. No electronics. I strolled Tapei 101 once more, found that the 4th floor has a nice setting of cafe bars and a huge book store with one third of the books in English! I left with three new books and a map and relieved of some 1800-something TWD off my credit card. One of them is the Lonely Planet Vietnam, i.e. an essential for the ongoing travel later.
To cut a long story short: By MTR I went to Taipei's main station in search for department stores, found one after long long searching, who had exactly the one camera I wanted in just one small stand, i.e. not exactly an electronics distributor, the store is focusing on clothes again. The camera should cost 16.500 TWD. That is as I can look up now 370 EUR and in so far OK, but the conversion rate I had in mind by that time was wrong and I came up with nearly 500 EUR. Shocked I left that department store. Across the road I found a mall with the typical Chinese collections of small electronics stalls in an overwelming chaos as I knew it from Shanghai. I got in, one level up, and stopped at the first stall with Canon cameras. Doesn't make much sense to shop around and compare…it's all the same anyway. I could convince that guy that I really absolutely only needed the camera, not all the other stuff in the package. And no extra memory cards or battery packs, which all I still had plenty. He offered the camera alone without package for just 10.500 TWD. I accepted, thinking it would be about the normal pricen now. With the correct conversion rate it comes down to just 235 EUR, which is pretty good! He later added 5% for some tax which he said I can reclaim at the airport (with some highly official looking paper I got), I paid by credit card, and finally had a camera again!
Rain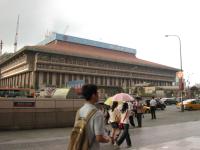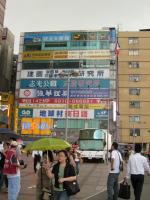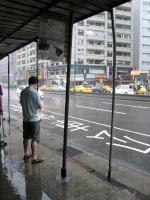 TP_20070705_143323.jpg: I'd loved to give the camera a better first picture, but there was nothing better around: So here's Taipei Main Train Station. I had already had the experience of wandering underneath it and nearly getting lost in the labyrinth of ways and shopping paths. But the good thing compared to the mainland is: It's clean all around, not hundreds of people lurking outside, there are shops and eateries in there were you can wait if you need. You can get in without a ticket. Tickets are checked only before accessing the actual platform waiting lounges. So all in all it is a lot more pleasant than any mainland train station.
TP_20070705_143346.jpg: Just for the records: The place were I bought the camera, right across from the train station, but I forgot which side… 😉 By the way: Now that I had a camera I found a perfect electronics department store to the other side of the first department store, which had dealt more with clothes. Very clean, very orderly. But maybe I couldn't have gotten a stripped-down pure camera there… 😉
TP_20070705_150015.jpg: You saw the clouds above train station and store? It started to rain. That did not let the temperatures drop, but only the humidity rise, if that was at all possible. But it clearly meant: No outdore sightseeing today. The smartest thing, as occurred to me later only, would have been to head right away to the Palace Museum, but I was still preoccupied with the thought of getting atop Taipei 101 and hoped that the rain would cease in the next few hours, so I drove back. The picture is the bus stop at MTR City Hall where the free shuttle to 101 stops: Raining cats and dogs, and the roof leaks.
Taipei 101
TP_20070705_151942.jpg: As the rain hadn't stopped by the time I was back at 101 I headed downstairs and had a beef-noodle soup in 101's food court while starting to read in one of my new books, Bill Bryson's The Life and Times of The Thunderbolt Kid, basically his own childhood biography, but he as always puts in a whole lot of American society background. Hugely funny again…
TP_20070705_173218.jpg: …and so I continued reading while enjoying a coffe (new favorite: Barrista Coffe's "Large Barrista (strong Latte)", wow…that one is strong) on 4th floor.
TP_20070705_174408.jpg: It didn't stop raining…and especially the clouds did not go away. Made no sense to go up to the observation deck. With only a baseball cap as rain protection I walked back to the MTR station (instead of taking the shuttle bus) in order to shoot some pictures…well, I am now a bit afraid of the combination of humidity and a Canon Ixus 850 IS, so I didn't make many pictures and better saw that I got somewhere into dry areas. That's the best I made out of it: Taipei 101 (and the brown bit on the lower right corner is the Hyatt Hotel).
City Hall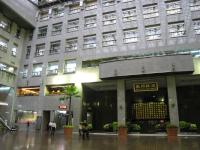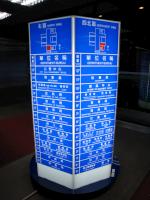 TP_20070705_174708.jpg: The City Hall. It has a roof, so it's dry, so I headed into it. And as the MTR station goes by this name I had the hope I could get underground without too much trouble through rain again. That proved wrong, though.
TP_20070705_174847.jpg: The City Hall caters for all thinkable needs and deeds a Taipei citizen or small/medium business man could potentially have. Seems to be an efficient one-stop shop.
MTR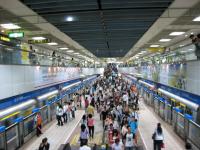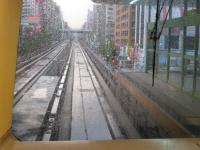 TP_20070705_180533.jpg: An underground MTR station, I believe it was ZhongXiao FuXing on the blue BanNan Line.
TP_20070705_181157.jpg: Looking out the front window of the brown overground MTR MuZha Line: No driver! I believe all MTR trains run fully automatic, not only this line. But I was fascinated to see that this overground line runs on rubber wheels rather than iron railways.
I felt a lot more safe as a pedestrian in Taipei than anywhere else on the mainland or in Macau. Macau was already OK, but in Taipei pedestrians enjoy right of way! Also, there aren't many security guards around. And those, who are there, are often guarding parking lot exits for the purpose of helping pedestrians cross safely: They stop the cars 😉
All in all, there definitely is a big difference between Taipei and a large modern mainland city. Taipei feels more advanced. Pavements are not broken, it isn't smelly, no outdoor clothes hanger (looks like everbody has a drier). You can see some old neighbourhoods, if you search for it, but that you find in Hamburg, Munich, London etc., too. Generally, Taipei feels more like a western city, if there wouldn't be all this (traditional!) Chinese script around… 😉
Today's Lesson: Taipei is 'easy going': Shops open late and pedestrian's life safe