To imagine what Halong Bay looks like you basically have to take YangShuo (which I visited even twice) and just replace all rice paddies with open water…et voilà: It's limestone karst peaks peeking out of the water. Despite the similarity I was still overwhelmed by the scenery. The fact that I took no less than 130 pictures in 2,5 days is a sure indication for it. I am usually not so quick in taking picture, although it's all digital nowadays and could be just deleted. But I still don't fancy the work of sorting out picture. I'd rather avoid a bad picture right away. But on Halong Bay you could essentially point your camera anywhere and just press the button…you'd still have a stunning picture.
Putting to the Sea
Again (get used to it…that's the way travelling in Vietnam works unlike China) I was on a tour. A bus picked me up from my hostel, which left full. No bus here ever is not full to the last seat. A masterpiece of logistics, but the agency make use of their capacity to the max.
Between the lines there's a tip hidden: If you happen to enter a non-full bus be sure that more people are to be picked up and don't try to occupy two seperate row of seats for more comfort. If you are a couple or a group of people seat yourselves next to each other if you want so. As a single traveller I certainly don't have the problem and prefer, if available, a single seat.
The first stop of the bus was a….agrrrr….Jade shop on the way. I had really thought that would not happen on a tour for westerners, but it does. They can probably otherwise not keep their low prises. I have, though, not seen anyone buying anything except for drinks. And, to give truth a chance, it was not only jade here, but a lot of handicraft. According to a sign I saw very late only made by 'disadvantaged'children, whatever that exactly means. But there's no doubt that Vietnam has many of them. One of the relicts of several wars in history.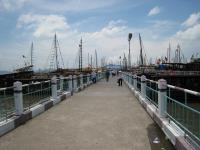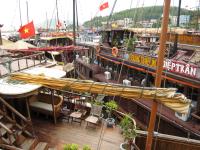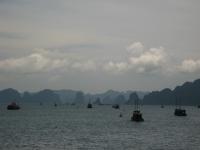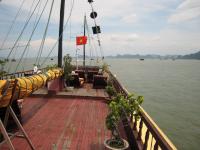 HL_20070805_114100.jpg: Arriving at the harbor was then no hassle. The guide organized the tickets and we very quickly advanced onto the quay where the boats, "junks" to be more precise, were waiting.
HL_20070805_122933.jpg: The typical Vietnamese chaos also in the harbor: Junks basically everywhere. We were so lucky to be able to board our boat directly from the quay. Others had to cross over one or more boats to get to their destination.
HL_20070805_125206.jpg: They first great impression of our destination: Boats putting to the sea of limestone hills. We, however, anchored first and had lunch on board. I was a tiny bit disappointed of the food aboard. I did not expect first-class service (though the ship was a 'deluxe' version), but more and better sea food as the flyer underlined the fact quite often that we would have seafood lunch/dinner every here and there. But the seafood was limited to a tiger prawn per person plus a fish per table. All tasty, but basically both days the same for lunch and dinner. There's a lot more the sea has on offer and a lot more ways you can prepare them. Accompanied always with french fries (seems to be a 'typical' Vietnamese dish nowadays, is always on the table) and vegetables. Sometimes some chicken.
HL_20070805_134530.jpg: Eventually also we get going. Here a view of our upper deck where we could lie in the sun and enjoy the scenery. Our ship's upper deck extended along the entire length of the ship, which was quite comfortable. Other junks had limited sun decks.
Amongst the Karst hills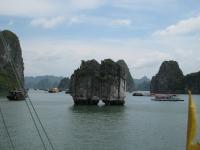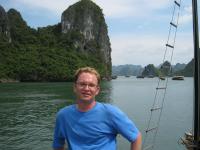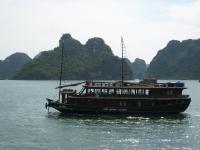 HL_20070805_141226.jpg: This is probably the set of pictures you were waiting for.
HL_20070805_141354.jpg: I at least was 😉 and I was there!
HL_20070805_142502.jpg: Another junk on the way. Our's didn't look much different: The lower deck contains the cabins with double or twin beds and bathroom ensuite! The second deck has the dining room and bar. On top of that the open sun deck. The helmsman sits in the small cabin right in front of the ship, which makes it impossible for him to look backwards, which makes going reverse always kinda fun…"Wenn's knallt noch'n Meter" would a German say, something like "When hitting yet another meter". And indeed, the ships more often than not hit each other when it was busy around quays. Was part of the game…it only happened when going slow.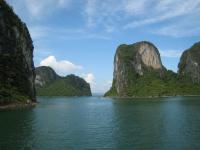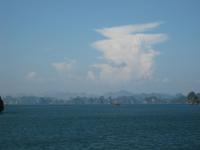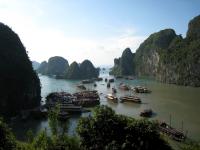 HL_20070805_143537.jpg: Yea…that's what Halong Bay looks like in the leaflets. But check the EXIF data, I made the picture really myself!
HL_20070805_150053.jpg: One of the rare far-reaching views, half fascinated by the interesting shape of the cloud, half by the remote karst hills, which must be partly on land.
HL_20070805_161001.jpg: And one of the rare chances to get a bit an elevated view, taking from the entrance to the Hang Sung Sot cave, see below.
Hang Sung Sot Cave
The first stop was a cave in one of the limestone hills, once found by pure chance by a fisher, who was following monkeys when trying to find shelter from bad weather.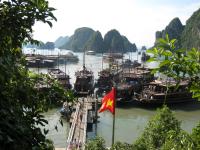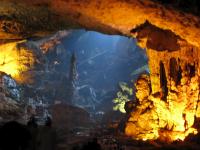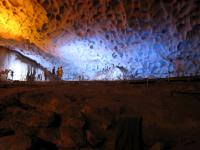 HL_20070805_152905.jpg: The quay a bit crowded. It was actually quite a hassle to get the ship landed. I somehow had here and also later the feeling that the sailors kept forgetting about the impact of wind to their ships. Surely, our boat drifted away with the wind and finally lay across and behind the other ships…great maneuver! These boats don't have side propellers, which would help recovering from such a mishap. Instead, they need to get along with their normal rear propeller even under such crowded and busy conditions and with the additional handicap not to have a free rear view. Well…I am not saying I could make it better, but I could not help wonder nonetheless.
HL_20070805_155551.jpg: The cave itself was not bad. I might have seen more impressive ones in China, but it was still well worth the visit. There were two nice touches to it: It had a fairly big opening into the open air, which allows some natural light in as we can see on this picture quite good.
HL_20070805_155742.jpg: The other nice touch is wave-like forms on the ceilings. According to the guide's explanation it has been formed by water touching the ceiling in ancient times, when water level (or, so would I think, elevation of the hills) was different. I am not sure if I believe that…how would that accumulate to form wave-like forms into the stone? Carving that takes hundreds of years and I find it unlikely that the water keeps on hitting the same place to form a submersion at one place but leaves the area around elevated in comparison. Well, whatever it was, it looks great.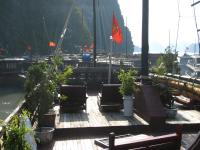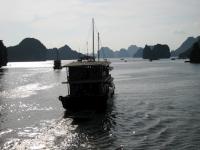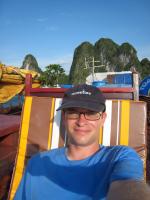 HL_20070805_162459.jpg: One genius had designed a one-way route through the cave, which made it a lot simpler to push the tourist crowds through. But it also meant that the ships pick you up from another quay nearby. Yet another landing maneuver for them. And then here were are putting to sea again, the ship chaos seen from our upper deck. And just in case you haven't seen it before: The red flags with a big yellow star in the middle is the Vietnamese flag.
HL_20070805_162755.jpg: Ships leaving the cave for the wide scenery.
HL_20070805_165140.jpg: Me aboard one of them, a self-portrait with deck chair and karst hill.
Those people, who had booked the shorter trip (2 days) were now dropped off for a bit of kayaking, while we, who had booked a longer 3-day-2-night version, were brought to a small beach at one of the hills. Surprising as it sounds: There were some few natural sand beaches with light-yellow fine sand! None of them big, but they exist. And I was really eager to do some swimming. Haven't done that for months or years. Didn't take the camera with me certainly for fear of getting wet or catching sand or just being stolen. So no pictures, sorry.
I just left a towel, my t-shirt and shoes somewhere and walked into the water. Surprisingly warm! I wouldn't take a warmer shower here in the south than that water was. I jumped head-first into the water. And was surprised by the obvious, which I simply had forgotten to think about: It most certainly was salt water! Halong Bay is part of the South China Sea, which in turn is part of the Pacific Ocean 😉 Never mind…just don't swallow too much. Otherwise it was fantastic and I didn't really want to leave the water again, a welcome change from the hot sun around.
Sunset
Sunsets at sea are always a fascinating thing. But sunsets at Halong Bay top that off. And big time! Also the clouds made for interesting effects. I made no less than 28 pictures only in the timeframe between swimming and when the sun was finally gone. A very mall selection here. Especially here check out the large version (by clicking on the thumbnails below) as only then you can suck in the full atmosphere.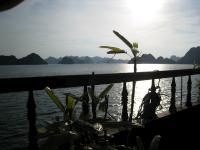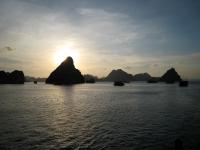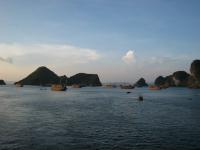 HL_20070805_165249.jpg: Looking over the top deck's railing. The plants in the foreground are part of the junk's decoration. All medium- and upper-class ships have some plants around, which give it a nice touch.
HL_20070805_174951.jpg: Gleaming karst hill.
HL_20070805_175027.jpg: Anchoring Junks. We would be one of them soon for dinner and another round of swimming, with diving from the ship's deck. Huge fun!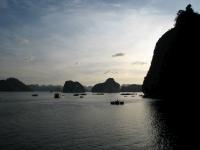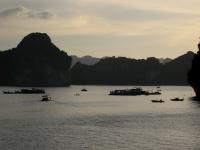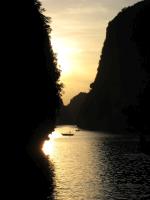 HL_20070805_175049.jpg: Kind of surrealistic this one.
HL_20070805_175104.jpg: The classical sunset view.
HL_20070805_180037.jpg: Boat in a crack between hills: Catched by pure chance: We were approaching a quay to pick up the kayaking people but got badly hit by another boat pulling out without (having the ability of) looking. While our junk was jumping back a bit this crack between the rocks suddenly opened up and there was this small boat in the setting sun.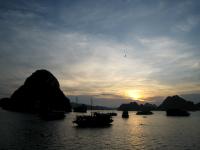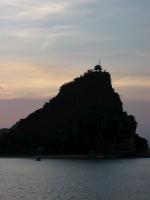 HL_20070805_181053.jpg: Bird over sun and anchoring junks.
HL_20070805_181756.jpg: Pavillion atop a hill. This was the karst rock with the sand beach. With a little imagination you can even make out the strip of sand at the foot of the hill.
The Second Day
A whole lot less pictures here. Not (only) because I got tired of the view but because the weather turned partly really bad and because most of the day I was busy kayaking. And again on the kayak I did not dare taking my camera with me. As did noone else.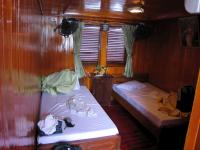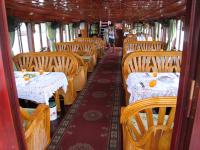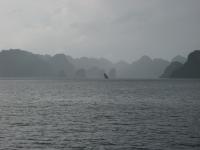 HL_20070806_075456.jpg: My cabin on the junk. Small, but nice. All the ship is made of wood, which is next to impossible to look bad 😉 but also well maintained. As I had not invested in a 'single' cabin I had to share the cabin with the guide. All other people around came in pairs: Mostly couples or two friends travelling together. I was the only single traveller and had speculated aready when booking that I would end up alone in a cabin without actually paying the additional fee. I had not envisioned that they would put up the guide with me. But was alright, we were in the cabin anyway only for sleeping at night and he a lot later than me as he apparently had waited for the last guests to go to bed.
Being single made always finding the right diner/lunch table easy: I had to be at the table with the odd number of plates. Otherwise not so much fun as there were certainly times when the pairs/couples kept to themselves. I at some times felt a bit put aside. But generally the group was nice and friendly, though I never got into lengthy talks as I had with so many other people during the travel before and after. Maybe just not the right mix 😉
HL_20070806_075635.jpg: The dining room, here actually laid out for breakfast, which was just a disappointing pile of white toast and a fried egg.
HL_20070806_084824.jpg: As said the weather turned bad. There were very heavy rain showers. Made for some nice pics of rocks fading in the mist (look at the big version and enjoy the dark nose in the picture's center), but put the entire further schedule at risk. In the end all worked out well, but delayed.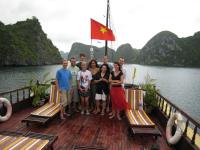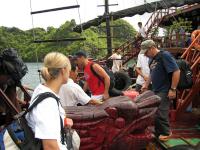 HL_20070806_090519.jpg: Somewhen between showers we gathered for a group picture. Though the group is not complete. I believe one couple is missing and definitely the 4-person French family, which came from the same Hanoi guest house as I. Most of the time I actually spent with the pair standing next to me, who are actually brother and sister as I only found out during the beer on the last night. I had thought them a couple as many others did, too.
HL_20070806_092937.jpg: Changing boats on open sea. Here the 3-day people got on another (a lot less luxury) junk while the 2-day people where carried back to the harbour on the same ship. These kind of ship-switches were quite common and we on the next day did it once more for our turn to be brought back to the harbour. Another masterpiece of organization!
This ship was supposed to bring us to kayaking and bicycling, so the reduced comfort didn't hurt much. The night was to be spent in a hotel on Cat Ba Island anyway.
The kayaking part was actually a bit disappointing. It was fun doing it for 2 or 3 hours, which was basically the part before lunch, when we headed out in a large group, circling through some of the hills, stopping over at a small beach and do some swimming. But especially the promised caves turned out to be just one small hole between two rocks, leading into a large pool surrounded by hills, but with open sky.
Unluckily, while swimming I badly hit an underwater rock there with my right foot and suffered a bad cut there. Not deep, but 3 centimeters long and inconveniently placed at the lower left side. And we still had to go back by kayak. Well…salt water is a good treatment for the moment. And back on the ship I luckily had brought my medicine box with me, where I also keep desinfection for these kind of events. And now I always put the box in my day pack since Rita's fall off the bike where we had nothing with us and where far away from any help. Don't want to be in that situation again. What I for some weird reason had not in the medicine box but only a lot later found in the bag with reserve supplies, deep in the main backpack, were plasters. But the guide could help me with plaster from the ship. They weren't as good as the hansaplast I was sure I had somewhere, but it was at least something. In my slippers I was limping for the rest of the journey and some days thereafter. It hasn't fully healed yet (5 days later), but is on the right way and no longer handicaps me much.
I had booked full-day kayaking (instead of bicycling) as I thought I had done enough cycling in YangShuo and wouldn't get a chance for kayaking so soon again. But neither was a good choice. The people who went for cycling didn't break out in choruses of joy on return. And my second kayaking after lunch was even more dull than the first and with only 3 people. When the other 2 were eventually even put aboard yet another ship (as they had booked a second over-night stay aboard instead of hotel…you see, there are a lot of options, which make the entire logistics so complex a thing, but it worked like a clockwork) I was finally offered to do some more kayaking just by myself. So far, again due to me being the only single traveller, I always was put together with the guide into one kayak. This last good hour I actually enjoyed most, just because I was finally on my own and could explore what I wanted. You couldn't really go far in a kayak. But I explored the rock shores a bit more and for example saw some very fascinating small crabs, as small as a hand, black or dark-green, but with pink scissors. I swear! Pink scissors! And next time I do bring a camera!
The other impact was that I got again badly sun-burned… There aren't many parts on my ody, which have not been sun-burned before. And once burned and healed it usually doesn't happen again. But I was certainly doing kayaking just in swimming trunks, for the first time on the trip uncovering my thighs. And they got badly burned 😉
When I now stand under a shower than I offer an interesting 3-colored view: Legs, face, and arms are well tanned by now, not exactly deep brown, but as brown as I probably ever become. The upper body is still white as I always wear a t-shirt outside. And in the middle there these red thighs, which between white and brown looks actually a bit purple… 😉
Cat Ba Island
…is supposingly a fantastic beach resort island. But we arrived too late to benefit from it. Probably due to the rain delays in the early morning. In Hue I later met a couple who made it to Cat Ba Island by 4pm and could enjoy swimming at the beach there. That makes more sense. We arrived so late that we just got transfered to the hotel, which was a very good one, a lot better than what I stay in in the cities! We had a bit of a dispute if we would like to dine at 7:30 (more time for drinks later) or 8pm (more time for a shower now), which I finally solved the Chinese way by suggesting 7:45…everybody laughed and accepted 😉
We had our dinner in the hotel's restaurant. The food was a bit better than on the ship, but not exactly impressive either. You can't expect too much for 80 USD including everything except for drinks. After dinner we headed out in a smaller group in search for some drinks. The rain had ceased, we could sit outside on the typical Vietnamese plastic garden chairs, and had some good talks. Quite enjoyable a final evening. In bed I was only around midnight.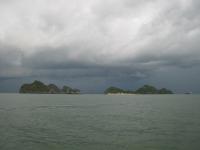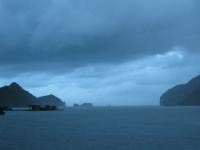 HL_20070806_175209.jpg: Dramatic view before reaching Cat Ba Island: Bad weather approaching from the open sea. We are now very close to the open sea as could also be felt by higher waves with a very long period, for which the junks were not designed. By the way: Also the island seen here has a strip of beach!
HL_20070806_182040.jpg: It got really really bad! I didn't want to be out on the sea in a sailing boat through these storms. But probably even better being out on the sea than trying through this weather to land at a narrow quay. I did see the weather coming and was wondering why the boat crew took so much time first collecting everybody's money for drinks instead of using the last calm moments to get the boat savely moored to land. As it so happened by the time money-collection was finished the storm hit us and made any attempt of approaching the quay impossible. We were turning narrow circles for about half an hour before we finally made it. These guys can still learn a bit about sailing.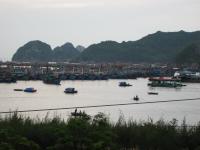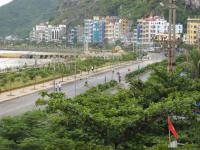 HL_20070807_074320.jpg: All we saw of Cat Ba Island: Its harbour, taken during breakfast the next morning.
HL_20070807_074413.jpg: The main street, along which we had found our beers the night before.
Returning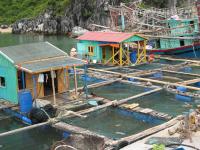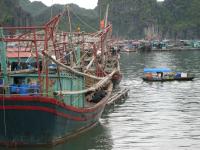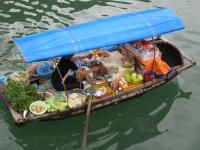 HL_20070807_081849.jpg: On the way back to Halong Harbour we again passed by these swimming fishing villages, but now in weather that allowed taking pictures.
HL_20070807_081957.jpg: Their fishing boats are clearly sea-going vessels as can be seen from the high stern and prow. Interesting is the line of high-power light bulbs alongside the steel cage holding the fishing gear. We couldn't quite figure out what it is good for. Looks too intensive for just providing light for working on deck, and too fragile as well. But all the fishing boats had them.
HL_20070807_082240.jpg: Supermarket in a swimming village. These types of fairly round and very flat barges are quite common for commuting between houses and boats. But I was entirely fascinated by the way they row this boat, but I too late had the idea of taking a video…damnit…you clearly see two rudders, no surprise. But the movement of them was in my eyes entirely inefficient. They barely hit the water and in the water it was more of an up-and-down movement than a front-to-back movement. I kept wondering how these small boats moved at all with such inefficient rowing. But they did…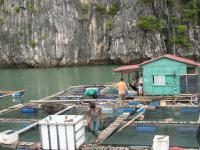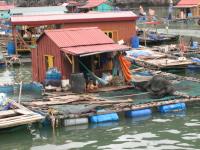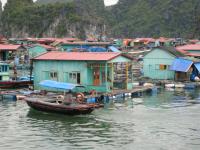 HL_20070807_081903.jpg: All life happens in the swimming huts. They aren't just a retreat while fishing. They people are actually living there day & night. Also kids were around…
HL_20070807_082514.jpg: …and the siesta is here, too, though a bit early, isn't it? But there is no garden to look after to kill the time… Haha, very funny. I wouldn't like to live in these conditions.
HL_20070807_082629.jpg: And the villages were considerably large as can only be guessed from the pic…follow the roofs to the far back to get an impression.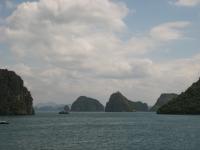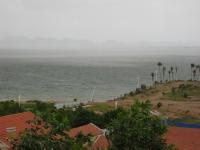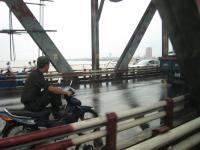 HL_20070807_100439.jpg: Bye bye Halong Bay…if you look closely you'll find the pagoda on the top of the beach hill. We had to return before 11:30, after yet another change of junks, to be in synch with the great turn-over at the harbour: Fresh bus loads arrive from Hanoi while we get on the now empty busses to be brought back to Hanoi. Again surprising that the number of bus seats worked out exactly, though our group size was changed several times (for kayaking and the last evening on Cat Ba Island we were a lot more people than before) and now did no longer fit into one car. So we shared with another group of the same agency and, oh miracle, it fitted exactly!
HL_20070807_125922.jpg: As we had to return to the harbour before lunch our lunch was now served in a nice restaurant at the bay's shore. Here you see another heavy rain shower approaching, which started hitting us exactly 10 seconds later 😉
HL_20070807_160026.jpg: Finally, back in Hanoi after another stop-over at the same jade-and-more-shop. This is the bridge crossing the Red River.
Leaving Hanoi for Hue
I returned to my guest house, finally got in possession of 'my' train and open-bus tickets, which the very kind guest house lady so far refused to hand over to me, probably in fear I would loose them. As said…I was completely in her hands with regards to my schedule. After a quick dinner in my favorite small restaurant not far away I repacked my stuff a bit and waited to be picked up as I had understood. Hm…here was the only little slip in the guest house's organization: There was no pick-up at 6pm. I had awaited many pick-ups by now and had witnessed other peoples' pick-up. It was never on time. Don't ask questions…they will finally come. So I waited patiently. My organizing guest house lady had already waved good-bye and was off duty. The lady now there wasn't as good in organization and English skills. And then at 6:05pm, at a point in time I didn't yet worry at all, got a phone call, which made her obviously break-down and cry, leaving the room and making for the small path between the houses to be undisturbed. Well…I don't understand Vietnamese, but they way the phone talk went can only mean there were some broken hearts involved.
As sorry as I felt for her…by 6:30 I still had no pick-up and my train was scheduled for 7pm. So I finally took a deep breath and had to interrupt her grief, just to learn that there would be no pick-up anyway and I had to take a taxi. Which usually would be called by the guest house, for sure…but now it was a trifle late. Now, we all know that the fastest way to get anywhere is by motorbike. She pulled herself together admirably, went out on the street with me and negotiated a motorbike for me, which I could never have bargained down to 12,000 Dong by myself. I thanked her and wished her that all would turn out well and left on the bike.
Taking a motorbike is no news to me…but now I was with full luggage! So you have to picture me sitting on the back of a small motorbike, with the big backpack on my back, and the small daypack dangling from my left arm, leaving the right hand free to grab hold of the motorbike. Not my favorite position, but was OK for the 5 minutes to the station.
And, surprise, surprise, this station was a different one than the one for Sapa, on which I had commented so negatively! This one really looked from the outside like a captial's railway station. OK…not as big as Hamburg, or Frankfurt, or Bremen…in fact a lot smaller, more like Paderborn or Giessen, but at least a representative building, larger than necessary given the fact that trains here leave only in one direction as Vietnam's geography demands: South.
I got on my train easily and had a very long and enjoyable talk with an English couple…aehm…in fact more with the man…his girl-friend was a bit tired and didn't really enjoy our sophisticated talking about Vietnamese, Indian, Chinese, American, then European and finally world politics. We were very short of saving the entire world with a new political concept when suddenly the topic changed to environmental protection, which provided again a lot of potential for world-saving efforts, when involving the very same set of countries (India came in because the couple had travelled there for 3 months). But again, shortly before we could finish a UN-worthy resolution on world-wide environmental protection we got somehow trailed off to energy production, which we had to admit was too big a problem for the two of us to solve on a world-wide scale, and it somehow kept circling around the environmental protection topic as well. So we at some point in time decided to just sleep a night over it…
…en route to: Hue!
Today's Lesson: Halong Bay has salt water.
Categories: Asia, Halong Bay
Originally Created: 08/10/2007 05:25:19 PM
Last Edited: 08/12/2007