Let's start with a small story, which actually dates back as far as to LiJiang: Our group came back from BaiSha, split up after returning. I went with two of the ladies through LiJiang back to the hostel, on the way asking "What's about a coffee?", completely taken by surprise that Jennifer, a US University Professor, studying cultural influences on language (I hope you forgive my extremely short-cut description?), could not follow my intention. I had to learn that "What's about…" requires a context and I should have asked a bit more elaborated like "Would you like to have a coffee?" or "What do you think of having a coffee now?" After such introduction a follow-up like "What's about tea instead?" would be OK. Well…she's the native speaker…I just take the point.
Here in Hanoi it happened already three times to me that students approached me with the unlikely but surprisingly true intention of just practising their English. I had various encounters of this kind in China, one reported here, and since then are highly suspicious. Here however, a couple with good English knowledge today backed out when I approached a cafe with the intention of having a morning coffee. Would have been a perfect chance to do some ripping-off if intended. But they just didn't want to spend money. What a pitty…I had started to appreciate the conversation. A lot later, when I was just sitting on a bench overlooking Hoan Kiem Lake, another student approached me for talking. Unfortunately his English was a bit hard to follow. He, too, just went away some 15 or 20 minutes later when he could not think of any more questions. I had to tell him that he uses to many "s" at the end of words, makings its very hards to understands somes times what hes wants.
Having said all that: Yesterday night, around 8pm, again while having a walk alone around Hoan Kiem Lake, it was dark already, a man approached me and asked: "What's about women?" I though I do a good deed to the country and help him improve his English, trying to explain that this is wrong grammar and "What's about…" requires a context. But he did not seem to appreciate my educative attempts and just looked confused…what have I done wrong…? 😉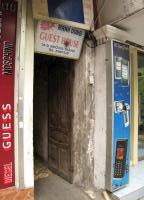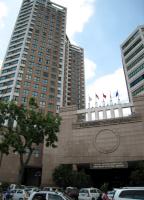 HN_20070801_144412.jpg: Before we get really started two mandatory pictures: The street entrance to my guest house. You start to understand why it would be hard to find? Luckily, they offer pick-up services…
HN_20070801_110427.jpg: Hanoi Towers. From somewhere I had picked up that they are considered kind of a landmark for Hanoi. Hm…entirely unimpressive. Contain a hotel and a convention center.
Temple of Literature
Now, let's get to today's topic: The Temple of Literature has indeed the outer appearance of a temple, of a quite big one in fact. But its fame comes from being the first national university of Vietnam, dating back as far as 1070 for the actual construction of the first buildings and 1078 as the founding date of the university, teaching Confucian style.
Finally, I took my chance and got there by motor bike, the standard Vietnamese way of transportation, though I had seen next to no foreigners on the bikes. Either my negotation skills aren't that good any longer or the ride was really considered long. But I couldn't get the guy below 30.000 Dong, though I thought 20.000 would be fair. Naja…it's for the experience, isn't it? A metered taxi would not have been more expensive, but would have had a lot more buffer in case of a crash. (Better don't tell mum that Hanoi yet has to learn the benefits of wearing a helmet… ;)) I arrived save and sound and once you are part of the madness it doesn't look so bad any longer.
I have sorted the pictures in geographical sequence: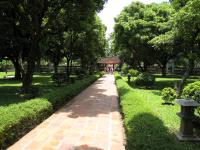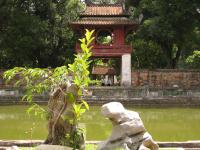 HN_20070801_121245.jpg: Right after the entrance gate the temple area looks like a huge park.
HN_20070801_130801.jpg: The Great Middle Gate, separating the park-like area from the court yards.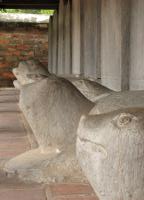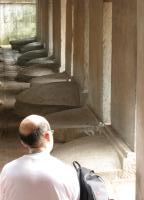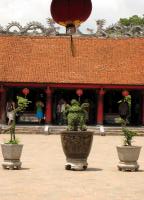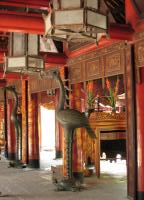 HN_20070801_122204.jpg: Their most valuable pieces: These stone stelae are engraved with the names of doctor laureats of 82 exams held between 1442 and 1779. All appear in Chinese script.
HN_20070801_122301.jpg: Each stone rests on the back of a turtle, as also often seen in China, their back looking quite bald 😉
HN_20070801_130739.jpg: Cortyard of the Sage Sanctuary, whatever that in turn is…
HN_20070801_123403.jpg: A look into the building on the far side of that yard.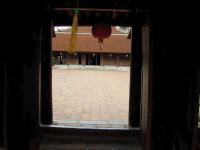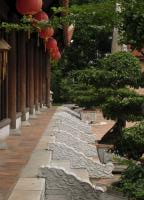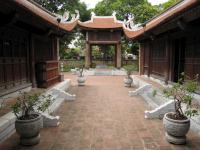 HN_20070801_124320.jpg: Behind that Sage Sancuary there's another gate leading onto the Thai Hoc Courtyard, which in fact is the largest, but as the access is a bit hidden it was fairly free of tourists.
HN_20070801_130127.jpg: The few steps up of the hall across this courtyard.
HN_20070801_124653.jpg: Actually, there were two halls right next to ach other. This picture looks out to the left between these two halls.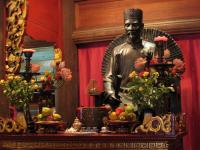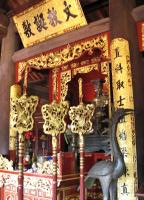 HN_20070801_124852.jpg: The first hall is more like a reception, the second contains the more interesting sights, including statues of people important to the history of the temple. If I got it right then this is their most famous teacher Chu Van An (1292-1370). I wouldn't be surprised if he suffers stomach ache soon: All fruits placed there are made from plastic…
HN_20070801_125150.jpg: On the upper floor are statues (all statues in Buddha-like poses, ready for worshipping) of three important Vietnamese kings, linked to the temple's history: Le Thanh Tong, Ly Thanh Tong, Ly Nhan Tong. And I don't know who I catched on the pictures.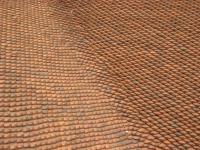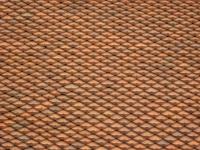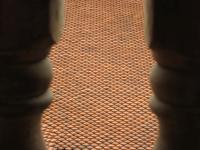 HN_20070801_125552.jpg: Still from the upper floor looking back onto the 'reception' building the roof tiles catched my attention.
HN_20070801_125615.jpg: In need for a new compter desktop background…? 😉
HN_20070801_125825.jpg: Through the wooden handrail.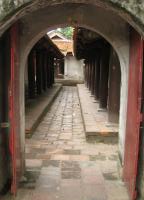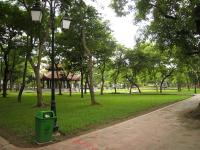 HN_20070801_130254.jpg: Okok…back to more serious things…a walkway along the side of the buildings.
HN_20070801_130554.jpg: And its continuation some 100m later, leading back to the stone stelae of doctor laureats.
HN_20070801_131511.jpg: Attached to the temple site is a small park, which for reasons unknown to me was closed to the public by the time of my visit, which explains, why it is so empty. But there's rubbish in the waste bin…so there must be times when the park is accessible.
Lonely Planet (which I was not carrying with me) had a restaurant recommendation nearby: KOTO (Know One Teach One), a charity program to the benefit of street kits and other "extremely vulnerable young people", in Hanoi best known for their restaurant, but as I learn now from the web site: The location I saw was just recently only occupied (and indeed looked great and new).
I had a small lunch (self-wrapped rolls in rice paper, filled with various vegetables and minced shrimp meat) and a coffee and have to admit: The people there are highly motivated, always up for a smile and worth any Dong of tip you can afford. (Unlike China, tipping is more common in Vietnam, though not necessarily 'expected'.)
I still have to kill some hours before my night train to Sapa will leave, so I walked back instead of paying another extraordinary amount of money for a motor bike.
Further Plans
OK, I hope I get the schedule right…my guest house lady was a lot better organized on getting my dates right than I…
Tonight I will go to Sapa by sleeper train. Sapa is in Vietnam's far north-west, close to the China border. (And in fact the last people I met in KunMing, China, had crossed the landborder in Lao Cai, coming from Sapa.) It will be an organized group tour (2 other couples, who I will meet on the way to the train station only) for 2 days of hiking (Thursday, Friday) in the mountains around Sapa, 5 or 6 hours per day. The one night out there we will spend in a minority village. According to Lonely Planet you should not expect "sharing a bowl of eyeball soup" or anything likewise on grassroot-level; government has regulated even these stays. But still, it will be somewhere out in the woods in a more or less original house. I will skip the stay in Sapa proper, which does not look worth spending an additional 24 hours, and instead get right away on the second evening on the night train back to Hanoi again. That should bring me back to Hanoi in the morning of Saturday, 04-AUG, where I will stay one more night in 'my' guest house.
Early next morning, Sunday 05-AUG, the tour to Halong Bay will start, which is at the coast to the east of Hanoi and famous for its karst hill landscape surrounded by water. Again an organized group tour; and again I will meet the other people only when it starts. Hm…I hope I remember right, but I think it involves two nights, one on a boat, one in a hotel. The day-activities are sailing on these boats through the bay and one day of kayaking. Hm…they probably mean canoeing. Anyway…a small boat moved by paddles. Sunday plus two nights…that makes me return to Hanoi by Tuesday, 07-AUG, in the evening.
I will right away jump on a sleeper train to Hue, Central Vietnam, where I am supposed to arrive in the morning of Wednesday, 08-AUG.
I should have time to report on Sapa on Saturday, but I have no idea when I will be able to write about Halong Bay. I will certainly not carry my laptop with me during that time, but leave my heavy luggage in the guest house. So please be patient the next days regarding trip reports.
Today's Lesson: Xe oms (motorcycles) are more expensive than expected.
Categories: Asia, Hanoi
Originally Created: 08/01/2007 10:45:33 AM
Last Edited: 08/01/2007