Royal Garden Appartment
We are living in an appartment complex called Royal Garden. It's brand new. It's so brand new that it hasn't even been finished yet. The interieurs of Buildings 1 and 2 are in progress only. Buildings 5 and 6, where our appartments are, are more or less ready to live in. One day we saw workers carrying furniture into our building. But it seems that those appartments we are living in are fully featured. (Except for the safe I got on the day of my arrival, see Touch-down.)
The appartment site itself looks pretty nice. All buildings are lined up on the right-hand side of the driveway with the reception placed in the middle as building 3. I'm living in the last building, number 6. On the other side there's a large garden, not right chinese, but including some few components of a classical garden. At least they placed a couple of benches and swings there. Could be a nice place for relaxing and reading.
Next to the reception is the gym offering equipment for indoor running, cycling, table tennis and the like. Haven't used it too much yet. So far, I was more in favour of outdoor sports activities. But actually–with the air pollution all around here it won't be so much fun. Everyday when stepping out of the house we wounder what it is what they burned this morning. Sometimes when returning visibility is limited to maybe 200 meters. Shanghai is definitely not the best city for outdoor sports. As there is no park nearby I haven't tried jogging yet. I wouldn't be afraid of running down the streets here. (Shanghai is a very safe city.) It's simply because there are just streets with a couple of flats on the left and right, every once in a while interrupted by modern industrial or office building. But that's it. No green around–except for the garden, which can be said to be a large garden, but not large enough to be a park.
There's also a tennis court. Haven't tried it yet. The surface looks pretty hard. Suited well for easy-going-tennis…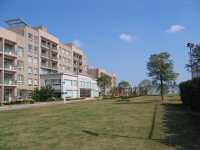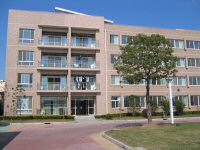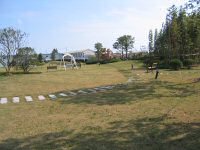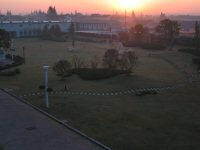 (Click on picture for large version.)
ryg_041030_02: The buildings line up the driveway. The recption in the middle.
ryg_041030_01: I'm living in the last building, number 6. My balcony is the second one right above the door.
ryg_041030_03: The large garden, it's benches and swings.
ryg_041028_01: Each morning we wonder what they burned this morning. But let's take it positive: The smog is also good for some nice sunrise pictures.
There are three different sizes of appartments available. And something, which more resembles a hotel room. Britta had the pleasure to sleep in such a small-sized room for one night. It has just a bed, a tv set and that's about it.
So far I've only seen the large two-bedroom appartments and the middle-sized one-bedroom appartment, not the small ones. The bosses (senior managers, partners) and those sharing an appartment with two persons get a large one. I'm living in the middle sized version. And that's perfectly sufficient. I wouldn't know what to do with more room.
The appartment is square-shaped, 6 to 7 meters on each side. It comprises of
– a bedroom with a french bed, a desk and a wardrobe.
– an open kitchen with a gas cooker (I like gas cookers, you need to know how to handle them, but heat control is way better and becomes effective immediately), fridge, rice cooker (haven't tried it yet, actually, I've not even bought rice yet, I mostly feed on noodles) and something, which looked like an oven on first sight, but actually unveilled to be a ultraviolet sterializer. All the china (hey, here the common english term for porcelain dishes really fits) was in there and the thing is really supposed to sterialize it after washing. No oven, then, what's a pitty.
– next to the open kitchen a dining table with four chairs. Having for chairs is a nice idea. There are also plenty of chop sticks available for guests (and you have to get used to using chop sticks anyway, at least for lunch during the week, and all of us do, I'm doing fine with them), but too few other stuff like rice or soop bowls, forks and knifes, spoons, plates, glasses… Most of that stuff is available twice.
– a bathroom with a shower.
– an open living room with a three-person couch, a cupboard, a big tv set. There are certainly several chinese channels available. But also Deutsche Welle TV, BBC World and HBO Asia, a US movie channel without commercials, showing movies uninterrupted. I guess, the latter one needs to be paid for by the appartment company. But we asked for it and now it's there!
– the living room opens to a balcony facing the garden; there's also the washing machine. And the dryer: Chinese dry their clothes outside the house, mostly by hanging it across the street. Here the modern version: A clothesline across the balcony ceiling, which can be moved up and down with a handle: Move it down to hang your clothes onto it, then move it up again so the clothes get (mostly) out of sight. I bought a clothes rack anyway, on one hand because it's simpler for underwear, on the other hand I could set up a rack indoor, where the air is hopefully a bit cleaner.
Internet connection is available. Or, let's put it this way: There is a network plug in the sleeping room. And, if you're lucky, you received a network cable (if not, the reception could give you one, though). If you put the network cable in your laptop and you're lucky again, then the laptop finds a DHCP host and assigns an IP address. If it's a really great day, then there might be the internet at the other end of the cable. Means: The internet connection is a bit unstable and we already asked the appartment officials a couple of times to get that fixed. And most of the stuff we asked them for is done pretty quickly. (Britta once asked for the network cable on friday evening when returning from the office. It was brought to her appartment Saturday morning at 9 while she was still asleep.) But the internet connection stays to be a problem.
Apart from the internet connection and the location far outside Shanghai it's a good place to be. The appartment is cleaned twice a week. We have to wash our clothes ourselves, but there's one washing machine per appartment. And dry-cleaning and ironing service are available for a small fee.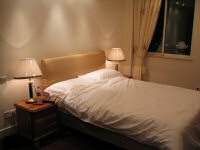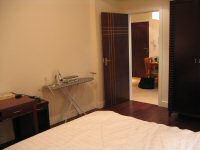 ryg_041031_09: Bedroom
ryg_041031_08: Bedroom. Oh, I missed to mention the iron…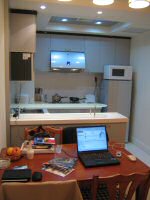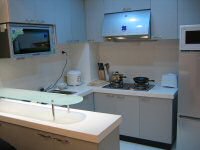 ryg_041031_06: Dining table and kitchen. That's where I'm currently sitting if I would not be taking the picture right now 😉
ryg_041031_07: A bit closer view into the kitchen: The sterializer on the left, the rice cooker is the small white round device in the corner in the middle, the gas cooker with two flames, the fridge to the left. And I forgot to mention the microwave.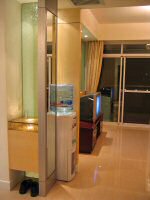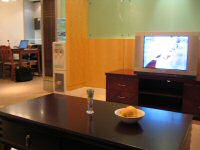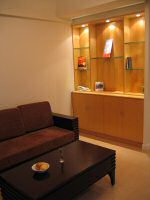 ryg_041031_05: Looking from the appartment door into the living room. The water dispenser also has hot water on tap; it's hot enough to make green tea from it. (For black tea I would prefer water, which has boiled once.) That remind's me, be back soon…
ryg_041031_02: Living room: table and tv set. That's the current place of the plant layer I've brought (see Touch-down).
ryg_041031_03: The other corner of the living room.
Categories: Shanghai
Originally Created: 10/31/2004 12:21:59 PM
Last Edited: 10/31/2004