So far, every weekend we became just normal tourists and wandered around in Shanghai's hot spots. And I guess, these are those picture you waited impatiently for. So here we go…
Note: All pictures starting with "br_", and here are many!, are published by courtesy of Britta, xiexie!
Pudong Skyline
Shanghai is proud of Pudong, the new skyscraper area at the shore of Huangpu River, right vis-a-vis to The Bund, a tourist promenade along that waterway, that divides Shanghai pretty much in half. The Bund has it's own long history, but that's second to a tourist's eye, thus, see later…
Pudong is basically completely new, build up starting in 1990. Before that it was mostly farmland. Nothing old is left. That might be a pitty or not, it's definitely fact. Here rules the money. Also located there: The Shanghai Stock Exchange (of which I do not have a picture, as I just notice…). But most commonly known is that long needle with all the balls in it, the Oriental Pearl Tower. The tallest building, though is an office and hotel tower next to, Jin Mao. That's a beautiful building, which even pleases western eyes, with a nice (and comparably expensive) bar located on its 86th floor. It has 88 floors in total…8 is considered a lucky number in China.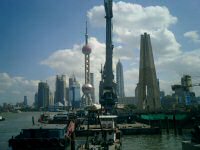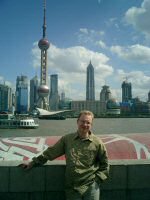 br_041023_303: Pudong's famous skyline seen from Garden Bridge with a swimming crane in front. That ugly tripod thing made of concrete right next to the crane is supposed to be a Monument for the People's Heros. If I every become a hero I waive the memorial.
br_041023_307: Yeah, I was really there…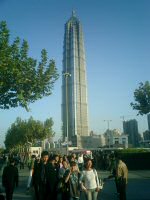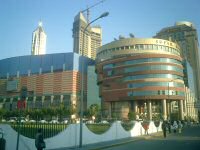 br_041023_348: Jin Mao tower, Shanghai's highes building. And of the few with timeless attractive facade. It's simply a nice building.
br_041023_355: Superbrand Mall. Maybe attractive from an architectural point of view. But what would you expect from a building of this name? I should have read my LP before we strolled through endless empty floors: "A year after opening, the upper floors of Shanghai's largest mall remain deserted." Confirmed. Even two years after opening…
br_041023_356: Hey, that's me again…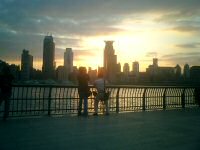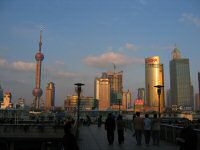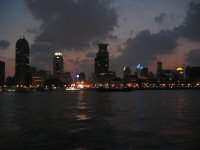 br_041023_359: Blick across Huangpu River to The Bund. We finally found a Starbuck's (looked for one since starting at noon) and enjoyed sunset at the river.
sha_041030_35: Sunset on Pudong's skyline.
sha_041030_40: Once again The Bund between day and night.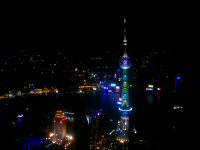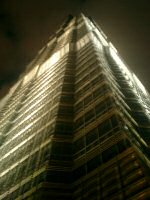 br_041023_361: Two hours later, the sun has gone, the lights of Pudong got on. This picture has been taken from Jin Mao's bar Cloud 9 on its 86th floor, looking down on Oriental Pearl Tower, which glimmers in different colors every night.
br_041023_363: Jin Mao again, we liked this tower…
The Pedestrian Tunnel
Didn't know exactly where to put the following two pictures, but as the Pedestrian tunnel connects Pudong with The Bund, I think they must be put inbetween these two sections…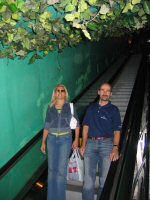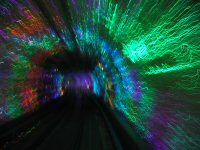 sha_041030_38: Stairway down to the small electric trains…
sha_041030_39: …which cross the Huangpu River through a kind of lightshow, which is actually supposed to tell a kind of story. But at that our Chinese was still poor.
The Bund
"It is a boastful reminder of the city's cosmopolitan and decadent heyday" says my Lonely Planet. Most of the buildings located here at Waitan, so the Chinese name, have a long and changing history. The Peace Hotel, for example, began its life as the most luxurious hotel in the Far East, accommodating illustrious guests like Charlie Chaplin or Bernhard Shaw, then hosted banks, was once the operations base for the Gang of Four during the Cultural Revolution, and now is a hotel of upper tourist class, said to be overprized with regard to quality of service.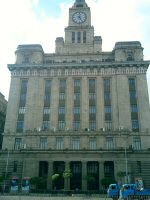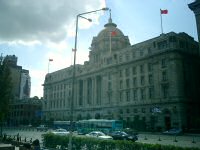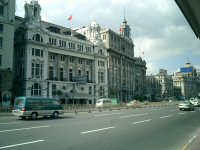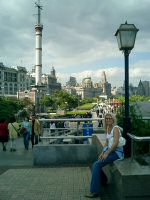 br_041023_312: Customs House with "Big Ching", modelled on London's Big Ben. It actually really sounds nice!
br_041023_313: Former "Hongkong and Shanghai Banking Corporation" (HSBC), now holding the Pudong Development Bank (why is that one not in Pudong???) and several other offices.
br_041023_316: View back on the street between The Bund and the line of historical buildings, Zhongshan Dong Yilu.
br_041023_323: View back on The Bund. Britta and I teamed up to venture into Shanghai's center. But also notice the Meterological Signal Tower and the historical facades in the back!
No longer Pudong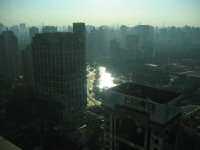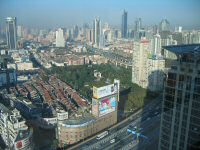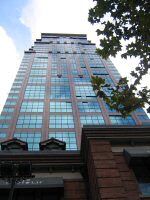 sha_041028_02: View from Accenture's Office on the 30th floor of Shanghai Central Plaza over a part of Shanghai's skyline in the early morning smog.
sha_041028_03: Same floor, same day, different angle on Shanghai.
sha_041028_04: And that's Shanghai Central Plaza, from where the previous two picture have been taken.
Categories: Shanghai
Originally Created: 11/09/2004 02:42:11 PM
Last Edited: 11/09/2004