And yet again (also see "Happy New Cold Year") you everywhere here or read:
Xin Nian Kuai Le! – 新年快乐!
It's Chinese New Year today, the first day of the Year of the Dog.
This is traditionally a family event in China. So I actually stayed alone at home during the night from yesterday to today. I could have had the chance to go with other expats to a night club, but maybe I'm growing too old…not my style any more.
A really tried to make it as much Chinese as a family would do 😉 : I prepared myself a dinner (pork filet with a self-created cream sauce on mushroom basis, rice [didn't want to cook pasta again…], broccoli, and a real joghurt (meaning: something sticky enough so that you need a spoon to eat it) as dessert. Then I tried to tune the TV to receive this famous Chinese show all families see during the night (100% of all families I asked do that, I asked quite many this year and last year 'cause I am still unable to believe the polling result). But I failed…Don and I had consciously decided not to pay for cable TV as we would not make use of it. And indeed I do not miss TV at all over the past half a year. But now I could tune in only some snowy programs as I did not even had an antenna, but needed to experiment with blank cables… Well, I finally gave up and watched DVDs instead, something I had not done for more than half a year either.
This year, I actually notived a change in the intensity of all the family fireworks around at midnight. So I pured myself a glass of whisky and watched the fireworks from our balcony. It was not hard to hear something: The tall buildings around reflect the sound perfectly. But they also make watching something quite difficult: The fireworks in use here does not make it above the often 25 or more storeys of the typical apartment buildings. So the pleasure was limited to our own apartment park and the intersection right in front of our balcony with the hotel's entrance opening onto it (also see "We'll be famous"). The hotel fired quite a lot. Looked like there were a few people celebrating there.
A number of colleagues actually celebrated their New Dinner already a day before: We had been invited by a Shanghainese colleague to her home. Her parents cooked and served a extraordinary dinner with I don't know how many dishes for 12 people, one dish better than the other. We had a tremendous amount of fun. A totally enjoyable evening, which we ended by firing a couple of fire crackers.
Century Park again
Chinese New Year also starts at the same time the spring break. And the first time for years (I can only judge last year, but for that it's true) it really was kind of a spring day: A bright sunny day, the first for days with temperatures outside well above 15 degress.
I actually switched off all air conditioners, opened all windows and was surprised to figure out that the air inside the apartment was colder than outside. So windows stayed open while I wanted to go for a round or two of skating. As it is well known, I like to do that by circling around Century Park.
However, my physical fitness proved to be improvable. After one and a half rounds I stopped at a stall selling ice cream(!) and cooled drinks (even cooled drinks is kind of unusual) for a cooled ice tea. While enjoying it I wandered on my skates around the entrance of Century Park and finally decided to go inside. It did not look overcrowded, so I hoped for some nice skating experience.
And nice it was! So far, I have been only twice to Century Park. But I still like the park because of its size and offerings. Now, right after winter (ok, let's be exact: We are in the middle of winter according to calendar) the grass is brown and no flowers are around, but the warm sun compensated for all that. I was slowly rolling through the park ways, had a rest at a sunny bench in the middle of the park and there I decided to quickly return home, get a camera and some documents, which I had to review.
So I did (it's just 3 minutes distance to home by skates), paid the park entrance fee (10 Yuan) a second time and returned with camera and review documents.
Many families toured the park: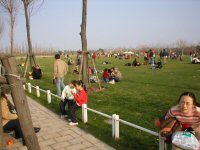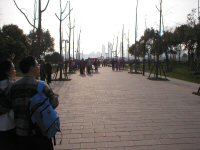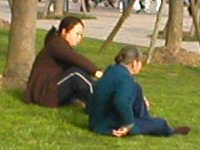 01 – Park lawn, occupied for a picnic or for flying kates, many kids here and there, like in front of the pic.
02 – Although it is only early afternoon does the low winter sun create a warm atmosphere, which is difficult to catch with a simple digital camera.
03 (detail) – Not rare to also see elder people sitting down on the grass.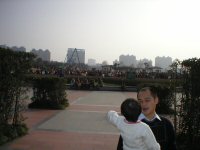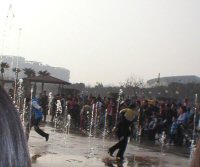 04 – In the center of the park, a kind of water music (fountaines accompanied by music, but I wouldn't say 'linked' to the music) attracted many onlookers…
05 (detail) – …especially children, who tried to run inbetween the many individually fountains.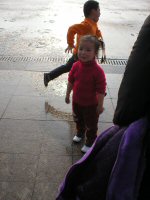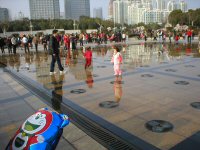 07 – Children, a bit wet, but happy.
10 – After the music is over, it's safe to walk across the square.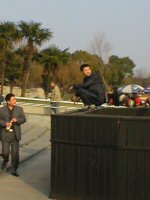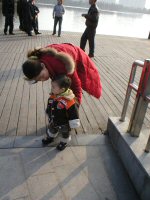 13 – Chinese are more relaxed regarding places they want to see…
17 – Bored by all the people…
I am sure the majority of them are locals (spring festival is celebrated at home, so all Chinese are at the moment considered being at home 😉 ), who most likely have seen the park already several times. But still they are taking pictures like crazy. I decided to document that: 😉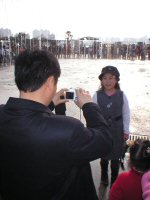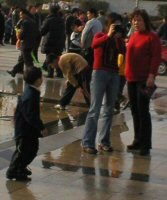 In front of the fountains: 06 – 08 (detail) – 09 (detail)
(Many of the thumbnails shown here are actually just details of the full picture, which you reach as usual by clicking on the thumbnails.)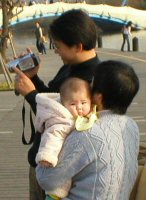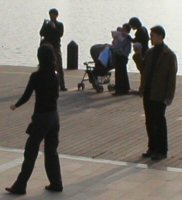 At the lake (I): 12 (detail) – 11 (detail)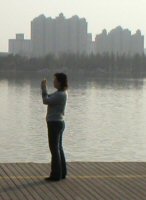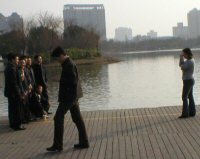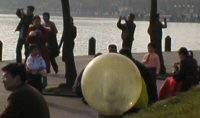 At the lake (II): 14 (detail) – 16 (detail) – 15 (detail, 3 photographers in just 2 million pixels!)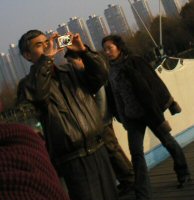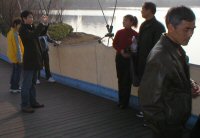 The bridge over the central lake: 18 (detail) – 19 (detail)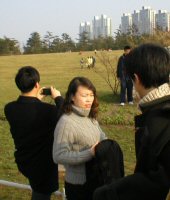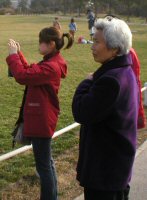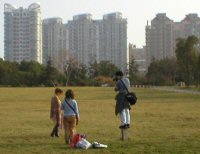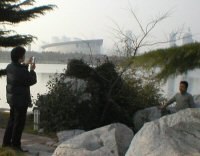 Around the park: 22 (detail) – 23 (detail) – 24 (detail) – 25 (detail)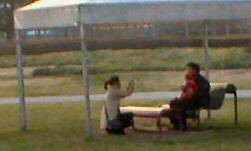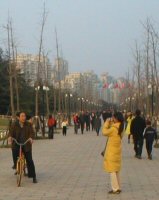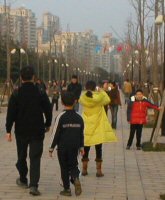 On the way out: 29 (detail) – 31 (detail) – 32 (detail)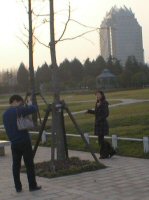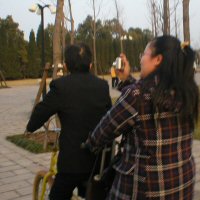 On the way out (II): 33 (detail) – 34 (detail)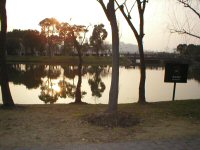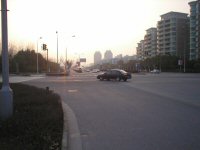 27 – My favorite place in the middle of favirous arms of the lake…."no angling" here, but across the street in another art of the see it is explicitely allowed. Here I did the document review…at least started it.
35 – A 'small' intersection between Jinxiu Lu and Fangdian Lu next to Century Park in the descending sun.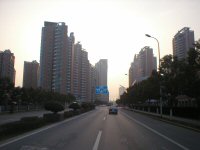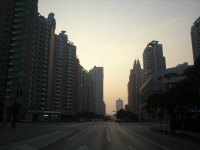 36 – Yingshun Lu, looking west into sunset. The houses to the right are part of the apartment park I am living in.
37 – Same thing, just a bit closer and with more sunset feeling.
No, I do not skate right in the middle of the street under normal circumstances 😉
Categories: Shanghai
Originally Created: 01/29/2006 11:37:01 AM
Last Edited: 01/29/2006