Ever seen this building?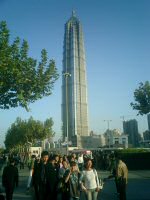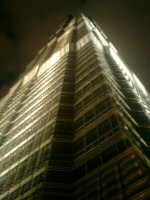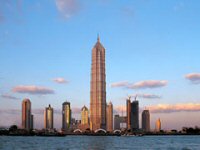 br_041023_348: see Sightseeing I: Bund / Skyline
br_041023_363: dito.
Picture 1 of the Grand Hyatt Shanghai Photo Tour, no idea how they got the tower so exclusively without the half-way high buildings like the Oriental Pearl Tower in its way.
Jin Mao Tower, Pudong, Shanghai. Tallest building of China, 5th-tallest in the world (back then, in 2006, that is, now no longer). And classicly beautiful.
And it includes another world-record: The highest hotel in the world!*
Grand Hyatt, its reception only is on 54. floor, the top floor, number 88, a lucky number in China, holds "Cloud 9", a cocktail bar. To that bar we even have been once during our sightseeing tours at the very beginning of our stay in Shanghai.
You can imagine, that this exclusive location is not good for a small side-street hotel, but only for the full pure luxury of 5 stars. And although I often have to notice that helping colleagues of other companies, who are only in the city for a few days, get a room paid there by their company, I never stayed there. My company has not yet paid anybody's stay in the Grand Hyatt, not even for our top senior executives…
But it stays a temptation, whenever I go past. Luckily mostly underground…by subway between Pudong and Puxi. And so over time the idea came into my mind, to just stay a night there for the pure fun of it. But when would you do that, with your appartment being just 10 taxi-minutes away on the same side of Shanghai? Well, today was kind of a good occasion**, and so we decided to have a room for just one night and celebrate into the Sunday.
While checking for the rates (well, forget it, I won't bother you with the details….) I came across some reviews. Certainly, people expect the best of the best in a five star hotel. But one complain was kind of coherent: The staff was said to be not as friendly as expected. That concerned me a bit, friendly personnel makes a stay a lot more pleasant.
I also checked the list of facilities there, but even when having a fully-equipped fitness room, sauna, and swimming pool, I was unsure if we would be busy until dinner. So I also checked the available cafés and bars…well, there is enough room 😉 Well, we were busy…didn't have time to wait in cafés until the day passes.
We checked in at 15:00 on Saturday (yesterday). The staff was friendly, quick, and even showed me the way to the elevator and how to use the key card in the elevator: The hotel room floors are only accessible if having such a key card. I assume this shall prevent non-hotel guests to enter these floors, who also need to use these elevators to get up to the restaurants and certainly to Cloud 9, the bar on 88. floor.
Our room was on 77. floor, which already is…hm…quite high actually, something like 330 meters or so. And I had certainly paid the extra price for a room with "Bund view", i.e. heading towards the Huangpu River, the Bund, and 'old' Shanghai, which is supposingly a nice view.
Well, this is what it really looks like: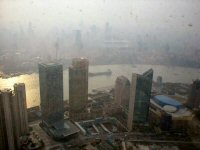 06 – "Bund view" from room 7712
3 typical Shanghai things impair the supposingly great view:
1. Construction sites: They are simply everywhere. And from this altitude you see their full ugliness.
2. Smog. View does not go as far as Shanghai goes.
3. Dirty windows, which might be a consequence of 2…
Regarding 3 a small side note, written on a transparent piece of plastic, put decoratively on the office desk: It warns that window cleaning is an ongoing activity and suggest to close the blinds in the bathroom…at least at certain times. Well, yeah, I remember that some lady in some place of the world sued some luxus hotel because some workers came down in front of the windows, hold by ropes, while she was enjoying a drink….naked.
We made a first simple coffee on the room, just enjoying the view as far as possible.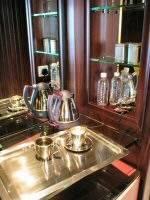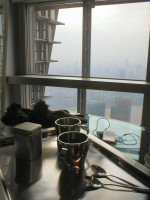 01 – Coffee, exclusive looking cups, good water boiling machine, and drinking water from simple plastic bottles. Even in a 5 star hotel you cannot drink tap water.
05 – Served at the winodw, looking out.
The we started to explore the fitness rooms, Club Oasis, on 57. floor, if I remember correcly. Also here: staff friendly! (Although I later once did not understand they explanation on how to reach the swimming pool, never mind.) I am actually not a fan of indoor sports on heavy looking devices (in German I name it "Geräteturnen"), but it was included in the price, so better make use of it! 🙂
I just started by running, then cycling, then finally I did try some of these thousands of body building machines…they still will never be my favorite. Nonetheless, we spent quite some time there…just doing a few kilometers of cycling simply takes time… But I definitely also wanted to try the swimming pool, which looked so cool on the web site. And yet again we spent a lot of time there. It's extremely difficult to find a clean pool in China. It is eventually only possible in high-priced western-style fitness clubs. And I'm not willing to pay their monthly or mostly actually yearly fees.
We forgot to take pictures, but it still pretty much looked like on the ad pics from the Grand Hyatt Shanghai Photo Tour: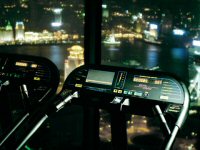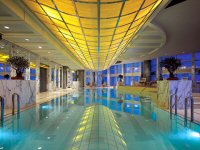 Picture 24: Fitness equipment overlooking Bund skyline in Club Oasis
Picture 25: Sky pool.
Sonner or later time for dinner. Alone selecting a restaurant could be time-consuming: Japanese, Cantonese, Shanghainese, Grill, Food Court, …. we decided for the Grill. A good decent piece of meat sounded like quite right. And yet again: Staff friendly! When my glass of beer was empty a passing-by waiter asked if I wanted one more, I said yes. Just seconds later our assigned waiter came along with the same question. I said, no thanks, just ordered with a colleague. He then actually went to the cash register and I am pretty sure he double-checked, if the order had arrived! Never seen that before…I certainly did get my new beer promptly. Also other wishes were taken up nicely and friendly and delivered promptly. One of the rare occasions in China that I left a tip, in a land, which does not really know the concept of tips.
Here we did take pictures…but they are all blurred…for the Grill I again must refer to the Grand Hyatt Shanghai Photo Tour, but others worked out from my camera: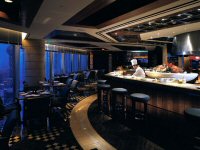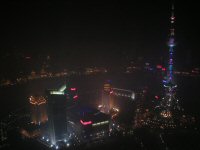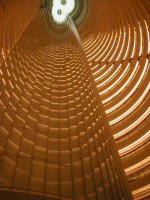 Picture 14: The Grill.
10 – Once again the view from our room: The darkness of night covers all the annoyances of the day's view and now the view is just great.
16 – This atrium-like openess spans above one of the many bars or café on the restaurant level…all the way up most of the guest room floors. What a waiste of space for the feeling of sky above you.
On the next morning I enjoyed our really nice bath for a really nice shower, all high-tec, which actually is explained in the hotel binder on the office table. Not sure who reads it….but I must admit that I need to get used a bit to all the handles of the high-tec shower…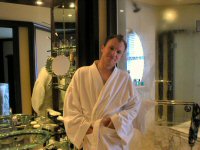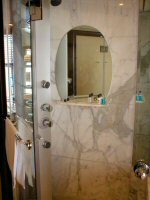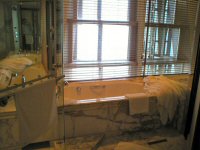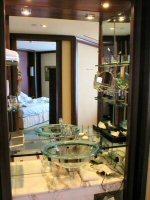 20 – Note Birger's morning shower hair style 😉
22 – The high-tec shower…difficult to find the correct position to switch off water flow completely.
23 – The bath tube, with window towards the Bund–watch out for window cleaners!
26 – The washing basin…all glass. Oh, I am happy that I don't have to clean that….
27 – Ah ja…nearly forgot: Part of a decadent stay in a decadent hotel must be a decadent breakfast…on the room! I was not really expecting that a full table will be moved on rolls into our room, but so it was. Well, can only recommend, really cool to have breakfast in a bathrobe 😉 The pic actually was made after being mostly done with it, though, looked more fantastic when coming in.
28 – A fair-well pic of Jin Mao Tower, from its base upwards.
29 – One of its entrances. Note: The hotel has its own entry on the south side of the building.
Well worth a remarkable stay!
---
* In terms of floor-levels, certainly, not in terms of sea-level. Would be difficult in Shanghai, which rarely raises 2digit meter-numbers above sea-level 😉
** For those unfamiliar with my technical data: It's my birthday today 😉