I have been to Germany in May. Well, what a surprise–I AM German. But I have been there with nice company: my girl-friend. We did a 2 weeks tour through middle and northern Germany to show her my home country for the first time.

When planning the trip I consciously left out the southern part. Many Bavarians will scream now who I could dare to leave out things like Munich or Castle Neuschwanstein. Well…if you live abroad then you'll notice that all about Germany that travels abroad is about Munich and Bavaria. Chinese must think that all Germans eat Pork Knuckels (Schweinshackse), Sauerkraut, and sausages all day from dawn till dusk. All Germans wear traditional Dirndl or Leather Trousers. And carnival is when the Bavarian prime minister cheers with a beer mug in a white-blue tent (as so reported on Shanghai Daily on Rose Monday). Never heard about Cologne, Düsseldorf, Mainz….?
There is so few known about the middle and northern parts of Germany that I decided to travel only them in the short period of 15 days. Thus, after some back and forth I believe our itinerary was quite nice and mixed:
DayDateCity / MorningWhat / WhereCity (for the night)Fri2006-04-28Frankfurt17:00 Arrive at AirportFrankfurtSat2006-04-29FrankfurtNight of the MuseumsFrankfurtSun2006-04-30Frankfurtearly morning: go to Dresden, stop-over at Wartburg, Dresden: City sightseeingDresdenMon2006-05-01DresdenCity sightseeing / evening: go to BerlinBerlinTue2006-05-02BerlinCharlottenburg CastleBerlinWed2006-05-03BerlinGovernment QuarterBerlinThu2006-05-04BerlinPotsdam / afternoon: cruise to Müritz-See (convertible)Müritz-SeeFri2006-05-05MüritzSailing / afternoon: cruise to Hamburg (convertible)HamburgSat2006-05-06HamburgHarbor Roundtrip / City sightseeingHamburgSun2006-05-07HamburgBreakfast at Landing Bridges / early afternoon: go to SpiekeroogSpiekeroogMon2006-05-08SpiekeroogWattwanderung / evening: go to BremenBremenTue2006-05-09BremenCity sightseeingBremenWed2006-05-10Bevergern / MendenGo via Bevergern (small village I lived in for 10 years) to MendenMendenThu2006-05-11MendenVisit parents and small sleepy village of MendenMendenFri2006-05-12Cologne, Rhine valleyCologne Cathedral, via Rhine Valley back to FrankfurtFrankfurtSat2006-05-13FrankfurtBreakfast with friends, city shopping, 19:00 flight departsPlaneSun2006-05-14ShanghaiArrive 11:25 (China Time)

There is very much to write about Germany. Luckily, we right away on the next weekend sorted out the pictures, so that we have everything in the right order now and know what it shows.
But my project unfortunately caught me again with heavy work. So this page is at the moment just a place-holder so that the article will finally appear in the right order. Yet to be finished…
1. Day, Friday, Arrival in Frankfurt
We flew China Air. Partly due to it being cheaper, partly due to Lufthansa being sold out.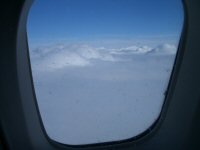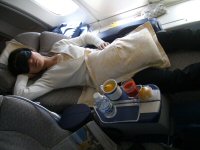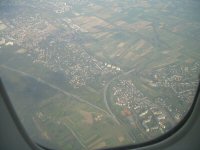 2006-04-28_11-18-37_Flight: Über den Wolken… ("Above the clouds…", an old song)
2006-04-28_14-30-18_Flight: Air China has a very good and comfortable Business Class…if you have the luck to catch one of the new planes. We had, on both to and from Germany.
2006-04-28_11-27-19_Flight: The first glimpse on Germany: Orderly fields, wedged between highways
We arrived on time at Frankfurt Airport and went 'home' to my place there immediately by taxi.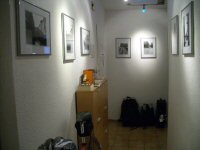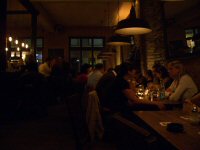 2006-04-28_20-05-00_Frankfurt: Corridor in my appartment, lined with black-and-white picture from Hamburg's Speicherstadt.
2006-04-28_20-31-00_Frankfurt: "Schönebergers Erben", modern local pub close to my home where we headed for 'real' Frankfurt dinner: Green Sauce, for Carol with eggs (that is really original…), for me with Ox' tongue.
2. Day, Thursday, Sightseeing and Night of the Museums, Frankfurt
The first day in Frankfurt was mostly meant to be a relaxing day, get accustomed to the different time zone. Frankfurt/Main is not the most-attractive tourist destination. It has some nice places, which I was destined to show. But otherwise I thought: No hurry, no hectic.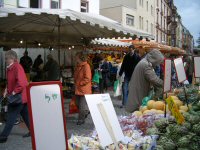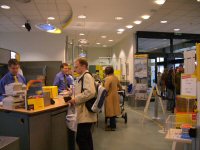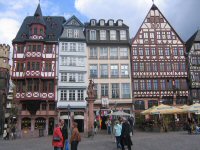 2006-04-29_17-15-45_Frankfurt: It was Saturday, thus, market day in Bornheim, my Frankfurt suburb. Weather was so lala. Every once in a while a few drops of rain, chilly.
2006-04-29_17-38-44_Frankfurt: One of those places you simply have to see 😉 the post office of Frankfurt Bornheim. I deliver a package with father's Shanghai-tailor-made shirts to my parents. We don't want to carry them around during our Tour.
2006-04-29_16-42-09_Frankfurt_Roemer: Then we went ahead by subway to the most photographed lines of houses in Frankfurt at the Roman, the square in the old city center of Frankfurt, next to the town hall.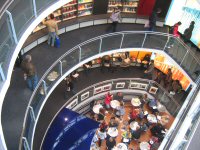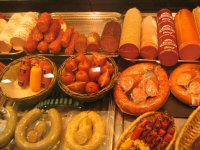 2006-04-29_20-42-39_Frankfurt_Zeil: From the Roman, we passed by Paul's church and headed for the main shopping street, the Zeil. This picture actually shows the stairway of Hugendubel, Frankfurt's largest book store.
2006-04-29_20-51-04_Frankfurt: Along the "Freßgass" ("eating lane") there are shops for every kind of food. This is the suasage offerings of one of Frankfurt's most renowned high-quality food stores, Plöger.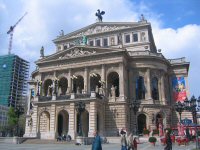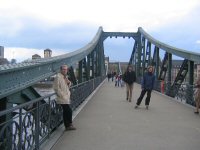 2006-04-29_21-20-35_Frankfurt_Old_Opera: At the end of the Freßgass: The old opera, one of the–so I think–nicest buildings of Frankfurt.
2006-04-29_22-27-03_Frankfurt: Via subway we crossed below the river Main over to Sachsenhausen. To be honest…Sachsenhausen is nothing fancy during day time. No pictures…this one is the "Eisener Steg" ("Iron Footbridge"), crossing back over the Main to the old city center of the Roman square.
Yeah….very relaxing. But while we very walking the city we came across placards announcing Frankfurt's "Night of the Museums". To be happening: Today! Wow…great…cool chance…especially if suffering from jet lag. And if wanting to leave early on the next morning. Anyway, we won't get the chance again so quickly. So we bought our tickets already during daytime in the city, had a nap back at home and started the night at a museum comparably close to my home, "Explora", where we could get to by tram.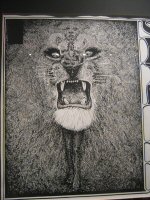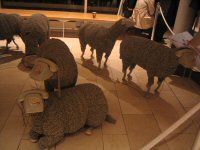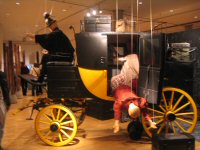 2006-04-29_23-31-30_Frankfurt_Museums: One of the very many exhibition items of the "Explora" museum. It shows lots of pictures and other items, which try to fool the eye. This picture shows obviously a lion. But how many human faces can you identify? I still see six….We spend about 2 hours just in that musem. Which was certainly pretty long….there are more than 20 museums open until 3am, and we wanted to at least see one or two more. But first we had to have our first German sausage from the barbecue in front of the museum. It was chilly and the sausage great! (Even with skin ;))
2006-04-30_01-12-40_Frankfurt_Museums: But finally we left the "Explora", waited for one of the completely overloaded free shuttle busses touring the city, squeezed into it and had us ship back to the river Main again. The street with most museums is actually right on the other side of the Main. And as part of the Night the city had organized for shuttle ships. We got on one of them to carry us over to the other side to the next (and actually last already) museum we wanted to see: The Museum for Communications. On this pic we see Telephone Sheeps!
2006-04-30_01-24-26_Frankfurt_Museums: Also part of communications: Mail delivery. And as part of that: Post Coach Robberies.
We finally gave up at around 2am, were so lucky to catch a taxi and fell into bed immediately!
3. Day, Monday, Highway to Dresden, Stop-Over at Wartburg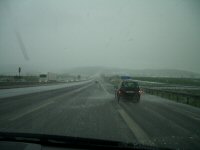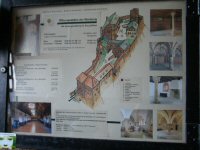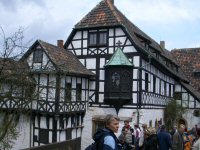 2006-04-30_10-29-48_Ffm_Dresden_Highway: A5, somewhere close to the Sauerland. The GPS navigator said something about 400m altitude. Wow, really high. 😉 Believe it or not, but end of April and we had snow and hail on the highway! The traffic was crawling. The white spots you see on the pic, the fountains the car in front is pushing into the air: That is snow!
2006-04-30_12-14-35_Wartburg: Somewhere on the way, after crossing the old border to East Germany, I noted we closely pass by Eisenach, city of the famous Wartburg, where church reformator Martin Luther lived for some time. As otherwise no original German castles were on our itinerary we decided on the spot to pay the castle a visit. Here you'll get an overview of the layout of the narrow castle, located on a mountain top.
2006-04-30_12-17-39_Wartburg: Inside a mixture of Fachwerk houses (the typical old German style of houses, with a wooden skeleton, the squares ['Fach'] giving the the name) and solid stone houses.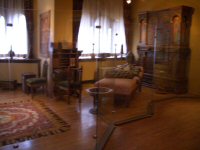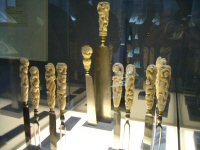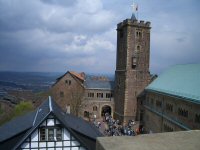 2006-04-30_12-30-52_Wartburg: One of the more distinguished rooms, once home to a princess. Taking picture inside during the visit was forbidden, so these are all hidden, thus, a bit blurred…
2006-04-30_12-44-05_Wartburg: Cuttlery, hundreds of years old.
2006-04-30_13-07-53_Wartburg: View from a corner tower: The cloudy sky gives the right dramatic background for a protective castle picture.
After some more highway and rain (but no more snow) we finally arrived in Dresden. We checked into the Youth Hostel, which was not exactly nice (the nicer one was sold out) but in walking distance to the inner city, returned the car at the main station and walked via a shopping street (oh yeah….we needed to stop by several shops to try to get a specific hand lotion for a colleague in Shanghai, the sample tube given to us stated a German manufacturer, the first pharmacy already stated that this product is unknown to any German electronic catalgue, but we had to keep on searching on lots of drug stores nonetheless, well….we didn't find it, German electronic catalogues are quite good ;P ) towards Dresden's inner city.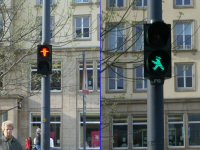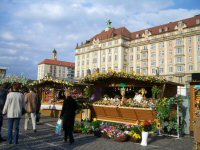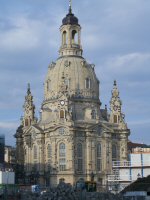 2006-04-30_17-49-08_DresdenAmpel: The typical eastern German traffic light people. They look different from the western German ones. After the reunion this species was actually endagered: With each renovated street some of these traffic lights were replaced with 'more modern' traffic lights. Groups of people demanded the survival of this eastern German relict: And were successful! Not only were some original traffic lights preserved, also new traffic lights were equipped with these typical men, called "Ampelmännchen". Nowadays Ampelmännchen are big-time merchandising articles distributed by the Ampelmann GmbH. A nice overview is on Answers.com, with a number of links to subsequent sites with more pictures.
2006-04-30_17-56-53_Dresden: Market in front of some nicely renovated old buildings.
2006-04-30_18-04-19_Dresden: And here it is: The "Frauenkiche", the very symbolic church in unusual shape, nearly completely destroyed in the last days of World War II by bombs, the debris left alone as memorial over about 45 years. After the German reunion the church was restored using as many original stones as possible from the debris, according to original plans, financed entirely privately. And the UK, responsible for bombing Dresden, added the golden cross on top. The church is said to be fantastically nice. From outside we could agree, clearly visible the black original stones, which are form a conscious contrast to the new yet white stones. From inside it is at the moment next to impossible to see the church, too long are the queues of tourists waiting to be let in. We didn't make it….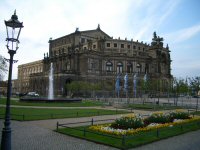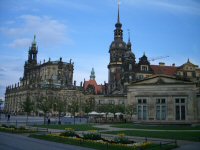 2006-04-30_18-21-03_Dresden: One of the nowadays many artists 'playing' statues. Yea…the man is alive and if you give him some money he will do some kind of performance to you. This guy actually looked very nice, his performance was poor, though. For others it is the other way round.
2006-04-30_18-37-31_Dresden_Semper_Opera: The Semper Opera, an old opera house. On the next day will take a guided tour through it.
2006-04-30_18-37-40_Dresden: Basically same spot, but view into the city with the cathedral to the left.
After this first quick round of main attractions we were quite hungry. It was a long day. Unfortunately, the town hall restaurant, one of the recommendations of our guide book, was closed. No easy chance now for original Saxonian food. Instead we picked a nice modern restaurant in a street of pubs and restaurants, enjoy the dinner, but also nearly fell asleep. We walked back to the youth hostel quite early and had a good sleep!
4. Day, Tuesday, 01. Mai, Dresden, Berlin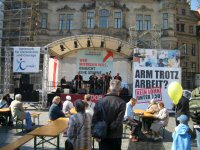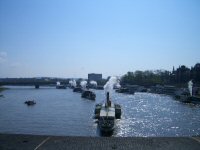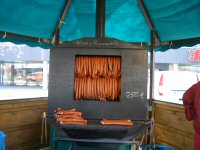 2006-05-01_10-13-05_Dresden: May First, Labor Day, also in Dresden. Well…now try to explain all the requirements the workers unions have this year in Germany to a Chinese…including multi-party democracy and all that. I believe I was not really convincing. Because they were too black I was not even allowed to buy sausages 😉
2006-05-01_10-21-04_Dresden: Don't know if this has also to do with Labor Day, but the 'traditional' steam ships on the river Elbe paraded and just when we crossed the bridge from the city's old to the new part they started a steam concert.
2006-05-01_10-29-15_Dresden: Yet again sausages 😉 this time smoked. Once again nothing for my company…so I had to stay hungry. Instead a few meters away we bought tons of fruits, which needed to washed immediately at a public toilet. All that was part of a festival 750 years of Dresden or so….or something around Dresden.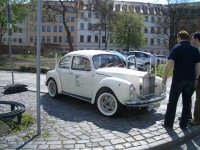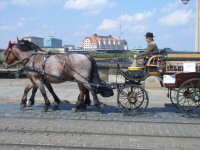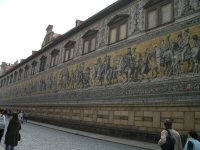 2006-05-01_11-07-28_Dresden: Also this funny car, a combination of VW Beetle and Rolls Royce, was presented on this festival in the new city.
2006-05-01_11-32-12_Dresden: Also something to move people, but a bit more traditional. On the way back on the same bridge again. Hm…looking at the pictures' timestamps we spent just one hour in Dresden's new part.
2006-05-01_12-53-44_Dresden: This outdoor fresco shows the entry of an emperor or so….oh I am missing so many details 😉
I remember we were running back and forth a bit between Frauenkirche (which I still hoped to see) and Semper Opera, where it was more reasonable to hope for a guided tour.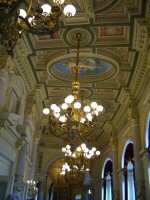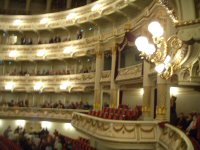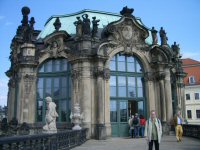 2006-05-01_13-47-59_Dresden_Semper_Opera: And, yeah, after about one hour of waiting in line we actually got into the Semper Opera. Certainly, we took what we could get and did not wait for an English guided tour. So I gave my first (of in the end pretty many) live translations to Carol. That was actually less difficult than I was afraid of, although I certainly could not translate many of the technical terms. But all in all I believe I got it quite right, and repeating everything immediately again makes me actually remember a lot more. Even speaking and listening became possible after some minutes of getting used to it…as long as the spoken sentence was not too difficult.
Here we see the corridor on the first floor with very nicely restauratet ceiling frescos. The Semper Opera had quite many of them on offer. Including a lot of fake stones (including fake marble), which were actually considered art, not just cheap: It is quite difficult to re-created the shape, color, and pattern of a very specific stone.
2006-05-01_14-18-38_Dresden_Semper_Opera: The central piece is certainly the actual audience. Although we spent there not more than 10 or 15 minutes. Looks quite nice, has a lot of stage technolgy on offer, but still looks somehow traditional.
2006-05-01_14-44-48_Dresden_Zwinger: The Zwinger, a large garden enclosed by celebration rooms. Here we are on top of the encircling building. As you can clearly see from my pinched eyes and the water bottle: The weather has quite changed: Sunny all over, even getting more and more warm. And that stayed now this way for nearly the entire next 2 weeks!
That was the end of Dresden. We picked up our luggage at the Youth Hostel. And got a nice surprise: In the morning after the breakfast Carol missed her watch. We searched the more obvious places including the showers but without success. When checking out nothing had yet been found. But when we returned to pick up the luggage they actually did have the watch! Another guest had found it in the showers and handed it over to some staff.
The way to Berlin was by train. Actually our only train trip. The train was full but we were lucky enough to have some reservations. Slept a bit and otherwise enjoyed the scenery. I remember that I phoned quite often with the host for our bed&breakfast place in Berlin, in the end deciding on a lot shorter way to get there.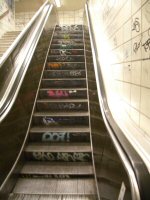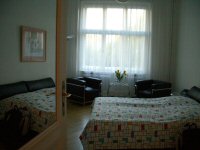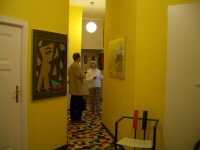 2006-05-01_19-11-55_Berlin: Already when pulling into Berlin by train Carol was fascinated by all the graffities on the various walls along the rail tracks. I could not yet convince her that graffity might be considered art, but in most cases was just considered ugly. Here at this escalator she was still fascinated. Also her opinion changed later, though…
2006-05-01_19-23-09_Berlin_BB: Our room at the Bed&Breakfast place: Fantastic!
2006-05-01_19-23-17_Berlin_BB: The entire appartment was very stylish. The host very nice, but except for the breakfast rarely to see. We went quite independently in and out to our liking.
We took a first stroll along Kurfüstendamm, which appeared shockingly empty. So after seeing a few boring places there we rushed on to Potsdamer Square, in the hope that we would life there at this 'new center'. Well…it was a bit better. Not too much, though…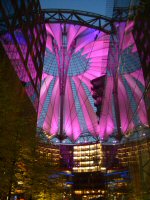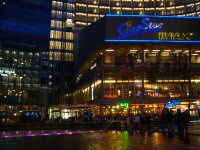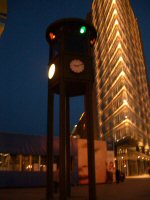 2006-05-01_21-03-09_Berlin_Potsdamer_Platz: Sony Center at Potsdamer Square. Here were quite a number of people. I wouldn't call it "buzzling", though.
2006-05-01_21-07-16_Berlin_Potsdamer_Platz: The inner part of Sony Center.
2006-05-01_21-10-58_Berlin_Potsdamer_Platz: Unusual traffic light installation at the central intersection at Potsdamer Square.
Nearby, but outside the Sony Center, we found a nice upper class Italian Restaurant with surprisingly low prices. But Berlin is cheap for food everywhere. Very nice setting and dinner, good food. Only that the entire staff got a bit overtaxed by the unexpected appearance of a large group of more than 15 people. From the conversation I could overhear that the group had originally reserved somewhere else, was too late, and now was in search for another location. All nice and understandable….it just delayed the delivery of our ordered food a bit…and we were tired after this long day.
Shortly before midnight only we arrived back at our B&B place and had yet another good and deep sleep.
Categories: Shanghai
Originally Created: 06/25/2006 08:17:37 AM
Last Edited: 06/25/2006