DaLian – 大连
After a Chinese breakfast at the hotel I got by bus down into the city. The first day I wanted to explore the sights and shopping places of DaLian downtown. Knowing that it would probably not require an entire day I did everything slow-motion, with various breaks in cafes or parks.
It seems that due to my unplanned early arrival DaLian was yesterday not yet prepared for me and had covered everything in thick fog. Today, however, it showed itself off in bright sun shine, which could at times even get a bit too hot. But in shadow with a light breeze it was very fine weather.
ZhongShan Square (中山广场)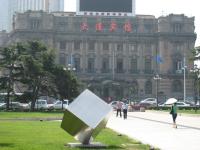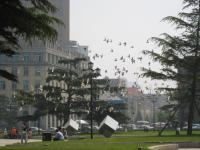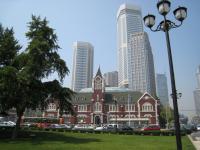 DL_20070608_095812.jpg: DaLian BinGuan (大连宾馆), a first-class hotel at central ZhongShan Square. Looks like every city needs a ZhongShan Road and/or Square. I had to make this picture, despite me finding the hotel fairly ugly, especially with the vide screen on top (used for showing soccer games of the local team), because Lonely Planet says it appeared in the movie "The Last Emporer".
DL_20070608_100231.jpg: Pigeons are also there.
DL_20070608_101434.jpg: I could not exactly figure out what this building originally was. I would guess it has Russian influence. There is still a Russian community in DaLian, dating back to Russian influence on this spot in the late 19. century when they used Port Arthur (now LüShun close to DaLian) as treaty port, which ended with the Russo-Japanese War (1904/5). Some few signs still show a Russian translation. And the second failed attempt by taxi to reach my hotel yesterday led me into a "Russian Village" or so in the north behind the railway station. So at least said a sign across the street.
Victory Square – Orientation Challenge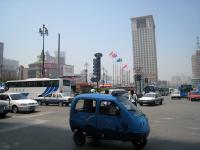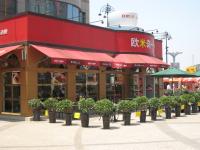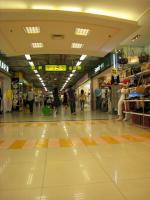 DL_20070608_104054.jpg: I headed down TianJin Jie (天津街), supposingly a shopping street. My 4 years old LP had warned that it was under reconstruction. They hadn't fully finished. There were lots of food stalls on the rebuilt street, but all the new buildings around it are still yet to be filled with life. That led me to Victory Square in front of the Railway Station, which above ground is not so impressive as the picture shows. But I by chance got one of these 3-wheeled taxis on the picture, which I had spotted in QingDao, YanTai, and also here already.
DL_20070608_115339.jpg: A new friend in my increasing list of cafes: Amici Coffee. Apparently also a chain (later so signs to another store), very friendly, English-speaking, served me a good Iced Caramel Mokka, which I drank in the shadow of one of the sun umbrellas outside, where it funnily was cooler due to some light wind than inside.
DL_20070608_115538.jpg: Victory Square's true heart, however, is underground. There extends a huge shopping area on (I believe) 3 levels. And extend farther than I could and wanted to explorer. If you think that you have a perfect sense of orientation (and so far I did believe that for myself with some people even confirming) and want to explore in a save environment what it feels like to get a bit lost, then get into the underground here! Go down 2 or 3 levels, turn around 2 or 3 corners in any direction. And that try to make me believe that you still know where the next exit is and where that exit leads to! I did get lost in so far as I no longer found shortest ways to the Railway station or back under 2 streets into town. In the end I had to get above ground somewhere, get back my bearings, and dive again.
Later, I just wanted to cross a street through a sign-posted "underground pass" and found myself again in this never-ending labyrinth. I wonder how many lost people officials need to carry out of there every evening…
I made my way to the Railway Station finally above ground (but trying the return way underground ;)) because I wanted to check for ferry tickets to TianJin. I found the Tourist Information with some Chinese letters offering ferry tickets. Cool choice, I thought, then they can probably help me on English. Forget it…that Tourist Information is not half as helpful as the one in YanTai. They just pointed me to another lady selling the ferry tickets, and she did not understand a word English. Well…worked out anyway. Good that I checked early: The ferry to TianJin runs every other day only. That limited my options of extending the DaLian stay: I could not extend one day, but would need to extend two. That I didn't want and so I booked for the day after tomorrow (Sunday, June 10., 18:00, running 12 hours overnight). And with my vast ferry traveling experience and provided with a price list I this time picked my choice more consciously: Basically the same class as from YanTai: Bed in a 6-person cabin. That I got confirmed with the lady…who then bought the ticket from some booths outside and came back with it…hmmmm…for a 10 RMB service charge. Great, that I could probably have handled with the outside booths right away myself.
I strolled along another shopping area between ZhongShan Lu and WuHui Lu (五蕙路), but apparently didn't find it interesting enough to select pictures. At least I got a dumpling-snack and a Starbucks coffee 😉
Labour Park (劳动公园)
Next stop south of WuHui Lu was Labour Park. So far, despite walking slowly, I progressed very quickly over the city map. So I was afraid that this park was also fairly small. But it appeared larger and especially very diverse. A very enjoyable location!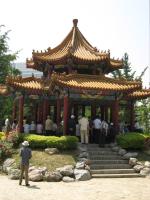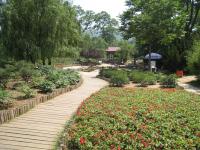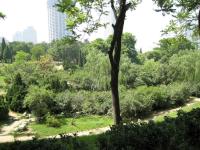 DL_20070608_132635.jpg: Here, we have a pavillion with some locals crowding around people making music just for the fun of it, close to the WuHui Road park entry.
DL_20070608_133558.jpg: Another area, a small pond with flowers and trees surrounding it.
DL_20070608_134710.jpg: And in yet other places it looks a bit like an English landscape park.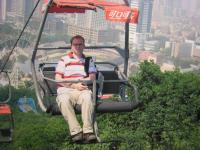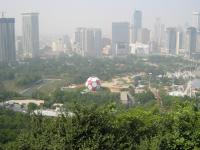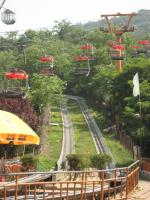 DL_20070608_141500.jpg: Also included at its east border is a small fun park, mostly meant for children. There was not much activity on this Friday early afternoon. But that might look entirely different on a weekend. And there was a cable car up to the top of the next unnamed mountain, which houses the TV tower (which could be visited, but I skipped that again). At the end somebody makes a picture with a digital camera and sells the printout for 20 RMB to you…so again sorry for me not smiling…didn't know that I was being photographed and kept dealing with the blending sun 😉 [The picture here is a photograph I have taken later in the hotel from the printout sold to me.]
The guy selling the picture was completely fascinated by my (light-blond) hair on my arms and even touched it twice, pointing to his own entirely hair-less arm. Cute…
DL_20070608_142227.jpg: View from the top across the entire Labour Park with the football at its souther end, another testimony of the sport's popularity.
DL_20070608_142648.jpg: Yeah…and then came the fun part! Down-hill with the 'land slide', a bob sled chute (in Germany we would call it "Sommerrodelbahn"). Certainly couldn't take a picture on the run…so here's the finish. BTW, an employee goes down in front of you, likely to control your speed. That guy was fairly slow, only at the very end he sped up a bit 🙁 Cable car up and 'land slide' down for 40 RMB.
Dinner at Tian Tian Yu Gang (天天渔港)
Apparently, for next five hours I have not taken any single picture. I continued strolling through the streets, but there was no more to find. So I sat down in yet another cafe (yes, it was the third one today after Amici and Starbucks) for yet another break. Nonetheless, I had walked quite a bit and I am still feeling my feet while writing this.
For dinner I opted for a recommendation of Lonely Planet as I finally wanted to have some good sea food while still being close to the sea: Tian Tian Yu Gang (RenMin Lu 20), means something like "Daily Fishing Harbour" and was described as an "upscale seafood restaurant with doting service". Well, and so it was! My Chinese did not extend to the details of fish dishes and the waitress' English was next to non-existing, but she tried and was very caring. Luckily, ordering (for everybody) was by walking along food samples, you could pick your fish just directly from the tanks. After I pointed at a fish that looked OK to me, she recommended a different one, "最好的", the best one! Yea, I said…"也最贵的", also the most expensive one! We finally agreed on a mid-range option. Added some vegetable and shrimps. It was extremely delicious! For the shrimps I was unsure how to eat them…the Chinese way (biting on the whole shrimp including shell, sucking the meat out, and the spitting out the shell; a method I was not too good at but it required no use of fingers), or the German way: Peeling and enjoying the meat without the annoying shell. I finally decided that there is nothing like Chinese eating manners, everybody as good as he can. And so I did it the German way. Very soon there was a bowl with warm water for cleaning the fingers on the table without saying anything! Well…that is service. And has its price…307 RMB. But well worth every single Yuan.
Night Shots
I had dined early. I left the restaurant at about 7pm. Dusk started to set in. So I decided to return to nearby ZhongShan Square and wait for the lights to come up. And surely they came: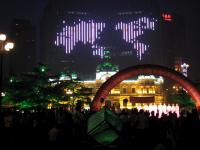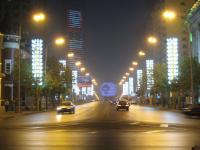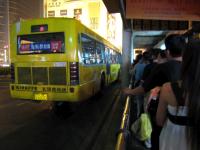 DL_20070608_195445.jpg: ZhongShan Square, with the Bank of China Tower (中银大厦) in the background and some Russian choir singing on the central stage. The Bank of China building has two parts: In front is a two storey historical building, very nice looking, and brightly, but tastefully illuminated with constant light. The new glass-and-steel building in the back shows off a completely different light show, though: The lights in the frames between the windows could apparently be controlled "pixel by pixel" in at least 4 different colors. That allowed for animated graphics and Chinese text…I consciously picked the world map for this picture as it (a) was not too bright and (b) made sense given the fact that we were in China, listening to a Russion choir, photographed by a German. Of the Russian choir I certainly understood even less than of the Chinese announcements prior to each song. Even from that I catched only individual words without getting the full meaning. But somehow we are all friends… 😉
DL_20070608_195700.jpg: View from ZhongShan Square down ZhongShan Road to YouHao Square (友好广场)。
DL_20070608_203200.jpg: For the way back I picked the bus and just by chance picked the bus line's first stop. And what do I see there? Many people neatly lining up! No chaos, all very much sorted the English way. I orderly queued up at the end and had not to wait long: Busses were coming and going in a 2-minute rythm. Also at other bus stations I saw neat lines of people waiting. Wow….!
Today's Lesson: Despite its name is DaLian proper small; we are all friends, and as such can queue up.
Categories: Asia, DaLian
Originally Created: 06/08/2007 04:18:20 PM
Last Edited: 06/08/2007