A day for the animals…
LaoHuTan (老虎滩) Ocean Park
…is located at the souther coast of DaLian, reachable by bus. And you know what? For that direction my hotel is located perfectly! 😉 There is just some confusion on the bus stop names which led me to run into the wrong direction first until asking for directions. In case you wanna find it: Take bus number 2 or 403 and get off after seeing a huge colorful fun-park entry in a left-turn, one stop before LaoHuTan. That colorful park entry is the right one. There are lots of ticket options, but explained in detail. Don't take any option below 160 RMB…yea…it is expensive, but you absolutely have to see the Pole Aquarium, which alone is 120 RMB.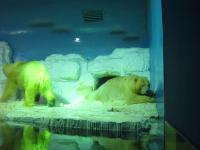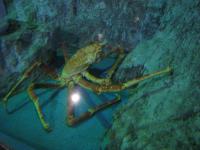 DL_20070609_101906.jpg: The Pole Aquarium has a large selection of see mammals, fishes, and shellfishes. Especially kids had a lot of fun, but also we grown-ups, and if it was only while watching the kids. On top of it it was fairly instructive (if reading the signs, like me, instead of only taking loads of pictures with flashlight of people standing in front of aquariums like many other visitors…with flashlight you can't reach into the glass tanks….). Of the mammals I knew many already, and felt a bit pitty for some of their living conditions. Not all tank sizes were suited for the size of the animals. I don't know, however, if there is something in the backyward, which we can't see.
DL_20070609_103429.jpg: Because all the other animals were kept in excellent conditions. I have seen a lot worse animal-keeping in China. This aquarium, however, is absolutely clean, excellent maintained, and all animals in top conditions. The comparably high entrance fee is good for something. Here some giant crab. That thing has a leg-span of nearly a meter!
DL_20070609_104451.jpg: This is the world's largest fresh-water fish (this specimem about 1.5m), usually living in the Amazonas. It was a group of slow, majestical guys. And to me their shape looked a bit archaic; it is not the typical fish-style, but a very flat head, thick body, no top fin, and the short rear fin rounding the still thick body's end.
As it was a Polar Aquarium focus was on pole species like ice bears, penguins and the like. I especially remember the funny "Polar Experience": An ice-cold room with a short walk-way in and out. All people got in to get their "Polar Experience" in the T-Shirt and shorts they happened to wear, and all they got was an ice chamber ;))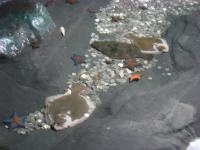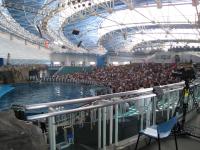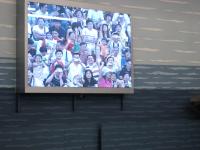 DL_20070609_105355.jpg: There was also an are to entertain children with games with some polar or even educational background. This picture shows a shallow pond, filled with only a few centimeters of water. In it were a few sea turtles, who were definitely too large for the pond (I hope they get into a proper tank during the night), and some flatfishes (flounders). There was no English description around, but as I happen to know how flatfish develops during the youth I paid close attention to their eye position: If looking closely you could make out different progress of the movement of the 'lower' to the now top-side of the fish.
DL_20070609_111210.jpg: One thing I waited over an hour for (as I had mis-read the performance schedule): The dolphin show. A huge auitorium, already mostly filled when I came in 10 minutes before start.
DL_20070609_112203.jpg: Cool simple idea to keep the crowd happy while waiting: A camera was moving over the audience and the picture shown on the screen at the front wall. This way I could actually see that I was not the only foreigner, though non-Asians were extremely rare a species 😉 oh yea…nearly forgot to mention that I again was a tourist attraction by myself and had to hug strangers or pat children for a picture with me.
The show itself was the best dolphin show I have ever seen! Seriously! The big difference to all I saw in Germany was that the animal instructors were playing with the dolphins instead of just ordering to do something. That led as far as to one of them often swimming with a dolphin. And the entire performance was all about fun, not so much about showing off how intelligent dolphins actually are. 2 from the audience (one grown-up, one kid) became part of the show, and all was accompanied by an apparently fairly funny commentary; certainly Chinese, but the audience had fun. But even I had by just watching and guessing a bit from the few words I understood. Really…worth a visit!
I had just hoped they would have taken this perfect chance to remind people of keeping water clean to preserve these animals' environment. Still an issue in China…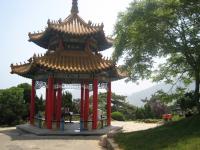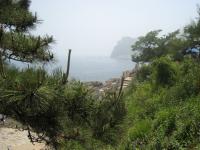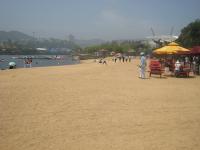 DL_20070609_123914.jpg: The remainder of the park was, well, a nice park with quite a number of fun activities for kids. Here the "Sea-Viewing Pavillion", from which you could not see the sea…you had walk behind the trees to see it.
DL_20070609_124315.jpg: The coast line there is quite rocky.
DL_20070609_125526.jpg: Also included in the park: A beach for relaxation. As you can see, despite it being Saturday the park was not crowded at all.
Forest Zoo (森林动物园)
With once changing busses I could easily move on along the coast line and enter the south gate of The Dalian Forest Zoo. I was originally not here so much for the actual Zoo, but more in hope for some hiking through forests. Looked great on the city map…but…well…I should know by now that there is no easy hiking in China…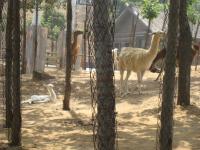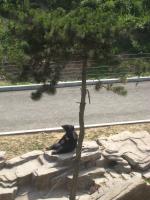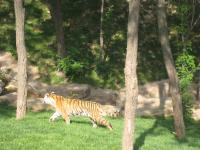 DL_20070609_141522.jpg: The Zoo turned out to be pretty good, too! It covers a huge area, leaving a lot of room for the animals to move in open space. Some had absolute excellent conditions, some could have done with a bit more grass and shadow, but all in all fairly good conditions again. And, again, huge…if you don't want to hire the ubiquitous battery carts then make sure to have good shoes! Some (few) non-dangerous animals were even kept without fence between the visitors' ways and themselves, so you could actually walk amongst them. Sure, there were a lot of fences around the entire area, dividing the space up into sections, and also many emergency exits provided. I am pretty sure if some animals had gone crazy the guards would have known what to do and would have had the means of getting the visitors out.
DL_20070609_143634.jpg: While this black bear picture looks cute I felt a bit pitty for them. Their enclosure was on the southern slope of a hill in bright sun with very very few shadow.
DL_20070609_144834.jpg: The tigers, just a few hundred meters further down the road, though, had excellent conditions with grass, trees, hills. The visitors way was running as an elevated path around the enclosue.
DL_20070609_153444.jpg: Yea…the hiking…the zoo is located at two sides of a hill in the south of DaLian. And on the map it looked like you could cross the forest and, thus, the hill on foot. If you could then it was not sign-posted. Instead, the ticket price included a cable-car trip once more across the hill's top. Again a cable-car…that was my fourth already (the others were QingDao, LaoShan, DaLian Labour Park), so I do not publish the pic of the cable-car way. But this one here is shot out of the cable car cabin, looking west onto the next bay (don't know the name) covered in the typical sea fog.
DL_20070609_161625.jpg: The other part of the zoo was disappointed after having seen the open-air animals. Again it was huge, probably to take up the crowds during China holidays. But now, even on a Sunday, you felt entirely lonely. And the poor ladies with their battery carts or all the food/drink stalls were deserted. On top of that the animals on display were kept in comparably worse conditions in cages not up to known standards. The picture shows the bird hall, in which the zoo makes missed the great chance of having the animals fly around openely (like in HongKong), instead the birds were kept in small cages or on chains in the big glass hall.
DL_20070609_162809.jpg: I made for the way out (for which I again had to ask…sign-posts were available, but only to the next available stops, not to so obvious things like "exit"). This lake was a scenic spot on the long road towards that exit. At the exit there was only one bus line, so I jumped on, just to find out it goes into a completely different part of the city. Had to change once more to get into the city proper, and allowed myself a stop-over at Starbucks.
DL_20070609_183118.jpg: Don't kill me! Yea, I know, this is Paulaner. Not exactly typical Chinese. But really, I didn't want to go there in the first place. Where I really wanted to go was something calling itself "Micro Brewery". I had seen it on the first taxi ride to the hotel on Yan'An Lu, close to the intersection with WuHan Jie (延安路/武汉街) and dreamed of a nice cool locally brewed beer, in a more or less cosy atmosphere (it was about 6pm, yes, dining time, but not yet so much of a beer drinking time) and looked very much forward to it. When I came there, however, it was an overcrowded Chinese fast-food place with waitresses in Dirndl-like dresses, many people sitting in the waiting queue to be let in, and more like an October Fest Beer Tent atmosphere than cosy. Oh dear…I should have known China better by now. I staggered back, turned around, three blocks down WuHan Jie was exactly this Paulaner Bräuhaus at the back of the Hilton Hotel on JieFang Lu (解放路). There I could get what I had dreamed of: A huge beer on an open-air terrace.
As kind of punishment for my non-Chinese behaviour I got stared at by locals waiting on the street for their tour bus. That bus only arrived at the very moment I had finished my meal…
Apparently, eating outside is still not considered normal for normal dining, i.e. other than street food. Also see the story about Cafe Roland in QingDao. Why only? Believe me, I love Chinese dishes. I love Chinese family-style diner. But I still don't understand why in China everybody must rush up and leave once dinner is done. Why not enjoy the dining time, for example also outside with a cool beer? Why not adding a bottle of wine or a few bottles of beer afterwards? Instead, people usually rush out and then either go to a Karaoke bar (if young) or wait on the street for better weather, cheap cigarettes, a tour bus, or I don't know… I did spent time after a dinner with Chinese colleagues (at a German restaurant as kind of farewell dinner): They like it very much, too!
Tomorrow I head for TianJin by over-night ferry. So you get a one-day break…the next update here earliest on Monday! 😉
Today's Lesson: Stop being naive! There aren't hiking paths, but only cable cars; there is nothing like a cozy local bar, but only eateries.
Categories: AsiaDaLian
Originally Created: 06/09/2007 03:11:57 PM
Last Edited: 06/09/2007