FuJiaZhuang Beach (付家庄公园)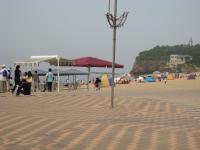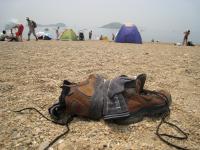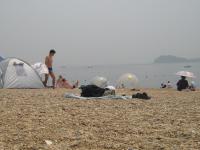 DL_20070610_101450.jpg: So far I had skipped one of the most famous features of DaLian: The beaches. Today in the morning, before catching the ferry, I just relaxed at FuJiaZhuang Beach, a place I had remotely seen from bus 5 already on the way to the Forest Zoo.
DL_20070610_112300.jpg: The beach's sand was quite stony, but it I enjoyed nonetheless to take off my hiking shoes. These shoes are definitely too heavy for the city sightseeing I mostly do…but I will need them and was already quite glad having them in the LaoShan area, though even that would be doable with sport shoes. I won't throw them away, so I better wear them.
DL_20070610_120040.jpg: I still don't dare openly taking pictures of people on the beach, but I somehow wanted to get the difference of westerners' sun bathing (middle left) and Chinese hiding away from the sun (tent to the left and woman under sun umbrella to the right) on one picture. Certainly…the 3 Russian girls in Bikini next to me would have been the better prove…but for that I was too shy :-S
Ferry DaLian -> TianJin
After a stop-over at Starbucks and my favorite Japanese noodle place for late lunch/early dinner I headed for the ferry to TianJin, for which I had bought the ticket already on the first day.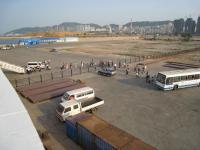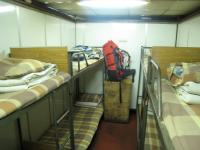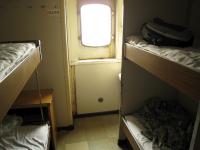 DL_20070610_172808.jpg: Organization was bad, despite signs of this port having won some Chinese award for being the best port or most modern or most service-oriented port or something like that… I couldn't figure out where to go from my ticket and available displayed information. The first lady I asked was the only helpful and told me the right gate to go. While sitting there I saw tour groups distributing tickets and their tickets looked a lot different from the slip of paper I had. Also in YanTai I had a differently looking ticket with a bar code. To make sure I got the right one (at its bottom there was some Chinese about "looses validity 2 hours before start time" or so) I headed back to the information desk. The lady there spoke no English…OK, not a must, so I tried to explain my issue in Chinese. But she didn't even try to understand my problem and just kept repeating "一号口,一号口"…gate 1…which I knew already. I gave up and just hoped that it would work or someone else solve the problem later and sat down in the waiting lounge again.
At some point in time an officially looking man opened a door next to me, leading to a sightseeing platform; so at least looked to me, and the Chinese-only neon-characters above that door I translated to "Viewing Habour Platform", even without a dictionary. Some people went through, paying 3 RMB for it. That's not what I was here for. A few minutes later two ladies, in the same official looking uniform, walking up and down the lines and kept selling these 3-RMB tickets for the viewing platform, and more and more people of my line vanished through that door, while the official exit of gate 1, right ahead of all of us, was still closed. I couldn't understand what the ladies were yelling…finally tried to ask the man checking the 3-RMB-tickets if I need to go that way to the ferry to TianJin…well, the words came a bit crawling, but the only thing he actually shouted at me was "money, money" in English. I felt like slapping him…the only foreigner around, apparently having trouble with the Chinese-only organization, and the only thing he thinks about is to shout at me! When finally also the tour group of seniors got up I just bought that 3-RMB ticket, headed out, and was directed to a bus. Various people around me were also confused, we asked the official at the bus, who confirmed that this was the way to TianJin. Great…these 3-RMB was so-to-say a mandatory additional ticket for a bus, which brought us from the waiting lounge to the actual ship, a 2 minute drive. Public transportation busses in all DaLian, no matter what distance, are 1 RMB only. The picture shows such a bus arriving at the ship. My ticket was no problem, but was checked only when boarding the ship, not when boarding the bus.
DL_20070610_165306.jpg: The next bad surprise: There weren't many hostesses around on the ship. On the YanTai-to-DaLian ship I could show my ticket to a hostess around every corner and they were very helpfull directing me (and many others, I was not the only one the first time on such a ship) to the right place. No so on this ferry, and so I had to find my cabin myself by bed number. Well…this is were I ended up: A small room with 4 double-beds, i.e. 8 people in total (I remembered that the lady selling me the ticket corrected her bed-count from 6 to 8…which I still had agreed), no wash basin, no room to place the luggage, and all these cabins separated with thin plywood walls, at the top even a bit open so that when sitting on the top bed you could actually see a bit into the cabins around. Fantastic…maybe I was a bit too economic with regard to my money spending. The ticket was 200 RMB, 50 more than from YanTai to DaLian, which I thought is sufficient to cover the longer distance and provide me with about the same level of comfort. The class was actually the same!
The cabin soon filled up with other men. Don't wanna say anything bad about them, they mostly ignored me if not secretly staring at me. But it was obvious that they are not of the wealthy type.
DL_20070611_071655.jpg: I spent much time outside (see below), but when I came back after 2 hours, at around 8pm, and started reading a book I had bought in DaLian (one of just 5 English books available…but starts good) finally one of them approached me with a long printout of tickets like mine and made clear to me that they thought I am in the wrong bed. I showed them my ticket, bed 146. Yea…that is right, but the class is wrong! I would be sitting in a fourth-class cabin, while my ticket is a class 3B ticket! Aha! On the other ship I had the impression, that the beds were numbered in one go across all classes, so you just follow your number and will arrive correctly. But maybe I was just better guided…here apparently some bed numbers appeared several times across different classes and by mistake I had ended up in a lower class cabin. I packed my stuff and found my way through the ship (2 hours after it had taken off) to the right cabin. Again no hostess to ask, but after some back and forth I found my way, paying attention to class and bed number. I entered into the cabin showing on this picture, occupied by a typical Chinese 3-person family (father, mother, kid), and nearly squeezed the poor young boy behind the door… :-S …the mother did the talking, I tried to explain that I had gone wrong, but I'm unsure if that came across. Anyway, my ticket proved I am right and the mother did express they were surprised about the bed staying free. Lucky that the conditions there were a lot better I threw my stuff on the new bed (or actually, the one bed they had left more or less empty, not the one with my number, but that didn't matter now) checked if the toilets were better in that part of the ship (they weren't…oh man…you don't wanna shit on such a ship…), and headed back on deck.
DL_20070610_181017.jpg: The good thing about this ship was that it had a walkway around the ship, not only a small area at the back like the YanTai-DaLian ferry. So it was actually quite fun staying on deck. There was always one or two sides, which were not so badly hit by wind, and even some seats were provided. Also the weather was better, so that many people stayed on deck. Here a view back on DaLian…
DL_20070610_181432.jpg: …while leaving the harbour.
DL_20070610_182537.jpg: 2 or 3 miles outside the harbour were many fishers busy doing their business with ships I would be afraid of sinking due to rust holes.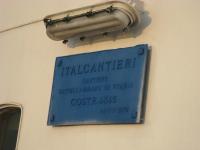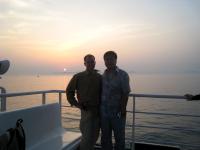 DL_20070610_175802.jpg: The ship was apparently not original Chinese as this plaque shows: "ITALCANTIERI / Cantieri / Castellamare di Stabia / COSTR. 4345 / Anno 1978". I can't translate that, probably just place names anyway, but it sounds Italian, doesn't it? Googling for "Castellamare di Stabia" deliveres links to Italian hotel providers… There was also an Italian warning about the water in the cabins not being drinkable.
DL_20070610_190340.jpg: As I was (again) the only foreigner on the ship I made a lot of new friends for a minute…one young sailor approached me in broken English…after that the guys next to me asked in the typical gestures for a picture with me, and this time I handed out my camera for the same picture, too! 🙂 That repeated a couple of times, then an old man asked the other guy on the pic if he would knew what country I came from. The guy said, no, no clue…and I surprised both of them telling them in Chinese that I was actually German. Now the old man took his chance and overloaded me with Chinese babble…after I could slow him down and made him repeat his stuff we could even talk a bit. The usual stuff…where from…where to…what did I do… That repeated later with a young lady, from who I learned—when asking how I get from the destination harbour to TianJin proper—that she was doing this ferry tour the first time, too, and didn't know either. Grrrrrreat… They had gone by bus from BeiJing directly to DaLian, and now via ferry and TianJin back to BeiJing.
Shortly after 9pm I headed back to the cabin, very slilently, and found the family in bed, but not yet sleeping. The mother told me to switch off the light when ready, which I took for the signal to go to sleep, though it looked fairly early to me and I had hoped to read a bit. But surprisingly I fell asleep soon and slept very well and deep until about 05:30. We all got up around that time. Originally, arrival was scheduled for 6am.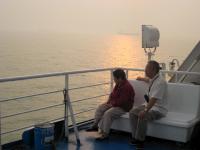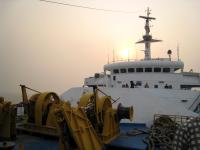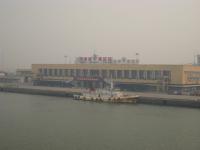 TJ_20070611_055849.jpg: An old couple enjoying the sunrise over TianJin Bay. In the far back an anchoring transport ship. There were very many of them on anchorage.
TJ_20070611_061240.jpg: The ship's prow with the anchor winches.
TJ_20070611_071003.jpg: TianJin's passenger ferry terminal in the typical morning fog. It should be noted that TianJin is actually not located at the coast, although often named "BeiJing's harbour". The harbour is in fact in TangGu (塘沽), 40km away from TianJin. That's why I had asked the young lady about the best way. But as so often that was all handled right at the place: There were lots of busses offering transfer to TianJin. One lady catched me and offered the ride for just 10 RMB. I accpeted, was the second on the bus, and soon or later thought, "well, bus is full, all seats taken, we could start, couldn't we?"…we could, but only after throwing in another 15 people, cramped in the aisle. Well, I didn't care…I had a seat. But it was apparently the only so cramped bus. The others had just filled up their seats. Maybe it was the cheapest, I don't know.
More than half an hour later I got thrown out at some large street together with half the bus load, directed across a foot bridge on the other side to the railway station, which was officially the bus' destination. I found the station, but no way to cross it (you can enter Chinese railway stations only with a train ticket). Although I thought my hotel right on the other side I finally gave up and accepted one of the many taxi drivers' offer to drive me. It turned out that the railway station was not the one with my hotel…it was a 20 minute taxi ride to my hotel destination. Never mind…the hotel has the good location I was hoping for, though a bit hidden. And unbeatable cheap: Just 169 RMB for the night for the same 3-star service I got already in DaLian as it is the same chain: Jin Jiang Inn. That is a fantastic deal and I definitely gonna book this chain more often! By the way: The bath room's interieur is indeed exactly the same as in DaLian. And also the rest of the room looks the same. That's fine: Simple, modern, bright colored.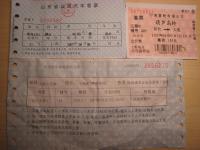 TJ_20070611_211354.jpg: And that's my collection of transportation tickets: QingDao -> YanTai by bus, YanTai -> DaLian by ferry, and the big one is the ferry ticket DaLian -> TianJin.
Today's Lesson: Also in socialist China better check the class!
Categories: AsiaDaLian
Originally Created: 06/11/2007 03:33:08 PM
Last Edited: 06/11/2007