TianJin (天津)
After arriving by ferry I took a shower, stole a roll from the still displayed breakfast buffet (which usually costs 10 RMB), got catched by a hotel employee and promised to come tomorrow for breakfast to pay 😉
And then headed for sightseeing. Quite honestly, TianJin did not impress me: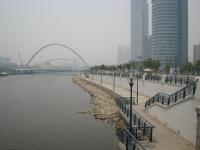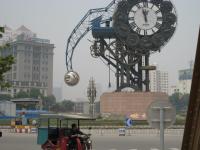 TJ_20070611_115717.jpg: Hai He (海河), the river dividing TianJin, with a stretch of modern promenade and DaGu Bridge (大沽桥), taken from the bridge in front of my hotel: JieFang Bridge (解放桥). Yes…the bridge has the same name as my hotel's street in DaLian, which caused so much confusion: JieFang = Liberation.
TJ_20070611_115729.jpg: Same standing point, looking back on my hotel (the dark grey tower) and some modern clock sculpture. The square is under construction…will probably become a nice place once ready.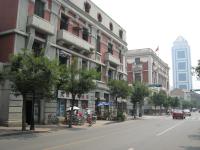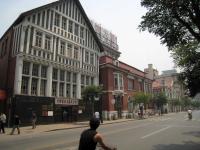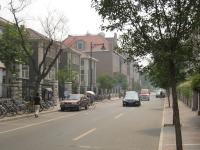 TJ_20070611_120459.jpg: One of the things to see in TianJin is again European architecture, mainly at two places:
TJ_20070611_122404.jpg: JieFang Lu (解放路), i.e. right after the bridge of the same name, …
TJ_20070611_133723.jpg: …and an area called WuDaDao (五大道="5 avenues"), a neighbourhood of 5 streets of European style architecture. That all looks nice, but when you are European yourself, then you start to feel that this is not exactly what you had come to China for.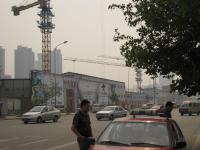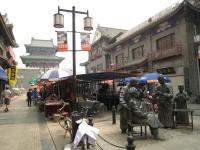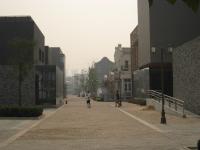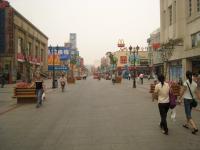 TJ_20070611_152235.jpg: Yea…this is what I had come for! To my best believe this is the location of what my four year old Lonely Planet names "Chinatown", just to immediately appologize "Sorry, but we couldn't resist this misnomer." Supposingly, this was, where the old city center stood. I can only hope that some museum had kept some picture of it…today it was just a big hole with some construction cranes around. (Picture taken on GuLou DongJie, 鼓楼东街)
TJ_20070611_152859.jpg: The only part not torn down was the Drum Tower, with 3 streets of renovated old-style houses (can't exactly say if renovated [i.e. original structure left intact] or restaurated [which in China means: tear down a rebuilt to the old design], the front looked new, but the back yards looked very old) which were full of souvenir kitsch. Here the lane to the north of the drum tower, with the tower showing in the back. Very few people around, the street sellers unmotivated, sleepy…it was a dreary sight.
TJ_20070611_154451.jpg: This is what was built right next to it: Modern architecture, though fairly low and a bit resembling the previous ways. Maybe, maybe, it won't look too bad. Just because I am a tourist I don't have the right to say China has to keep their "old shabby huts without toilets because tourists want to see them" (which was a very short summary of what I read as a comment of an inhabitant of a BeiJing HuTong, which was on the brink of being destroyed). I do hope, though, they rediscover a bit their ancient style of architecture and create an own style like in the above houses, which I like as modern, but Chinese-stylish. Instead of the modern ugly high-rise tiled and glass buildings, which always have some ugly round features, too huge entrance halls and dirty windows, covered with curtains, which fade in the bright suns, and look old after 2 years already. But you can't say yet…at various other places around, actually: At many many other places around, exactly these modern high-rise buildings are being raised.
TJ_20070611_171844.jpg: TianJin shopping street HePing Lu (和平路). Falls in no way short of Shanghai's NanJing Road.
BTW: TianJin has lots of Starbucks cafes 😉 It was so hot today that I couldn't walk more than 1 or 2 hours before getting a headache. So I cooled down in a Starbucks 3 times today.
While verifying the Panoramio pictures for GoogleEarth I checked the old city area: GoogleEarth has 2007 satellite pictures for that area and they show already: Everything's a deep hole except for the three streets I mentioned. See yourself:

I revised my plans: I give up on TianJin's sights and head directly for BeiJing.
Today's Lesson: Better buy an updated Lonely Planet! Or check GoogleEarth.
Categories: AsiaTianJin
Originally Created: 06/11/2007 05:07:19 PM
Last Edited: 06/11/2007