I just had a quick walk around LiJiang's Old Town by night. From my new location, the Ancient Town Youth Hostel, that is basically just a step over the door step.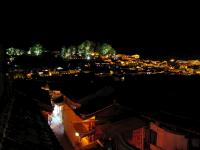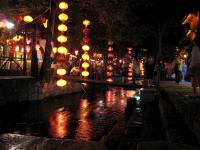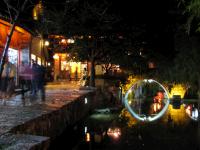 LJ_20070718_221937.jpg: Or, as a matter of fact, just a walk up to the hostel's third floor, from which you'll get this view.
LJ_20070718_222253.jpg: A street along one of the larger creeks through the old town. You'll find a very similar day-time picture here (LJ_20070714_132119.jpg).
LJ_20070718_222400.jpg: Turning around, we'll see this illuminated bridge across the very same creek.
I did not mean to take pictures all around just one intersection…I walked up and down the main square and QiYiLu, but didn't find suitable places to put my camera on as support for non-blurred pictures. So the published pictures stay in the immediate vincinity: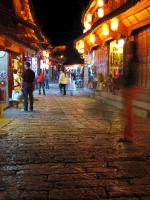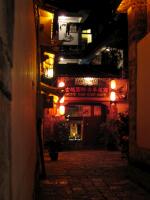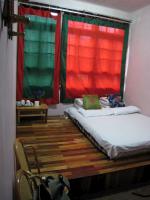 LJ_20070718_224552.jpg: 20 minutes and an apple crêpe later, but as a matter of fact this is a view with the above bridge in the back. The close-up people are blurred to near-invisibility due to the 1 second exposure time.
LJ_20070718_224955.jpg: The Ancient Town Youth Hostel, down a small dead-end lane, where I am staying for this last night…
LJ_20070718_194923.jpg: …in this room: Small but somehow has a certain 'touch' to it, hasn't it? The bed is hard as a wood panel…great! 😉
Today's Lesson: LiJiang lights up at night.
Categories: Asia, LiJiang
Originally Created: 07/18/2007 05:02:19 PM
Last Edited: 07/18/2007