Tiger Leaping Gorge (虎跳峡)
One of the deepest gorges of the world with its up to 3000m tall walls, Tiger Leaping Gorge attracts many, mostly foreign treckers for some fantastic views. The trek became quite popular over the years, so that transportation and also food and loging on the way is no issue at all any longer, small backpack sufficient. But the views stay the same. And the trail is still just a beaten path. No stairs nowhere. Hiking pure in an exciting surrounding!
Mama had organized for two vans to transport the 10 people of her guest houses to the starting location QiaoTou, a good 2 hour ride from LiJiang. We quickly had a look into Jane's guest house at the trail's beginning as suggested by various sources for latest information. But we didn't get more than yet another hand-drawn map of the trail (we collected about 4 diffierent over time, none of them to scale, none of them showing all important items…why can't there just be a geographically correct map out here in China???) and a visit to the toilets.
"We" has before entering the vans been a group of 3. We had met the evening before in our guest house, Jennifer (USA), Sven (Belgium), and me. But we just naturally teamed up with the Canadian couple (Rita, James), who happened to got seated into the same van as us. In the beginning, another couple joined, too, but returned after the first bend (first picture below) seeing the steep slopes the path moves along. Somewhere on the trail during a break another American solo traveller ran into our group and stayed with us. Hence, we were 6 people altogether.
Uphill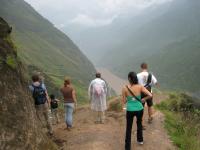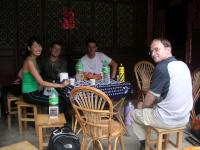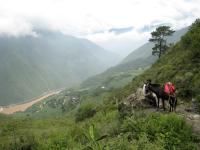 TL_20070715_120620.jpg: The first bend of the path, offering the first breath-taking view on the beginning of the gorge. That's nothing compared to later…firstly because in the morning it rained, secondly because the gorge became even more wonderful later.
TL_20070715_130718_Jennifer.jpg: Just 1,5 hours into the trek, but it was lunch time, which we spent at the beautiful Naxi Guest House. It also offers loging, like all cafes on the way. But that was not our today's destination.
TL_20070715_143500.jpg: Looking back with horse. Two men with horses followed us, hoping for one of us giving up and taking up their offer of riding them on horse back to the peak of the trail. They waited in vain (certainly! ;), which they somewhen a lot later eventually accepted and instead followed a group of Chinese, of which one was already riding… 😉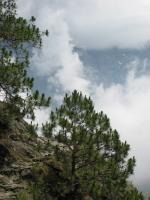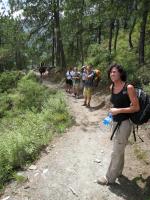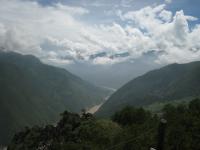 TL_20070715_150402.jpg: Just a cool shot. You see our path lining between the pine trees.
TL_20070715_150439.jpg: All our group during a short photo break. Not only here, but during large parts of the trail I took the lead to set the pace, especially uphill. Probably a good deed, but we took a number of short breaks nonetheless.
TL_20070715_150554.jpg: Another look back with dramatic clouds while we climed the famous "28 bends" of which nobody really knows how many bends there are in the end. Estimations go up to 40…anyway, it is a long way with about 400m in altitude difference.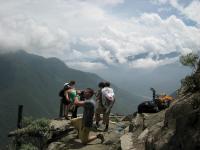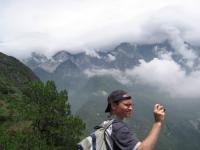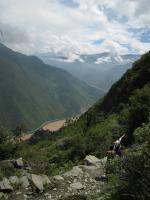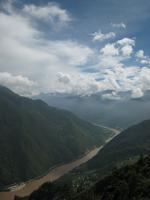 TL_20070715_150730.jpg: One of the aforementioned breaks: Given the breath-taking scenery it is only understandable. Everybody's busy taking pictures…
TL_20070715_150732_James.jpg: …also me 😉 Thanks James! Great shot!
TL_20070715_153347.jpg: Again looking back…with Rita watching Sven stretching…
TL_20070715_154756.jpg: …and another look back. In the beginning, looking back was indeed more interesting. In front of us we did not yet see much.
At the Top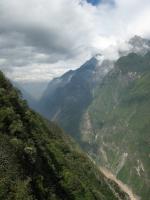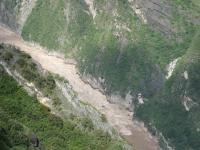 TL_20070715_155145.jpg: But that would change as soon as we reach the top of the path (which is not identical to the top of any mountain)! These pictures taken from a ledge, to which a clever business man had built a few steps and now charges 8 RMB for people who go down there. A group waiting there when I reached the point did not go down as they feared being ripped off. I thought "what's 8 RMB…I'll come here only once", agreed with the guy on Chinese that I would pay only if I'd like the view…and as soon as I was down and looked around indicated: Yeah, man, I do pay!
TL_20070715_155451.jpg: From this ledge near the path's top we could see the first rapids of the mighty Yangtse, which here is still known as JinSha Jiang. I must admit that I expect the rapids to be more spectacular, but given our elevation above the river (difficult to estimate, but maybe 1000m) you pretty much just look down upon the river, which isn't so exciting at all, just damn deep and not for the timid; you'd better make sure you have a save stand 😉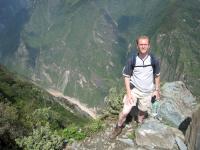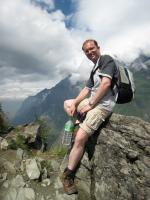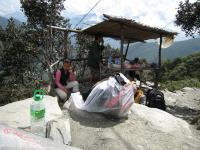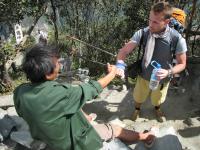 TL_20070715_155223.jpg: Yea…that's me! 😉
TL_20070715_155314.jpg: …and again. I got something for my 8 RMB: The guy pointed to various spots I had to stand or sit on while he took a lot of pictures of me. He apparently knew exactly where to stand best.
TL_20070715_155951.jpg: And that's his stall, me watching the bags of the other members of our group, who arrived a little later and based on my recommendation also went out to the ledge (they arranged for a mass discount), equally amazed. As a thank-you for convincing the others the business guy gave me a banana for free 😉 very welcome.
TL_20070715_161359.jpg: And here he is in the foreground, finger-wrestling with Mat, pointing out that he is very fit. No doubt, has to get up and down to that spot every day.
Downhill
TL_20070715_170511.jpg: After the peak going downhill was certainly a lot simpler, more time to take in the mountain landscape on the river's other side.
TL_20070715_171331.jpg: And now we often had the deep and narrow part of the gorge right in front of us. But the views never got as great as from the ledge which we had to pay for.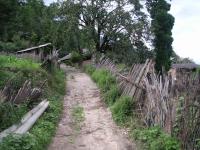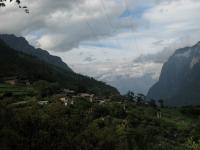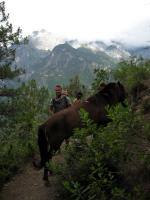 TL_20070715_172829_Jennifer.jpg: We passed through two or three villages on the way, where the path temporarily widened a bit.
TL_20070715_173203.jpg: A…villages, right, like this one. Usually located in not so steep parts of the mountains and accessible by winding roads from below.
TL_20070715_173347.jpg: Nonetheless…the villagers keep horses for good reasons. And sometimes, so it seems, they just let them loose…and they graze on our trail.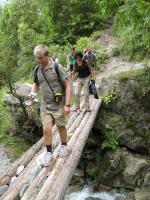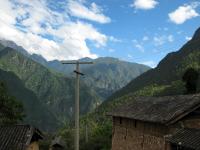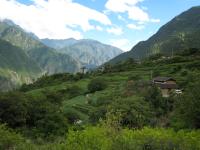 TL_20070715_173519.jpg: Small creeks, flowing down the slops, had to be crossed several times. Rarely they were so big that a bridge like this was needed.
TL_20070715_174436.jpg: Landscape, old, and new: Electricity has long arrived in the villages. And the telephone line accompanied us throughout large parts of the trek.
TL_20070715_174856.jpg: Farming is possible at times.
Attack of the Killer Cows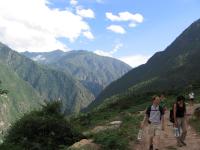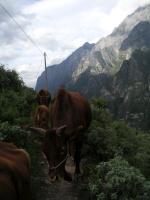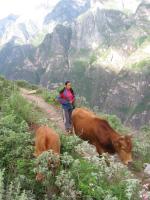 TL_20070715_175523_James.jpg: Sometimes the trail is simple….
TL_20070715_175626_Jennifer.jpg: …sometimes dangerous with oncoming bulldozer traffic.
TL_20070715_181215_James.jpg: This very cow seemed to find a particular liking in me: Jennifer and I were standing on the right-hand side of the path, letting the cows pass. But this specimen refused to turn right by a few degrees to follow the others and instead just kept walking ahead: Right into me! What that looks like in the second before can be imagined from Jennifer's picture above…but noone got the actual moment the cow walked into me. I could only grab the horns and try to get out of its way as the cow seemingly had no intention to slow down, was walking slow anyway. Jennifer tried to pull me to the path, but I found it better to get even further off the path and somehow managed get free of the cow, which just moved on. The girl in the back 'guiding' the cows didn't say nothing at all. Well…a bit steeper a location and I would have had little room to move.
Staying overnight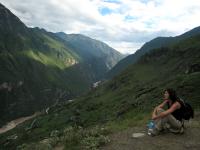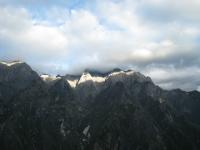 TL_20070715_184408.jpg: Though we were now running a bit against time—we wanted to reach the "Halfway Lodge" and counted down the distance—a stop every once in a while must be possible to take in the scenery.
TL_20070715_193059.jpg: The high peaks on the other side were never visible but always covered by clouds. This shot is good nonetheless with this single strip of sun on the peak.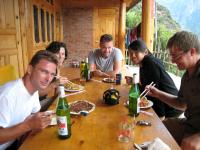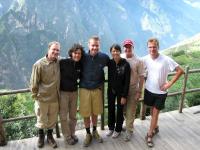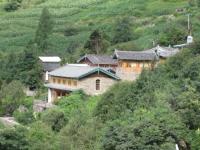 TL_20070715_193953.jpg: And there we are! Halfway Lodge. Everybody has something to eat…except for me. I somehow had the arguable luck to often be served last 😉 The lodge has fantastic views on the mountain across (I keep forgetting the name…something with a dragon, but then there is so many things with dragons around in China) right from the table at which we were sitting. The picture before (193059) has been taken from there. And our two 3-bed-dorms were right away to the left…just need to drink a beer or two, talk the evening away, and turn around to get to sleep. It is so great a place that another group there told us they would just stay there for the next day and only move on 36 hours later.
TL_20070716_093824.jpg: The entire group of six at the next morning, ready to continue the descent.
TL_20070716_095529.jpg: Looking back after the first bends: Halfway Lodge. 'Our' terrace can be sensed on the lower floor of the front building.
The next day: Descending
TL_20070716_095652.jpg: The direction of the morning sun provided for some nice views.
TL_20070716_100036.jpg: One last attempt to try to get excited about the rapids.
TL_20070716_101331.jpg: Wow…no comment…thank god, buddha or whoever for this creation!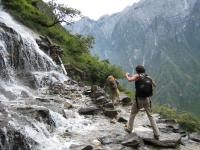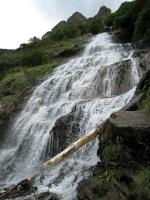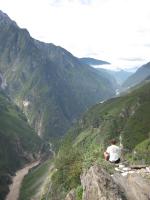 TL_20070716_102936.jpg: The last minor challenge: We had to cross…
TL_20070716_103116.jpg: …a waterfall.
TL_20070716_104816.jpg: Looking back (basically west), Sven also admiring the scenery.
Down at the road again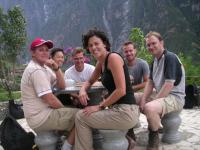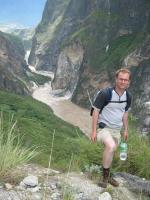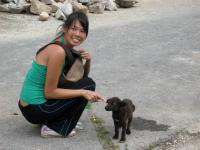 TL_20070716_112734_Jennifer.jpg: The hiking path meets the lower street at Tina's Guesthouse where we stayed for a great lunch and she took this picture with all of us again. From there we had basically two option and now believe we took the wrong one: We wanted to see Walnut Garden, which described as beeing so wonderful in Lonely Planet. Due to landslides we could not go via hiking trails but had to walk along the street. That wasn't so bad as it sounds as also the very street was blocked by another landslide so there was very few traffic. The other option would have been to further descend down to the river and see the very rock over which according to the legend the tiger leaped to escape a hunter, giving the gorge its name. Noone of us was interested in seeing a rock in the middle of the river, and we agreed not to believe the Chinese excitment about such a thing, and thus opted for walking on to Walnut Garde.
TL_20070716_132632.jpg: There, however, we did not find anything spectacular, even less spectacular than a rock in a river. (And later back in LiJiang couldn't find anyone who had found anything.) Passing-by dutch women told us that going down to the river is actually worthwhile: Surely not for the rock, which indeed is just a rock, but for the spectacular uphill views from down there. Well…too late…we had to think about how to get all the way back to LiJiang. This picture here was basically about the furthest point we went. In the back you can see the end of the gorge with the mountains widening.
TL_20070716_134036.jpg: Pretty much at our turning point Rita made friends with this a little shy puppy. Well…she certainly looks into the camera of her boy-friend, not into mine… 😉
Getting back to LiJiang
…wasn't so easy due to the landslide, which blocked car traffic pretty much in the middle of the lower road. We were told to hitch a ride to the landslide, walk across it, and hitch another ride on the other side to get back to QiaoTou, where we would have access to a public bus back to LiJiang. Well said…so we wanted to do. Unfortunately there was just very few traffic…I finally asked a guy in a small truck who happened to stop nearby and he willingly loaded us for 50 RMB. 2 into the back seats, the other 3 (Mat continued further and had left us at Tina's) onto the cargo area in the back. Damn…I don't have the picture of the 3 sitting there… The ride was partly simply on asphalt; sometimes for no obvious reasons however there was no asphalt and we went rattling over stone. We passed by several previous landslides, which had more or less been cleared up. Seems like landslides are a very commen issue out there.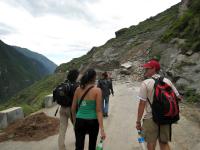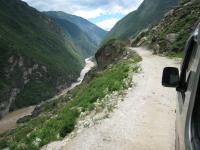 TL_20070716_142020.jpg: And here we are…the road ahead blocked by a landslide, which we could easily walk over. On the other sides vans were waiting, knowing their business 😉 and we just got into one…
TL_20070716_142917.jpg: …and were brought back to QiaoTou along beautiful landscape.
Arriving there at the public bus station there was a brief quarrel about what to pay the driver (his pronunciation of 'qi', 7, was fairly similar to his pronunciation of 'si', 4, and he used that to make us pay 70 instead of the 40 that we thought we had agreed upon. I gave him 50 in the end and we jumped on a public bus back to LiJiang, which happened to set out at the very moment we arrived. What a luck…in the end getting back was just hopping from one car into the next. Certainly, it was another 2,5 hours now back from QiaoTou to LiJiang, where we arrived in time for dinner at Mama's. And thereafter shared pictures on my laptop, which is why I could include some from Jennifer and James here. And why I had to delay writing the article 😉
Today's Lesson: Beware of the cows!
Categories: AsiaLiJiang
Originally Created: 07/18/2007 10:57:57 AM
Last Edited: 07/18/2007