Nha Trang as a town is not exactly exciting. That's not what you come for. What you come for is beach and water.
Beach
Yesterday I just walked up and down the beaches without actual lying down or going for a swim. It was by all means way too hot for beach. I have seen locals at the beach early in the morning (I am talking about 6am) or late in the evening (when the sun is more or less gone again). Inbetween none of the locals is so mad to lie down and get fried by the sun. The beach is all to the western tourists. But even they aren't so numerous.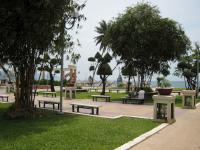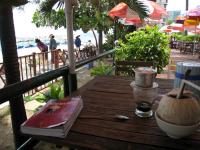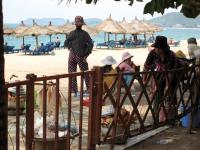 NT_20070815_112422.jpg: The sea-side promenade is nicely made, with trees cut into funny shapes.
NT_20070815_114445.jpg: After talking to the diving school for the first time I sat down for a coffee to consider my options and schedule. All you need…a fresh coconut juice, a real Vietnamese coffee (here finally a picture of the real thing: A set-top filter with ground coffee, through which water drippes very slowly; the small thermos flask has more water if you fancy a second cup, which then however is pretty light)…
NT_20070815_114456.jpg: …and beach view with locals selling off sea-food (in the basket right behind the fence).
NT_20070815_115653.jpg: This small boy of maybe 5 or 6 six years could carry his little basket with goods to sell even without his hands' support…just in the second I made the picture he had to briefly adjust…darn.
NT_20070815_120216.jpg: Nice pic, isn't it? 😉 The fish drying in the sun in the foreground, however, disseminated a bit a bad smell 🙁
NT_20070815_120313.jpg: You got the basic idea, yea? My hotel is in less than 10 minutes walking distance 😉
Water – Discover Scuba Diving
As fantastic as the beach is, I am not a beach person, I am a water person (when I'm not a mountain person): I need to get on or into the water. And today I added another notion: under water.
Yesterday, I had signed up for a "Discover Scuba Diving" (DSD) dive with one of the thousand of diving schools around here. Scuba diving is serious business, never underestimate the potential danger to your health. A large part of any serious course, so I got already informed by a colleague back in Shanghai, is made up of safety instructions. And any serious diving center puts the focus on safety first. And then to environmental protection. And then comes the fun. People had recommended Rainbow Divers to me, which has offices all around Vietnam nowadays, but seem to have started right here in Nha Trang.
DSD is an option to experience scuba diving under close supervision of an Instructor (I learned later that my guide was actually 'only' an Assistant Instructor, which I believe disqualifies him from teaching me the full Open Water Dive Course). In fact: He never looses touch with you, always is above and behind you, holding you by your air tank, or somewhere else in the rare cases he is next to you (when pointing something out on the ground)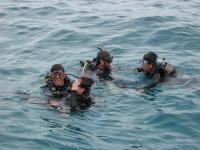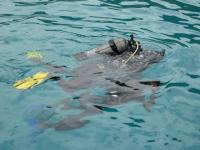 NT_20070816_091203.jpg: There were 4 people in total on the boat doing DSD, 3 Japanese and me. The Japanese spoke so few English that they got their initial instructions in Japanese. The diving school has so many nationals that they even had a Japanese instructor. And under water you can't talk anyway and use signs…so their instructor while diving was a French. I have no picture of me yet in full gear as when I wear all that stuff there is so much action around that there's no time for a picture. But I'll have some made on one of the future dives. As we were 4 DSD divers we took turns of two, so that I could at least take pictures of the others: The only guy facing the camera happens to be my Assistant Instructor for that day.
NT_20070816_091425.jpg: Just starting to get under water: The instructor on top, holding the diver by its tank. And, no, that is not in a pool, but in open water, despite the nice blue color of the water 😉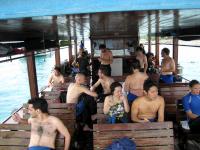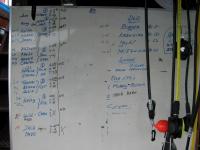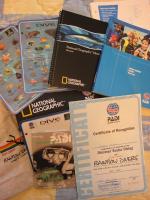 NT_20070816_095129.jpg: The divers resting between the two dives of the day, while motoring to another diving site closeby. There were about 20 or so divers in total, with lot of different skill levels and goals. Some just for the fun of it, others finishing off some upper class courses. There is a lengthy hierarchy of certifications with PADI, with DSD being the very first level and not even actually being a certificate. And lots of other stuff to keep you learning, or learn how to teach others. Or to teach the teachers…it's really comprehensive.
NT_20070816_110142.jpg: The board on the ship noting the divers, including information on their dives. Essential to make sure everybody's back on board before leaving. You'll find me in the top right corner, the first name in the DSD column. Not good, the info is out of synch with reality: I had just returned from the second dive, the other pair of DSD divers had just jumped in, so the second square next to me should have been check-marked (back on bord), the second square of the two others should have a dot (in water). But don't worry: Everybody got back home save and sound.
NT_20070816_144624.jpg: Back in town I signed up for the actual PADI Open Water Course, with a National Geographic Extension, which gives me 2 more dives and more experience in buoyancy control (the ability to control how deep your are under water and to keep equal level where anted), navigation (where's the boat???), and finally nature, which they put an understandable focus on. There is to be some kind of mini "project" in the end, like counting fish species in a certain area or the fish movement or whatever funny I could come up with.
Despite DSD not being a certification level, I got a "certificate", which states, that it doesn't certify anything 😉 but that I successfully finished DSD (bottom-right corner of picture). The other stuff around there is the teaching material for the Open Water Course…quite some stuff to carry around….hm….
So, great, and what was diving now like? Lot's of stuff you carry around with you, quite heavy on the boat, but weighting nothing in water. Breathing compressed air through the regulator was surprisingly simple. I still remember our first snorkeling attempts in Spain, must be more than 20 years ago (damn…I'm really getting old): As soon as the face goes under water we started breathing rapidly and heavily through the snorkel until we at some point in time got used to the fact that we still could breath though surrounded by water. Maybe that knowledge let me calm down today in a matter of just two breaths. Water was colder than at Halong Bay, but very comfortable still, especially with the diving suits on.
And then as soon as you're told to look down the real experience starts: Corals on the ground, but especially fishes more or less all around you. Doing backpacking is a nice thing, but it gives you only half of the world, if at all: All the rest lies under water! I've never seen so many different fishes before, not even in an aquarium, and definitely not within the 20 minutes of our dive. Seeing? Being with them! Which is what makes diving so much more remarkable: You stay to be a spectator (remember environment protection, don't touch anything!), but still be part of it. Some few fishes might be interested in you the same way as you are in them, but mostly they just continue to do what they did before you slowly approached: Swimming or lying down, whatever they like better.
Figuring out what fishes I've seen is next to impossible, it were simply too many. As one diver pointed out: The only way to be sure is to take photos, which certainly requires under-water equippment, which I don't have and don't intend to buy here either. All normal divers need to rely on their memory and then back on the boat turn the cards with "South China Sea Fishes" over and over again to try to match their memory with any of the pictures on them. My diving course kit contains them, too. I am only sure about the following: Grouper (a comparibly large fish, about 50cm, most other fishes were typical small coral reef fishes, swimming into and between the corals, our Grouper was a white/gray species, on the web I see there are dozends of different kinds), False Clown Anemonfish, Trumpetfish (once blue, once yellow…I don't find these colors in any chart or book, but I was told that what I had seen was a Trumpetfish: A very thin lengthy body and long snout) and as apparently the highlight (it made a lot of divers around excited and the only under-water camera show up) a Frogfish: By itself an ugly thing, and our specimem was really hard to spot on the rock on which it lay. Both our DSD instructors had to point several times until at least I finally saw the fish moving as it was taking a shallow breath. Interesting, but not so amazing that I understood the excitement around, but apparently Frogfish is a rare sight…lucky me 😉
There were also quite a number of corals around, especially at the first diving site, Moray Beach. Today I was more fascinated by the fishes, so I can't tell you much about the corals except for: There were very very many again. We all should know from the books and warnings on beaches that corals are living species. But I guess that quite many people share the feeling with me that it looks more like plants (soft corals) or even stone (hard corals). Today I could finally observe: They do live, they do move! Some had openings which opened and closed while we were passing by. And sometimes we were passing by very very closely. So close that I got afraid I would touch the corals or hit them with my fins, a thing you should be all means avoid. But, hey…I was an DSD diver, buoyancy control was not with me but with my instructor. And in the end it always worked out fine 😉
There's only one annoying thing under water: You breathe dry air from your bottle. All around you water, and your only inconvenience is a completely dry mouth, longing for nothing more than a sip of water!
The next steps are now: My PADI Open Water Course starts tomorrow. There will be 2 days of theory and "confined water" (means: pool) dives, then 3 days of actual open water (means: in the ocean, no obstacle above your head, the water surface vertically above you, i.e.: No caves or wrecks or the like), the last of which being dedicated to the National Geographic extensions.
There is unlikely anything interesting to be reported the next two days, so don't expect updates here. I hope to come back to you with some open water pictures (maybe hiring an under-water photograph, all available) in about 3 or 4 days time. See you!
Today's Lesson: Scuba diving is a dry experience.