My Son
(not to be pronounced like your own male offspring, but rather like Mee Soon, with both vocals relatively short), the intellectual and religious center of the Cham kingdom, partly dating back to the 8th century. Described as the "most stunning sight to see in the Hoi An area" it is a tourist magnet. As such it reportedly gets very crowdy. Some people I asked told me it is not worth the visit, others were amazed. But all agreed it is too crowded. Lonely Planet says so, too, and suggest a visit in the early morning, which would give you the best atmosphere.
That is why I had chosen to get up early: There are nowadays early-morning guided minibus tours to My Son, which provides a good alternative to hiring your own driver. In the end everybody is confined to the opening time of the site, which is 6:30am. I was to be picked up at 5am from my hotel. As I was the last one to be picked up the bus eventually arrived at 5:30 'only', but still all very early. At 6:30, when people were allowed to enter, there were just two of these minibusses and probably 2 or 3 cars around. In total maybe 30 people. So not crowded, that I had achieved. But I could not find the sights amazing. Maybe the expectations were too high. I was especially surprised by the small size of the entire site.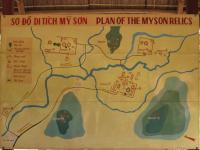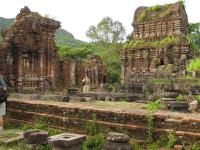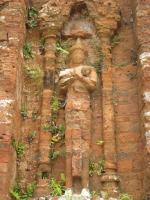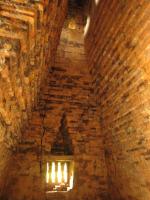 HA_20070813_082307.jpg: This overview map gives you an idea of the layout of My Son. The relics have been uninspiringly named group A through K, very destriptive, with groups B, C, and D being in best shape and relatively close together. In fact…they are so close together that I don't see why they have different group letters at all.
HA_20070813_071750.jpg: Standing in group C, looking across group B: The entire super-group B, C, D was an area of maybe 200m square. The remainders were still impressive, given their more than 1,000 years of age, and were definitely breathing this kind of history air I smelled at the tombs of Hue as well. But then, the tombs are a lot larger (but also younger).
HA_20070813_072336.jpg: A detail at the outer wall of a former temple.
HA_20070813_073923.jpg: Inside one of the buildings. I forgot its purpose, I believe a meditation hall, but then again I wonder how to find out the purpose nowadays at all.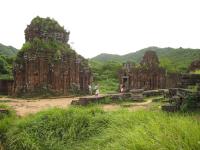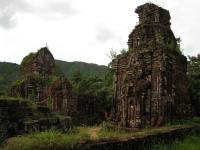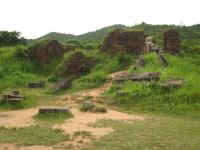 HA_20070813_074139.jpg: Well, yea…the same site of 3 groups, looking another way…
HA_20070813_074154.jpg: …and yet another way. I was a bit fascinated by this building in the back wich looks on top like a storage box for valuables or religious artefacts. Probably really has some religious background, but I couldn't figure it out. Our guide made a couple of flat jokes, gave a basic introduction to the site, but otherwise let us explore it ourselves, which by itself is not bad. But thus I couldn't ask for the meaning of the storage box atop this building.
HA_20070813_074948.jpg: Group A. Impressive, isn't it? It's a green hill with a few brick column stumps peeking out of it. If I got it right, though, then the major damage to the site has not been done by just sitting there undiscovered over hundreds of years. It wasn't the jungle. It was the American war once again: Vietnamese troups had used the area to hide, resulting in American bomb attacks. The guide said that there are photographs taken by the French, who rediscovered My Son somewhere at the turn of the last century, well before their own fighting with the Vietnamese and the American war. But I haven't seen any of these pictures. There is surprisingly no museum on the current site.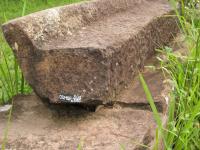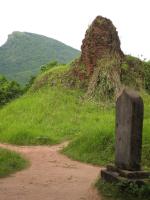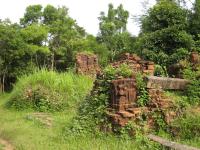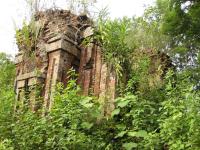 HA_20070813_075725.jpg: All of the stones lying around in the grass have registration numbers. Archaeologists should still be active, but we haven't seen any (though one of the guide's bad jokes were about Italian archaeologists on site all being male singles, and the ladies in our group should seek out for them).
HA_20070813_075944.jpg: Group E.
HA_20070813_080324.jpg: Dito.
HA_20070813_081408.jpg: On the way out from E back to the parking lot you suddenly stumble over group K.
That's it.
The relaxing rest of the day
Back at the hotel I tried my laptop again, but to no avail at first. Connecting it to one of the hotel's monitors proved a suspicious I had: It's only the display, the computer as such still works. But it sucked nonetheless. I switched it off and wrote a note my father strikingly dubbed "Weltschmerz" via the web interface on the hotel's computers. Back in the hotel room I tried to start the laptop once more, don't know what drove me doing it, but it worked! Not sure for how long I just did one thing only: Copied all pictures from the camera's SD card to the hard disk and made a hard disk backup on my external USB disk. But then I was hungry.
I by chance met Ursula again during my lunch at the hotel. We went into town in search for something more to eat (me a desert, she a lunch) and drink. Half an hour later Frank and his girlfriend entered the same cafe. Remember? This was the English couple I met on the train from Hanoi to Hue, which was grounded in Vinh, where we then were forced to take separate busses to Hue.
You'll guess it, right? We didn't really leave the cafe until dinner time, when we made a few tired steps to one of the cheap restaurants along the river for a cheap dinner and lots of cheap beer. We several times saved the world again from all kind of bad plagues, especially political ones, and intensively discussed China politics, with Frank and me having good insight and sometimes slightly different opinions but very good discussion discipline. And Ursula was very keen on learning details. It was a long evening, not leaving any time for….sigh…web site updates.
You simply meet too many people here.
The last day in Hoi An and getting to Nha Trang / Future Plans
The last day in Hoi An I spent getting money to pay my hotel bill, get a long overdue hair cut (nice head massage during washing, but the guy charged me in the end 120,000 Dong, pointing to a plaque naming him some kind of artistic hair dresser; I guess he did not get my joke on artistic pricing), and hanging out in a cafe to finally catching up with my articles here. To my complete surprise this cafe even had a working WLAN connection, which allowed me to publish all these articles directly (those created 14-AUG).
After a lot of back and forth I in the end had again a bus ticket for the ride from Hoi An to Nha Trang. Not that I wanted it, but both flights and trains were sold out. It was the first day of train operation again after the flooding had stopped the railway (there is only one) and tickets were apparently sold out in a matter of no time. And before sitting in a non-air-conditioned train car over day (the only ticket still available) I then preferred sitting in an air-conditioned bus over night. Not a sleeper, don't get that wrong.
I did not use my Open Tour ticket as I wanted to avoid that company, but instead had asked my hotel to book me on some good bus. The bus was a lot better organized. When getting on I was even given a seat number, which certainly meant that somebody put some thinking into the bus' load. Unfortunately, and why does that always happen to me?, my seat was one of maybe two on the entire bus, at which the handle to adjust the back rest was missing! So I could not move back my back rest and instead had to sit all night perfectly upright, no chance to lay the head anywhere. I didn't sleep much as you can imagine. There was only one half-way toilet stop and no forced restaurants visits, so everything else was quite fine.
Arriving in Nha Trang right on time at 6am we stopped in the very center of the city, right next to the diving school I had gotten recommended by other travellers. Great, I right away pocketed a flyer and walked the few hundred meters to my hotel, which this time I had reserved upfront. (I am able to learn from some previous mistakes ;)) It wasn't my first choice, but my first choice never answered the phone. This one wanted to see 25 USD per night, which is considered quite a bit in Vietnam. But I thought I treat myself to some good hotel for my vacation inside my vacation. But the room I got assigned did not live up to my expectations. Anyway…I needed a break, lay down and slept very well for the 3 hours between 7 and 10.
Then I checked with that diving school: I had always had the idea of learning scuba diving here in Nha Trang. Looking into my Lonely Planet I was surprised that there were also some other sights to visit around here 😉 But I will likely not find much time for them, no too big loss. The future will likely look as follows:
Tomorrow, 16-AUG, I am signed on a so-called "Discover Scuba Diving" dive: I will join other divers on a boat but get one (experienced and certified) instructor assigned just to me (one-to-one) who will guide me every step through a test dive. If I understand the pictures right I will not even be allowed to move myself under water, but that's all fine: It's all about figuring out if diving is my thing. Which I very much expect it to be.
Then a day later, on 17-AUG I will start the actual diving course. I will choose a 5-day version. There is also a 4-day option, but I had reserved 5 days in my time budget anyway, and then it is better to get more dives, thus, more experience. It is the standard "PADI Open Water Course" plus some "National Geographic" extensions.
With the expectation of staying 7 days in Nha Trang I managed to get my room discounted to 20 USD. Still much, but better. If all works out as planned I leave Nha Trang on 22-AUG. I had planned to just fly to Saigon to avoid all this hassle of busses and trains. But there is one minor complication: You should not fly right after doing a lot of dives. Hm…the course ends on 21-AUG. 24 hours later is OK, so I should seek to fly out of Nha Trang in the afternoon of 22-AUG. Let that be the plan for the moment.
My visa is valid until 26-AUG. That should leave enough time for Saigon proper and getting out of Vietnam. Depending on my mood this will be Cambodia or Singapur.
Yea! I catched up with my articles! Nothing left to report for the moment. I will likely have an early dinner here in the cafe, where I am sitting since (and including) lunch already. Maybe have a quick swim at the beach a few hundred meters away. But definitely be in bed early: I should be tired soon and have to be at the diving cafe at around 06:30am for breakfast. Diving is an early morning exercise unfortunately.
Today's Lesson: My Son is smaller than it appears in flyers and professional photographs.
Categories: Asia, Hoi An
Originally Created: 08/15/2007 11:12:58 AM
Last Edited: 08/15/2007