I finally have pictures! The last dive today, two National Geographic Dives. One of the divers of our group of three could not descend with problems equalizing. Really a pitty for her, but she engaged in her 'project' taking pictures of us while gearing up and entering the water. Many many thanks!
The underwater pictures are made by one of the Rainbow Divers, it is probably not far fetched to call her a professional 😉 which means: We bought these pictures from Rainbow.
Gearing up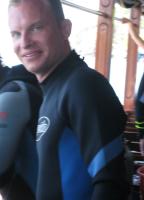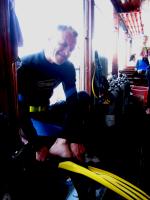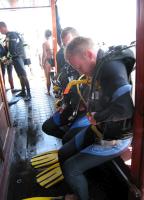 NT_20070821_104403.jpg: Wet suite is on, but before putting on all the equippment starts.
NT_20070821_104518.jpg: Oh…did I hate my fins. They squeezed everywhere. By now I had plaster on many toes already, but still the fins found new spots to bother me. I learned today that there a kind of socks made from the same material as wet suites. Probably one of my first buys before diving the next time. It was really a pain…
NT_20070821_104940.jpg: Fixing up the BCD, which is the vest which also holds the air tank.
Entering the Water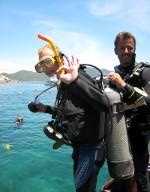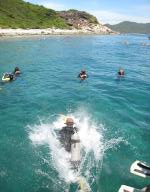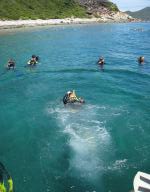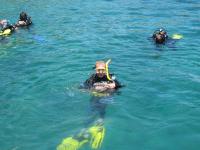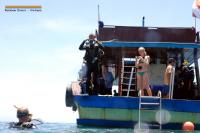 NT_20070821_105337.jpg: Final OK to the photographer ;), Sean, our instructor holding my tank before entering.
NT_20070821_105346.jpg: Splash, I'm in with just a big step.
NT_20070821_105350.jpg: And the OK to the Divemaster, the 'master of ceremony' on the ship, responsible for the basic well-being of all divers on that boat.
NT_20070821_105357.jpg: Just waiting for the last one to come in…uups, no snorkel in mouth 😉 officially we have to have something in our mouth (snorkel or regulator) while being in open water, but not so many people actually really care on a calm surface.
NT_20070821_105750.jpg: At about the same time a picture of the underwater camera above water, showing me and our on-board photographer with my camera; Sean is putting on his mask to follow us into the water.
Under Water
Above pictures are from the second dive, while the underwater pictures are from the first, but that won't matter much for seeing them now here in the proper order of execution.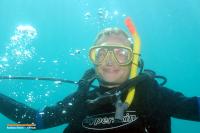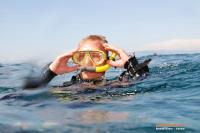 NT_20070821_085305.jpg: Happt me under water, regulator briefly taken out to be able to smile 😉
NT_20070821_085422.jpg: Brief surface stop inbetween after one of the group signaled equalization problems. Funnily, when we got down again I started having trouble in the right ear. I could go ahead slowly, though, with intermediately ascending a meter or so for better equalization. But even as I am now writing, 11 hours later, I still feel my right ear not being fully OK. Something got stuck there…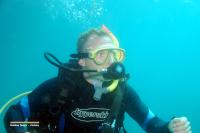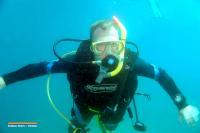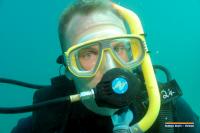 NT_20070821_085645.jpg: I look like being scared…but that's probably due to the prescription lenses in the mask: I was so lucky that Rainbow Divers even have some masks with some more or less random prescriptions readily set up to about correct my shortsightedness. I didn't wear such a mask during the DSD on the first day and still did see quite a lot. But better it is!
NT_20070821_085718.jpg: Birger's coming!
NT_20070821_085729.jpg: Birger's there!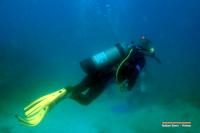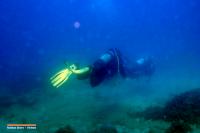 NT_20070821_085936.jpg: Birger's swiming away… (I can tell it's me because I'm the only one with yellow mask and fins.)
NT_20070821_085942.jpg: And gone we are.
For what we saw please check out the response to this document, titled "National Geographic Diver Project", which was my official wrap-up of the mini-project, causing quite some appreciation in the Rainbow Bar 😉
In addition to the painful fins, which made me move very slow (generally a good rule under water, though), an urgent need for a pee spoiled a bit my last minutes of the 1-hour-long stay under water. When finally back on the boat there was a long line in front of the only toilet…seems to be a common problem. I finally just jumped back into the water after putting off all equippment, only in swimming trunks, looked around…no divers, no snorkelers, and let go just there 😉 Swimming without a wet suit was a very relieving feeling: finally could move again as I wanted with no pain in the feet.
Debrief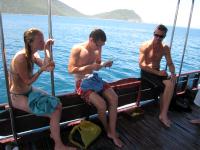 NT_20070821_122620.jpg: Debrief after the dive, checking our, hmmm, 'interesting' drawings we had done under water of fishes we had seen, in the hope to be able to identify them later.
A very nice and fun experience indeed, this diving courses! Can only recommend to everyone, who is not afraid of water, to go ahead and try it! There is a lot more to see under water then there is above water. And once you start flipping through the fish and other sea creatures identification books you wonder why god had invented all these beautiful animals. And at some point you remember: Life started in water and had a lot more time to develop beautiful and strane life forms. You will find them only when diving!
Future Plans
Tomorrow afternoon I will fly to Ho Chi Ming City (Saigon). I hope I don't need to stay there for more than 2 nights. As my visa is expiring on 26-AUG I would need to get out of the country soon anyway.
Update 22-AUG: I saw on DW-TV that South-East-Asia is at the moment suffering under a Dengue Fever outbreak with the very center of it being Cambodia. There is no vaccinaton against Dengue Fever. It's transferred via mosquito bites, which is next to impossible to completely avoid. I don't really need a heavy bad fever right now, is really an uncomfortable thing. Treatment is possible, but again…Cambodia wouldn't be the first place you go to for any medical treatment. I'll come back at some point in time…Cambodia has to wait for the moment.
Other areas less badly affected include basically all South-East Asian holiday countries. There is no travel warning at the moment, not even for Cambodia. So I would at the moment still consider Thailand an option.
I am already checking on cheap flights home, but the best options I so far find via Shanghai. No final decision yet…it might turn out to be cheaper to just stay somewhere here, for example Thailand for a bit more diving. So a bit undetermined at the moment. But by 26-AUG I must have left Vietnam. As soon as I arrive in Saigon I will make final arrangements…honestly…I wouldn't mind a break at home, and a stop-over in Shanghai would be a good opportunity to meet some friends again.
Today's Lesson: No fins without socks or shoes any longer.
Categories: Asia, Nha Trang
Originally Created: 08/21/2007 09:36:50 AM
Last Edited: 08/22/2007