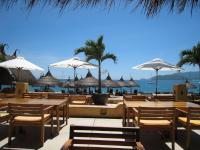 NT_20070822_101226.jpg: Bye bye Nha Trang…the view from my breakfast table this morning. Has something carribean to it, doesn it?
My last hours in Nha Trang I spent at the beach having breakfast and reading.Then boarded the hotel's owner's brother's car or something like that and was brought to the airport. With Hanoi Airport being a joke already I didn't expect much of an airport, and that was what I got: Not much. The parking lots started to be reclaimed by nature, the only building was small and had two 'Waiting Rooms', one south-bound, one north-bound. The loudspeaker announcements were incomprehensible and a simple sign like "VN455" would have eased finding out when my flight was called…but there was no such sign. I figured, though, that different flights had differently colored boarding passes. So I stood up when all the others with red boarding passes did and via a 1-minute bus ride (we could have easily walked) boarded the right plane. The airport was built somewhere into the dunes of the see and the taxiways were also starting to let some grass pass through its tarmac. Only the actual runway looked OK. I am pretty sure that this airport has to be approached under VFR (Visual Flight Rules). I have seen nothing which would faintly resemble any kind of attena equippment allowing for an instrument-supported approach. In fact, I didn't even see lights along the runway. Visibility was great, though, and all went well. Except for the fact that Chinese tourists seem to be unable to match their boarding pass' seat number to the row numbers provided in planes, a common problem on all Chinese flights and apparently also in other flights…the Chinese were walking up and down the aisle until helped by a stewardess. It also seems to be a reoccuring surprise to them that you need to fasten your seat belts before start. Well…not me to worry.
Arriving in Ho Chi Minh City it was yet another small airport with just two luggage belts for domestic arrivals. All very family-style. There were lots of taxi drivers around trying to get me into their cars, but no driver holding up my name as promised by my hotel. I wandered up and down, checked out the international arrivals just in case they didn't get the fact that I was arriving with a domestic flight, but in the end the driver was just a few minutes late and I found him at the domestic arrivals when returning there.
Driving through HCMC was certainly completely different from the sleepy cities like Nha Trang or Hoi An, which I had visited before: There were large streets with a lot of traffic. The city is in firm hands of motorcycles: Two third of the lanes are occupied by motorcycles. The cars keep on the far left in single line, not passing each other. Turning left or right means to wander through a coherent mass of motorcycles, looks like crossing through a path of ants.
Streets were lined with modern shops. No shopping mals yet, but I was surprised to see a good number of furniture and kitchen equippment stores. Looks like HCMC's inhabitants, at least the richer ones, start to become modern also in terms of interieur design. And, oh I hadn't seen that for a very long time, KFC! One out near the airport, one later in the city. And across the street of the cafe I am sitting in right now is a Hamburger-chain shop called "Lotteria", which immitates a McDonald's store.
The hotel was a bit smaller than I expected, but as it now turns out: I will be staying there just one night, so I don't care. And that came as follows (I would consider anyone doing like I did as naive in the middle of the high tourist season…but as it looks like I was too lazy taking care of my travel arrangements):
My visa expires on 26-AUG, in just 4 days. So I need to leave Vietnam by then. I could have extended my visa earlier, but never saw the need. Cambodia is no longer an option. Maybe I am too careful not to enter it now with its Dengue Fever outbreak, but better safe than sorry. I have just checked with a capable-looking travel agency, in which I spent nearly an hour. But they couldn't find any available seats on flights in all what remains of August to Singapur, Kuala Lumpur, Bangkok, or even Hong Kong. Certainly also not on flights back to Germany, though a connection via Dubai wouldn't even be too expensive. Darn…I had to get out. I finally asked them for connections to Shanghai via Hong Kong or Guangzhou. (I still have a valid residence permit for China, though we no longer have that appartment, but nobody will check that out.) As said, no seats to Hong Kong, but there were seats to Guangzhou. They couldn't book me on a connecting flight to Shanghai, but then again could not book all the Chinese domestic airlines at all. I then had them reserve me a flight to Guangzhou. I would then get on from there somehow myself…
Then it occured to them that they could book China Air and China Southern Air and surprisingly found a direct flight by China Southern from HCMC to Shanghai, which I wasn't aware existed. And, surprise, surprise, there were seats on this flight! So we canceled Guangzhou (not a city worth visiting) and instead put me on the Shanghai flight. Only when I got the slip with the reservation confirmation I saw the departure time: 0130. Yes, 01:30am, in the morning of 24-AUG. Oops…well, I did not want to spend more than a day in HCMC anyway, and that will be tomorrow, 23-AUG. And at the end of that day I will fly out to Shanghai.
From there I hope to get on a cheap China Eastern Flight back to Frankfurt. Will mean to spend some days in Shanghai, but that I don't mind at all as I still have some friends there to meet and don't mind to be in a modern city again at all. Starbuck's calling! ;))
More on HCMC then tomorrow, stay tuned.
Today's Lesson: Plan flights in high season earlier.
Categories: Asia, Ho Chi Minh City
Originally Created: 08/22/2007 04:54:51 PM
Last Edited: 08/26/2007