After one month on the road again, starting off in Phnom Penh, Cambodia. To be honest, it took some self-conviction to leave the ease of life in Frankfurt, where I had not to work for the past month, know where to get everything, don't need to pack things every other day, can meet family, friends, and colleagues. But Asia, even South-East Asia, is larger than 'only' China and Vietnam. And so I boarded a Thai Airways flight to Bangkok, changed there to Phnom Penh, and here I am, back in the backpacker's life.
Which started off quite mixed 😉 The flights were uneventful, the new Bangkok Airport fantastic and changing flights easy, even with only one hour scheduled time inbetween. I even became witness how my backpack was loaded into the plane from Bangkok to Phnom Penh! Also arrival in Phnom Penh no hassle: We got the visa application form on the plane already, so it was readily filled out when arriving. No less than a dozen customs officers were awaiting the plane's arrival, so processing was quick. Luggage certainly there as well, and the taxi driver found the guesthouse directly.
That guesthouse, Woolly Rhino [sic!], is a place you please avoid if you ever make it to Phom Penh! I was probably too tired to notice and react immediately, but instead checked in and paid two days in advance. I can live with a small window-less room. Not uncommon in cheaper places. But after a nap and a shower (with a fantastic 7-speed shower head, the only great thing about this guesthouse) the water did not leave the floor (no separate bathtub in cheap rooms, that's OK), the washbasin's water dropped onto the floor, too, making the mess even messier. And when they started playing music in the downstairs restaurant at about noon I could hear and understand everything. Quite disappointed I left for a first stroll along the river promenade. On the way out I asked the reception ladies if they could help me with bus tickets to Siem Reap. But they couldn't, they only told me where to go. I then had to detour around the two men, who were sitting at the bar when I checked in. I had looked at their glasses right away, but am still convinced it was something non-alcoholic. Nonetheless, when now passing by they had spilled quite a bit onto the floor, probably a broken glass. And although one of them, who I learned a little later was the place's 'manager', tried to apologise for this yet another mess, he wasn't convincing as he simply was drunk.
Out on the street I was certainly immediately 'attacked' by Tuktuk drivers. One of them, who we will meet later again, said right away I probably should look for a 'real' hotel as the manager would be drunk every day. I shook him off as I did with all the others, wanted to have some time for myself to get accustomed again to a different world and to make up my mind. But that mind didn't need long to get made up: I walked up and down the long river promenade, checked my Lonely Planet, asked at the River Star Gueshouse, got a great room there (certainly for a bit more money, but 20 USD is kind of OK for the perfect location and big clean comfy room), returned to the Woolly Rhino, packed my stuff and went out. I asked to return me half of the money (I had used the room and it needed to be cleaned, so I had to pay for one day) and after a talk to the drunk manager got it. He certainly inquired my reasons of leaving and I told him, a westerner, probably British, directly: He drunk, room small, water in bathroom not disappearing, music to loud, the entire place messy. I was a bit afraid he would get angry, but instead he babbled thanks for the 'constructive criticism' and let me go.
Outside I met the same Tuktuk driver again and hired him. I needed to get used to do things the Asian way again. Not by myself. Let others solve my problems. And if a Tuktuk driver wants to make business…let him have his business. Five minutes later, on the way to my new guesthouse, I had the promise to get the bus ticket delivered the next morning, and had him hired for the tour out of town to the Killing Fields. He would certainly drive me around town all day. And, no, he doesn't want to have a single Riel for bringing me to the guesthouse. See you tomorrow. So simple can life be…things started to brighten up a bit.
The City of Phnom Penh
The photos shown here are the essence of two days. I sorted them by topic, though. On the first day, the day of my arrival at 9 in the morning, I didn't manage to visit much. I was too tired from the flights, on which I had rarely slept. After the change of guesthouses I visited the National Museum, found that both my camera batteries ran empty before heading for the Royal Palace and decided to skip it. Seems during the relaxed life back in Germany I forgot to charge the first battery after it run empty (at the Dortmund-Bremen soccer game, I remember now). Headed back to the Guesthouse to charge one battery at least a bit, had a nap during that time…then went for nearby Wat Phnom, one of the famous temples. Strolled through some streets and along a market (of which unfortunately all pictures are totally blurred and deleted, it was pitch-dark exactly by 6pm). Back to a restaurant across my guesthouse, which showed a movie on how Pol Pot (the Khmer Rouge leader) came to power and how their genocide took place. Unfortunately, I often dozed away, so I can't really relay any details…I had a last beer over my book at my guesthouse, dozed away again, and finally went to bed 😉 A long sleep later then next day could then start in the morning, when my Tuktuk driver picked me up as arranged the day before. And certainly had my bus ticket as promised.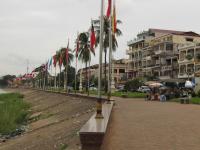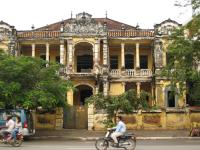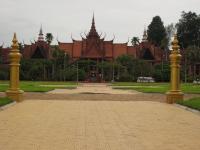 PP_20071004_115537.jpg: The river front. Actually…not so inspiring. The photo has more documentary purpose. The river is brownish-dirty. There is a promenade, good, but not much on it. Along the river are mostly hotels, guesthouses, restaurants, and cafes for travellers. I would have said, 'Westerners', if I would not have met quite a number of Chinese tourists! My guesthouse seems to be a local tip in China. And all over the tourist hot spots you find them, too. And not in large crowds, but two or four of them. That means: We are talking about Chinese individual tourism, a new level of development.
PP_20071004_133805.jpg: Some few old houses look like this: Old and tattered, but still authentic and glorious. But really…that's a very small minority.
PP_20071004_133831.jpg: The National Museum, which I visited as the Lonely Planet gave it quite a praise. But it did so also to Xi'An's Historical Museum, and I didn't like that either. Here you'll find a lot of original Khmer art. And no doubt it has a lot of historical relevance, but it's simply not my stuff, sorry. No photos allowed either, so you have to come and figure out yourself.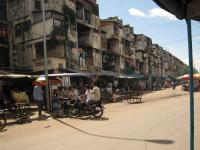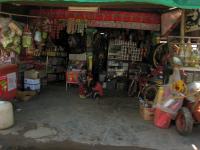 PP_20071005_100540.jpg: On the way out of town to the Killing Fields we passed by a lot of the parts of Phnom Penh tourists wouldn't visit. This is more like how the majority of Cambodians live in the city.
PP_20071005_112817.jpg: A road-side shop far out of Phnom Penh having basically everything.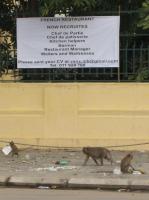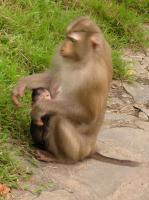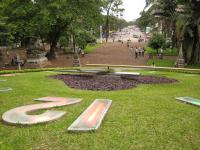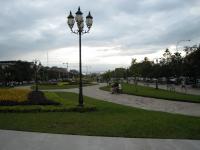 PP_20071004_171356.jpg: Are these monkeys applying for the jobs offered by that French restaurant??? Make as "Kitchen helpers". Seems they are quite good in dealing with left-ove foods 😉
PP_20071004_172124.jpg: A mother monkey nursing her baby. I was unaware that monkeys are part of Phnom Penh city, and aparently they were it only here closely around Wat Phnom.
PP_20071004_172056.jpg: The best I can show of Wat Phnom: A huge clock at the foot of the hill, atop which the pagoda is actually located. When reaching the top three security guards game towards and the smallest and youngest of them told me I had to pay him 1 US dollar if I want to stay there. I said I am fine with paying a dollar for visiting a tourist site, but I'd like to do it officially; if I would get a receipt in return? No, (certainly) not. And if I now walk around the pagoda and another security guard asks me again on the far side, I would have to pay again? No answer. Sorry guys…that doesn't work, says I and left. Two other western ladies, who had overheard the conversation, following me. No black money from us tonight, sorry. Would probably have been even more 'correct' to just ignore him and stay. But I didn't like any hassle with security guards on my first day in Cambodia. LP says in a totally different context: "Remember, the Cambodian police is the best police you can buy for money."
PP_20071004_173413.jpg: One of the park strips between avenues. I have seen two or three of such avenues. But that's all Phnom Penh has to offer when it comes to parks. Quite sad.
Streets and People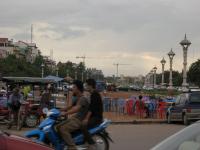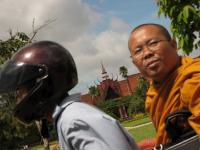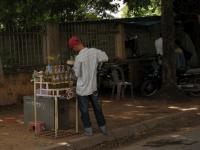 PP_20071004_170819.jpg: By coincidence the same avenue park in the back, but this picture is more about street life: Motor bikes (motos) all over. And the plastic chairs in the back belong to some of the unnumbered street food stalls all over the city.
PP_20071005_100237.jpg: A busy (business?) monk on a moto, the driver one of the few wearing a helmet. One of the National Museum's towers in the back. What a lucky hip shot when passing in my Tuktuk on the way out to the Killing Fields. Only slightly blurred, in the hurry the camera focused on the background. The picture is not edited at all…you gonna have some great pic if trying often enough.
PP_20071005_100735.jpg: Street side life: That guy is not offering a new Pepsi drink, despite the neatly arranged Pepsi glas bottles. He sells gasoline for the motos! I can only guess why it is sold in many places in glass bottles, but three reasons come to my mind: In glass you can check that the fuel is clean; the bottles have a normed volume; it can be offered where no filling stations are available. And there are a lot filling stations in Phnom Penh…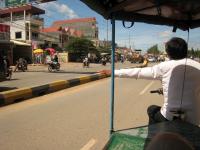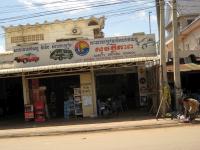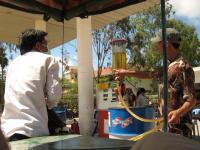 PP_20071005_101345.jpg: While riding on the Tuktuk: Really, believe it! My driver Ani is not waving a friend, no, he really holds out his hand to indicate that he wants to turn left! I haven't seen this gesture in all Asia before! Let me take this chance…
PP_20071005_101403.jpg: …and the chance of this picture of a "Safety Driving School" to praise the Phnom Penh traffic! Yes, really, I want to praise it for its safety! LP still describes it as "mad", about the same style they talk about Chinese and Vietnamese traffic. Even China is harmless once you've been to Hanoi or Saigon. But Phnom Penh is righteous safe compared to China/Vietnam: All traffic is fairly slow. All people are apparently looking ahead in all their actions. When the situation is no longer entirely clear, they slow down even more. And if a potentially dangerious situation occurs (like oncoming traffic half using our lane) then drivers even stop! A Tuktuk driver with passengers does that to an even greater extend than all the rest of the traffic (and here are a lot more cars than in Vietnam in addition to the motos), but basically all traffic behaves like that. Don't get me wrong…they don't obey traffic rules (if there are any), except maybe for traffic lights. But all they do wrong, they do at least slowly wrong, so that all other traffic can react and slow down properly.
Nonetheless, due to the many cars crossing a street is not much faster than in Vietnam. In Vietnam, there are only motos and you slowly cross the street and the motos speed around you. But cars cannot so easily divert around you, so you have to wait until there's enough space between cars before crossing one lane.
PP_20071005_102828.jpg: Ani preferred a proper filling station for stocking up on gas.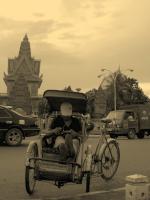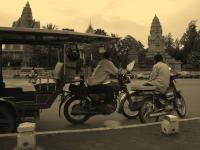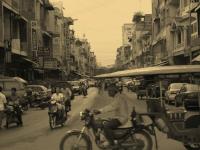 PP_20071005_163056.jpg: The antique section 😉 Well…I had to do something to this photo. The motif is great, but it came out too dark. After brightening up the photo the colors no longer matched. No problem…without colors it's still great 😉 That cyclo driver is playing with his iPod or Playstation or something like that…don't tell me you're poor and need all our tourist money… 😉
PP_20071005_163134.jpg: Just a few meters away these drivers (to the left a Tuktuk, to the right a moto) wait for customers. Just to have a nice little section I also applied the Sepia filter to this (and the next) photo. The colors here didn't exactly match from the very beginning.
PP_20071005_163807.jpg: And this one didn't have many colors at all: A more or less typical street in the back. I awaited the Tuktuk to have some kind of foreground.
Tuol Sleng Museum
OK…Phnom Penh, or in fact all Cambodia, is not all about fun. Let's get to the more serious part: The Khmer Rouge genocide in the early 1970s. Some historians and even a text somewhere in the Tuol Sleng Museum rated it worse than Hitler. In terms of numbers of people killed this might be arguable (according to all I know in terms of sheer number you would actually need to think of Mao'a Great Leap Forward, which costed millions farmers' lifes), but who wants to argue numbers… In terms of pain caused Pol Pot and his regime might indeed have quite a bit more cruel. They imprisoned people more or less randomly, interrogated and tortured them, and when they couldn't do anything further, they killed them in the Killing Fields. And that's just the better documented part of the story. Like with many such regimes there are quite good records made by the culprits themselves. The Third Reich had very detailed records, too. You couldn't but think they were proud of it.
While I visited the two places in the wrong order I present them here in the correct order: First Tuol Sleng. This was originally a school but turned into a prison by Khmer Rouger security. And it was a place of most cruel torture. After torture the prisoners were carried to the Killing Fields by the truck loads once or twice a month. Of about 20,000 prisoners just 7 survived.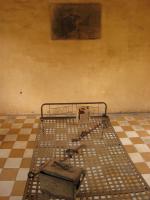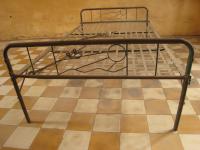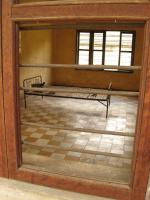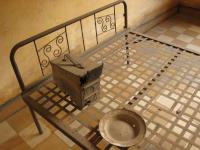 PP_20071005_115058.jpg: Block A. The detention cells of Tuol Sleng. As you can't imagine what happened there just from a more or less clean tiled floor and a metal camp bed with some weird things on it there are often original pictures of tortured prisoners still attached to the bed. While there is no text to it (you don't need one for understanding) I can only imagine that these pictures must have been made by the 'security' forces themselves. Such a metal box lies on nearly all remaining camp beds, but I am unable to tell what it was. The metal sticks have been used to tie up the prisoner's feet and hands.
PP_20071005_115301.jpg: What a sarcasm, which probably nobody noted: Sun and waves on this camp bed.
PP_20071005_115503.jpg: Locked up.
PP_20071005_115551.jpg: Details. Broken and dusty.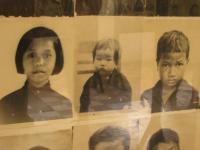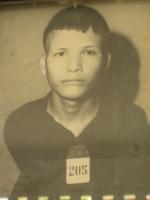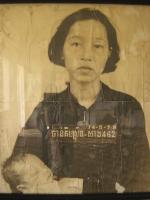 PP_20071005_120543.jpg: Block B. Originally also detention and interrogation cells. Now used to show pictures of prisoners as made by the security forces. Hundreds, maybe thousands. Many many panels full of faces. And while walking past you know: Every single one of them has been tortured cruelly and then killed. Instead of showing the number of pictures I picked some details. As it so turned out I picked women and children. While you should think that this would be an unfair small selection as you would think that most people kille here would be able men, farmers, soldiers and the like, the picture told a different story. It was about fifty-fifty.
PP_20071005_120556.jpg: But why should anyone think he needs to kill these kids???
PP_20071005_120457.jpg: He isn't as young as the others. But his eyes are poor fright: I know what's gonna happen to me.
PP_20071005_120921.jpg: A woman with baby. And she know, too.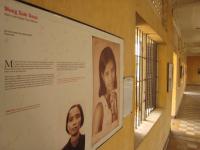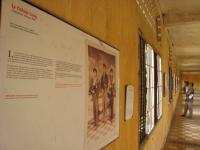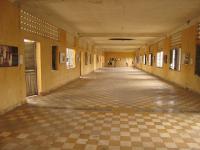 PP_20071005_121751.jpg: The thirs floor of block B houses an exhibition: Portraits of individuals, "The Basis" (mostly farmers), "The Security", "The Combatants", "The Cadres", so many different points of view. But the message is always the same: …
PP_20071005_122317.jpg :It is about how loved ones have been treated. Mostly their whereabouts are unknown to this day. Or so at least end the stories as told by the family. Then as the last paragraph, in red, comes what the records at Tuol Sleng say about the missed persons. And you keep thinking: Only 7 out of 20,000 survived once recorded here.
PP_20071005_123007.jpg: The setting makes it even more real: All so empty.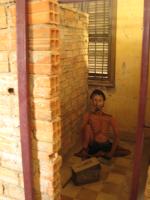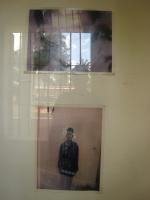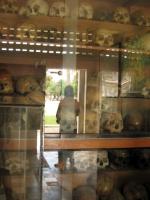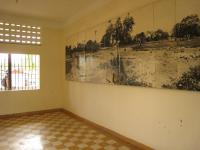 PP_20071005_123357.jpg: This guy shocked me! He suddenly appears deep inside a single-person cell. And you heart plummets down to the first floor or deeper. And it happened over and over again when flipping through the pictures, when you don't know what comes next. I'm pretty sure, if you would need to click through the picture one-by-one without having these thumbnails the same would happen to you. Sure, it's cardboard, but it's exactly the kind of thing you don't need when walking along these cells. Block C, if you are eager to get that experience.
PP_20071005_124207.jpg: This photo, though difficult to interpret, is actually art. Or even more: It is art made from art. Block D houses a number of photo exhibitions shown in recent years on the topic. One artist made exactly what I did: He made pictures of how the pictures where shown. With reflection and everything, sometimes intentionally showing shadows of people in the reflections. And he called it something like 'the ghosts'. Here I brought it to the next level: One reflection is fresh and shows a shadow of me. Others are part of the pictures shown on the white wall.
PP_20071005_124340.jpg: Turning away from the skulls. Seeking freedom. Call it whatever you want… Once I knew it's art I tried it myself to combine reality and reflections and got my chance barely a minute later. Remember these craniums…we get there again.
PP_20071005_124541.jpg: I refrain from showing details of what the Killing Fields looked like during excavation. This overview is all I wanna show here. The rest is left to your imagination.
Oh guys, I stood through the day without crying. Most did, but not all. But when writing it now all down in an upper-class cafe (where else could you get free wifi) with a fresh cold beer I cannot avoid my eyes turning wet while the band plays at the very same time "The Power of Love"…
Out of Town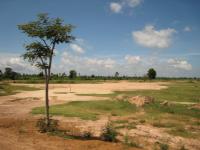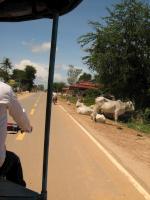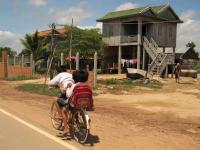 PP_20071005_103415.jpg: I could have arranged this section earlier and continued with the Killing Fields directly. But let's have a brief break. And I want to show you, why they were named "fields": Once out of the city proper you quickly enter large plains of nothing. There was room enough.
PP_20071005_111157.jpg: Life out there is farm life. And cows live on the streets. There are even cow warning signs, but darn…I was always to slow to get them on a photo.
PP_20071005_111234.jpg: Back from school, going home.
Killing Fields of Choeung Ek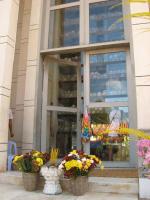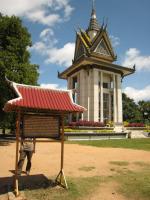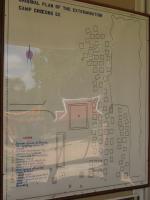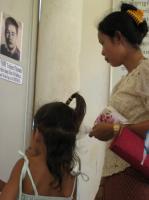 PP_20071005_104407.jpg: Remember the craniums? Look through the window. Here they are sorted by age and piled up. Piled up high. Very high. And that's just a selection. Excavated from the mass graves around. I didn't dare taking pictures inside, though it was not exactly forbidden. It's not what I would consider 'right'. Every visitor was asked to pay respect by burining an incense candle. And everybody did do this buddhist custom, although most weren't buddhists but westerners.
PP_20071005_104608.jpg: The stupa of craniums in the background. In the foreground you see one of the many signs telling the story of the place. In brief: The truck loads arrived about ten meters behind and killed immediately. If there were too many people, they were detained in a prison at this place. And then burried…
PP_20071005_104944.jpg: …in mass graves all around the place. Every rectangle on this map's left-hand side is a mass grave. Not a single, a mass grave, holding hundreds of people.
PP_20071005_105002.jpg: This place is not only for westerners. Also some Cambodians come here. Maybe the better-offs, but they do come. All-in-all I must say that Cambodia deals with this dark part of its history very well: Educative and devout.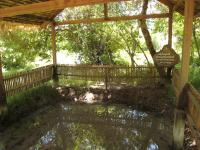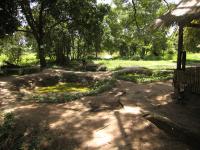 PP_20071005_105538.jpg: The actual mass graves are nowadays just holes in the ground, often full of rain water. Hard to imagine that dead people were digged out here. But photos would tell you if you don't believe (but only in the Tuol Sleng Museum, not here on site).
PP_20071005_110001.jpg: And there many holes in the ground. And that's only the excavated part. About half of it (denoted with a dotted area in the map above) still awaits excavation.
Rainy Lunch Break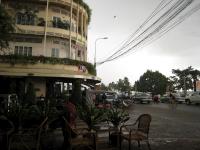 PP_20071005_133150.jpg: After learning the dark parts of Cambodian history (and due to the fact that the Palace still has its lunch break, while the Tuol Sleng Museum and the Killing Fields site now open without break, LP-readers notice!) I had lunch in town, just when thunderstorms passed through. Raining season hasn't yet finished.
PP_20071005_132900.jpg: Even here in Cambodia you'll find the Oktoberfest…and, as said, Chinese. Also notice the wire installation; same style as in Vietnam.
Royal Palace
Hm…the palace is actually quite great a place! I am surprised that in the end I selected so few pictures. Might be due to the bad weather, which makes it hard to see how shining that place actually is.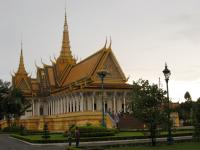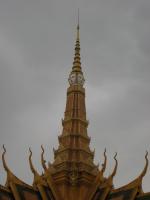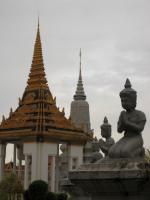 PP_20071005_151619.jpg: Preah Tineang Tevea Vinichhay, the Throne Hall. The main and most splendid building on the Royal Palace site. Unfortunately, taking photos is not allowed inside, where there is so much gold.
PP_20071005_153245.jpg: Detail of the large spire of the Throne Hall.
PP_20071005_154108.jpg: Praying female figures around the Mondapa of Satra and Tripitaka. Can't tell who that was or what a Mondapa is (looks like a temple, but LP says 'Library'), but that's where it was…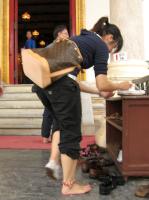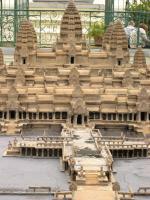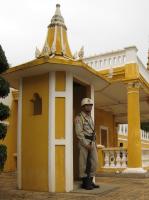 PP_20071005_155240.jpg: Also in the second-greatest building, the Temple of Emerald Buddha (or simply Silver Pagoda), was off-limits for photographers. And to be entered without shoes like the Throne Hall. Inside was a lot of silver on display, mostly presents to the kings.
PP_20071005_160554.jpg: Angkor Wat, or at least a model of it. That's what the main temple should have looked like before the site was abandoned and started falling apart. I will see soon what remains.
PP_20071005_161947.jpg: Two lonely soldiers guard an entry to the palace, which in my impression is closed anyway. But looks good.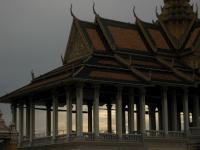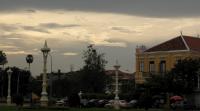 PP_20071005_162144.jpg: Some light beneath the clouds, shining here through the (closed) main palace entrance.
PP_20071005_162455.jpg: Just cool sky. Has nothing any longer to do with the actual palace, but I needed to put it somewhee and I made it shortly after the previous pic. So here you are.
Good, great. A large chapter finished. I will leave Phnom Penh tomorrow morning at 8:30 by bus for Siem Reap. There I reserved a place with perfect reviews, a room in villa a bit out of the way, but should be very nice a place with very caring owners, English photo enthusiasts. If their offerings are true, then I might have a chance to even get on a special guided tour to some less travelled but more scenic places around Angkor Wat. We'll see, we'll see…but they advertise to have Wifi in house, so updates should be not so big a deal. Ah ja…and a 'friend' of my Tuktuk driver Ani will pick me up from the bus stop and bring me wherever I want ;)) Ani was so fair to say, however, that his friend's English knowledge is a bit limited, so probably not suitable as a guide to Angkor Wat.
CU soon!
Today's Lesson: So many lessons these days…
Categories: AsiaPhnom Penh
Originally Created: 10/05/2007 01:30:03 PM
Last Edited: 10/05/2007