Today was mostly about getting from Phnom Penh to Siem Reap, which is the place where you stay for visiting the temples of Angkor. My Phnom Penh Tuktuk driver brought me to the bus company and bid me farewell. The bus was highly comfortable with all seats on the top floor and me sitting in the very front, so I could also watch straight ahead through the wind shield. And: I was surprisingly the only foreigner. Only five other locals on the bus. During lunch break a westerner arriving with a different bus company joined my table. Apparently the same service, about the same price, but bus full. Well…this time I probably made the better deal with this more local company.

The trip was more than the announced 5 hours…more like 6,5. But comfortable. And it gave me the chance to watch the Cambodian landscape, villages, and ways of doing farming.
On the Bus
The following pictures are taken from within the bus through the window, so please excuse the reflections. Consider it art 😉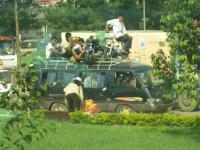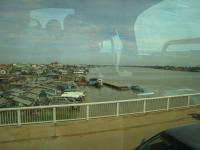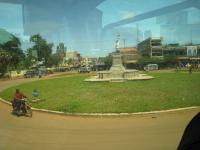 SR_20071006_084017.jpg: Others didn't travel as comfortable as I did.
SR_20071006_084754.jpg: Tonle Sap, the river reaching up to the big lake, where roughly Siem Reap is localted. Pretty brownish.
SR_20071006_102244.jpg: Big thing! The intersection of highway 6 (to Siem Reap) and 7 (to K…): A roundabout!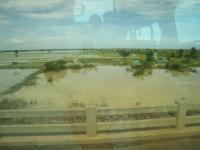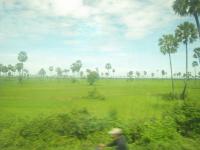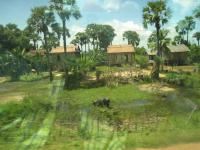 SR_20071006_095853.jpg: The landscape had basically three shapes all the 370 kilometers to Siem Reap: Water, …
SR_20071006_100603.jpg: …rice fields, …
SR_20071006_112917.jpg: …and some local stilt houses dotted along the highway, sometimes interrupted by small villages of a bit more modern style.
The water never really went away. Some ponds and pools are left absolutely everywhere. It's a wet country during rainy season.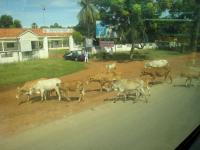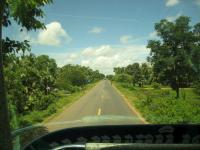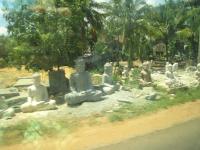 SR_20071006_100230.jpg: Whenever the bus driver hit the brakes heavily you could be sure he had made out some cattle along the highway.
SR_20071006_113016.jpg: The highway. Just two lanes, mostly in pretty good shape and even mostly with a dashed line in the middle to separate lanes. But that only applies to the two highways used by tourists. I saw one highway forking off (66 if I remember correctly), which immediately became a dirt road. We probably rarely made more than 80km/h, but the wheels literally never stopped except for lunch break.
SR_20071006_113615.jpg: Some businesses along the road. It was mostly about farming and brick burning. But here I catched a series of statue artists.
Arriving in Siem Reap
I arrived somewhere in Siem Reap…but was greeted by a friend of Ani, who he had informed upfront. He brought me on his moto to my guest house. Unfortunately only after some discussion, as he certainly tried to convince that the place is closed, or too far out of the way (the former I knew was not the case as I had a reservation confirmation from them, the latter I had chosen for good reasons), trying to sell me 'his' guest house. After I made clear that I would not do any further business with him if he keeps going cheating me our relationship changed. Later the evening I finally hired him for the next three days. Good to have a moto around for your service when trying to visit the temples.
After checking into my guest house (as remote as thought, looks like in the pictures, but the actual room slightly disappointed me…but then again: you are just sleeping there…right now I am sitting in the lobby with two other guests…hm…turned out that one of them, the more strange one in fact, seems to be the owner…could it be that foreigners running business in Cambodia are somehow the ones who failed in other countries? But don't get me wrong: he is a very kind and helpful guy, full of stories)…eh….again: After checking into my guest house my driver brought me back into the city. There's not too much to see in Siem Reap proper, but I wanted to get it done before digging into the Angkor temples.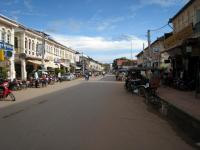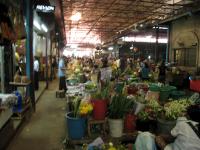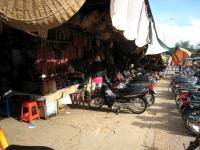 SR_20071006_152853.jpg: Street in Siem Reap proper, close to old market. Here are all the restauants and bars.
SR_20071006_153304.jpg: The Old Market. Well…it's an old market under a roof. Not much different from other old Asian markets under roofs…but I was in, which is more than I achieved in Phnom Penh.
SR_20071006_153450.jpg: Right outside the Old Market. Motos parking anywhere. Sun is still shining…right before a heavy downpour set in. Around that time I had thought I could do with a coffee now, and…whooops…the next building was a modern western-style coffee bar with all coffee drinks you could possibly think of. A good place to wait through the rain.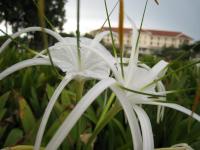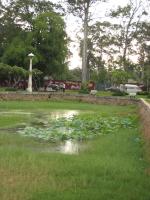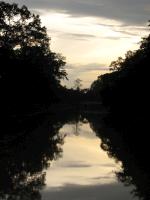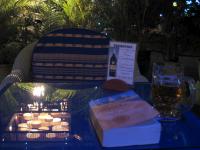 SR_20071006_165941.jpg: Pictures of flowers again…so bad it has gone… I had walked a bit around, but wasn't exactly amazed by Siem Reap. Many hotels of different levels of splendor. What I wanted to see (according to the map) were the "Royal Gardens". Well…this flower is part of it. And the building in the far back is yet another hotel, I believe the 'best' one: Grand Angkor Hotel.
SR_20071006_171039.jpg: The Lotus Garden, part of the Royal Gardens, were a complete disappointment. These are the only lotus plants I could find. Nothing blooming (although way out, during the bus trip, I saw many stalls selling lotus seeds), looks like needing a bit more care. Two other ponds were actual dried up.
SR_20071006_171606.jpg: Siem Reap River mirroring the last rain clouds.
Side story here: I am obviously standing on a bridge. The bridges are a bit small, so all of them are one-way streets. My moto driver once started to head for one in the wrong direction and I was thinking already ah yea, here goes my impression of good driving, but then suddenly he turned around, excused himself saying that he can't go over here but has to go one bridge further.
Now, standing on this bridge, a bicycle crossed the bridge the wrong way. Unfortunately, two police men were sitting on a bench overlooking the river on the bike's destination side of the bridge. One of the men waved the biker to come to him; the other police man didn't even bother looking up from his newspaper. I could certainly not understand the conversation, but read the hand signals…something about the bridge, directions, and wrong…in the end both the police man and the biker had a good small laugh, the biker waived good-bye and left. He will probably think twice before crossing a bridge the wrong way next time.
See, what I want to say is: All back in order: Driving is good in Cambodia. Comparably. And otherwise police reminds politely.
SR_20071006_181954.jpg: I started to like taking pictures with reflections…here the lights of the bar across the street mirroring in the glass of my table in a restaurant, where I had dinner and two beers, before my moto driver brought me back to my guest house.
Tomorrow I have to get up early: We will start at 8am. There are many temples in Angkor and a lot of them worth seeing. I was told that foot massage is a very well running business here in Siem Reap 😉
Today's Lesson: Arranging things locally is the way it works.
Categories: Asia, Siem Reap
Originally Created: 10/06/2007 02:48:42 PM
Last Edited: 10/06/2007