Today (09-OCT) was the day of long motorcycle rides. There are two sites, which are a bit out of the way, but luckily in the same direction. As a matter of fact, when you drive out to Kbal Spean for the underwater carvings you pass by Banteay Srei, a temple known for its unique stone carvings. So the day is all about carvings 😉
Kbal Spean's Underwater Carvings
It was about 1:20h out to this site. And all the time without stop on the back of a moto. I was very happy when I could finally dismount the bike!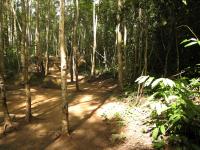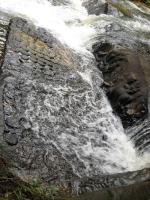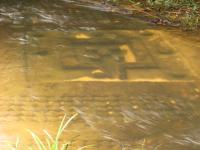 SR_20071009_092934.jpg: To get to the actual river you have to walk some half an hour through jungle on well trotted paths. (And don't stray off: Land mine alert!) Quite lush and relaxing. Not many people there when I arrived. The only few travellers I saw at first were all Chinese. One was saying that, well…the carvings aren't worth all the long ride.
SR_20071009_100322.jpg: While I not normally agree with Chinese on the grandeur of a tourist site in this case I did: It wasn't that spectacular. There were some carvings on stones, over which a river flows. Well…in the dry season there is probably not much of a river and then it's simple to create these carvings, knowing from various temples how advanced the Khmer were in terms of stone carvings.
SR_20071009_101411.jpg: But it is a religously relevant site. And this symbol reminds me of some arrangements in temples.
SR_20071009_101512.jpg: My 'guide' out there 😉 Actually a cleaning worker as denoted by its light-green shirt. ('Real' guides wear dark-yellow shirts.) He happened to stand at a crossing of ways without proper sign-posting and I asked for the way. He showed me and then followed me. While I was first reluctant to accept his 'guidance' I later had to: After seeing the first few stones I returned the same way. He called after me and showed me a lot more (including the one of the previous picture), also some small ones, which can easily be missed, and the waterfall (see below). I gave him 5,000 Riel, which is a bit more than a dollar. Good money for half an hour work.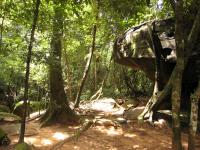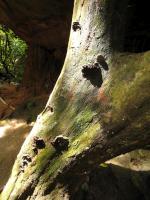 SR_20071009_102017.jpg: The waterfall. So lala spectacular.
SR_20071009_102721.jpg: I found these huge stone tables (or whatever it is) more fascinating as you see on the right-hand side of this picture.
SR_20071009_102740.jpg: Close-up of some fungus on a tree in the sun light.
At the Roadside
Going by moto (instead of by car) had one or the other advantage: The roads were partly bad and a moto quicker than a car in these places (but probably not on the total distance). And you were closer to the surroundings, which made taking pictures a lot simpler. I was also quite unusual a sight for the locals as not many foreigners ride on motos any longer since the Tuktuks took off in Siem Reap. But Tuktuks had a bit trouble on these roads, though some very few did make it.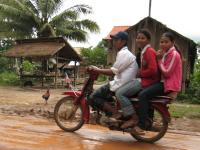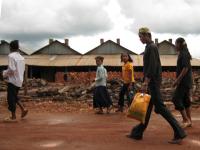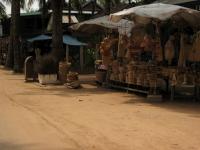 SR_20071009_112933.jpg: This is how local transport works in Cambodia. 'My' moto didn't look much different, just black and loaded with two persons only.
SR_20071009_113349.jpg: Other locals in front of a brick burning facility.
SR_20071009_131125.jpg: Roadside stalls. These were already fairly near to Angkor Wat. So I am in fact not sure if the offerings were meant to be souvenirs or daily use products.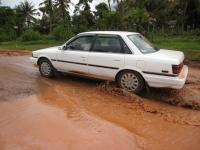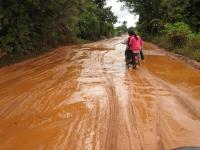 SR_20071009_113223.jpg: See why sometimes a car doesn't make too much of a sense? 😉
SR_20071009_113833.jpg: But to do the street justice: These conditions were the worst encountered and lasted only for a few hundred meters. Sure, there were smaller pot holes all over, but in general driving was fairly smooth. It didn't help, though, that while visiting the underwater carvings it had rained a bit onto the previously dusty dry roads.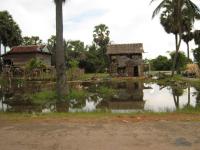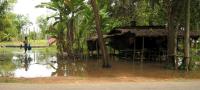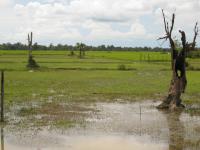 SR_20071009_125725.jpg: Houses, or better: huts were partly very simple out on the land.
SR_20071009_130000.jpg: These examples are more towards the lower end of the scale. But generally I would not like living there. Having that said: I saw two signs of western families living there amongst the local population in such huts (the average type though, which is a bit bigger). They had signs at the entrance reading something like "American W… family", unfortunately I forgot the name and when passing by again my camera refused to take the picture. I wonder what these western families try to achieve. If they would like to live truly local, then they would not point out with big signs that they are different. And if they do? Do they think they help the local population by their activity? To me it looks mostly like the ultimate adventure: Live like Cambodians. But it's probably not the real thing: They likely still have their US passport and can go back if they want. It is not so ultimately unchangeable like for the locals. I don't understand it…
SR_20071009_131015.jpg: If the view is not blocked by huts then the landscape is just flat and wet: Rice paddies wherever you look.
Banteay Srei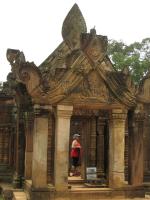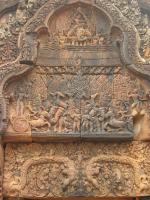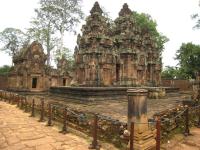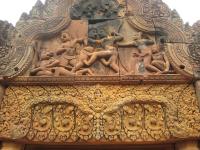 SR_20071009_115402.jpg: Bantey Srei is renowned for its stone carvings. But I have selected this picture also as documentation for what kind of travellers nowadays make it to Cambodia. This lady even requires a walking stick to support herself.
SR_20071009_115709.jpg: The carvings as such were indeed stunning.
SR_20071009_120305.jpg: This photo required patience. Not because it is so great. But because there aren't any people on it. You need to be there in the heat of noon and still wait a long long time until all the carving admirers are by chance gone around the corner.
SR_20071009_120457.jpg: Cool carvings, no doubt. Especially pay attention to the lower part: Seen the little buddha in the top center?
But there were people who took 10 shots for every one photo I took. Not changing the camera settings they took picture after picture only slightly moving the camera around this truly magnificient carving. And the wife points out details of the size of a thumbnail asking "Have you seen this? And that?" And more and more clicks, clicks… Don't want to know how long they need to sort out their photos.
Angkor Wat again
I had ended all the temple program I wanted to do at this noon. That gave me time to return to Angkor Wat once more. The weather was better, so I hoped to make some better photos of this greatest of all temples. Well…it didn't succeed for the outer part of the temple. But inside I indeed found some nice shots: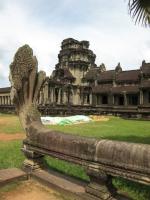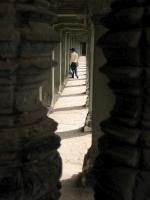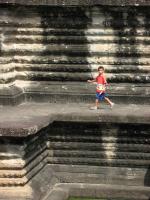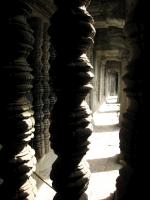 SR_20071009_133702.jpg: Standing at the main entrance looking left.
SR_20071009_134958.jpg: We had a similar shot two days ago already. But I'm still proud of the motif. Where's the minor difference? 😉
SR_20071009_135159.jpg: The kind of pictures you need luck for: This boy in red was walking quickly along an inner courtyard. Nice color spot on an otherwise strictly regular backdrop. And he even kind of smiles, though I doubt that he realized becoming the center of a photo.
SR_20071009_135348.jpg: Another variation of the previous motif, looking through the windows. This time playing differently with the sun.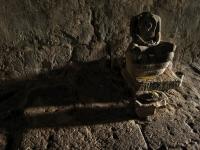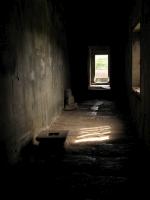 SR_20071009_140138.jpg: Probably one of my best pictures of Angkor (check out the large version!). This small buddha is in no way important. A security guard pointed it out to me, "Pray Buddha!" he said handing me an incense stick. I did as required and while doing my three bows I thought about how to catch this cool hard light, coming in through a small aisle from the right. It was very dark and I had to experiment a bit, finally holding my small tripod against the wall of the other side of the aisle and letting the camera do the 1 second exposure with a 2 second automatic delay. All cracks and holes are perfectly visible in the harsh light, the shape of the headless buddha can be guessed with a bit of imagination.
SR_20071009_141546.jpg: Another play with light: The sun falling through a window on one of these small aisles. I believe it happened to be on the same aisle like the previous buddha picture, but the other side of the temple. Due to the inability to construct big archs all ways are quite narrow.
Peace of Angkor
No, that's not yet another temple. It's the guesthouse where I stayed in Siem Reap. It is a bit out of the way, that's why it's named Peace of Angkor. And very well suited if you wanted to relax a bit after a long day out at the temples.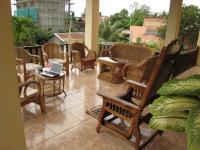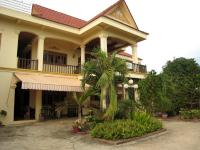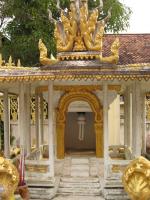 SR_20071007_164644.jpg: Balconly above the main entrance. The WLAN router is bound to the column on the right hand side…perfect reception ;))
SR_20071009_155049.jpg: The main entrance. Looks like on their web page.
SR_20071009_155133.jpg: Every house in Asia has a house altar, also Peace of Angkor (though English run). Watch the type of 'candle' here! 🙂
So…I'm sitting at the magnificient International Airport of Siem Reap, checked-in already, enjoying a very good large cappucchino (Cafe at the International Departure Hall), waiting for time to pass. But I better get through passport control now. CU later in Bangkok!
Hm…extremely efficient. I was through in a matter of less than five minutes as I was quick enough to short cut a Chinese tour group. Enough time to put the final touches to the document.
Time enough also to tell the world that my moto driver, who drove me around all the time in Siem Reap, dropped me today. I paid him yesterday already so that I don't have to haggle over the price at the airport, potentially under time pressure. But he was supposed to pick me up from the villa at 11am. By 11:20 he was still not there although he usually is 10 minutes early. Well…I had the guesthouse organize for another Tuktuk, which I certainly had to pay upon arrival at the airport. Grrrr.
CU in Bangkok!
Update: I am already in Bangkok. This is replicated from a Starbucks Coffee (well….where else ;)) at Siam Square. A part of Bangkok I didn't see last time in 2004. Super-modern high-rises. All top brands available, upper class department stores. All that Shanghai-look-&-feel available, inclusive young ladies running around in improbable modern dresses, which they potentially think are chic. What a contrast to Cambodia.
And, yes, there are good quality rain jackets available, even original North Face, if I want. It's just…the also cost the western prices 😛
Today's Lesson: Go to Angkor Wat twice or more.
Categories: Asia, Angkor
Originally Created: 10/10/2007 05:18:30 AM
Last Edited: 10/10/2007