Ko Samui, one of Thailand's most famous beach islands. And we are there! And in the beginning we even had a bit of luck with the weather. But as I am writing this it is actually a tiny bit chilly…see the next article.

Arrival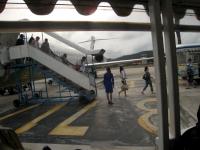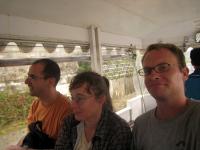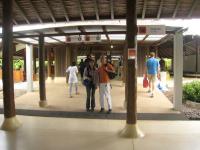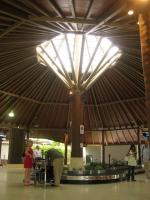 KS_20071027_164322.jpg: We arrived with Bangkok Air from Bangkok on Ko Samui International Airport. No gag…that airport does have international flights! And if I understood signs and procedures correctly, then you can actually arrive in Bangkok with any international flight, but transfer directly to Ko Samui (and some of the other islands) with a domestic flight, but do your immigration procedures and luggage customs clearance only in your destination, Ko Samui (or some of the other islands). All catering for the international tourists trying to get as easy as possible into the sun.
You see passangers here disembark the plane right onto the airfield, where we are picked up..
KS_20071027_164343.jpg: …by some small open car to be brought to…
KS_20071027_164548.jpg: …the arrival hall, which here welcomes Zhang Bing and Rafael.
KS_20071027_164628.jpg: That is an fairly open wooden structure, which might protect you from rain, but otherwise is open all around.
All very efficient. In a matter of no time we were faced with the usual transportation problem: How to get to our 'resort', Utopia Bungalows? There was no pick-up service for us. And no regular taxis either. Instead transportation companies tried to attract customers with either sedan cars or with vans for more people for about 200 Baht (4,50 EUR) per person. That sounded all quite expensive…but we didn't find any other options. We were finally introduced to another couple going pretty exactly the same direction and after me complaining once more the price per person suddenly dropped to 150 Baht per person with the van now having 6 people (the four of us plus the other couple) and we could not but accept. The ride proved to be fairly long, nearly half an hour, over partly fairly bad streets, which made us think that the island isn't exactly suited for western tourists. But today (3 days after arrival) we found the reason: The van has taken some 'short-cuts' from the airport to Lamai but not the best possible roads.
Arriving at Utopia Bungalows we were greeted by the German Rafael had talked to on the phone earlier for making the reservations (which proved unnecessary…it's low season). The bungalows are simple, but nice in style, as much as you can expect for the fairly low rate of 1.200 Baht (26,60 EUR) per day and bungalow. We had two of them, one for the ladies, one for the gents. The entire bungalow site is quite narrow, no more than 50 meters, squeezed in between other such sites or resorts. But it has all you need: A restaurant and direct access to the beach 😉
A Long Night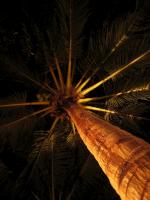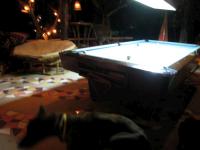 KS_20071027_190940.jpg: Our roof during dinner time. I don't happen to have any picture of the fantastic dinner we were served in the Utopia restaurant. As simple as the place looks, the food is superb! The waiter, as we figured out next day, also seems to be responsible for the market shopping and menu, though he is not the chef. Very very kind service, the largest tiger prawns I have ever seen, and still tasty! Basically everything perfect…promised to become a nice time here.
KS_20071028_005557.jpg: This photo is about as blurred as our senses were by that time…and the night still long.
After dinner Zhang Bing and Rafael went down the beach one way, Petra and I the other. We just strolled along the water line, had a beer at some place far down the beach. Returned, but by the time reaching Utopia felt we could go for another beer. Unfortunately, Utopia had closed for the night. So we headed back to a bar a bit closer. First we just had a beer sitting on the beach. Then it started to rain at about midnight. We moved in and watched people playing Pool Billard. After a talk to the owner (and one or two more beers) I understood the concept and was invited to play, too. The first game I looked pretty good, four balls ahead of the owner, but then mistakenly pocketed the black ball a few seconds ahead of time… The second game I lost in a matter of no time (I believe I didn't pocket any single ball) against a player Petra diagnosed with a broken heart…thus he was desperate and played like that 😉
Getting home we went into one direction, until somebody thought we are too far. Very few lights on now…roughly 1:30am…we weren't sure if we just walked past home. It shouldn't have been far. After so much back and forth we started to feel thirsty again, heard some music, walked up into one of the many (also dark) resorts, came across two people with so few English knowledge that they could not help us at all, it continued to rain, we just walked inlands heading for the music, couldn't get anywhere far, came across some toilets and used them (you never know when you find the next), walked back to the beach, it rained even heavier, we sat down in the chairs of that dark and deserted resort, at some point in time moved on, and came across something we were absolutely sure we had not seen before…we were too far again, turned around and walked down all the beach once more…we finally returned to Utopia at around 03:30am. I can say because I have a photo out of the massage parlour, where we sat down for a rest of the Thai Herbal Whisky we had brought from Bangkok. Bed time somwhen around 4am or so…well deserved.
A Day at the Beach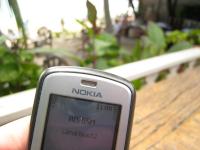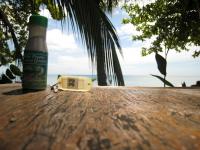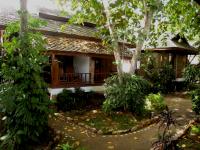 KS_20071028_110026.jpg: Lamai Beach2: the name of the mobile phone node I am connected to tells you were we are!
KS_20071028_111143.jpg: My breakfast table. I was a little late with breakfast given the long night before, but early enough for breakfast buffet until 11. This picture is made after breakfast with the table already cleared 😉
KS_20071028_111826.jpg: That's what the ladies' bungalow looks like.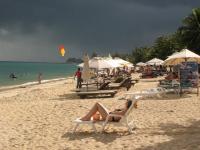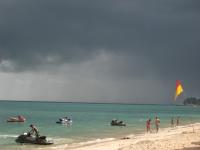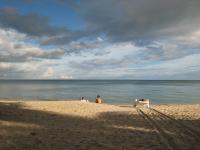 KS_20071028_152505.jpg: While Rafael and Zhang Bing did some heavy duty organized entertainment (like elephant and water buffalo riding, waterfall sightseeing, and the like) we just indulged into a heavy duty beach day, as long as the weather allows.
KS_20071028_152543.jpg: These clouds will rain a bit later, enough to drive away all the upper class tourists around us into the safe shelter of their resorts. But our mind, still working slow-motion, couldn't decide quickly enough. So we just endured a few rain drops and stayed were we were.
KS_20071028_163554.jpg: And a few minutes later weather was fine again…but it had cooled down, so that Petra dragged her beach chair into the sun, allowing for this fantastic shot. The other two guys are actually deaf and dumb, talking in sign language, but certainly so quickly that I couldn't get a 'great' gesture.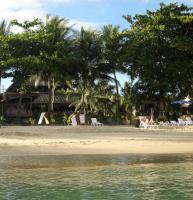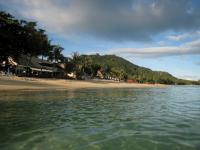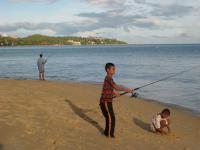 KS_20071028_165035.jpg: Utopia seen from the water right in front of it.
KS_20071028_165059.jpg: Same position, turned a bit right.
KS_20071028_165812.jpg: Fishing at the beach seems quite popular here…though I haven't seen anyone actually catching anything.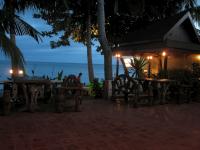 KS_20071028_180926.jpg: Utopia restaurant after yet another superb dinner. We had to move in after some drizzles of rain fell. Other than that weather was very fine so far. So far…
Today's Lesson: Make sure you know your place at the beach.
Categories: AsiaKo Samui
Originally Created: 10/30/2007 12:17:19 PM
Last Edited: 11/02/2007