Monday, 29-OCT
There are apparently contradicting information about the end of the raining season. Or somebody forgot to inform the weather. Whatever the problem was: It rained. More or less intensive basically all day. After some back and forth we decided to rent a car to get around the island. While I would originally have preferred a smaller sedan car just because driving in a foreign country with left-sided traffic is enough of a change, the agent as well as the owner of Utopia strongly suggested to take an off-roader. Lucky we listened to them…we needed it, despite not getting off any road.
Driving on the left side wasn't so difficult at all as I had experienced a couple of years ago in Scotland, sitting on the right-hand side makes it easier. And just following the traffic, too. I was surprised about how civilized driving is here. Lots of blinker-setting in all kind of situations, letting faster cars pass, and generally fairly slow.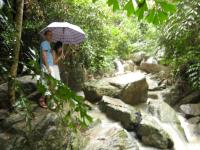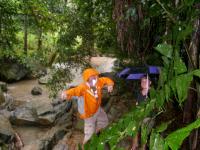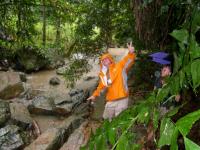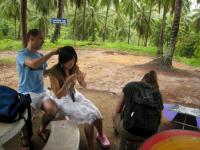 KS_20071029_120825.jpg: Ko Samui, despite being an island, has lots of waterfalls, according to the map. Getting there wasn't exactly difficult if you happen to find the signs, which point the right way. As some streets are quite steep an off-roader pays for the first time. On the other hand…
KS_20071029_121459_Rafael.jpg: …visiting waterfalls somewhere deep in the forest in the rain…
KS_20071029_121507_Rafael.jpg: …is so much fun… Seeing two of them was one more than I needed.
KS_20071029_121453.jpg: Looks like searching for fleas, isn't it? 😉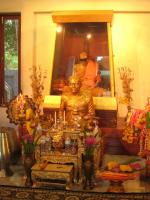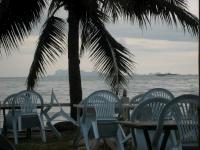 KS_20071029_131908.jpg: Another island attraction: The Mummified Monk. Looks quite scary with the sun glasses, isn't it?
KS_20071029_141351.jpg: We were unable to find the magic gardens in three attempts. That street simply didn't exist…at some point in time we dropped into a restaurant for lunch, that's about here with probably nice views given better weather.
KS_20071029_155204.jpg: The second reason why an off-roader made sense: With all the rain the streets were flooded. 80% of all cars are off-roaders here.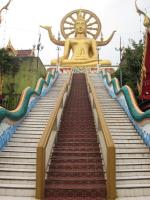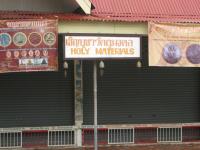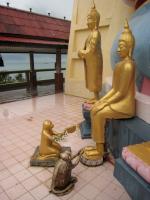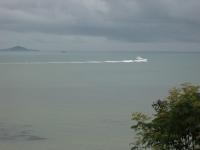 KS_20071029_161031.jpg: The Big Bhudda. It is comparably big.
KS_20071029_160938.jpg: "Holy Materials", I liked that sign. You can also get them a little later at Wat Plai Laem. Due to the poor weather and low season noone was selling any stuff at any of the sites.
KS_20071029_161357.jpg: Cute little monkeys offering their prayers to figures in the Big Bhudda's back.
KS_20071029_161659.jpg: Views across Big Bhudda Beach might be great…given better weather.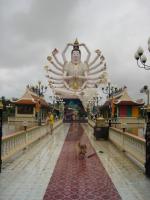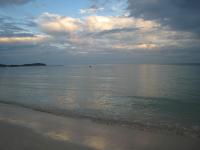 KS_20071029_164333.jpg: We ran a bit out of ideas where to go next…when we passed by yet another temple, Wat Plai Laem. But that one turned out to look a bit like Disney World. All very play and colorful from the outside.
KS_20071029_174501.jpg: The last thing to do then was to pay Chaweng a visit, the most famous (and most touristy/crowded) town/beach of Ko Samui. We had chosen Lamai for it is said to be beautiful and not as crowded as Chaweng. Well…it turned out that at this time of the year nothing is crowded, but Chaweng was indeed more touristy. The beach had finer sand, but was a bit more dirty, probably due to the fact the parts of the beach are within a deep bay.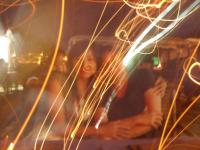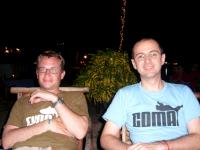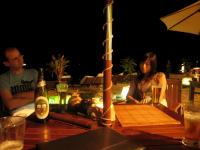 KS_20071029_201403_Rafael.jpg: Chaweng Beach also holds the usual array of restaurants and bars on the beach. We picked one for dinner, which was quite OK, but not as great as back 'home' at Utopia. Both the shrimps and the beef a bit on the dry side. We used the time for some funny pics…this one here being a mistake. Rafael got surprised by the camera triggering after more than a second or so, but apprantly it got the intended motive (Zhang Bing and Petra) as a back drop and blurred stripes of some light over the remaining exposure time. Has something to it, doesn't it? We tried to contiously created even nicer version, but failed completely.
KS_20071029_201640_Rafael.jpg: The photo of Rafael an me is not so artistic, looks more like "Eh…that's a bright flash!"
Ey, Rafael, just now only notice that we were both wearing our make-fun-of-Puma t-shirts: Rafael with "Coma" (bought just a few days ago), me with "Tuna" (bought three years ago).
KS_20071029_214725.jpg: As I still had to drive us home I insisted on having some drinks on our beach. Here we are at a table of the next resort, Jasmine, looking at a lot of picture on my laptop.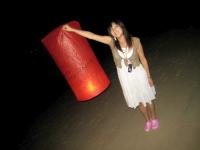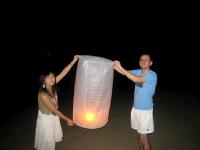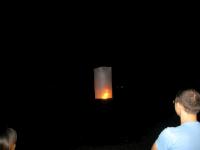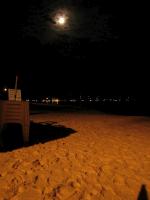 KS_20071029_215756.jpg: Zhang Bing's and Rafael's last evening on Ko Samui: No they 'had' to fly the Lucky Baloons, which are offered on the beach.
KS_20071029_220151.jpg: Zhang Bing told us that their original intention is to carry wishes up into the sky, though only few tourists here seem to care. But both Zhang Bing and Rafael wrote a lot of wishes on their respective baloons.
KS_20071029_220247.jpg: It is in principle a hot air baloon and will fly as long as the fire burns, far far out of side over the water.
KS_20071029_231053.jpg: No, this is not a far away lucky baloon, but the moon over beach illuminated by the strong spot lights of the resorts, making it look a bit like moonscape.
Tuesday, 30-OCT
We still had the rental car until 11:30am and we used it to bring Rafael and Zhang Bing to the airport. Afterwards Petra and I just enjoyed another easy day at the beach as there were quite long intervals of sun or at least no rain.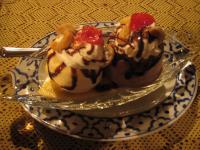 KS_20071030_201148.jpg: In the end it did rain a bit as we had to move under a roof for dinner. This is my favorite Utopia dessert, Banana Split, which I ordered basically every day. The waiter started to know that…
Gap in the Time Continuum
KS_20071031_003412.jpg: Petra likes to have a walk in the beach after dinner, and why not? Helps digestion and is nice anyway. If you find a good bar you can even sit down for a beer, as we knew already from our first night. Here we have the Chillion Beach Lounge, the place with the Pool Billard table where we had been during out first night out, too. I lost another game of Pool Billard against the locals.
It must have been there that I decided to help science. Some of you might have had experiences of gaps in the time (and sometimes even space) continuum. It does not seem to happen to physicist, which might be the reason for its comparably poor scientific analysis. Previous experience suggests the phenomenon is attracted by the condensed presence of alcohol. One way of achieving such a presence is to drink alcohol.
KS_20071031_021302.jpg: When beer did not lead to the desired effect we moved on along the beach and were attracted by these locals playing with fire. It's torches at the end of chains, soaked in petroleum.
KS_20071031_021325.jpg: With a long exposure time you achieve nice photo effects.
Under further intake of beer I still remember to explain other Germans at a table on the beach how to travel China. And then, probably pushed by Thai Whiskey, the desired effect took place: The Gap in the Time Continuum! The next I know is that people tried to help me getting back on my feet and home. (Which explains why future time travellers sit with seatbelts fastened like pictured in Star Trek IV.) I must have been a bit distracted by me explaining China, so unfortunately I couldn't quite enjoy the effect and it was apparently only a small gap anyway.
Given the relatively low addition to scientific analysis the aftereffects were disproportionately larger and required an extended bed time. Not thinking that solid food would do any good I heroically skipped breakfast and started into the day with a swim in the sea, a strong coffee, and a noodle soup at around 1pm. Followed by another one hour oil massage on the beach.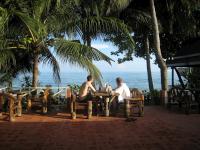 KS_20071031_163911.jpg: It became another easy beach day, followed by a very good last dinner in our preferred Utopia restaurant. The staff even sent somebody to the market to get me a fresh tiger prawn! The only downside was that a group of young travellers watched one movie on DVD after the other on the large TV screen in the restaurant, which made the surroundings quite noisy. It got worse when due to torrental rains we also had to move in under the roof. The third movie they chose was one I kind of like, as weird as it is, The Big Lebowski. As we had not much of a choice anyway we watched that movie, too. A last stroll along the beach (without any drinking) endend our stay here at Ko Samui Lamai Beach.
I am now writing these last lines in Utopia's restaurant, accompanied by birds singing on the restaurant's fence (with quite a range of songs, sometimes sounding like R2D2), waiting away the time until our taxi to the airport will pick us up in 45 minutes.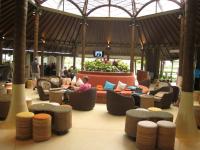 KS_20071101_135502.jpg: The Ko Samui Airport Chill-Out Zone "Gate 1" including a Bangkok Airways Lounge set of offerings like coffee, juices, cakes, and other snacks. For free. Also free internet at computers, but no Wi-Fi to connect my own laptop.
Next stop: Phuket.
Today's Lesson: Off-roader does make sense.