Phuket, probably the most popular name amongst Thai vacation sites. But in short: I liked Ko Samui a lot better for beach vacation. Diving is a different story…see next article! 😉
We had avoided the most popular place, Patong, and probably for good reasons. When driving through it was busy, noisy, touristy.
01-NOV, Arrival
On the airport we had found comparably cheap transportation, 180 Baht per person. The van ride included a stop-over in the associated travel agency shop. But when firmly stating that we had a reserved bungalow (which we in fact had not…) we weren't bothered no more and in the end got dropped of at the place I named in Kata, Flamingo, which we firstly wanted to have a look at. Getting there did take time and we arrived in darkness. The bungalow was offered for just 700 Baht (compare: 1.200 Baht in Ko Samui, on the beach), but was not on the beach. In fact, there aren't (m)any beach side bungalows in Phuket at all. Despite it being cheap we certainly made our "oh…is that expansive" face. And we had to learn they only have double beds, but no twins. More disappointment. And when the guy then asked me how much I would pay I knew bargaining is open and the place by no means sold out. Down to 500 Baht in no time if we took two bungalows. We had a look at them. They aren't exactly great, lowest acceptable standard (especially the bathroom needs thorough cleaning, it isn't dirty, but badly maintained), but big and located on a hill with views across the beaches.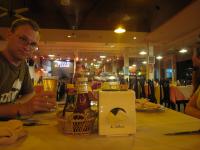 PK_20071101_192127.jpg: The Flamingo restaurant. In return for the cheap bungalows we had dinner in the downstairs restaurant, which was well appreciated by the very friendly owners/waiters. We were the first ones, but once the first one sits more people come in. Never full, but in the end the restaurant had pretty good business. And again: Good food!
The evening beach stroll led along Kaka Yai Beach, which is dominated by Club Med. Huge place… Sand very soft, beach so lala long, and very flat. The waves couldn't decide where to stop flowing. But there weren't many restaurants/bars along the beach, completely unlike Ko Samui. In one of the few places we had a final beer and retired.
02-NOV, Across Phuket Island
Here on Phuket I definitely wanted to go scuba diving. As I could organise for diving only today I had to go tomorrow. As I also have to act as the driver when renting a car that had to happen then today. Thus, on our first day we actually did the cruise around the island in a rented car, despite the (in the beginning) perfectly sunny beach weather.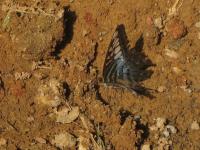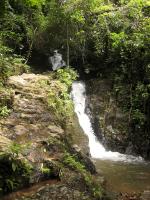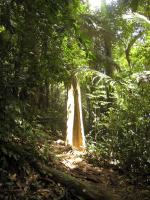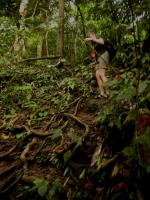 PK_20071102_123412.jpg: The first stop was Khao Phra Taew Royal Wildlife & Forest Reserve, which asked for 200 Baht (4,50 EUR) entrance fee per person. Given this price the sights to see weren't good value for money. Here a bit of wildlife: A butterfly, which was good sized in reality.
PK_20071102_123710.jpg: The main attraction, Ton Sai Waterfall, was as great as the ones on Ko Samui: Not worth the long ride.
PK_20071102_125900.jpg: In an attempt of educating visitors the park had set up a Nature Trail with a couple of 'stations', which explain some aspects of rain forests in brief. That was a nice idea and led through a dirt track through the forest. Finding the beginning is the real challenge…as the main way up to the waterfall was under construction it wasn't easy to cross to the left for the path's beginning. But after some back and forth we found it and followed it for the first 6 or so stations, but the got the idea and took the last sign-posted chance for a short-cut…
PK_20071102_130858.jpg: ….back to the exit down a steep path and balancing over a fallen tree.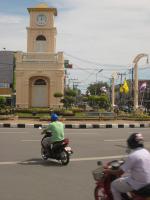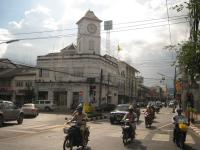 PK_20071102_140329.jpg: Next stop was Phuket Town, here a monument in a roundabout. We are still trying to figure out if there is anything great about this place. And if so…where.
PK_20071102_150248.jpg: This most likely is the Standard Chartered Bank building, according to Lonely Planet "the most magnificient example" of the Sino-Portuguese architecture. Hard to believe.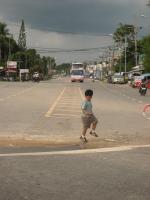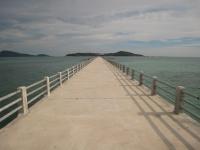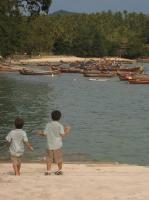 PK_20071102_154428.jpg: On the way down to the south-most cap of Phuket we came across this place, where the four lane street (4021) just ends…
PK_20071102_154300.jpg: …and this pier leads into the sea. Has quite great views over a number of surrounding smaller islands.
PK_20071102_154608.jpg: Two youngsters (one of them the same as in the previous picture) looking down on local longtail boats used for fishing and passenger transport to the islands.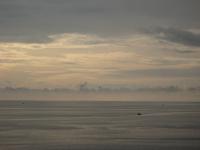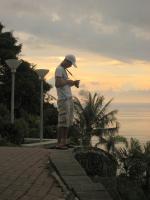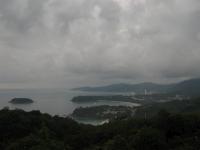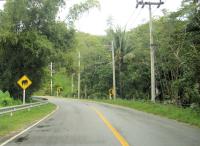 PK_20071102_161356.jpg: Now we are at this south-most tip of the island, Laem Phromthep, looking across the Andaman Sea (yes…this is where the Taifun had come from). The place is very popular with coach tours for sunset. We were a bit early for that, but vistas were still great. There's also a small temple of a Hindu god surrounding by donated elephants, a statue of a prince who was a great navy officer and later head of the Navy Ministry, and last but not least a lighthouse.
PK_20071102_165218.jpg: Yet another view point on the way home…
PK_20071102_165316.jpg: …from where we had good views on 'our' Kata beach and the approaching bad weather, which hit us while we were driving. Good. As soon as we arrived in Kata it had stopped. Though not for long…
PK_20071102_170046.jpg: There were quite some cool road signs along the streets and I kept saying you should have a camera ready. I was driving but also had my camera in a bag mounted on my belt. And here I took my chance, looked into the rear mirror to make sure no one's behind me, slowed down, and took this photo of an elephant warning sign. There are no wild elephants on Phuket, but there are elephant trekking tours. The sign is probably meant to warn that such a trail is crossing.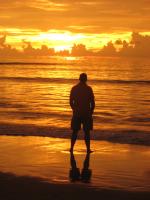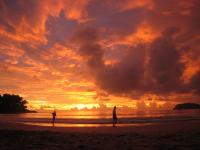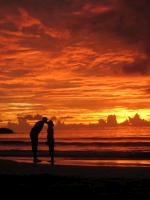 PK_20071102_180627.jpg: No being on a west coast we had to enjoy sunset at Kata Yai Beach.
PK_20071102_181119.jpg: With the clouds there were quite some great opportunities.
PK_20071102_181252.jpg: Yea…and certainly the most kitschy motive, too 😉 Sorry…I could foresee that they would kiss in this grand posture…camera was set on 2-second self-timer to avoid my pressing the shutter shakes the camera. I did wait for the couple to enter the picture, but if this couple decides to use these two seconds of delay for a kiss…let them do!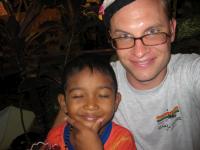 PK_20071102_195055.jpg: Right after sunset it started raining again and didn't stop all night. For the sake of simplicty and staying dry we had dinner again in our Flamingo restaurant just downstairs. Which again filled up over time. I decided for a Pizza 😉 Don't beat me up…I had eaten Thai food for two weeks straight now, I deserved a change. And their Pizza oven looked good and proved to produce a pretty good Pizza! We had some fun with a little boy selling flowers. Not that I would normally have considered buying flowers, but the boy was really cool: He approached me from the back and without me seeing him placed his knitted cap on my head. That thing looked ugly, but I took the chance for a self portrait of the two of us, unfortunately not quite catching this hat. The boy seems to be used to being photographed: He consciously closed his eyes on both photos I took. I made a bit fun of and with him about prices of various things (flowers [set of two red roses and a blue-painted flower] down from 50 to 40 Baht, his amulet 1.000, the entire boy for just 400…and so on) and in the end certainly bought the flower bouquet for 40 Baht to please the boy. And gave it Petra…what shall I do with flowers? 😉 That ugly cap I certainly returned to the boy.
Next day (which happens to be the day of writing this) I finally was diving again. And my camera worked underwater! I selected 24 underwater pictures for publishing. It will take a while to make sure I get the fishes' names right. Also, tomorrow early morning we will go by ferry to Krabi's beach Ao Nang. That might further delay updates. Stay tuned!
Today's Lesson: Phuket isn't so great for sightseeing.
Categories: Asia, Phuket
Originally Created: 11/03/2007 11:29:13 AM
Last Edited: 11/03/2007