Friday, 26-OCT
We had a lot of sightseeing options in mind. Not too many for a day…but we really only saw just one of them. Just because we walked, and found markets or photo objects, and more markets. And something to eat. But then no ferry, but a king's barge…naja…things like that, which just happen.
We set out from our hotel towards the Amulet Market. Not anything I would choose, but in the end I was quite delighted by just strolling though the narrow ways, though I didn't fancy checking out any of the millions of amulets there. Some locals actually bring magnifiers to study the details. And apparently there are series of magazines covering amulets. Must be a big business for some…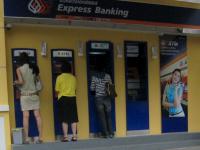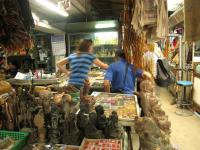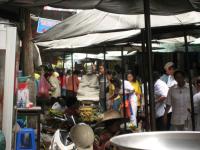 BK_20071026_110403.jpg: Yea…that's not yet the amulet market, right. Just an array of ATMs. But I liked the contrast of the seemingly larger ATM booths from left to right, while the ladies in front of them get smaller. Later I noticed that contrary to their size the skirts get shorter from left to right. And the only actual face you see is that of an advertisement. Somehow a funny pic full of contrasts 😉
BK_20071026_112437.jpg: Inside the Amulet Market on Phra Chan Road, one of the wider lanes (i.e. people can pass each other).
BK_20071026_113934.jpg: Out on the streets again, I was attracted by this Bhudda figure amidst street market shoppers.
BK_20071026_114321.jpg: The Hip Shot Series: An old man preparing something I couldn't identify.
BK_20071026_115259.jpg: Old woman smoking and selling cheap stuff.
BK_20071026_124852.jpg: That guy obviously thinks he's cool.
BK_20071026_120230.jpg: Potted Cat.
BK_20071026_120427.jpg: Herbs and creams against and for everything.
Wat Pho
…is the one and only sight we had planned to see and did see. It is famous for its giant…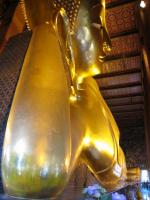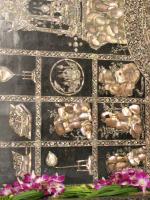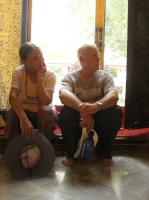 BK_20071026_132403.jpg: …Reclining Bhudda, which is so huge that you can't take a simple picture of it as he is located in a temple not much larger than himself.
BK_20071026_132655.jpg: Ornaments on the feet (10m long) of the Bhudda. (Remember, he's lying on his side, so his feet point here to the left, as do the ornaments.)
BK_20071026_133132.jpg: A long, but exciting day: Two tourists waiting for their group (so I guess) in the back of the Reclining Bhudda.
BK_20071026_133825.jpg: Wat Pho is huge, though, and has more to offer than 'just' the Reclining Bhudda. With the fully overcast sky it doesn't look as great as it could be (I had seen it in sunlight three years ago), but you'll get an idea. These figures, part of a series of people of various ethnics, are said to be formed after some few Europeans around in Bangkok some centuries or so ago. And by that time top hats were popular…so the European figures have top hats 😉
BK_20071026_134406.jpg: Petra and Rafael amidst…
BK_20071026_134648.jpg: …these small stupas (or whatever they are called here).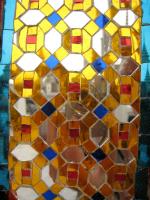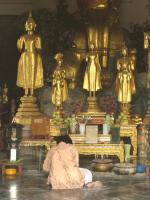 BK_20071026_135142.jpg: Close-up of the colorful decorations of nearly all buildings on the temple site. Here actually a small side temple, whose name I can't figure out.
BK_20071026_135355.jpg: But this is its altar.
BK_20071026_140111.jpg: Typical Thai-style roof decorations.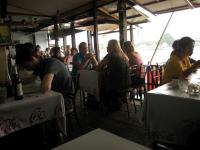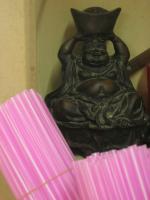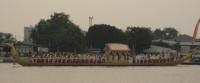 BK_20071026_153158.jpg: After Wat Pho we started to feel a bit hungry and sat down at a small restaurant right next to the ferry pier where we wanted to catch the ferry across Chao Phraya River for Wat Arun. Food was OK, but not as great as it could have been for the price.
BK_20071026_154451.jpg: Smiling Bhudda amidst straws in that small restaurant.
BK_20071026_161308.jpg: Yea…and then we saw a long-tail boat, rowed by many men in uniforms/costumes, passing by on the river. And another one. And very many…and bigger ones…and even more…and there was no end in sight. Unfortunately my position wasn't great and this is all I can offer in terms of pictures: A King's Barge. We had earlier seen some announcements about an event with the King's Barge, but didn't know any details. But this procession took place right now in front of our eyes, which was certainly great. The down-side was: The king (if he really was on any of these boats, I didn't see him) stopped across the river at Wat Arun, right were we wanted to get to. As you might imagine there was no tourist ferry operation during this time.
We finally gave up, considered our options and also cancelled another idea of taking a ferry a long way up-river out of Bangkok to see something of the landscape surrounding Bangkok. No ferry means no ferry, in no direction. We turned around, paid a nearby small park a visit, then headed home for a nap for Petra and Rafael and some photo sorting for me.
For dinner we wanted to check out Siam Square. So far, I/we had been only to the huge shopping malls. But I knew there are smaller streets with shops and restaurants around, too. We got there by taxi, but had to learn that that area caters either for western tourists or locals trying to find something 'exotic' to them: Mostly western-style restaurants.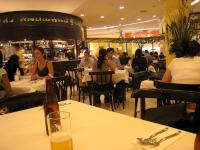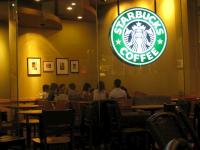 BK_20071026_202553.jpg: Eventually we ended up back in the basement food court of Siam Paragaon Center in one of the Thai / Indian / Western fusion places, where we ordered a quite good meal of Thai dishes.
BK_20071026_213258.jpg: Bought some sweets from one of the hundreds of stalls in the food court and sat down at Starbucks for a coffee.
Already before the trip we had seen the possibility to get onto one of the hotel skyscrapers to a bar, looking across Bangkok at night over a cocktail. We had tried to dress as appropriate as possible with what our bags included and set out for the Sirocco Bar in the State Tower (Charoen Krung Road, Skytrain stop Saphan Taksin). We were caught in surprise to have to leave our bags with the security in the ground floor. I forgot my camera in my bag, so there aren't any pictures. Petra has some…we need to wait for them (still on film, you remember? That's the stuff you need to bring to a photo shop to get it 'developed' ;)).
The view was quite good indeed and the setting as expected. We weren't overdressed either…but also not the worst. Drinks were good but expensive as expected. It got a bit bad when there were a few drops of rain. Don't mind that all other guests sprinted inside, cause we then had the balcony to us. But two minutes later security motioned us inside, too, due to "policy". Service was slow for bringing drinks and returning the credit card…they didn't get a tip.
Saturday, 27-OCT
Rafael had picked up Zhang Bing, a friend from Shanghai, from the airport somewhen during the night. Petra and I wanted to see Wat Arun before visiting the Grand Palace and catching the flight for Ko Samui, so we started early and met Rafael and Zhang Bing later at the palace.
Wat Arun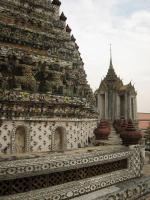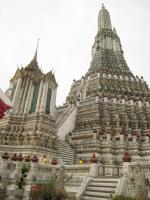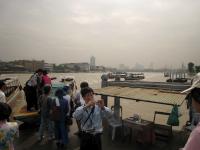 BK_20071027_091637.jpg: In case you think "there have been pictures like that…" take a look at the Angkor Series (I, II, III). Wat Arun is built in Khmer style, but has a lot of these decorations I so far only found in Thailand.
BK_20071027_091910.jpg: Other than that it is the same as in Angkor: Something high with very steep stairways, solid, nothing inside, but impressive.
BK_20071027_092347.jpg: View across Chao Phraya River, with some of Silom's skyscrapers in the far back and Japanese tourists in front.
Grand Palace
I was surprised later to find out that I did no more than just and only four photos in the Grand Palace. And one I did not select because the Throne Hall in Phnom Penh was more impressive. The palace is grand, no doubt. Don't miss to visit it! It will be hard, though, to find less crowded times. Currently here's low season, but still it was so busy in the Grand Palace that we could not quite enjoy it.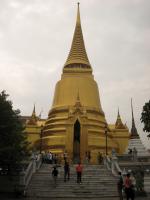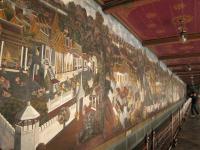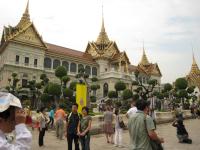 BK_20071027_100607.jpg: Well…somewhere I have a flyer with the layout of the Grand Palace, which would tell what this golden pinnacle here is…
BK_20071027_101125.jpg: The wall paintings surrounding large parts of the palace are quite impressive, but several times restaurated.
BK_20071027_104252.jpg: Something official…we couldn't get inside.
Dusit Park
Originally an idea of Rafael, but in the end it was only Petra and me who got out here. The Grand Palace ticket is valid here, too. And there was this Vimanmek Mansion Museum, a house completely built from teak wood. Apparently the Thais are extremely proud of it. After we finally reached the place labbeld "Entrance to Vimanmek Manison" we were greeted by an array of security guards, who motioned us to leave our bag camera, and mobile in a locker, guided us through a security check, and made us take off our shoes and wait for a guided tour. No chance to visit the place on your own. In the end it turned out to be a king's living quarters for some five years. A beautiful place, but built and decorated in western style, so not much news to us. I would not put it into a tight itinerary again, but go for it if you have the time.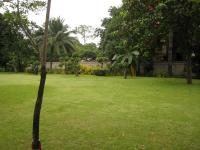 BK_20071027_123759.jpg: Well…due to the fact that photography was forbidden everywhere inside you here see a bit of Drusit Park. If you look very very closely you'll find some wood panels amongst the trees and behind that wall, which are part of the Vimanmek Mansion. Sorry…I don't have more… After a quick look into one of the lesser Throne Halls we got back to the hotel, met up with Rafael and Zhang Bing, and got a taxi to the airport for our flight to Ko Samui.
Let me praise Bangkok Air a bit here: Not only is check-in simple and efficient (with a self-printed piece of paper as proof of our Internet booking), also do they provide a nice Lounge in the (small) domestic area of the huge airport, where every passenger regardless of flight class (I believe they don't even offer Business anywhere) can get some refreshments and snacks for free. We haven't had lunch and welcomed a few snacks. Bangkok Air isn't exactly cheap as they have the monopol on flights between Bangkok and Ko Samui (as well as on direct flights between Ko Samui and Phuket…), but at least you get something for your money.
Ko Samui…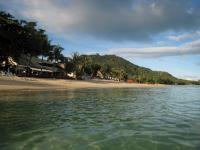 KS_20071028_165059.jpg: Just a sample of Lamai Beach right where we stay…to make you long for the full article…whenever I finish it 😉
Today's Lesson: Grand Palace is overcrowded.
Categories: Asia, Bangkok
Originally Created: 10/30/2007 07:22:44 AM
Last Edited: 10/30/2007