"One Night in Bangkok…", and another one, and two more, until our small group of four was complete. With Rafael I had spent two easy days drinking coffee, eating breakfast, lunch, and dinner, drinking more coffee, and finishing up my Bhutan articles. Only very few sightseeing involved. With Petra arriving on Thursday we intensified sightseeing, and kept going with the coffee, breakfast, lunch, and dinner 😉 Zhang Bing was the last one to arrive in the early morning of the day we had chosen to leave Bangkok for Ko Samui.
You noticed that I am very late with writing these articles, four days to be precise. And I don't yet know when I'll find a chance to publish to the web. It's certainly, as earlier, due to travelling in a group. Please accept my apologies.
Bangkok
After arrival on 23-OCT Rafael and I didn't exactly do much, except for strolling up and down Kao San Road. We had had a quick lunch at the airport before checking into our hotel and now were just soaking up the atmoshpere of Bangkok, getting into one of the side streets for a simple but tasty Thai dinner and some beer, before retiring to bed.
Wednesday 24-OCT
The next day I sat down in Starbucks with the intention of finishing up the Bhutan articles (which I only managed later in the evening, see below), while Rafael did a bit more street strolling. We met again for lunch.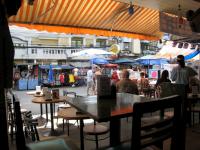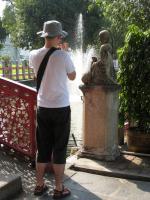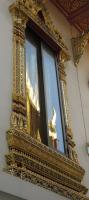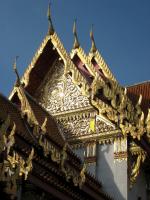 BK_20071024_135657.jpg: Kao San Road, the first backpacker road, probably in the entire world, definitely in Bangkok. By now it is overly commercialized, but still good for an quick and easy lunch in one of the many cafes/bars/restaurants.
BK_20071024_151406.jpg: We set out for the Marble Temple, but with two photo enthusiasts you'll get delayed even in the garden surroundings 😉
BK_20071024_151919.jpg: The beautiful roof decorations mirror in a by itself beautifully decorated window of a building next to the actual temple.
BK_20071024_152720.jpg: Now, the actual Marble Temple, Wat Benchamabophit. While I had visited more than enough temples in the past six months the Thai temple feature a different architecture, which has some references to Khmer temples (like Angkor), but are more elaborately decorated, higher, and more airy. They are light inside, not so dark as in all the traditional buddhist countries.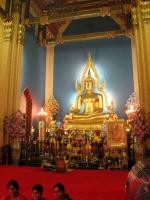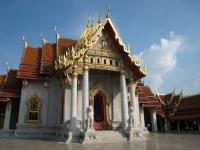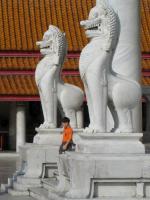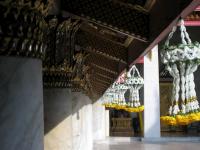 BK_20071024_153305.jpg: And taking pictures inside is allowed 😉 Here the main altar. While the outside looks stunning the actual Buddha figures are comparably simple. And that goes for all Thai Buddhas.
BK_20071024_153805.jpg: The main chapel seen from the inner couryard.
BK_20071024_154440.jpg: Small boy between the two guarding lions, that you see beside the chapel entrance on the previous picture.
BK_20071024_154212.jpg: Decoration at the roof of the surrounding archway.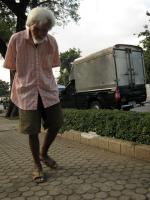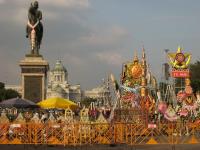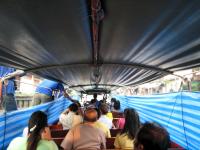 BK_20071024_160419.jpg: We were, despite several Tuktuk offers, walking from the Marble Temple over to one of the throne halls. This old man was walking the other direction.
BK_20071024_160844.jpg: The Statue of Rama V., the Throne Hall in the far back, and lots of…well…how to call it…things dedicated to the long dead king Rama V. due to his day of death, October 23. These decorated givings were donated by individuals, groups, or companies.
We then walked down the long long avenue named U-Thong Nai Road right opoosite the statue, which turns into Ratchadamnoen Nok Road a couple of hundred meters, or kilometers or so later, just to kill the time until dinner. Although I didn't select any photos of that street I would not call it uninspiring. The wide road was just busy and lined with ministries. But we had fun watching people and also passed by a Thai Boxing Stadium, though we did not enter. We finally reached a place called…uups, I don't know, or to be more exact: Lonely Planet doesn't know. I believe Rafael's cultural guide mentiones it. Anyway…was boring, but there was a ferry pier. And we thought we could take that ferry to bring us to our intended dinner location, Phra Athit Road, just down the canal. We watched the thin but long ferry boats landing at the pier, people jumping on and off with obviously having quite some practise, simple people in jeans and t-shirts the same way as business women in high heals and skirts. We decided to jump on and see where it leads us…
BK_20071024_171041.jpg: Well…nowhere where we originally wanted to go… The conductors, usually two per boat, keep running up and down on the boat's outer rim, quite dangerious given the driving conditions. And they are wearing helmets. Good deed given the low bridges the ferry boats pass with incredible speed. The engine is roaring, water splashing on all sides. To protect against water of passing boats splashing into ours there are these blue canvasses, which are raised by the conductors shortly after leaving a pier. The conductor asked me where we go. I didn't know…just out of the blue said "two stops". He charged me 8 Baht per person for that.
Well…the ferry started in the intended direction, but 20 meters later, in a canal intersection, turned around, and sped back the way it came from. Great…our destination now leaving far behind us. "Get out the map…where can we go now, two stops from here?" It turned out to be fairly close to Siam Square, a place I had been some times before during my lay-over. So we enjoyed the speedy ride (far faster than any taxi could bring you there as I had experienced earlier), gazed at the quite simple backs of houses built up to the canal, got off two stops later and walked a bit towards Siam Square.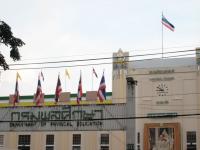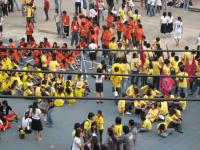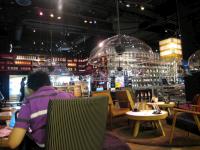 BK_20071024_172653.jpg: Department of Physical Education: The National Staidum. Not nice, I just liked the combination of place names.
BK_20071024_173345.jpg: There was some kind of youth sport event happening. Crowds of young people in colorful t-shirts gathered and chanted at each other. We didn't understand a word and could not make any sense of what was happening. But it was a colorful picture.
We searched the department stores of Siam Square for a spare battery for Rafael's camera. No store was really helpful, no person showed any kind of interested of serving a customer. Many said there would be a specific Panasonic shop upstairs in Siam Paragon Center. We never found that one. Eventually, a shop assistent in Siam Paragon Department Store took pitty, searched through some lists and came up with a third-party vendor battery, which since then served its purpose well.
We had dinner in this fantastic basement food court, in a Japanese chain restaurant (I remember their name in chracters as they were entirely of the Chinese character set, 日本海, meaning Japanese Sea, but that's not what they call themeselves in English), which served the very best Japanese food I have ever eaten. Rafael eats a lot of Japanese food, but even he was amazed. We kept ordering until completely full…which is a difficult thing to achieve in a Japanese place, based on Sushi, Sashimi, and all the other tiny food things. But we made it. And paid a mere 30 EUR altogether.
BK_20071024_203701.jpg: True Café. A cool place, which deserves another special mentioning: It's a cafe. Of sorts. Or an electronic gadget shop. Of sorts. Or an internet cafe. Or an iPod docking station place, an e-learning place…it was all under one roof. We had seen it earlier on third or fourth floor of the Siam Paragon Center and now sat down there after dinner for a coffee. I docked my iPod into a socket in the table to listen to my own music via one of this plastic semi-spheroids (which inside feature a loudspeaker), opened up my laptop and certainly got internet access (though the True Wifi internet is a little complicated to connect to, the easiest being buying prepaid cards, which is not exactly convenient). We spent the rest of the evening there until closing time at 10pm. I used that time for answering some mails and finishing up the Bhutan articles.
Thursday, 24-OCT
In the morning I picked up Petra from the airport. Which involves an hour standing at the exit and checking out each and every face…I saw a lot of people. Can't deny having seen one or the other nice woman 😉 After checking Petra into the hotel we met with Rafael at Kao San Raod for a coffee and lunch, then took up sightseeing again.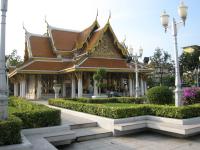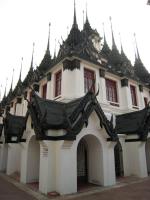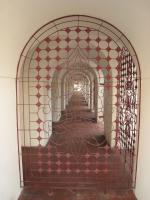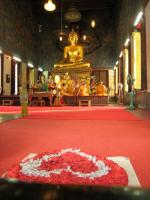 BK_20071025_162221.jpg: On Ratchadamnoen Klang Road, close to the Democracy Monument (which I refused to take a picture of due to its extreme ugliness), but we couldn't figure out the name of this temple or hall or whatsoever. You aren't allowed to enter and its empty anyway.
BK_20071025_162938.jpg: In the back of Wat Ratchanatda, but I forgot its name. Something with "Metal". Probably due to the unusual black roof, which has been made from some kind of metal.
BK_20071025_163045.jpg: It was closed already (despite differently reading signs), so we could walk around only.
BK_20071025_163532.jpg: This now is Wat Rachandatda proper. From the outside it looks like deserving some fresh painting. But inside quite nice. There was some monk service going on. We just shyly took a picture of that, but did not venture further inside.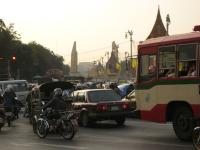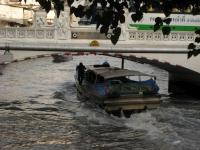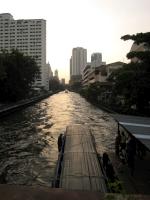 BK_20071025_164808.jpg: Traffic on Ratchadamnoen Klang Road, approaching the roundabout around the Democracy Monument (ah…damn…you can actually see it in the background: These two pointing pinnacles. There are four of them in total.
BK_20071025_164522.jpg: The river ferry again, see yesterday.
BK_20071025_172606.jpg: We certainly had to entertain Petra with this kind of medium of transportation. Though we knew things a bit better now it again was an experience: Everybody got off at a station two or three short of where we wanted to get off. Apparently a forced connecting station, can't say why. With another boat we continued to about the place we wanted to go. But due to two similar names (Nana Nae and Nana Chan or something like that) we got off one stop too early. (A mistake you can easily avoid: At each stop there are signs with the current station's name in the middle and the next stops' names for both directions.)
But that mistake gave us the opportunity to walk on the small walkway right along the river, seeing the ferry speeding by, to the next stop, which wasn't far away. But we failed to find Little India and another Little Something that we wanted to see. The entire area around Nana Chan is by now filled up with modern appartment hotels/condominiums. The further you walk away from the river, i.e. the closer you come to Rama I Road / Ploenchit Road, the more upper class hotels mix with the condominiums. But there was not much life on the streets.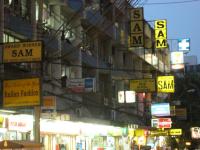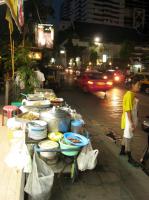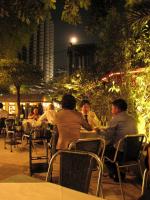 BK_20071025_180411.jpg: Walking west on Ploenchit Road and then turning into Sukumvit Soi 11 brings you here, back to street life. I haven't heard of Sam before, but they are pretty proud of themselves, saying "Award winning Sam, we have only 1 shop". But very many signs for that just one shop…
BK_20071025_181349.jpg: A street food stall on Soi 11, close to Sam and a 7 Eleven.
BK_20071025_184514.jpg: We decided we are hungry and that this place looks good. And as it turned out: They serve brilliant food in a nice open-air setting. I forgot the name, but it is located not far behind Sam/7 Eleven on the left-hand side. Consequently, we spent the better part of the evening there 😉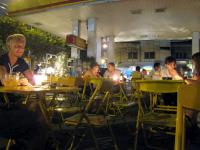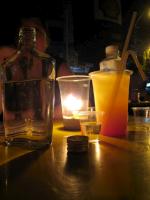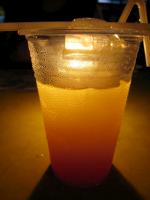 BK_20071025_223821.jpg: Petra had just arrived with jet lag, Rafael and I didn't mind a bed either, but in the taxi home we spontaneously decided that the evening is young enough for another drink. And there was this weird "Station Bar", which used the area of a (former?) gas filling station. On this photo you can still make out the Shell-typical signs numbering the pumping stations ("2"). We actually don't know if the filling station operates during the day and the bar is set up only at night. But the station as such is in too good a shape to be abandoned. You'll find it on Chakraphong Road, between Kao San and Rambutri Road.
BK_20071025_224604.jpg: Level of blood alcohol slowly rises, due to "Thai Herbal Whisky" in the glass bottle,…
BK_20071025_230012.jpg: …and Tequilla Sunrise (in plastic cups).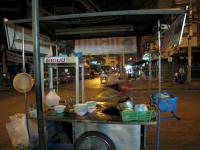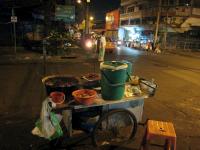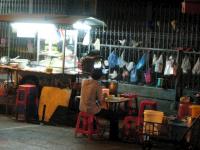 BK_20071025_234818.jpg: When finally reaching our hotel Rafael and I found the intersection right in front of us a worthwhile photo target. We stayed 10 minutes longer for a night photo session. Here the intersection (Buranasat / Bunsiri Roads) seen through a street food stall.
BK_20071025_234850.jpg: Same streets, just another side of them. (Here you can see where the next two pictures have been taken: The next one is the only still operating food stall in bright neon light, the picture thereafter is the big red sign to the left of the food stall, above something which looks like a garage but actually is a cafe with shutters shut.)
BK_20071025_235033.jpg: The aforementioned food stall with one last lonely customer and lots of plastic bags hanging in the fence behind.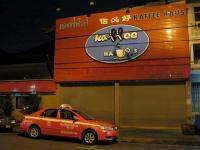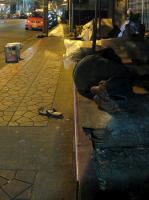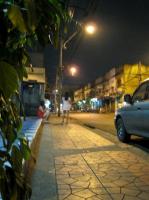 BK_20071025_235407.jpg: The aforementioned billboard of the "Kaffee Haus" (German for "coffee shop"). Originally, I was just surprised by the German name (the other languages are Thai and Chinese), but when holding up my camera I noticed that this pink taxi parked in front nicely fits into the weird colors as they are illuminated by these yellowish street lights.
BK_20071025_235743.jpg: Standing more or less on the same spot across of the Kaffee Haus, a social photo: If you look very closely you'll find two feet of a man sleeping there on a bench under an umbrella. And he wasn't the only one.
BK_20071025_235847.jpg: Night Owls waiting for business in the light of the street lamps. I am certainly too shy to take this photo openly, which would only provoke the girls to try their luck with us. Thus, the picture is taken as a reverse hip shot with a 1s exposure time out of the hand. I only had to slightly turn and cut it, but please accept my apologies for the slightly blurred main figures. I think that even adds to the photo's atmosphere 😉
Today's Lesson: River taxis are pure fun, but watch direction and stops' names.
Categories: Asia, Bangkok
Originally Created: 10/28/2007 12:20:32 PM
Last Edited: 10/31/2007