Thimphu, Bhutan's huge capital: Less than 100.000 inhabitants, said to be the world's only capital without a single traffic light. There once was one for some time, but it got removed again aftr complains it would be 'unpersonal'. The traffic police is in place again every day to regulate the dense traffic around Thimphu's central roundabout.
After finishing the trek there was a free afternoon. I had some effort convincing our guide that there would be no need for transportation; I intended to walk from the hotel into the city. You need to know that the hotel is on the other side of the river, thus, the way was long. 10 minutes, uuuhhh…. Eleanor, who had been there a few days earlier, had warned me that I should not be so sure to be able to spend a couple of hours there, there wouldn't be that much to see. I gave it a try anyway.
First, I was positively surprised to learn that our hotel, the River View Hotel, offeren free wireless LAN. That meant, that I sat down in the hotel lobby to do some Sonux.net updates. I started into the city only after my laptop's battery was exhausted. (I later figured out, that even in my room, where I had easy access to power, I could still connect to the hotel's WLAN. So further updates I did right out of my room.)
Archery & Thimphu by Night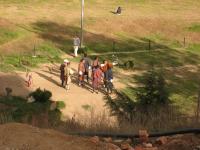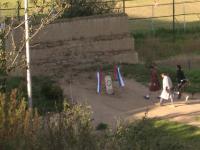 TP_20071021_153433.jpg: The archery ground. Archery is a hobby of many Bhutanese. And they seem to be really good in it. Here you see them preparing for shooting.
TP_20071020_155949.jpg: You need to walk 'only' 250-300m further to find the very small target. And they still hit it! It's unbelievable!
Thimphu has a very nice, cozy cafe, called Art Cafe. (100m above the central traffic-police-regulated roundabout, to the left of the Swiss Bakery; LP puts it right in the Walking Tour map, but wrong in the "Central Thimphu" map.) I sat down there for an hour or so, just to pass the time, as I got the feeling that Eleanor's warning was valid. Very warmly recommended for their Cheese cake! Unfortunately, we didn't manage to eat another piece: After lunch the next day no cake was left by the time we entered. And two days later, when leaving Thimphu for Paro, it was Monday and the Art Cafe closed.
TP_20071020_174444.jpg: When I hit the streets again the sun started to set. Here the vegetable market of "Hongkong Market", which has a specific mention in Lonely Planet. Eh…yea…it was three vegetable stalls along a small lane between houses. We were unable to figure out what or where exactly "Hongkong Market" is. Not even Ratnar, a Thimphu native, knew why the market was called this name.
TP_20071020_180615.jpg: Clock Tower Square. For sure, theres a clock tower (right in my back), but the actual clock was covered in canvas and the tower not so impressive that I selected a picture of it. Here now a set of small prayer wheels under street lights.
TP_20071020_181318.jpg: Thimphu's main and most busy shopping street. (Sorry…don't have my LP Bhutan here with me…will need to loop up some place name information a little later and update this doc) Picture taken from the central traffic-police-regulated roundabout, looking north, with tripod fixed on handrail, which attracted some locals' attention 😉 Bhutan preserved very well their traditional architecture style, also for modern buildings.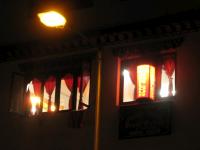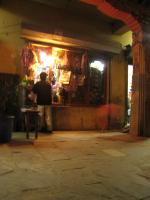 TP_20071020_182410.jpg: The Red Light District…uh….consisting of one "Pretty Woman Beauty Parlour" on the thrid floor far down the main street. The simple fact of a red shop sign is already extraordinary. All other shop signs are in a standard format white on blue (like the one beneath the red lantern). Eh, sorry, no, I didn't check out the inside 😉
TP_20071020_183401.jpg: Street scene, kiosk along the street. One of very few hip shots, which are kind of OK. (Only now learned by way of explanation of a friend how the ISO setting influences a digital camera…maybe I'm better next time.) There were numerous of these kiosks, oven smaller, just filling a small gap between two other shops.
Thimphu was so 'big', that with my slowest possible pace I still went up & down the main streets twice and still didn't fully fill the two hours between sitting for a long time in the cafe and meeting for dinner. Again, I had taken me a long time to convince my guide that I am able to find the restaurant myself and we could meet right there. I was right on time, but worrying Ratnar waited for me outside. I had not already been in the restaurant when they arrived 5 minutes ago! Yea…Bhutan tourism will still need to adapt to the needs of independend travellers… 😉
Before the dinner a representative of Windhorse Tours briefly joined us to check if we were satisfied with our tour, which we certainly were. Only minor things here and there, but in general all went exactly as we wanted like a clockwork. And even exceptional treatment (like Eleanor leaving trekking after one day) was perfectly handled. But Eleanor and I had dinner just by ourselves again. Until…Tanja came in! (Remember? The German we had met on the trek, but who had to leave after two days.) She had had a serious talk with her travel agency (I seriously don't know which one) as her first guide was not really talkative (in fact, rarely said more than five sentences a day). As a result, the agency's manager himself guided her over the weekend. And now she was just assigned a new guide, who she was to get to know in this restaurant. Interesting sight…unlike at out table, to which we had repeatedly but in vain invited both the Windhorse Tours representative and our guide Ratnar, Tanja was now accompanied by both her new guide and the driver. The driver obviously wasn't pleased with the situation, as his position (chair slightly moved back) and body posture told. But there very obviousy had been some instructions by Tanja's agency's boss regarding entertaining a client ;)) After their 'official' part was done Tanja joined us for a beer or two (after again taking some effort to convince all our guides and drivers that we would find home ourselves and sending them off).
A long time later, when leaving the restaurant, Tanja was offered to be driven by the waitress, who happened to live somewhere in the direction of Tanja's hotel. How caring! We were so lucky to be able to stop a taxi right when leaving the hotel. I walked up to the left front window to talk to the man in the taxi, he agreed to bring us to our hotel and opened the door. Only after entering the taxi I had to note again: This is a country in which cars drive on the left-hand side…thus, the man behind the left window was not the driver, but another client! 😉 Didn't matter, this client was dropped off two streets later, and the driver then brought us safely back to our hotel on the other side of the river. Uh…what an exciting night! ;))
Weekend Market
Next morning the first visit was to the Weekend Market. This market runs from Thursday to Sunday, and was temporarily moved to a former soccer field, as the original market area is under construction. It's mostly about fruits and vegetables, both locally grown and imported from India.
TP_20071021_094001.jpg: Old lady and various spices.
TP_20071021_094244.jpg: Young boy watching his family's vegies.
TP_20071021_094310.jpg: Merchant counting his money.
TP_20071021_094723.jpg: Eleanor liked the red rice so much that she decided to buy from this lady.
TP_20071021_094809.jpg: Look how she is all smiles counting the money! (30 Nu = 0,53 EUR for a kilo) Her husband can't believe it either 😉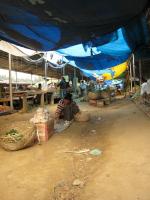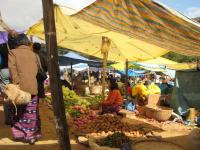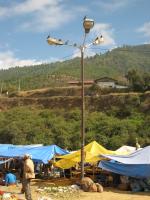 TP_20071021_095251.jpg: The aisles betwee the stalls.
TP_20071021_095752.jpg: The outside area, where it is more sunny, but certainly also hotter.
TP_20071021_100204.jpg: Waiting for the left-overs!
Next stop was the Nunnery. Somehow I have not a single photo of this small monastery. We only visited the main temple. There was a huge group (20+ people) of a Studiosus group, sitting on the temple's floor. Their guide (speaking German) was basically explaining the complete story of Bhutan's bhuddism. Probably a good thing to do, but I would have like to ask him to choose a less intrusive location for his lecture. Other guides, including our Ratnar, were unable to introduce us to the temple due to the German talking in a more than low voice. Additionally, and that really upset Ratnar, there was a lady (likely but not confirmed belonging to the same Studiosus group) taking photos inside the temple, even with a tripod. Well…we left without learning much about the place.
Trashi Chhoe Dzong (King's Offices)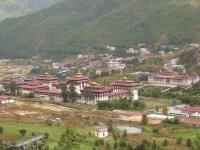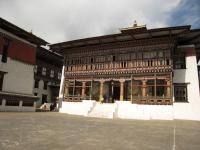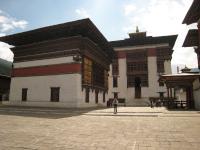 TP_20071021_103729.jpg: Seen from the entrance of the nunnery. The big building in the front is, as so often with Dzongs nowadays, divided into two parts: Offices (here on the right-hand side, out of bounds for tourists) and the monastery,…
TP_20071021_110624.jpg: …of which we could visit the courtyard and the main temple, which was really big and nicely decorated. But as always: No photos inside.
TP_20071021_110703.jpg: The courtyard's other side. Behind this central tower is the office area.
Streets of Thimphu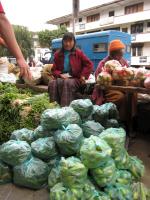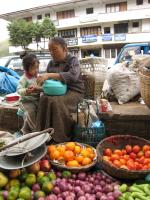 TP_20071021_131406.jpg: Open-air markets…
TP_20071021_131422.jpg: …in the main streets.
TP_20071021_125018.jpg: Around Clock Tower Square once more. Watch the arrival of DHL in Bhutan!
TP_20071022_111549.jpg: Assortment of Bhutanese signs: The standard white-on-blue shop signs, an announcement for a "bhutanese hard rock cafe", and a no parking sign.
TP_20071021_152709.jpg: Ah yea! Let's not forget the traffic-police-regulated roundabout! Here in a dramatic setting under low-hanging clouds. The hand-waving police man is in this pavillion in the roundabouts middle. In order to better assess the dramatic situation you should be informed that all streets here are just one-way streets, two leading up to the roundabout, two leaving it. OK…this picture has been taken on a Sunday afternoon. But I never saw enough cars here warranting a regulated roundabout.
Which reminds me of us reading various local English newspapers. In one, Kuensel, there was a letter to the editor, in which the author complained about the worrying traffic situation of Bhutan, especially in the mornings, when he brings his children to school. There would luckily be traffic police men in some spots to help people cross the streets, but at other times pedestrians would not enjoy this help. He had visited an Indian city and seen underground pedestrian walkways and bridges crossing the streets. He suggested to consider this also for Thimphu with its growing traffic and population. Oh man…they have problems…
Reading the local newspapers also gave other interesting insights, like especially about the upcoming democratic elections by the end of 2007/early 2008. On this particular weekend there were large announcements in various newspapers regarding the schedule and general organization of the election. I have brought home a copy of Bhutan Times, a weekend paper, just as a souvenir. Not sure if these announcements are repeated regularly at the moment, but its definitely a nice testimonial of history. Also there were, in both newspapers we read, introductions of parliament candidates, side-by-side the two condidates for the same district of the two parties. (It is interesting that only two parties have been formed in the lead-up to the elections.) We couldn't get hold of the full parties' program, but these side-by-side introductions did not offer any major differences between the parties. The candidates had the well-being of their people in their local districts in mind. And the problems were obviously the same, no matter through which glasses you view them. Let them have an elected government first…then proper opposition will form automatically.
Other articles deal with issues like: Pregnant women in very remote provinces might be sent to hospitals in other provinces for better treatment, which they complain about due to the difficult and expensive transportation. Watch this point of view! Nowadays good treatment is possible also for birth complications, but not yet necessarily in remote areas. Bhutan has (as stated in Bhutan Times) still one of the highest birth mortality rates of mothers in the world. It is only understandable that pregnant women like to get the best possible treatment. But instead of appreciating that health services gradually improve they complain about currently long ways and costs. I can't blame them…
Paper Factory
TP_20071022_093321.jpg: Bhutan produces its own type of traditional paper, still very popular for envelopes, though not really suitable as print or writing paper. I didn't understand which kind of plants are watered and dried here…but that's the start of the process.
TP_20071022_093509.jpg: With some simple machine support here the paper sheets are created and dried.
Handicraft School
There is an entire school solely dedicated to learn the traditional bhutanese-bhuddist handicrafts, namely wood carving weaving, painting, …and some more I forgot. Study time is generally four years! Studens still up to now have very good job opportunities. Temples are still being built and increasingly renovated, so their future knowledge is still required. Tourists were led into the actual clas rooms where students did their practise. Weird…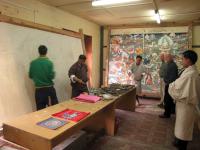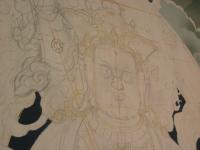 TP_20071022_100923.jpg: I was especially fascinated by painting. This is how temple paintings are produced.
TP_20071022_101000.jpg: (Watch the larger version) Here you can see how figures have a very geometrical basis, based on a very defined set of rules. These geometrical rules apply the same way to all picture of a figure and must be learned and applied. So it is actually not only art, but also a bit of science.
I later in a shop paid no less than 50 USD for a 'mandala' picture, which I so much liked that I thought the price justified. Isn't that weird for me? But I do like it…and hope I can get it back home unharmed.
Thimphu -> Paro
In the afternoon we were brought back from Thimphu to Paro by car. The road between these two main cities of Bhutan is at the moment in its full length under construction, which made the journey a bit painful. But hopefully by the end of the year (in our eyes unlikely…let it be beginning of 2008…if the corronation anniversary allows for continuation of unfinished work, which is according to customs unlikely) there will be a two-lane asphalt-paved road.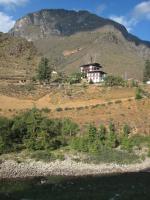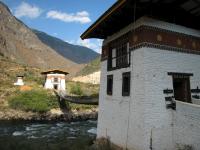 TP_20071022_145338.jpg: On the way, a bit closer to Paro than to Thimphu, we stopped by this private temple. Spooky experience…the people around were very old, fine, but didn't really like the visitors, although they let us in. But as soon as we had stepped out of the small temple again (inside nothing really new) a lady shut the door behind us, before I could clarify if they would accept a donation. I didn't donate to the government-run places…they should get their money from our high daily tourist fees. But here we had not applied earlier (Ratnar thought it impossible, but there were now some authorization letters pinned to one of the temple's columns) and in an explanatory note to the temple the owner had asked for donations. We eventually left some money next to a butter lamp…
TP_20071022_145542.jpg: The suspension bridge crossing the Paro river.
Returning
The rest is quickly told: We were brought back to Paro's Valley View Hotel. Dinner was in a new place in town, but still with the mostly predictable buffet food. Here now finally Ratnar joined us for dinner, which gave us the opportunity for some good talks about Bhutan's past, present, and future. I would have really enjoyed if he would have accompanied us more often.
On the next day we started very early (6am) for the airport as we wanted to get window seats in the hope for views across the mountains. The airport is very efficient and has very strict security checks. Up to all standards! We looked for opportunities to either spend our last Bhutan money (except for some souvenir notes certainly) or just donate it. But the one shop didn't offer things interesting to us. And there was no donation box like on many other international airports. We finally wrapped our money into a sheet of paper, on which we wrote the suggestion to set up such a donation box, and put it into the Department of Tourism's Suggestion Box 😉
The flight was on time and uneventful, via Kolkhatta in India to Bangkok, Thailand. After some time searching I found Rafael waiting there and we spend some easy time now in Bangkok, waiting for our entire group to gather, before starting with the proper sightseeing itinerary and further travel to Thailand's Islands and Beaches.
Today's Lesson: Not big enough to spend a day there.
Categories: Asia, Thimphu
Originally Created: 10/24/2007 06:43:53 AM
Last Edited: 10/24/2007