Day 4, Thursday 18-OCT, Jimilang Tsho -> Simkotra Tsho (4110m) (cont.)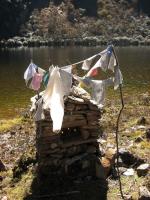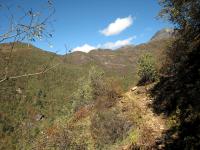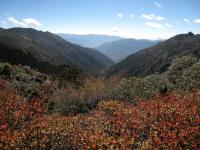 DP_20071018_103148.jpg: A small make-shift altar at the Jimilang Lake. Ratnar had brought three butter lamps specifically to be placed here. He had lighted them earlier before we started walking. But unfortunately they had been blewn out by the wind when we now passed by. See them burning here again after being lighted once more. They must have continued to burn for the next three days: Everything was perfect now, weather, food, health, trek…
DP_20071018_105744.jpg: Looking back on our path and across the valley with Jimilang Tsho.
DP_20071018_112036.jpg: Honestly…don't know the exact location and direction of view, but it's nice anyway, isn't it?
DP_20071018_115554.jpg: Then came this ledge, where I simply had to ask Ratnar to take my picture! 😉
DP_20071018_115807.jpg: That nose on top of the ledge is artificial, but it gives the place a highly interesting element.
DP_20071018_122042.jpg: A yak herders' hut. We came across quite many. The bonfire the night before was lightened in one. These huts are half houses. When herders use them they span a canvas as roof across a tree laid across the hut. Thus, when used the hut is actually closed.
DP_20071018_135534.jpg: Where there are yak herders' huts there must be yaks, too! And here we go, never been so close to them: Our next camp site close to Simkotra Tsho was partly occupied by yaks. Here two young ones.
DP_20071018_135643.jpg: A grown-up with full horns in front of the local herders' hut.
DP_20071018_135757.jpg: Again the young one…was just by chance so nice a composition with hut and sky.
The yaks definitely felt like the owners of the place and grazed wherever they wanted. And the grass inbetween our tents must have been the greenest. I was actually a bit cautious when nearing the yaks. Books say they can become quite agressive. And after my encounter with the cow in Tiger Leaping Gorge I had no desire in experiencing the same with a yak. The locals, however, and that included all crew members, were far less frightened and drove away the yaks with shouting, running, or even throwing stones. No yak attacked anyone, not even me.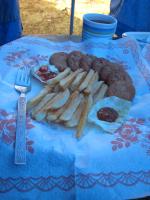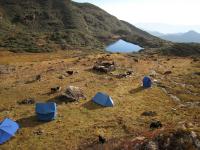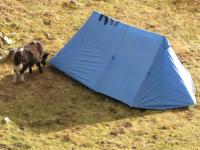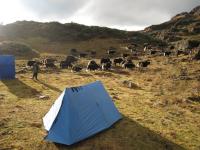 DP_20071018_151546.jpg: High Mountain Cuisine: I apologize for the bad colors of this photo. In reality it looked far more appealing. Let me get to this article's topic: Food. I had noted in the past three days that the quality of food did in no way decrease but just the contrary: The cook kept surprising me every day. And now I wanted to keep a bit better track of the servings. For this lunch on the trek I was actually given a Hamburger! Yea…minced meat between slices of soft bread rolls, added a few vegetables. No chilli, though, the Bhutanese national spice 😉 I mentioned this only after finishing the Hamburger. Future travellers watch out…maybe you'll get a Bhutan Burger, shedding tears inclusive. And now as an afternoon snack I was provided with these neatly arranged French fries! Was apparently the American day or so 😉 Unbelievable what the cook prepared all the time and how much attention he spent to presentation.
DP_20071018_154459.jpg: Out camp seen from a slightly elevated position: Simkotra Tsho in the background, a few blue tents scattered around (from left to right: Eleanor's former tent, now used by two of the crew, the dining tent, my tent, and the toilet tent [hm…the position right next to a creek is probably unlucky]), and yaks all around the place. Perfect location: Long light in the evening, and in the morning sun again starting at around 07:00; lake, meadow, vistas…all available, including a chilly wind.
DP_20071018_154547.jpg: This specimem (one of the youngsters) seem to find a particular liking in my tend. Ah…the socks on top are left over from yesterday, when I had washed them in the super-clear water of the creek feeding Jimilang Tsho. But then forgot to collect them off my tent before darkness settled in. As a result they became wet of dew and froze in the cold night. Now, though, I got them dry again.
DP_20071018_161442.jpg: I was reading in the sun when I noted that more and more yaks appeared in our camp, all moving up from the lake. It took a moment until I understood that the yaks are being herded uphill for the night. There were just two local yak herders around, one dealing with these masses, another lady coming later and picking up some late-comers. Our horseman apparently found it exciting to help, once some other animals to drive 😉
DP_20071018_163135.jpg: Now we had the entire site for us. And our horses. Peacefully lies the lake in the setting sun.
DP_20071018_164739.jpg: The area close to the lake. Our camp site is a bit uphill to the right.
DP_20071018_182022.jpg: High Mountain Cuisine: My dinner. Pay special attention to the Chilli Salad to the right. It has two fried red chillis in its center, surrounded by some other fresh vegetables. I was assured that I could eat these chillis. Well…if they say so…I certainly tried. And they were great, I really like them! Sure, despite being fried they still were a bit hot, but crunchy and seasoned with a lot of salt. The other dishes of the dinner: champignon creme soup, rice, potatoes in a cheese sauce, eggplant, cauliflower, fried noodles with beef. And some fruits for dessert.
Day 5, Friday 19-OCT, Simkotra Tsho -> Phajoding (3750m)
DP_20071019_072849.jpg: Self-portrait with morning coffee.
DP_20071019_080110.jpg: High Mountain Cuisine: My breakfast, today English style with fried sausages, bakes beans, toasts, hmmmmmm!
Both horses (in the background) and client are fed at the same time in order not to interfere with the camp chores: Cooking (lunch), cleaning up, striking down tents, packing… I had my tent already cleared up; you can see my red backpack lying there ready for transport.
DP_20071019_093202.jpg: The way today appeared light, though there was a tough ascend right at the beginning. Today we reached twice the trek's maximum elevation of 4210m on mountain crests.
DP_20071019_101615.jpg: Yet another lake, not sure if it has a name. If so I don't know it.
DP_20071019_103138.jpg: 'My' kitchen passes by 😉 Please also note in the far background the gray/white massive trapeze-like mountain, which is supposingly Bhutan's highest, Gangkhar Puensum (7541m). Can't confirm…
DP_20071019_104109.jpg: The crew moves on ahead of us.
DP_20071019_104330.jpg: Today I had best views on the famous mountains Jhomolhari (the sharp peak to the left of the photo's center, under the lengthy cloud) and Jichu Drakye (6989m, representing the protective deity of Paro, the peak fully covered in snow to the right of the center, half hidden). I probably have photos in which the peaks appear better. But this is the best in terms of overall composition. Made at the last pass to cross before reaching…
DP_20071019_114353.jpg: …Phume La (4080m), under which the valley of Thimphu, our destination, spreads. Here we had lunch.
DP_20071019_123545.jpg: The line of prayer flags at Phume La.
DP_20071019_132106.jpg: Our camp at 3750m was quickly reached. Here our horseman enjoys the sun. In the background one of the seven (quite small) monasteries, which dot this mountain in view of Thimphu.
This camp was probably not necessary and I would advise considering to skip it and add the 2 hour descend into Thimphu right away. Compared to the previous days the vistas were poor. The sun is gone behind the mountain quite early and then the wind turns the camp into a freezer. Despite less altitude I felt it to be the coldest night. I was in bed early and it was the only time I wore long leggings in my sleeping bag.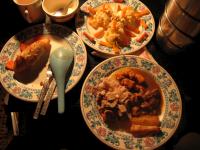 DP_20071019_180631.jpg: High Mountain Cuisine: My last dinner. The roll to the left is mostly made from potatoes and seemed to have Japanese roots. The salad was announced as "German Potato Salad" (well, naja…dishes had always been so great, allow me once to say: that salad did not convince a German ;)), rice, plus another collection of four dishes: mushrooms, fried cheese dices, potatos (yea…many potatoes today), beef curry. And, sure, a soup beforehand and fruits afterwards.
Should be added that the afternoon snack were three things: A freshly made dough wrap filled with vegetables, some kind of freshly made vegetable cookies, and just normal cookies.
Day 6, Saturday, 20-OCT, Phajoding -> Thimphu Telecom Tower (2685m)
The night was extremely clear. I had to get out for a pee once, and I kind of enjoyed it! Just staring at the sky with all its stars there. It's a long long time ago that I could see that many stars. I probably spent 10 minutes out there in the cold as I could not stop gazing.
DP_20071020_073626.jpg: Thimphu awakens to a new day.
DP_20071020_083849.jpg: Love amongst common horses.
DP_20071020_085002.jpg: In the background Phajoding, a meditation site for monks, built into the rock. You will need to look into the details to find it 😉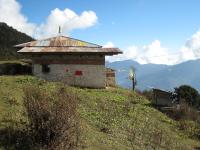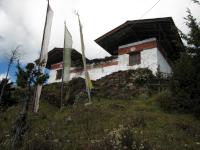 DP_20071020_084602.jpg: The mini monastery next to our camp site, one of these seven spread around the slope of the mountain.
DP_20071020_090819.jpg: Seen while on the walk down, the back side of a very similar mini monastery.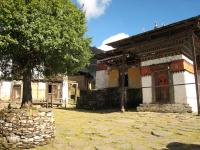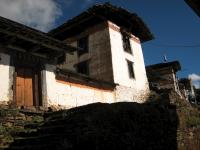 DP_20071020_092236.jpg: The largest of this set of monasteries.
DP_20071020_092601.jpg: Dito. We didn't enter them, but just passed by on the way down.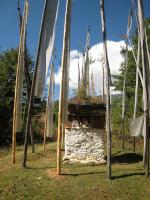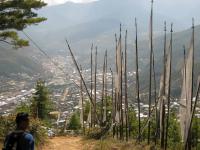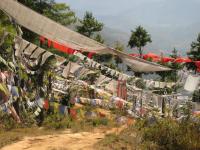 DP_20071020_105047.jpg: A chorten on the way down, surrounded by prayer flags. The walk itself was mostly through forest, getting warmer and warmer, and the noise of Thimphu louder and louder.
DP_20071020_110213.jpg: Thimphu, seen through a set of prayer flags shortly above the Telecom Tower. Bhutan's capital, less than 100.000 inhabitants and not a single traffic light, making it the only capital in the world without traffic lights.
DP_20071020_111216.jpg: The most massive set of prayer flags I encountered on the trek. Just above the Telecom Tower.
At the Telecommunication Tower the trek ended and our van awaited Ratnar and me. The horses (with my big backpack) had taken another route, though. On the way there we passed by a mini zoo: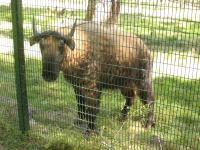 DP_20071020_114415.jpg: Its principal attraction is a small herd of Takins. The Takin is Bhtuan's "National Animal", a strange combination of goat and cow. It was put together by one of Bhutan's (and Tibet's) most weird holy man, Lama Drukpa Kunley, referred to as the "Divine Madman", after having a meal of both goat and cow. He had been invited by devotees to perform a miracle. But he dined first, then put the goat's head onto the left-over bones of the cow, clapped his hands, and off went this weird animal, which can be seen (in very low numbers) in the mountains of Bhutan. It remains a mystery to modern taxonomists, who in despair put the takin into a category of its own.
And then, finally, after fetching my laptop from Ratnar's appartment (I had left a couple of things behind in a separate bag, brought to Thimphu by our van), I could check in to our great River View Hotel and have a shower. Thereafter the hotel surprised me by having free wireless LAN service, allowing me to send off the first articles right away. In the afternoon I explored Thimphu on my own. More on that in the next document.
Today's Lesson: Go for a nightly pee, just to enjoy the stars.
Categories: Asia, Druk Path Trek
Originally Created: 10/22/2007 01:04:41 PM
Last Edited: 10/24/2007