Good idea to save Lake Gardens for today: It was Sunday and a sunny day! Which also meant: It got a bit hot. From sheer force of habbit I was wearing my long pants, no good idea. But I found a way of rolling the legs up without them sliding down every 10 meters.
KL at Night
But before we get there some pics I made yesterday night after the update session.
KL_20071110_222458.jpg: The Petronas Twin Towers are brightly illuminated, but luckily not in colors.
KL_20071110_222903.jpg: Unsure if the yellow bands along the bridge are there by chance, but looks somehow good.
KL_20071110_223817.jpg: No, the picture is not updside down: The towers mirror in the lake of the park in the Twin Tower's back. The park is totally deserted by this time.
KL_20071110_224210.jpg: That certainly also goes for the children's playground, which allows for some spooky playground photos.
KL_20071110_224631.jpg: Deserted swings.
KL_20071110_224957.jpg: Desperate Duck.
I was actually a bit relieved when leaving the park again…really got spooky 😉
Lake Gardens
As an experienced KL traveller I got there in a matter of no time, with Monorail to KL Sentral, walking from there along the sign-posted way to Lake Gardens.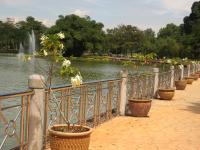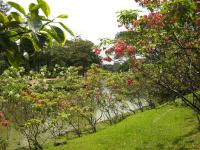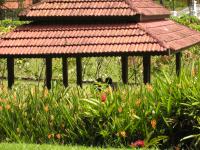 KL_20071111_111752.jpg: You would most certainly expect a lake to be there. And here we go…
KL_20071111_113130.jpg: And flowers, too!
KL_20071111_113842.jpg: And hiding places for lovers… 😉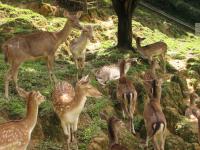 KL_20071111_115134.jpg: There's also a deer enclosure, this guys here nothing fancy. More fancy were the "Mouse Deers", which look like deer 10 magnitudes smaller. But they are kept in cages, which made it very difficult to get a good photo.
Bird Park
Claims to be the world's largest covered bird park…but I can't find a homepage in the internet…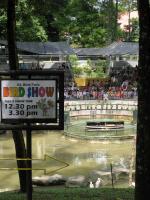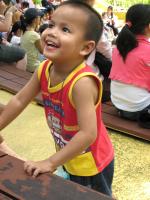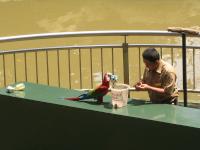 KL_20071111_122654.jpg: When buying the ticket (30 MYR) I was pointed to the fact that in 20 minutes the Bird Show would start. Well…once I was there I took a lookg at this Amphitheater where the show was staged.
KL_20071111_122952.jpg: This little boy was also there, though yet looking in the wrong direction.
KL_20071111_130027_cr.jpg: The actual show was well presented and included some little tricks mostly of some parrots. Here one of them is on an education mission and tells people how to put rubbish into a waste bin.
KL_20071111_125450_cr.jpg: They also had two eagles in the show, who were a great sight simply by them flying from A to B. Look at the people's looks! 😉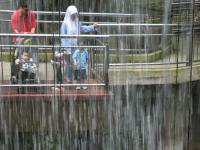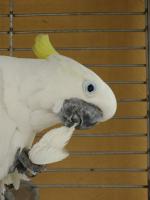 KL_20071111_130522.jpg: Other impressions…a local family seen through an artificial waterfall.
KL_20071111_121531.jpg: This is Chico. Chico can speak. So at least a sign says. It doesn't say that he doesn't speak on Sundays…busy with cleaning himself for looking good.
KL_20071111_131558.jpg: On of the more rare species, so they say, a Pesquet's Parrot (so a sign says…I don't know him…I don't even know if it's a him or a her…).
KL_20071111_132930.jpg: Flamingos…probably belong into every zoo and bird park.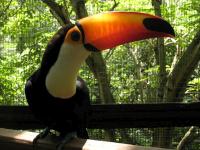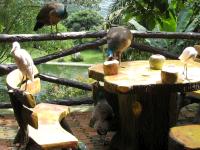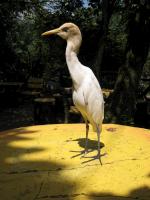 KL_20071111_133550_cr.jpg: This poor fellow, a beautiful hornbill, seems new to the cage life. He kept flying up from his seat here to explore the ever same two corners of the cage, in which he was kept alone. I'd assume he was to be acclimatized to the surroundings, maybe a newbie to the park. But I pitied him nonetheless.
KL_20071111_135513_cr.jpg: A feeding spot…or I got something wrong here… 😉 Some free flying birds around a snack bar were grateful for the left-over coconuts.
KL_20071111_140323.jpg: These guys were all around the place, usually walking on the floor in this straight upright posture. But they can also fly if they want.
All in all it was a very worthwhile visit. I spent nearly two hours there, despite the heat. But I had to move on if I wanted to see a bit more before it would start to rain. And I expected bad thunderstorms after this hot day.
Butterfly Park
Not sure what to expect…but there was a Butterfly Park nearby.
KL_20071111_143252.jpg: The park certainly was some orders of magnitudes smaller (and the admission fee less…18 MYR inclusive photo permission) than the bird park…no wonder, given that butterflies are smaller than birds and can be kept all together in one big covered park. But in the beginning I didn't see much more than some beautiful small garden with lots of butterflies flying around. It was next to impossible to look at any one of them calmly.
KL_20071111_143027.jpg: So I took pictures of flowers in the beginning….ahhh….again!
KL_20071111_144651_cr.jpg: Until I figured the trick: Walk very slow or even stop, then look around leaf by leaf. You might just find butterflies sitting there. Or a caterpillar like here, eating its way through a leaf.
KL_20071111_144327_cr.jpg: Not sure if this species passes for a butterfly as the two sets of wings are pretty well separated. (I learned today that butterflies always have two sets of wings, but usually they overlap so you can't see the difference.) But it is my best macro picture.
KL_20071111_145502.jpg: And apparently the species is very calm: This is another animal of the same kind, but also waiting patiently for me finishing my photos.
KL_20071111_145002.jpg: This guy is not very colorful, but didn't fly away when nearing, so I could take his photo.
At 3pm sharp I started to hear thunder and felt the first drops coming down. Time to get out…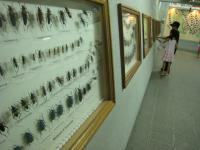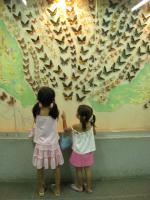 KL_20071111_151902.jpg: But it turned out that the makers of the park also loved other types of bugs and had large indoor displays with hundreds of them. Quite interesting stuff! I also saw my first scorpions and funny big and long stick-like insects.
KL_20071111_152004.jpg: Can't say if these girls are really fascinated byt he array of butterflies. They were all the time very busy using the mobile phone's camera…
Returning
Though more and more drops of rain I hurried back to KL Sentral and returned to my hotel by Monorail.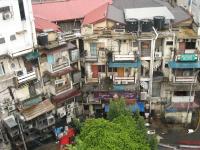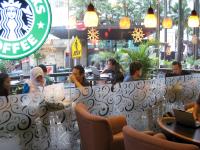 KL_20071111_165823.jpg: I had been fascinated all the time by the view out of my hotel window: These messy backs of the houses. And the fact that even on their back they say what's in them…entrance certainly via the main street on the other side, where things look a bit better. But you would probably not enter this Budget Hotel once knowing what it looks like from here…
KL_20071111_171152.jpg: Just an idea of what a Starbucks looks like here while I do my updates on my own laptop: Loads of people around working/playing with their laptops. On this picture alone you'll find five laptops if you look long enough. And that excludes my own and four more in my back. Welcome to a modern city…
OK…that's about it. I try to find something to eat and get to bed a little earlier. Tomorrow my bus for Singapore leaves at 9am and I have to be there early for "check-in".
Today's Lesson: Butterflies have two sets of wings (acting as one).
Categories: AsiaKuala Lumpur
Originally Created: 11/11/2007 12:09:46 PM
Last Edited: 11/11/2007