The last photo subdirectory is created…/Pics/SG/Singapore; I've arrived at my last stop before finishing my travel. And that without trouble, in fact, was a very smooth ride with AeroLine, a warm recommendation! You have to register, but then can book online and just need to show up 30 minutes before departure to get your ticket. KL – SIN for just 80 MYR (16,40 EUR) in a super comfortable business coach.
Getting to the pick-up location, a hotel close to the Twin Towers, was the major hassle: While travelling I keep forgetting the weekdays and was unaware that it was Monday morning…rush hour in every major city of the world, no less in KL. I got a bit trouble finding a taxi, but still got to the hotel in time, got my ticket by presenting the PIN I had received by eMail after online purchase, and was offered a complimentary coffee.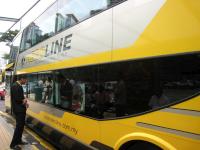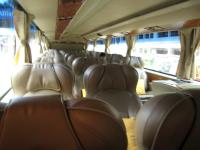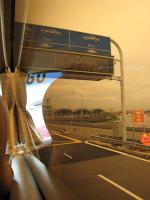 SG_20071112_084922.jpg: Our AeroLine bus with steward. He would need to work a bit on his body posture, but that doesn't hurt his kindness and availability throughout the journey.
SG_20071112_085130.jpg: The interior, very comfortable seats, again only three per row. While booking online you actually select your seat, so you know in advance where you will be sitting.
The drive as such was smooth. The highway was a real four- to six-lane highway, which could have been located in Germany, too. In fact…Germany has some quite worse roads. One 15 minute stop at a highway rest place…that's it. My young neighbour didn't say a word throughout the journey, not even "Hi", which I found a bit unfriendly. Meanwhile the two ladies in the front row kept chatting for the full five hours. A Malaysian and a…ehm…black lady, can I write that? Or what is the current politically correct term for an Australian-African? Anyway….for all I know they have never met before and will likely never meet again…so I figured from the Australian talking about searching for her ticket and her travel plans. I plugged in my iPod. When the steward passed along to ask for coffee (yeah…even warm drinkgs aboard) I the ladies hat moved on to "stomach ache, all day stomach ache"…I went back to my iPod. Even during the break they got in and out together…probably sharing their toilet paper…I don't know. Is female life so much more complicated? Or exciting? Or…both? I finished "The Beach". Nothing to read any more…maybe I should seek for more complicated/exciting life.
SG_20071112_132817.jpg: But we reached Singapore soon. Leaving Malaysia was a matter of 30 seconds…present the passport and walk through…somewhen inbetween the official managed to put in the exit stamp. In Singapore everything was a lot more organized than when entering Malaysia. And there were a lot more lines prepared, though at the moment not needed. Entry was very quick again and the luggage check left to a scanning device, so opening/closing was spared this time. For busy times there even was a display board which lists all the waiting busses at the exit with their lane number. Not needed today, but a great help if things are busy. Welcome to Singapore, a modern city. (BTW…singapore.sg is an available internet domain!)
On above photo you see through the reflections of the bus window: "Welcome to Singapore", two car lanes, the sign "Death to drug traffickers" and "Works ahead". One cannot but wonder what kind of works they are doing ahead…
We were dropped off at the HarbourFront, a busy place with busses, ferries, and shopping centers. And money exchange. Usually I don't use money exchange but ATMs. But I had completely miscalculated the exchange rate for Malaysian Ringgit and still hat more than 1.000 MYR left of the 1.500 I initially had fetched. Ehm…which is a minor offense as I was allowed to take out 1.000 MYR in cash only. Being careful I exchanged 900 of them for Singapore Dollars, which is likely also more than I will need. Smart as I was I expected Singapore to have some kind of transportation card like Shanghai, so I had looked that up in KL already, and found that a card named "ezCard" does indeed exist. I also knew that my hotel is not directly located at an MRT (Singapore's subway system) station, but is well accessible by bus. And luckily there was an explanation on TransitLink's site how to use that card in a bus (hold in in front of the card reader during entry and then again when exiting). With this information and after a quick late lunch I searched and found the right bus and tried my luck: It works! I certainly missed the right bus stop as I didn't know where exactly to alight, but walking back one stop was no issue. The Harbour Ville Hotel is…well…nondescript is probably the word Lonely Planet would use. Chinese-run (which is certainly fine), clean, but my room, despite booked as "Superior", a bit on the small side. Anyway…has a bed, a toilet and a shower, and that's all I need. I quickly washed some shirts and underwear and started on the next bus to explore Singapore.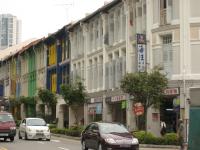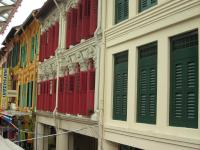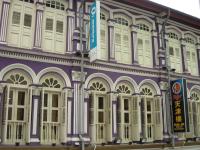 SG_20071112_170638.jpg: The nearest attraction was Chinatown, so I headed for it.
SG_20071112_171151.jpg: Yes, yes, this is right in the middle of Chinatown…
SG_20071112_171207.jpg: …I love these windows 😉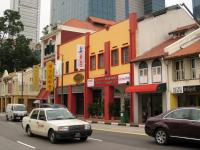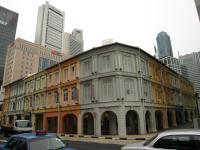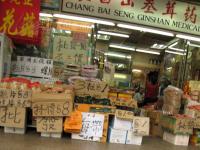 SG_20071112_171753.jpg: What it has to do with Chinatown? Can't tell you…
SG_20071112_172028.jpg: But it does look great, doesn't it? OK…to be honest…Chinatown disappointed me. Don't get me wrong: It's a fantastic place to be! Hip, clean, restaurants, cafes, souvenir shops…It's just…I don't know…too clean, too orderly…it's not Chinese. The sign-posted "food streets" start with McDonald's, end with PizzaHut, and inbetween you have a number of larger and smaller restaurants. No street stalls, no smell in the streets (that's probably the worst: It doesn't smell like China). On the positive side: No rubbish on the street. Not a single straw. Nothing. Clinically clean.
SG_20071112_171047_cr.jpg: Finding a proper Chinese shop requires luck.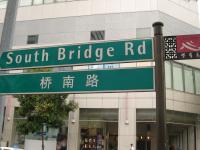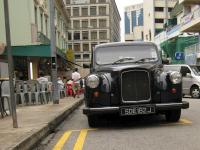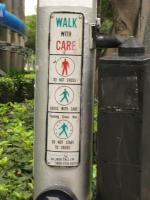 SG_20071112_171946.jpg: They don't even speak proper Chinese here: South Bridge Rd is translated as Qiao Nan Lu (桥南路), which means "Bridge South Road", i.e. the southern part of Bridge Road. IMHO the correct translation would be NanQiao Lu (南桥路).
Update 14-NOV: The misunderstanding is due to my limited English interpretation skills: The English name was supposed to be read like "South [of] Bridge Road" as I figured out only later when across a bridge I was confronted with "North Bridge Road". That would leave you with the impression that all Singapore has just one bridge…but that is how the street name is meant.
Update 15-NOV: I saw last night that the jazz club at this bridge in question is called "Jazz @ South Bridge". Now…is this South Bridge or not??? Because if it is then the Chinese translation is wrong… If it is not then the jazz club would need a new name…
SG_20071112_170719_cr.jpg: And often you get a strong British feeling. Good ole London taxis on the street (a rare sight, though)…
SG_20071112_173139.jpg: …or a "Walk with Care" sticker, which I am sure I have a very similar picture of made in London.
After leaving (what claims to be) Chinatown I entered an area with office towers. "Starbucks country" I thought, longing for a coffee…and right at the next corner was…a Starbucks cafe. 😉 SingTel offers free Wifi internet access…what else do I want? 😀
A proper dinner, maybe. So let me check out Singapore at night a bit. CU!
Today's Lesson: Can't suppress this 'feels like London' feeling
Categories: Asia, Singapore
Originally Created: 11/12/2007 11:36:07 AM
Last Edited: 11/15/2007