I was aware that Singapore is about shopping. And not only as the number three tourist attraction like in KL, no, here it is number one, again according to the tourist map. "Visitors [sic] map Singapore – Shop, Dine, See". Bad traveller as I am I had turned around the order. I saw Chinatown yesterday already, had then to dine first just to survive. And today only I would start seeing.
By Night
SG_20071112_193646.jpg: Boat Quay yesterday night, after finishing my previous updates. In the beginning a number of fine (or at least expensive) dining options, but down the quay the restaurants became simpler including lots of options for simple travellers in shorts and t-shirt like me, which had their waiters out on the street to drag people in. Eventually, I let myself drag into a Chinese place named "Asia Wok", offering fresh seafood and various Chinese dishes. While service was excellent the food wasn't. Really looking for a change I ordered Szechuan-style chicken, which supposingly is hot and spicy, a fresh shrimp/fruit salat and some mixed vegetables. None of that could convince: The fruits were definitely taken from a can, the shrimps not fresh either, the chicken was nondescript, the few dried bad excuses of chillies were the third incarnation of what you get in Szechuan (which again ranks second only after Bhutan), thus, the chicken just hot but not spicy, even the mixed vegetables were drowned in a thick sauce taking away all what might have remained of a taste. To my surprise the place was frequented by Chinese, who did indicate they liked the food. They did order different things, though…if you are ever trapped there then go for something which comes delivered in the shell of a pineapple.
SG_20071112_205912.jpg: After dinner I walked along the Riverwalk (well…what else could you do along a Riverwalk) without any specific destination. It is lined with restaurants and bars, all brightly illuminated, mirroring in the Singapore River's water.
SG_20071112_213333.jpg: An area of bars around Clarke Quay. Also watch the 'chairs' the bar named "Clinic" set up at their tables in the lower-right corner: wheelchairs.
I made my way back home by MTR and bus.
Wake-up Walk
SG_20071113_103315.jpg: Next morning, already after the Starbucks infusion: The small lane between Boat Quay and North Canal Road: While the two named streets house bars and restaurants and have great looking fronts, this is where all the air condition devices are hidden and delivery takes place.
SG_20071113_103633.jpg: Some polica station or even headquarterin the MICA Building (Valley Rd / Hill St): Watch again the colorful windows!
Fort Canning Park
SG_20071113_110523.jpg: Above and behind the MICA building is the Fort Canning Park on one of the few Singapore hills; this one overlooking the original settlement site. Around the hill are two worth-while history trails, one dedicated to the 14th century, one to the 19th centurey. The photo shows the time ball (or I would guess a replica of it), which formerly was used to tell ships and merchants the exact time (raised by 12:55, dropped at exactly 13:00 local time, following the London example).
SG_20071113_111146.jpg: View from Raffles Terrace, the place of the first governor's house.
SG_20071113_112524.jpg: In today's bright sunshine this is a beautiful place to wander around and forget a bit the heat in the streets.
Orchard Road
SG_20071113_114807.jpg: But at some point in time I had to take care of the number one activity: shopping. Not that I went into this store, but on my way down to Orachard Road I passed this Grohe store ("Enjoy Water"), which is in so far remarkable as Grohe had factories in my home town Menden (which due to some silly tax reasons had moved a few meters across the city border to Hemer) and is very well known there. It did become a world brand years ago already, greeting me in one or the other hotel around Asia. But still I was surprised to find a shop targeted at end customers.
SG_20071113_134856.jpg: Orchard Road, the shopping paradise. There was indeed one shopping mall after the other of very different qualities. But I had kind of expected a pedestrian area for a leisurely stroll, cafes out on the street…this kind of thing. Instead it is a six lane streets, nicely lined with trees, but still simply busy. Various construction sites don't add to the atmosphere either.
SG_20071113_140257.jpg: I entered into one or the other mall just for a look, but was taken aback by all the Christmas decoration…outside blistering heat, me very glad to have decided not to take any bag with me and walking in shorts and t-shirt, inside the air condition creating winterly temperatures. Not my kind of thing. I took up a recommendation of Rafael and went to The Coffee Connaisseur for lunch and some great coffee (I forgot the names…but I chose some cold espresso drink with mint, and after lunch some Ethopian coffee).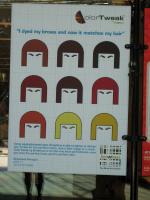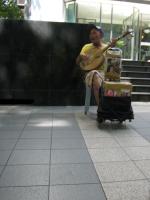 SG_20071113_140007.jpg: The problems of today's Singaporean girls: "I dyed my brows and now it matches [sic] my hair." Given that Asians by nature have black hair (and brows) this seems to be a very far-fetched problem, but Singapore obviously is already beyond dying hair. Red seems to be particularly popular. The other problem they seem to have is English grammar, which reminds me of a book I flipped through in an otherwise bad bookstore, having a title something in the line of "English how it is broken today", taking up advertisements and signs of exactly the above nature of false grammar. (For the unaware: It should read "I dyed my brows and now they match my hair.")
SG_20071113_140343_cr.jpg: But indeed, as above observation indicates, Singapore is a very rich strip of (is)land. Very rarely only I came across beggars or people like this man trying to earn a few cents on the streets. Also, as a tourist I have not been touted by hawkers (and only twice by taxi drivers, tough luck guys…).
Botanical Garden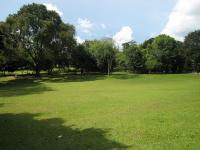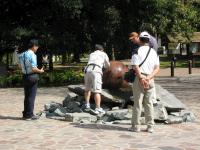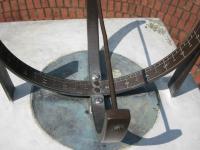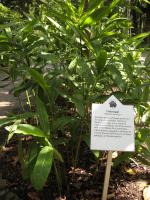 SG_20071113_151231.jpg: Having gotten the 10th confirmation that I'm not in shopping I left Orchard Road north-west to get to the Botanical Gardens, which at times look more like a park and are in fact used as a park. Admission free!
SG_20071113_151515.jpg: A toy for Chinese men: Swiss Granite Fountain, a polished granite ball rolling on a thin film of water.
SG_20071113_151815.jpg: The Sundial Garden disappointed me quite a bit: Given the extensions of the park I had expected a huge sundial, probably walk-in style. But instead there was this small installation of barely 30cm diameter. The time displayed (roughly 15:55) is off by over half an hour compared to official time. As Singapore is fairly close to the equator the season can't be the reason. More likely that the timezone doesn't exactly match Singapore's longitude.
SG_20071113_153604.jpg: Galangal, a type of Ginger. I took this otherwise uninspiring picture only because Petra, Rafael, and I enjoyed Thai soups especially when they featured Galangal. The root looks like Ginger…and here is what the flower looks like. Displayed in the Ginger garden, where I learned that Ginger is a very broad species, even Bananas belonging to it!
SG_20071113_154957.jpg: Ehm…yea…flowers…lots of them…orchids, to be more exact as displayed in the National Orchid Garden.
SG_20071113_155223.jpg: I had skipped the Orchid Garden in KL for their incredible 100 MYR (20 EUR) admission fee (though it would have been an easy way of wasting my excess Ringgits…). The Orchid Garden within Singaore's Botanical Gardens has an admission fee of just 5 Singapore Dollar (2,36 EUR), of which probably half of it goes into the elaborated entrance gate: You receive a ticket with a magnetic strip from the ticket office and 5 meters later have to put it into an electronic gate, which just swallows your ticket, but at least lets you pass.
SG_20071113_155517.jpg: Time of year was probably imperfect for visiting an Orchid Garden, but there were still quite some orchids flowering.
SG_20071113_160642.jpg: Though I tried hard to also pick up the names of the orchids it was at many times quite tough to figure them. That became different in the VIP Orchid Garden, where Singapore's crossbreeds are shown off, named after VIPs who visited the gardens. Here we have Festus Mogae, "named after His Excellency Festus Mogae, President of the Republic of Botswana".
SG_20071113_160931.jpg: Joaquim Alberto Chissano 'Marcelina', "named after Madame Marcelina Chissano, former First Lady of The Republic of Mozambique".
SG_20071113_161610.jpg: No VIP, but named Arundina graminifolia.
SG_20071113_162230.jpg: Anonymous surprisinglyus findus at tree-ae.
SG_20071113_162641.jpg: Also nice…in the Tan Hoon Siang Mist House.
SG_20071113_163041.jpg: I couldn't figure out why the Tan Hoon Siang Mist House is called Mist House…there wasn't any mist at all. The mist you see in this picture is the mist produced in the Cool House, a glass house supposed to create the conditions of montane tropical forest, which includes a colder and very wet climate. It was cooler and very wet…but not any remarkable flower to be seen.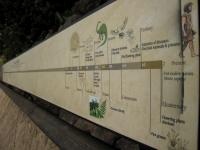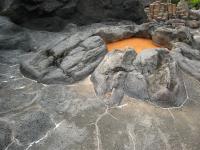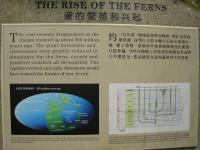 SG_20071113_165858.jpg: While the Orchid Garden is definitely a nice place to stroll around I particularly liked the Evolution Garden a few 100m futher down into the Botanical Park. It guides you through the different ages of earth and how plants looked like during these times. At the beginning you'll find this time line, indicating how young evolution actually is compared to the age of earth starting far back on the left-hand side of the picture. Still, plants are a lot older than animals and especially humans. No news, but well presented.
SG_20071113_170002.jpg: Consequently, earth starts without any plants. 😉
SG_20071113_170935.jpg: These explanation boards are set up along the path to explain briefly what happened during that age, here as an example "The Rise of the Ferns". I have picture of all of them 😉
SG_20071113_171011.jpg: The area around that is then filled up with various kinds of ferns, …
SG_20071113_171041.jpg: …which is in so far easy as ferns still exist today pretty much unchanged.
SG_20071113_171543.jpg: During a later time cycads took over.
And the came blooming flowers…rain forest…and that kind of stuff.
Dinner Interlude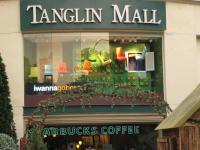 SG_20071113_180935.jpg: iwannagohome…at least as far home as to Starbucks in bad need for a coffee. By that time my feet hurt and I did wish me back home to Germany into a more stable life. But that was a temporary feeling. Unlike before my first break in September I at the moment would not mind going on a bit, though probably not long anyway. I especially noted again and again how I like bus rides. They just give you more time enjoying the scenery and actually taking in what distances you travel, a feeling which is entirely lost if flying. Sorry, I trail off…
I was hungry. I imagined a steak. And, whoops, around the next corner was a steakhouse, Black Angus at the end of Orchard Road. But I don't seem to be lucky with dining at Singapore…if it continues like this then I will remember Singapore as a fantastic place to live in (I really mean it…I do like Singapore) as long as you have a good kitchen in your apparment. The steak was again tasteless, I never used as much steak sauce as I had to here. Also it was a bit too fat. The salad was OK, the potatoe too small and yet too few sour cream. I even imagined that the Tiger Beer was somehow off…again no tip. (As most places charge a service charge I don't feel obliged to give any tip anyway.)
Night Safari
One of those things you have to do in Singapore: A night safari. The Singapore Zoo is already said to be great (I might pay it a visit on my last day tomorrow before leaving), but they also have a huge outdoor area with wild animals and "without visible barriers between species" (which makes me think what the barriers then look like if not visible). "A tram journey snakes through 'regions' like Nepal, Africa, Burma or South America. On foot, follow trails that veer into darkness and skirt all the enclosures. There are no obvious barricades and the animals can get very close, which is why the Night Safari is an exciting attraction."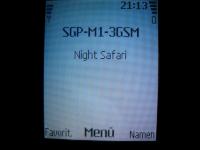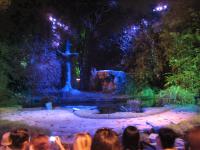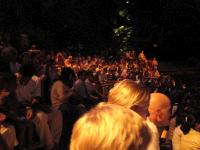 SG_20071113_211402.jpg: I had imagined some vast area where you need to have a bit of luck (enforced by the limits of the park and the high number of animals kept there) to see wild animals. I arrived by MRT at Ang Mo Kio station and was apparently the only one interested in the free shuttle bus to the Night Safari. That raised hopes it wouldn't be too crowded. But completely wrong…the Night Safari is a big business, crowded with people even on a just normal Tuesday night, having its own mobile phone transmitter… 😉
SG_20071113_212320.jpg: I was twice motioned to visit the "Creatures of the Night" show in an amphitheater and finally gave in. While it was well presented it was a bit too long (30 minutes) given the few presented animals. I fully understand that training wild animals, especially under night conditions, is a tough business…but lengthening the show with minute-long reminders in lots of languages of the world not to use flash photography (to not much avail) and having two visitors in the 30 minute timeframe invited onto the podium for some semi-fun experience with the smelling instincts of some animal I forgot the name of and the weight of a huge snake named Maggie (which took another 2 or 3 minutes to 'find' after getting 'lost' amongst the visitors) was challenging my patience. After all…it was 21:30 already by the time the show started and I had have a long day sightseeing already.
SG_20071113_212409.jpg: No secluded walk into a rainforest anyway…thousands of people around.
I finally got on my tram at around 10pm. The drive was not much more educative than a visit to the zoo with the difference that visibility was poor due to darkness. OK…there were lots of spot lights installed throughout the area, thus, invalidating a bit the idea of night…but then again…humans rely on vision. Unlike my expectation the animals were indeed kept somehow (barriers visible or not) in kind of enclosures, thus, the guide on the tram could announce in advance what we would see around the next corner. Photographing (certainly again without flash, and this time people sticked to it) was out of the question from a moving vehicle at night.
You can walk through the area, too. And that might indeed be a worthwhile thing to do, though I would expect it to be a bit spooky. But at least you can watch the animals as long as you like and also take photos. But honestely…doing that alone was not my favorite thought, and I didn't see any other people on the trails. There were quite some warnings around to watch your limbs (like keeping legs and arms within the tram), so there's a theoretical chance for an accident. But in general the animals looked quite a bit bored. Like in any zoo. I was more worried to get home and in bed in time. Luckily, taxis were readily available, and I decided for the luxury to have me brought all the way back (basically across the entire island) to my hotel in the hope to get rid of some excess cash. But it costed 16 SGD (7,55 EUR) only.
Today's Lesson: Banana is a Ginger species.
Categories: AsiaSingapore
Originally Created: 11/14/2007 03:37:03 AM
Last Edited: 11/14/2007