After yesterday's running through all Singapore and back I put in a more lazy day today. Despite it being the last full day of travelling I didn't want to overdo it. Not now at the end! 😉 And anyway…the limited size of Singapore gives only a limited number of sights to see. Some I don't need to see (not yet another bird park, for example), and the zoo I parked for tomorrow. But some of the city of Singapore was still left to be explored.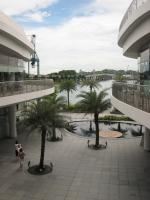 SG_20071114_131226.jpg: I didn't get up really early as I heard rain falling. And indeed to Vivo Plaza at the HarbourFront I walked through steady rain. (In KL I had finally given up and bought a cheap and bad but working unbrella. Nothing to be brought back home, though.) Finding Starbucks there I settled for writing yesterday's article. This huge mall also had a good bookstore, which even had the next book of the Dune series available, which I started reading in…oh…Taipeh? Maybe… Also had a quick lunch there. Should be noted that I have a lot more luck with my quick lunches than with my sophisticated dinners…the lunches were all great so far 😉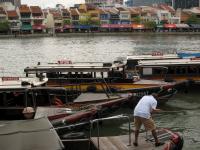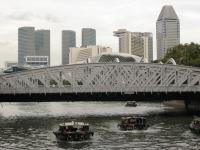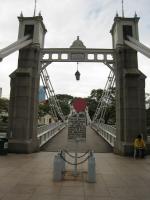 SG_20071114_150218.jpg: In the afternoon I headed back for the city center. Rain had stopped, but the sky stayed mostly overcast. The far destination was an IT mall recommended by a colleague. But on the way there I detoured to see the historical aspects of the Civil District of Singapore. This photo shows again Boat Quay, the place with all the restaurants where I had my first dinner on my day of arrival, but this time seen from the far shore where tourist sightseeing boats wait for customers.
SG_20071114_151619.jpg: Oh…all these bridges actually have names, but they slipped my mind already. But we see some of Singapore's skyline of an area called "Marina South", according to my map, although as far as I can see it is north of the Marina Bay…but I keep getting confused with Singapore's north/south directions anyway. Yesterday, I changed my interpretation of "South Bridge Road" vs. Chinese 桥南路, just to see today that the jazz club at that bridge in question is called "Jazz @ South Bridge". So is this now the Road of South Bridge? (Which in Chinese would need to be 南桥路.) Or the southern part of Bridge Road? (Which in Chinese would need to be 桥南路 as sign-posted.) I still don't get it…and "Marina South" is north of the Marina…somebody will need to explain that to me at some point in time.
SG_20071114_151730.jpg: This one luckily says that it is "Cavenagh Bridge", named after a governor of the Straits Settlements (a set of territories under British mandate in the early 19th century). The most interesting part of it is actually this original (but obviously repainted) sign right in front saying "The use of this bridge is prohibited to any vehicle of which the laden weight exceeds 3 cwt. and to all cattle and horses." The sign was put up by the time the bridge was turned into a pedestrian bridge after the bridge pictured above came into being. "Cwt" means "hundred weights" as explained by another board on the far side of the bridge. But it doesn't say how much one weight is. Wikipedia does: In imperial units one 1cwt was 112 pounds, or 8 stones. (We are talking imperial here…you didn't really expect it to be anything with plain 100, did you?) This equals 50.8kg, so 3cwt is 152.4kg. Pooh, good that we clarified this.
SG_20071114_153209.jpg: This hedgehog-like building in front houses the Theatres on the Bay and seems to be considered a landmark as various postcards picture it. That street in front is the Esplanade, of which I though when seeing it in the map it would be a pedestrian road…hardly right.
SG_20071114_154331.jpg: Me having a break and watching other tourists, who just jumped off a bus to take pictures of the hedgehog, holding the paper wrapping of an ice cream I had bought from a street vendor with an attempt of my best possible Chinese. But he didn't get me…or didn't expect me to speak Chinese…we had to settle the deal in English, his apparently not used beyond the words "Cold Drink", "Ice Cream", and "Cornetto". I understand so much of Chinese around me that I have to assume that street talk is in Mandarin (as opposed to Cantonese), so why the hell do neither the taxi driver, nor the hotel staff, nor the ice cream vendor answer me in Chinese???
BTW, I made the photo just by putting the camera flat on the floor with a 10 second trigger delay.
SG_20071114_155454_cr.jpg: The esplanade seen from below with a skyscraper in the crack between lanes. This photo is more difficult to make then it looks like: The pedestrian walkway is surrounded by high walls and I had to imagine there would be something to see and place the camera at long arm on top of the wall. The third attempt produced this, only slightly cropped at the bottom to remove a few pixels of wall.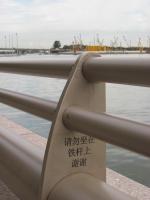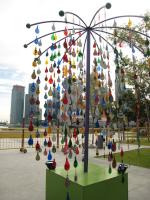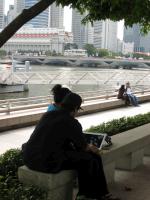 SG_20071114_155712.jpg: Walking through Singapore you get used to seeing all signs in up to 4 language (of which I still couldn't figure out what the 4th one actually is). If there is just one language it will be English. The second most often language is then Chinese. Now this note here, of which I could read enough to guess the meaning right, I saw only in Chinese, on each slab along the handrail, asking not to sit on the handrail. Chinese only…what does this fact tell us? Only Chinese like to sit on handrails? In fact…nothing of that sort, only that you would find the English version on the way back on the other side of the slab… 😉
SG_20071114_160127.jpg: Pieces of art shown in the backyard of the Theatres at the Bay with the Singapore skyline in the background.
SG_20071114_160345.jpg: Singapore, a modern city. You'll find many people with laptops, or few without. Today I got a bit a problem with my battery runtime: All power plugs in the various Starbucks cafes were in use. Right now while writing I actually see two tables with laptops plugged in, but no people sitting there. Seems to be a very safe city.
SG_20071114_161834.jpg: I like this shot 😉 You'll need the big version to appreciate it. Then you see Singapore's skyline as a backdrop to a large green football field (and I do mean English football). This football field is right in the center of the Civil District of Singpore, with the City Hall being to the right just outside the photo. But all in all it looks like being far out…a bit like making a picture of Frankfurt out of one of the surrounding farming fields.
SG_20071114_164651.jpg: Update to yesterday's MICA Building, which I had introduced as police station. Today I walked immediately past it and took the chance for a glimpse into its courtyard. And I found a plaque describing its history: Police station is not exactly wrong, but that's what it was before renovation long long ago. Now it is an area of art galleries.
Originally, I had a loose appointment with a former Shanghai colleague for a dinner tonight, but looks like we are paying tribute our company's way of work and I have to find my dinner alone again. Sniff, that's exactly the kind of thing I would like to avoid during my future work; private life should remain possible: we won't have another chance to meet for a long time. But I'm getting increasingly hungry, so I will set out now. Maybe the nearby Boat Quay gets a second chance…different restaurant for sure though.
Today's Lesson: 1 cwt is 50.8kg.
Categories: AsiaSingapore
Originally Created: 11/14/2007 11:22:56 AM
Last Edited: 11/14/2007