I work again. Quite suddenly. 10 days ago I received a call of a colleague and couldn't say "No". Proposal, tough work usually. But honestly…it started to be a bit boring just to sit there all day and sort photos. About the only thing I got done was uploading a number of best-of series to Flickr. No appointments, no deadlines. I became very inefficient. One day I wanted to send a letter with registered post, so I had to get to the post office. I messed around all day until I noticed that the post office would close soon…at 6:30pm. I hurried there just to note that by now all ordinary people had returned from work and queued up in long lines in front of the post office to deal with their post chores. I had to wait in line for about 20 minutes.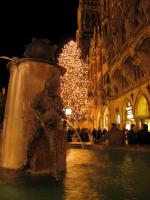 Last week I was in our Munich office. And I was extremely efficient. I didn't get distracted by the usual stuff like internet surfing or chatting. I really efficiently worked. Surprising that I could do that just so from one day to the other. And I could call people on the phone…not a thing I like to do. I'm too shy to distract unknown people asynchronously (though I love to be called…strange). But on Wednesday I just happened to had my mobile charged over night, had to use it all day to call people I had never heard of or seen before, my ears turning red, and by the end of a long day (and night) when setting the alarm clock on the mobile for the next day it ran out of power…
Consider me insane, but I enjoyed working! Finally challenges again, deadlines, but also recognition and great colleagues, which I never met before and still spent long nights with, not only in office but also certainly for one or the other beer thereafter. Having lunch and dinner in company is a lot more fun than sitting amongst photos alone at home.
Work life is different from travel life. Nobody would doubt that. Maybe I became more sensitive to the little jokes of life…here's my list for last week:
On Saturdays remember to shop for two days! Shops in Germany are closed on Sundays.
Wash clothes on Saturday no matter if enough stuff has collected to justify starting the washing machine: When you run out of underwear during the week it's too late.

My new Eterna shirts

Buying socks: Today, after already buying three new business shirts (the ones I have show signs of age) at P&Cin five minutes (sorry…have never been a good shopper) I remembered I have too many holes in too many business socks and urgently need new ones. So I took five pairs (serves a full business week ;)) and joined the long queues in front of the cash registers. When it finally was my turn I passed the socks to the shop assistant saying "It's 5 times the same article" to speed up things: I hoped she would enter a "5" into her computer and scan only one pair but not each one. But wrong: She did scan each pair individually, then with the last pair of socks in her hand said: "This one is missing the bar code tag." – "It's the same article as the others." – "But I need the tag, otherwise I can't enter it into the computer." – "That sounds like your process problem to me." Consultant talk…she couldn't follow… Well, I did not faintly consider going back to the socks rack and get another one while the christmas shoppers behind me waiting in line get angry. So I said "I don't take it then." – "You don't want it?" she replied unbelievingly. "Well, you can't sell it to me, so I can't buy it, can I?" It took a while for her to follow this extraordinary line of argumentation. But eventually she charged me for 4 pairs only and threw the remaining one into a corner. The effect on the payment process might be limited, though. I doubt I impress P&C by not buying one more pair of socks for 10 EUR…Oh yea…need to iron shirts again. I only buy Eterna Excellent, the only brand in my experience which offers (nearly) crease-free non-iron shirts. But fresh out of the package they certainly also have some folds.

Booking hotels: Already troublesome during travel life, but you get used to it. Here in good ole Germany I thought it's simple…and so it was to get my 3 nights booked in Munich for the agreed time in office. Then I had the brilliant idea to visit a friend I had made in Bhutan, by pure chance living in Munich, the day before. But I couldn't extend my booking by one day earlier: Some fair in Munich. Eventually, I had to settle in a small hotel in the neighbourhood for one night. (Meeting Tanja was a cool idea and we spent a pleasant evening in the "Wirtshaus in der Au".)I realized I forgot to check the box for "guaranteed booking" for my second hotel only by 7pm on the day I wanted to check in. I called the hotel (just yet another call…): "Hello, my name is Hoppe, I have a reservation for tonight, but I realized that…" – "Yes, I know, we have just taken you out of our system." – "Oh, great…(pause)…would you still have a room for me?" – "Yes, if you can provide us with a credit card number." I surely could and got my room for the reserved corporate rates, no trouble. And on Santa Clause day I got a chocolate advent calendar, which is a great thing on December 6…you can open six doors right away and eat all that chocolate in one go 😉
Returning to a DSL flat rate used to be as simple as a few mouse clicks. That was the way I changed to a volume tariff before leaving for China. But now these pages no longer existed. I couldn't get through on the hotline, was always kicked out of the waiting queue. I finally gave up and changed the provider. The above mentioned registered letter was the contract termination. Today I got the confirmation, but these guys certainly added one more month than my termination said. I sent them an email, but I don't expect them to react. Well…for 2,78 EUR per month I won't involve a lawyer. Just the postage would be more. And I paid more than that for just 30 minutes of WLAN usage in the Mercure Hotel, Munich, unbelievable…
Helping PIN to increase their service levels: PIN is a German mail delivery company trying to compete with previously state owned Deutsche Post, just now tumbling due to governmentally set minimum wages for postmen. They called me during my photo-sorting time to ask permission for sending a 'test letter', with which they test how quickly the mail arrives and what the letter then looks like. Sounded weird…but despite a sticker "no advertisements" I keep receiving lots of advertising mail anyway…I don't mind one letter more or less. But now that I surprisingly worked during the week I could confirm only that by Friday night, when I returned, the letter was there and in good shape. Funny as it is…the termination confirmation of my previous internet provider arrived today (Saturday), also delivered by PIN. It does work… 😉
Buying mandarin fruits: I had to read that my favorite supermarket (HL, now REWE) sells some of the worst mandarin fruits in Germany. Great. Today I by chance passed by Basic, a bio supermarket chain, said to sell the best. Once in I certainly bought a lot more than just mandarins.
Public Transportation Tickets: Do you know how expensive German public transport is? In Munich I bought a "10 stripes" ticket, which allows for 5 trips within the city (2 stripes each). Wasn't cheap but I forgot the exact price. Today I bought a one week ticket to Kronberg, the Frankfurt suburb where our office is as I will work there the next week. 33 EUR for an unlimited number of trips there. Wow… But with each individual trip costing 3,55 EUR it actually does pay off if you go there every day and back.
Today's Lesson: P&C socks need a barcode tag
Categories: Asia, Frankfurt
Originally Created: 12/08/2007 09:50:40 PM
Last Edited: 12/08/2007